'Wonderstruck' director Todd Haynes reveals how he found the deaf actress so good it gave him chills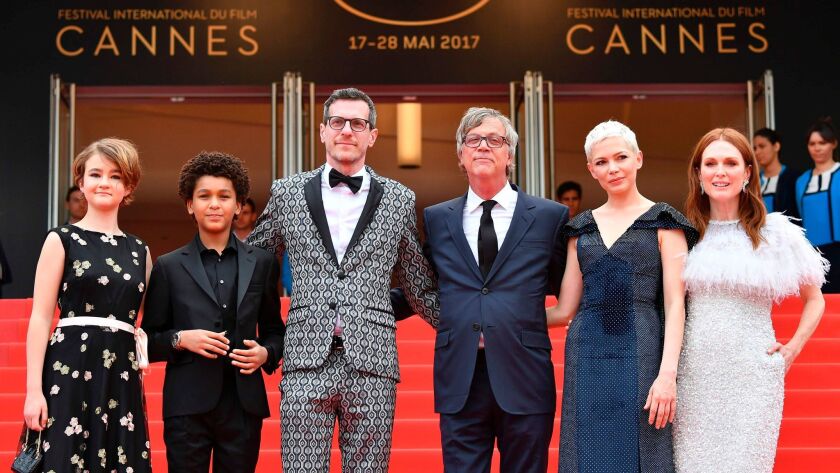 Reporting from CANNES, France —
Todd Haynes has been to the Festival de Cannes before. His "Velvet Goldmine" took a special jury prize in 1998, and 2015's "Carol" went on to earn six Oscar nominations. But he's never been here with a film like "Wonderstruck."
Indeed, he's never made anything like "Wonderstruck" before.
"My films are not always the most conventional," the director, exhausted by travel but completely involved, acknowledged the night before "Wonderstruck" debuted in competition at Cannes.
But with this engaging and richly emotional film, smartly adapted from Brian Selznick's uncommon novel, he's not only made his first-ever family film, but he's done so very much on his own terms.
"The thing that excited me was that I'd never done a movie about kids, a film kids could see," the director says. "But I wanted it to be as complex, sophisticated and rich as any cinematic experience, to make something really sublime for kids. Great kids films are great films."
In this goal he is helped by Selznick's enormous novel, which tells the stories, first parallel and then intertwined, of two fearless and curious 12-year-olds, who, 50 years apart, run away from home chasing big-city dreams in Manhattan.
In 1977, young Ben (Oakes Fegley of the underappreciated "Pete's Dragon") takes off from Gunflint, Minn., for New York. In 1927, feisty Rose (newcomer Millicent Simmonds) leaves Hoboken, N.J., with the same destination in mind.
But that is only the beginning of the complexities that Selznick, whose first novel became Martin Scorsese's "Hugo," has layered into the story.
For though Ben's tale is told in prose, Rose's is related in exquisite black-and-white illustrations, pictures that are wordless because Rose is deaf and does not speak. (In an additional wrinkle, Ben becomes temporarily deaf early in the story.)
Haynes and Selznick, whose screenplay the director describes as "viscerally cinematic on the page," decided to shoot the 1927 sequences as a black-and-white silent film of the time.
"The sophistication of the medium had gotten to a point that was so extraordinary," says Haynes, a fan of directors like F.W. Murnau and King Vidor, "that it took years to get back to it after sound came in."
By contrast, the 1977 scenes, shot like the 1927 footage by the expert Edward Lachman, have the gritty urban color of films like "Midnight Cowboy" and "The French Connection."
Going between the two eras added a layer of complexity to the visual storytelling that was part of what engaged Haynes. "The formalistic structure of it is juicy, sinewy stuff, and from a stylistic perspective that would have always interested me," the director says.
"I would be cutting scenes with my editor [Affonso Goncalves], and we ended up doing really trippy stuff, like an acid trip for kids. We were not holding back, we were taking you somewhere strange."
A potential difficulty for "Wonderland," which was resolved brilliantly, was Haynes' decision to hire a young, deaf girl to play Rose.
"I didn't know who was out there, but it had to be someone really compelling," the director relates. "We did a national search, identifying the most robust deaf communities, and had about 200 kids put themselves on tape."
From the first moments of the tape from the exceptionally self-possessed Simmonds, a Utah native, "I just got chills," Haynes says. "There was something about this kid, something so intact, just alive and passionate.
"The medium of film is innate to this kid; she knows how to underplay beautifully. It takes adults years of overdoing it to learn that. I would watch her and say, 'How the hell did she learn that?' I still don't get it."
Filmmaking for Haynes often involves learning experiences, and "Wonderstruck" — which also stars Julianne Moore and Michelle Williams — took him into the deaf community and the complex world of American Sign Language. Also explored was the equally arcane universe of American young people he became exposed to when he screened early cuts of the movie to youthful test audiences.
"You do not have to speak down to kids, to dumb things down. Kids are game for complexity, for new experiences," the director reports. "And they're not particularly sentimental. It's the parents who are sentimental, and the kids agree to allow a certain level of that as a bargaining chip with their parents."
Thinking about kids in general and this film in particular made Haynes consider his own childhood.
"I remember being a kid and resenting adults telling me, 'This is the happiest time of your life,' " he says. "I thought, 'Wait a minute. I have conflicts, I have concerns, I have anxieties, and that is all real.' We forget that kids are complicated."
So in a sense Todd Haynes has made this fine film not only for kids but for his younger self as well.
ALSO
Tight security, an airbrushing scandal and high movie anticipation at the 70th Cannes Film Festival
Review; 'The Wall,' a cat-and-mouse game between U.S. and Iraqi soldiers, asks tough questions about the nature of war
Review: 'Obit' is a lesson in how to bring the dead to vivid life
---
Inside the business of entertainment
The Wide Shot brings you news, analysis and insights on everything from streaming wars to production — and what it all means for the future.
You may occasionally receive promotional content from the Los Angeles Times.