Director Nadine Labaki's 'Capernaum' took her on a journey from the slums of Beirut to the United Nations
Reporting from New York —
Getting into the United Nations building in Manhattan is like getting into three airports, but once you're inside, the place is abuzz. The 70th anniversary of the Universal Declaration of Human Rights is being recognized all month. The Dutch are partying on floor 2. And inside the Trusteeship Council Chambers, the film "Capernaum" is being praised as a "wake-up call to the international community."
"It could have been shot in many cities around the world," says the French ambassador, François Delattre. The performers "aren't even acting," says the Lebanese ambassador, Amal Mudallali.
"They aren't acting," Lebanese director Nadine Labaki says a little while later outside the makeshift screening room, with its horseshoe configuration, guests and delegates. "An actor comes to the set being prepared, knowing his lines, prepared to be a different person, to be in someone else's shoes. These people weren't acting: The situations are so similar to what they've lived in their real lives, they didn't feel they were becoming someone else."
At the center of "Capernaum" is Zain (Zain al Rafeea), a 12-year-old Beirut street kid who looks like he's 6 and becomes responsible for a baby when the child's undocumented mother is arrested. The film won the jury prize at the Cannes Film Festival this year before claiming awards at dozens of other international festivals. It recently scored a Golden Globe nomination for foreign language film and made the shortlist of nine contenders for a 2019 Academy Award nomination in that category.
It has also been associated with the U.N. from the start, Labaki said; the mid-December screening was a natural extension of that and perhaps another way of furthering its agenda — about child neglect, child labor, child marriage, the child refugee crisis and child poverty in general.
"I've been collaborating with the UNHCR [the United Nations High Commissioner for Refugees] from the start, and they helped Zain get to Norway," she said. "He's there now, with his parents, overlooking the sea. It's like a fairy tale." Both UNHCR and UNICEF have been helping other kids in the film too, she said. "Maybe it can change something. Maybe I'm too naive."
Her husband and the film's producer, Khaled Mouzanar, concurred.
"The symbolism of this film being shown in the U.N. is big: It is as if each of these voiceless people in this film where given the chance to make a speech at the U.N.," he said. "This was our main aim. But we feel sometimes as if people are expecting solutions or proposals from us towards all these matters. We shouldn't expect solutions from artists; we should only expect inspiration."
"Capernaum" is Labaki's third feature, following 2007's "Caramel" and 2011's "Where Do We Go Now?" With its non-actors, naturalism and spontaneity, her latest has been compared to the work of post-war neo-realists such as De Sica and Rossellini. It also bears comparison to the early docu-fiction of Abbas Kiarostami, the lines ever blurred between the "real" and the not.
The references weren't conscious, Labaki said, but "I'm also fascinated by this Iranian school of filmmaking, which is very close to reality; they're actors, but you wonder if it's documentary. These are the films I like, which draw me the most."
A key narrative device in "Capernaum" — one might almost call it a MacGuffin — is Zain's announcement in a Beirut courtroom that he wants to sue his abusive, neglectful parents. Their crime: having allowed him to be born.
It's the one angle to the story, Labaki said, that is wholly manufactured. Much of the rest, she said, "was life imitating art, or art imitating life, I don't know which.
"Two days after we shot the scene in which Rahil, the baby's mother, gets arrested, the actress got arrested in real life," Labaki said of Yordanos Shiferaw, who, like her character, is Ethiopian. "She got arrested in exactly the same situation and same reasons — she didn't have any papers. When we were shooting, she was illegal."
The baby girl in the film, Boluwatife Treasure Bankole, who is playing a boy, was in a similar situation to her character's. "Her parents were arrested," said Labaki, who also plays Zain's lawyer in the courtroom scenes. "So just like Yonas in the film, Treasure was without her mother."
Labaki said that while the film had a script, she also wanted to tap into her cast's reality.
"The scene where Zain's mother, Souad, is confronting me [as the lawyer] in court, I looked at her [actress Kawthar Al Haddad] and said: 'Now you forget everything. This is your chance.' — the judge was a real judge — 'And you have to say everything you feel towards [my character], the society judging, the society that despises you.' She has a child who's 18 and one that's 9; none of them are registered. Her voice is never heard. She's had to give her children water and sugar [to eat] because she had nothing else."
Labaki agreed with the French ambassador, that the film might have been shot in many cities around the world. But "the problem is magnified in Lebanon," she said, "mostly because Lebanon has a million and a half refugees and is a very small country. At this point, almost half the population is Syrian — almost — so you really feel it everywhere around you. These children are not something you hear about on the news; you have direct contact every day. You see these children when you're driving home."
Labaki was, indeed, driving home one night when she saw, on the median, a child and a mother; the mother was begging, the child was trying to sleep but couldn't because there was nowhere to lie down. It was the spark for what she called "a homemade film."
"It's organic, homemade. We worked without anyone knowing anything, edited for two years. Had 500 hours of rushes; the first version was 12 hours. No producer would allow this to happen."
Luckily, her husband was the producer.
Did he give her notes?
"Yes."
Labaki is right now one of the more prominent female directors in the world. She doesn't say so, but it may be that only a woman could have made "Capernaum," tapping into the realities of a refugee mother and deflecting the resentments that might have followed.
"It was a blessed experience," she says. "You'd think some people would react like this, maybe say, 'Why are you filming us?' But it was the contrary. We were in a bubble, where everyone was collaborating and no one was an actor."
Except for one.
"Except me," she says. "I was the only lie in the film. Which is why my part is so small. It was supposed to be much bigger — in the script, you learned who Nadine is, you go to her house, you understand why she decides to represent this kid and all that. And we shot all of it. But when we started editing, I felt I was the only one who was lying. I'm not a lawyer. Everyone else is playing themselves."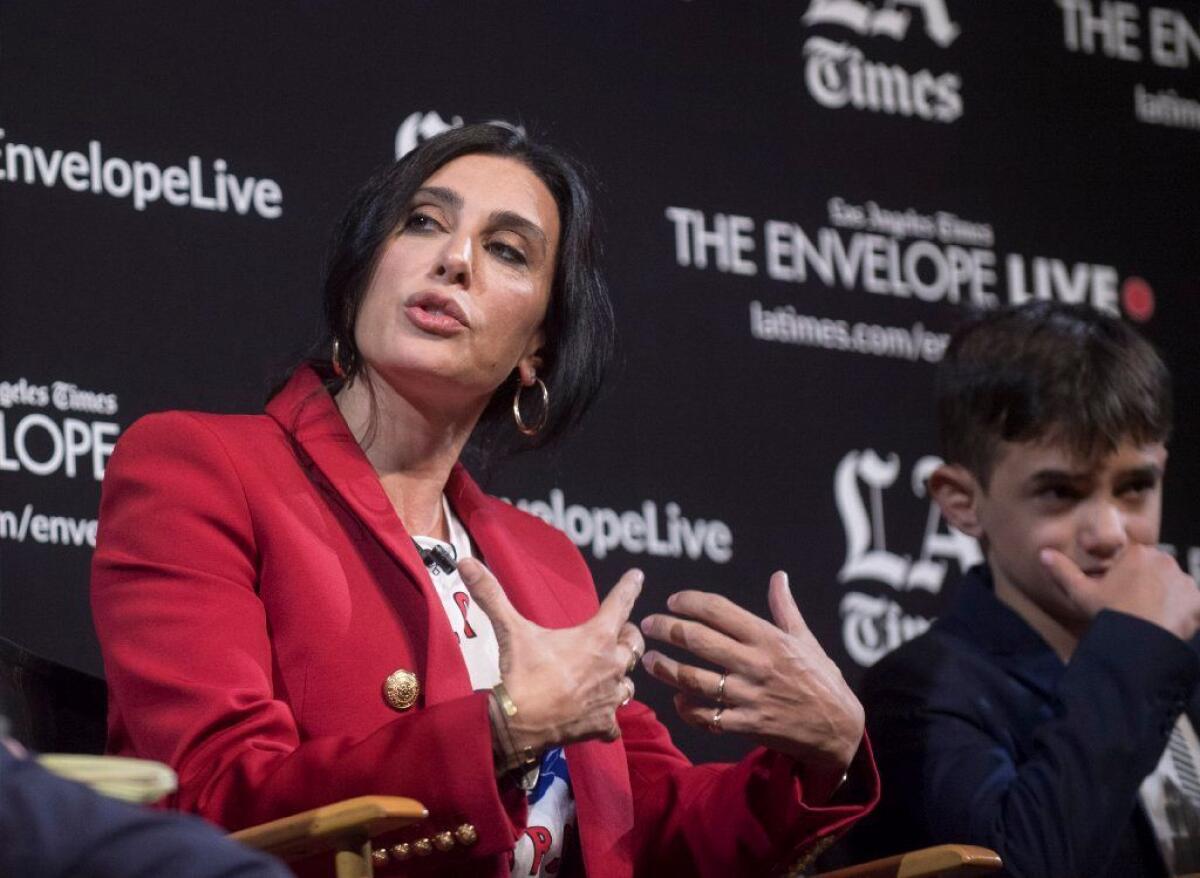 Get the Indie Focus newsletter, Mark Olsen's weekly guide to the world of cinema.
You may occasionally receive promotional content from the Los Angeles Times.