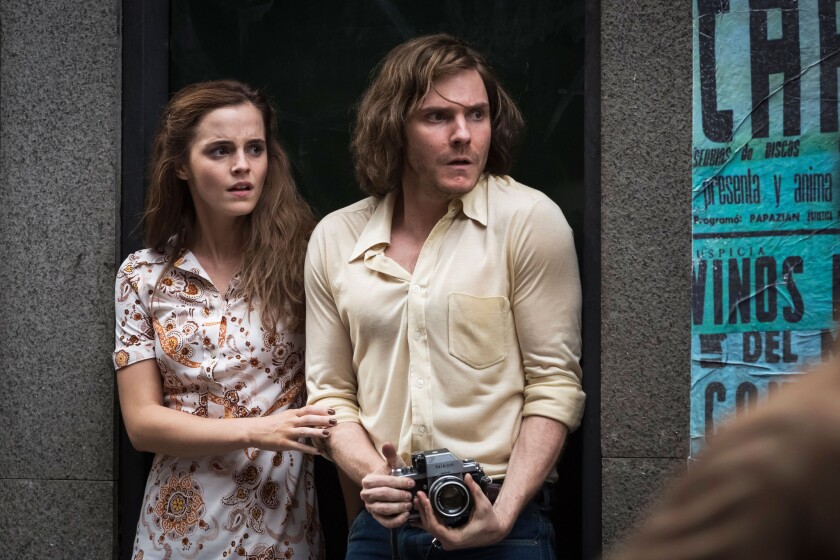 Although inspired by actual events surrounding the 1973 Chilean military coup, "Colonia" can't help but feel like a political thriller that has been effectively stripped of most of those pesky politics.
The end product is a standard-issue cult drama that nevertheless has its gripping moments thanks mainly to the presence of Emma Watson, who brings an intelligence and fierce determination to her portrayal of an airline attendant whose layover in Santiago de Chile turns out to be anything but brief.
When her pro-Allende German activist boyfriend, Daniel (Daniel Bruhl), is apprehended and tortured by Augusto Pinochet's secret police, Watson's Lena manages to infiltrate the Colonia Dignidad, the compound holding him, which is fronted by a religious cult presided over by a monstrous ex-Nazi named Paul Schäfer (Michael Nyqvist).
Schäfer and the Colonia Dignidad did, in fact, play a real-life role during Pinochet's reign of terror, but director Florian Gallenberger and screenwriter Torsten Wenzel, obviously aiming for an "Argo" vibe, fail to persuasively weave those elements into the well-worn woman-in-peril tapestry.
Although there was a more substantial story to be told here, Watson, with her razor-sharp Hermione Granger conviction very much intact, gives us reason to care about her character's predicament even as the dramatics that put her there prove considerably less convincing.
------------
"Colonia"
Not rated.
Running time: 1 hour, 50 minutes.
Playing: Laemmle NoHo 7, North Hollywood.
---