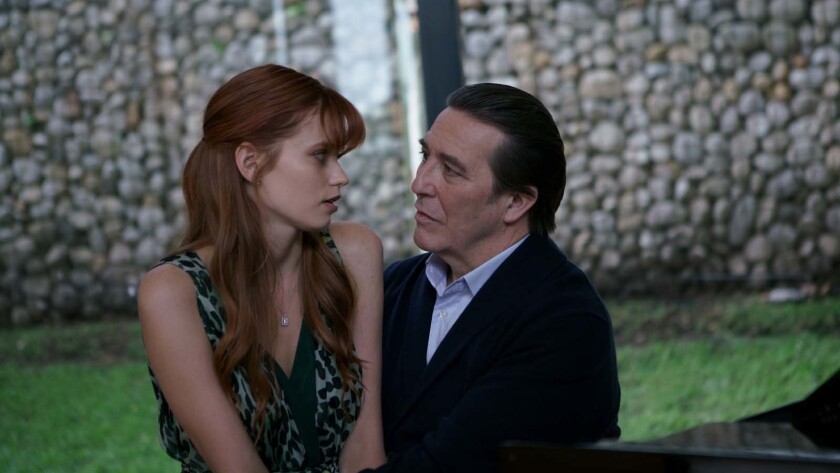 The crowding of influences in Sebastian Gutierrez's neo-gothic/sci-fi thriller "Elizabeth Harvest" — from Bluebeard to Brian De Palma, from Poe to "Ex Machina" — is a commotion that never quite lets this lurid love quadrangle-empowerment saga be its nuttiest best self. It starts with the suspicious yet dull manneredness of a honeymoon between young, wide-eyed Elizabeth (Abbey Lee) and wealthy, controlling scientist Henry (Ciarán Hinds), set at a remote, opulent mansion wherein one room, per hubby's wishes, must never be entered.
That provocation sparks a cascade of discoveries, crimes and survival schemes that aren't merely art-directed to a fault but also unfortunately require the kind of lengthy second-half exposition — thanks to a journal kept by Henry's tormented protégé (Carla Gugino), and coveted by his blind son, Oliver (Matthew Beard) — that eventually dulls this nasty, overlong party.
Gutierrez is ultimately too enamored of his quasi-feminist, visually convulsive upending of damsel myths to let his actors enjoy themselves the way De Palma or Dario Argento would. Gutierrez wants the director to have all the fun, and that leaves Hinds and Gugino, in particular, struggling to make sense of cockamamie characters. But there's at least a fizzy, decadent psycho-sexual energy to the tawdry pageantry of warped desire that keeps you staring, long after the arty-dumb dialogue wears out its welcome.
-------------
'Elizabeth Harvest'
Rated: R, for bloody violence, graphic nudity, sexuality and some language
Running time: 1 hour, 45 minutes
Playing: Starts Aug. 10, Arena Cinelounge Sunset, Hollywood
See the most-read stories in Entertainment this hour »
---