Reviews: 'Time Freak,' Sarah Jessica Parker in 'Here and Now' and more movies
Time travel, death, complicated liaisons, prostitution and racial injustice inform five movies you can see this week in theaters and video on demand.
'Time Freak'
The "quirky-young-lovers-obsessively-over-analyze-a-breakup" plot has been done to death in indie films, but writer-director Andrew Bowler adds a fun and surprisingly poignant science-fiction twist to "Time Freak," a whimsical rom-com that's a little bit "Hot Tub Time Machine," and a little bit "Eternal Sunshine of the Spotless Mind."
Asa Butterfield plays an experimental physicist named Stillman, who has just been dumped by his girlfriend Debbie (Sophie Turner), for reasons he can't discern. So he comes up with a chart of their entire yearlong relationship and invents a time machine, so he can go back and tweak the moments where he thinks he blew it.
This kind of cutesy premise could have been insufferable if the characters' troubles were too broadly comic or melodramatic. But Bowler keeps the conflict within the realm of the ordinary, mainly focusing on the times Stillman slightly overreacted: like when Debbie danced too closely with a mutual friend or when she laughed derisively at his favorite movie.
Stillman takes these trips into the recent past alongside his doofus pothead buddy Evan (Skyler Gisando), a character who starts out grating but becomes a useful foil, helping the hero understand when he ought to rewind and reset. The pair occasionally experiences glitches, getting stuck in days longer than they mean to and inadvertently discovering there's more to "fixing" a life mistake than merely making one small change.
The ultimate point of "Time Freak" is that a healthy relationship demands more than micro-managing someone else's happiness. The film sometimes tries too hard to drive that message home, though Butterfield and Turner play all their scenes in a low enough key that Bowler's moralizing never becomes overbearing. (Turner has a tough role, as a woman who's more of an idealized goal than a person, but the "Game of Thrones" star adds enough grace notes to make it work.)
Mostly, it's impressive how Bowler reimagines his own Oscar-nominated 2011 short film. He takes his original idea of using time-travel as a kind of metaphysical Photoshop and seriously thinks through how it would work — and whether it's possible to have a "happy ending" when revision is always an option.
-------------
'Time Freak'
Rated: PG-13, for drug material, some sexual content, and language
Running time: 1 hour, 44 minutes
Playing: Starts Nov. 9, AMC Universal CityWalk 19; also on VOD
-------------
'Here and Now'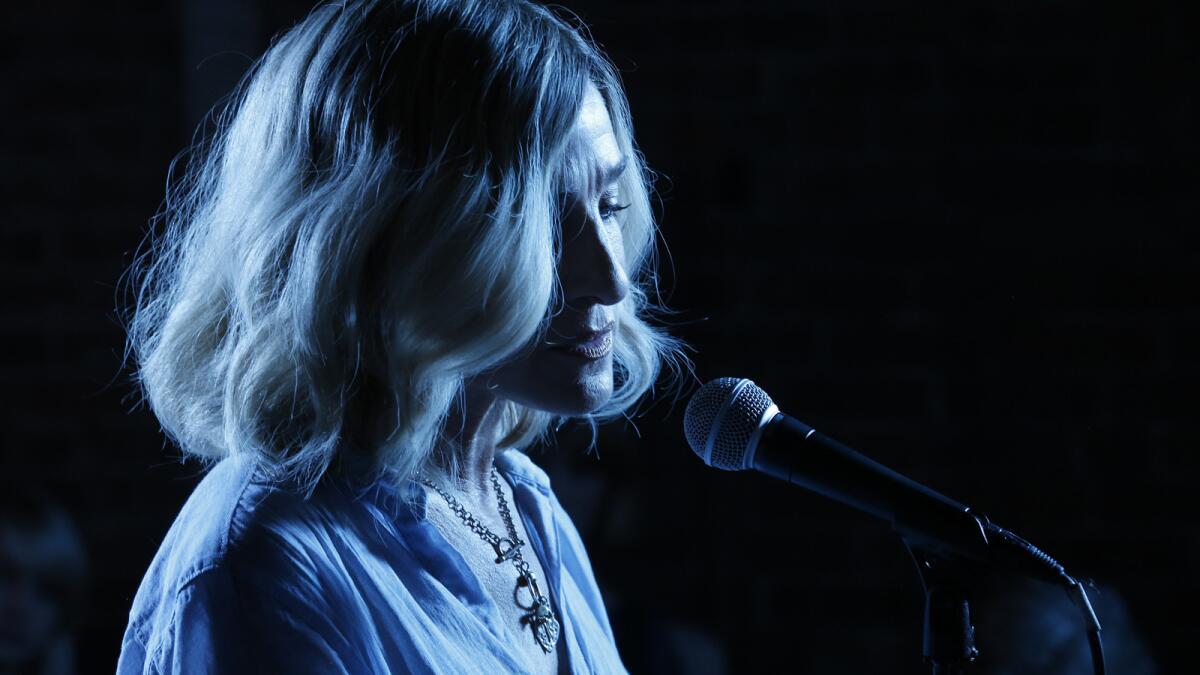 Sarah Jessica Parker gets one of her meatiest roles in "Here and Now," playing Vivienne, an overworked New York City cabaret singer who receives a devastating medical diagnosis, then spends the next 24 hours sharing quiet moments with loved ones, in between her hectic schedule of rehearsals and promotion.
Written by Laura Eason (an accomplished playwright who's worked on the TV series "House of Cards") and directed by the usually fashion-focused documentarian Fabien Constant, "Here and Now" doesn't tell a story so much as accumulate well-observed moments, featuring celebrity guest stars: Jacqueline Bisset as Viv's hyper-critical mom; Simon Baker as her cranky ex-husband; Renée Zellweger as an old pal; and so on.
But like Agnès Varda's similar 1962 French New Wave classic "Cléo From 5 to 7," the thoughtful "Here and Now" uses one woman's sudden awareness of her own mortality as an excuse to focus intently on the many moments of intense emotion that make up a day in the big city.
-------------
'Here and Now'
Rated: R, for language and some sexuality
Running time: 1 hour, 31 minutes
Playing: Starts Nov. 9, Laemmle Playhouse 7, Pasadena; Laemmle Glendale; also on VOD
-------------
'Pimp'
One of the grimiest movies ever made about the sex trade, the aggressively unglamorous drama "Pimp" gets a big charge from musician and former child star Keke Palmer's lead performance as Wednesday, a hard-edged Bronx gangster who inherits her dad's prostitution business after he ODs. The film follows a few days in the cash-strapped Wednesday's life, as she tries to poach a prized hooker from a rival, sparking violence in the streets and problems in her personal life.
"Pimp" is too one-note and grinds its way somewhat drearily to an inevitably bloody conclusion. But writer-director Christine Crokos has a keen eye for the sordid details of the low-rent sex trade, which here is all about grubbing for $20 bills in roach-infested apartments and cramped cars. And Palmer is a firecracker as the heroine, a young woman who has to prove she's as hard — and consequently, as misogynist — as any man.
-------------
'Pimp'
Not rated
Running time: 1 hour, 25 minutes
Playing: Starts Nov. 9, AMC Universal CityWalk 19; also on VOD
------------
'In a Relationship'
Stories about young people falling in and out of love change some with the times, but not that much. The giddy "getting to know you" phase? The fear of moving too fast? Falling into a rut? It's all been covered before.
Writer-director Sam Boyd's 2015 short film "In a Relationship" put a frame around the familiar, following two couples — one fresh, one faltering — as a mockumentary, inspired by Woody Allen's "Husbands and Wives." The feature-length version casts Emma Roberts and Michael Angarano as the pair on the verge of splitting, and Dree Hemingway and Patrick Gibson as the ones who can't keep their hands off each other.
The expanded "In a Relationship" also drops the mockumentary conceit; and without that gimmick, the movie feels shapeless and unmotivated. The cast is terrific, and kudos to Boyd for including some specifics about how 20-something Angelenos hook up in the 2010s. But there's just not enough that's new here — either in what's being said, or how.
-------------
'In a Relationship'
Not rated
Running time: 1 hour, 32 minutes
Playing: Starts Nov. 9, Vintage Los Feliz 3; also on VOD
-------------
'River Runs Red'
Good intentions are undone by a remedial script and inconsistent performances in "River Runs Red," a blunt drama about a racially motivated police shooting. Taye Diggs puts his heart into the role of Judge Charles Coleman — whose upstanding young son is shot dead by bigoted cops during a traffic stop — but the entertainment value's low in this pointed crime thriller, which saves its action sequences until right before the closing credits.
Writer-director Wes Miller squanders John Cusack and George Lopez in small roles as sympathetic vigilantes who helps the judge exact vengeance against the killers, after the department police slanders the victim and buries the case. Much of the rest of the cast is filled out by actors who sound like they're reading a newspaper, not telling a story. Raising awareness of social injustice is a good goal, but not enough to hold an audience's attention.
-------------
'River Runs Red'
Not rated
Running time: 1 hour, 38 minutes
Playing: Starts Nov. 9, Laemmle Playhouse 7, Pasadena; also on VOD
-------------
See the most-read stories in Entertainment this hour »
Get the Indie Focus newsletter, Mark Olsen's weekly guide to the world of cinema.
You may occasionally receive promotional content from the Los Angeles Times.