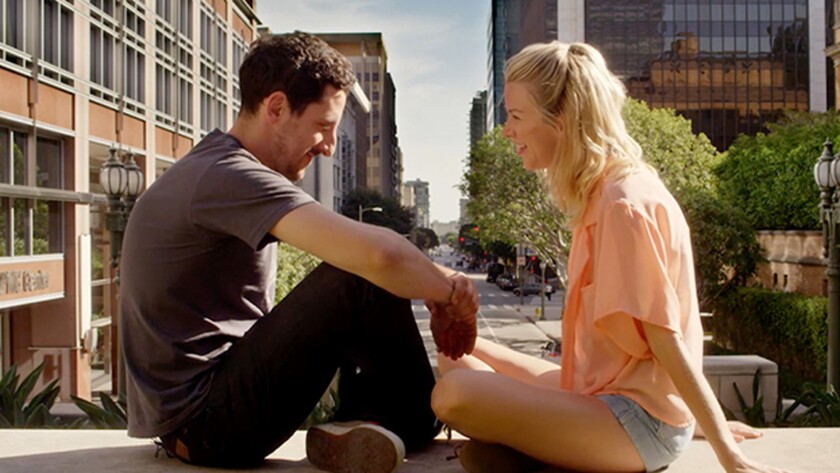 A relationship drama wrapped in a city symphony, "Nobody Walks in L.A." is a glossy, intoxicating advertisement for the City of Angels. We should probably keep this one under wraps to keep our rents from going even higher.
The film, written and directed by Jesse Shapiro, celebrates Los Angeles, but also extols the therapeutic powers of a good walk and a good friend, and the importance of joyously living in the moment. Longtime pals Becca (Kim Shaw) and Miles (Adam Shapiro), native Angelenos on the precipice of enormous life changes, decide to take a day to put everything on pause and just go for a walk.
The rules are simple: no cars, no phones, find the most beautiful and the most ugly thing in the city. Their adventures take them from LACMA to Koreatown to Grand Central Market to Echo Park, and all the places in between and then back again.
"Nobody Walks in L.A." rides on the easy, sunny charm of the lead duo, as well as the beauty and personality of the city. When the topics stray from airy romantic chatter to heavy duty topics, the script feels a bit strained, though it quickly corrects course back to wild abandon and spontaneous fun.
It features the most incongruous, and yet somehow completely apt, song choice to soundtrack the climactic moment of a night bike ride on Sunset Boulevard.
It may seem a love letter to LA, and it is, but most of all, "Nobody Walks in LA" is ample encouragement to simply step outside and see what happens.
-------------
'Nobody Walks in L.A.'
Not rated
Running time: 1 hour, 28 minutes
Playing: Laemmle Music Hall, Beverly Hills
See the most-read stories in Entertainment this hour »
---