Reviews: The quirky romance of 'The Divorce Party' and 'Pinsky'; Mira Sorvino in 'Beneath the Leaves' and more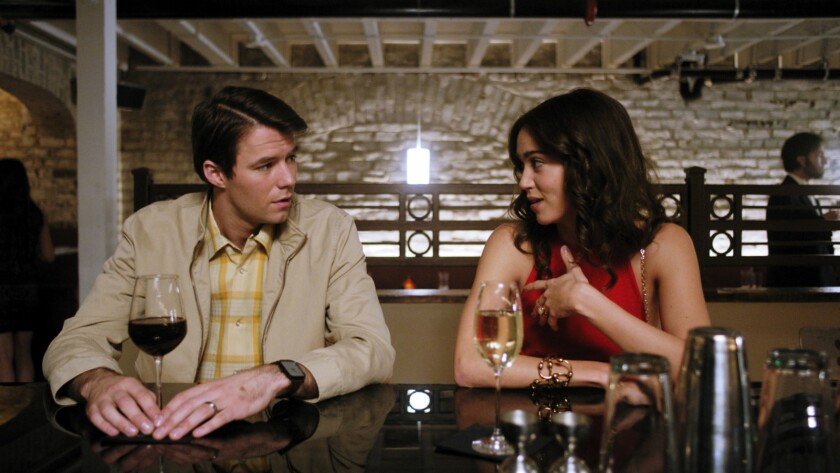 'The Divorce Party'
A young man rediscovers himself after splitting up with his wife in "The Divorce Party," a sweet, diverting and well-performed rom-com that makes its cogent observations about life and love with simple finesse. Although it hardly reinvents the genre, the film, nicely directed by Hughes William Thompson, offers just enough smarts and charm to feel fresher than most in its class.
When after five safe, regimented years of marriage, Nate (Thomas Cocquerel) is told by Susan (Claire Holt) that she wants out, he unexpectedly finds himself on an all-new solo path. But who is he without Susan, with whom he became a bland, cardigan-wearing homebody — which he thought he liked?
An under-inspired architect with a decent boss (Tom Wright) and two cooler co-workers (writers Lane Garrison and Mark Famiglietti), the floundering Nate finds himself turning to adorable, recently divorced friend Katie (Matilda Anna Ingrid Lutz) to help organize a "divorce party" to celebrate his new single status. Two guesses where this relationship is headed.
Despite the film's baked-in predictability, Nate's rocky journey of re-socialization and identity search — which includes awkwardly befriending a gay artist (Todd Lasance), learning to comfortably party (a fun drinking game is a highlight), getting an effective grooming-and-clothes makeover, and parrying with Susan and her new beau (Will Brittain) — proves funny, gently ironic and ultimately touching. Lovely use of Savannah, Ga., locales as well.
—Gary Goldstein
'The Divorce Party'
Not rated
Running time: 1 hour, 33 minutes
Playing: Starts Friday, Laemmle Music Hall, Beverly Hills; also on VOD
-------------
'Pinsky'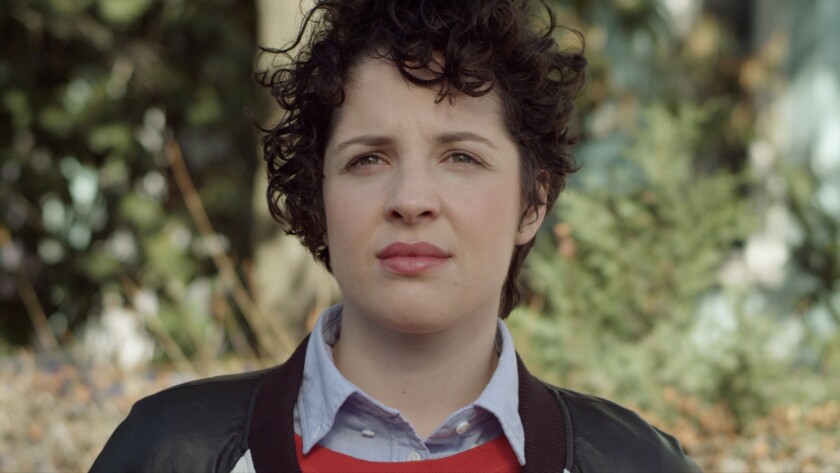 This indie comedy has an Etsy-like charm: quirky, handmade and likable despite its imperfections. But what sets "Pinsky" apart from similar films is its fresh voice from co-writers Rebecca Karpovsky and Amanda Lundquist.
Karpovsky also stars as Sophia, a 20-something lesbian in Boston's Russian Jewish community who finds herself unmoored after a breakup with her girlfriend and the death of her grandfather. Her overbearing babushka (Larisa Popova) sets her up with childhood friend — and nice Jewish boy — Trevor (Jacob Brandt), but Sophia is more into open mike stand-up and Sam (Sam Jay), the woman who introduced her to it.
Directed by Lundquist in her feature debut, "Pinsky" is brightened by colorful animations and Karpovsky's winning performance as the spirited, sarcastic Sophia. It's as unfocused as its heroine, roving between subplots, but there's still plenty to admire in this frank, funny film.
—Kimber Myers
'Pinsky'
Not rated
Running time: 1 hour, 13 minutes
Playing: Starts Friday, Arena Cinelounge, Hollywood
-------------
'Beneath the Leaves'
A committed cast fails to elevate "Beneath the Leaves," an otherwise draggy and derivative thriller about a psychotic killer whose M.O. involves fatally injecting his victims with potassium chloride before harvesting their fingernails.
Two decades after his arrest for abducting a group of orphaned foster boys whom he planned to reunite with their dead parents, the deranged James Whitley ("The Shape of Water" creature Doug Jones) has escaped from prison.
Determined to intercept him before he picks up where he left off is resolute Det. Erica Shotwell (Mira Sorvino), whose hard-drinking professional and, occasionally, romantic partner, Det. Larson (Kristoffer Polaha), just happens to have been one of those kids snatched by Whitley.
While first-time feature director Adam Marino sets an unsettlingly sinister mood with the film's prelude, the aftermath proves to be a dramatically inert disappointment, weighted down with hackneyed dialogue and enough tired genre tropes to fill a slew of vintage Ashley Judd vehicles.
To their credit, those cast members, also including Melora Walters as a decidedly oddball motel desk clerk and Paul Sorvino as a crusty small-town police chief, dig in gamely.
Entrusted with most of that heavy lifting is Sorvino's daughter, who, inexplicably, starts sporting a stylish fedora halfway through the proceedings while maintaining the clenched, perplexed facial expression of someone who could have sworn she had signed on to a better picture.
We feel her dismay.
—Michael Rechtshaffen
'Beneath the Leaves'
Not rated
Running time: 1 hour, 30 minutes
Playing: Starts Friday, Galaxy Mission Grove, Riverside; also on VOD
------------
'Chokehold'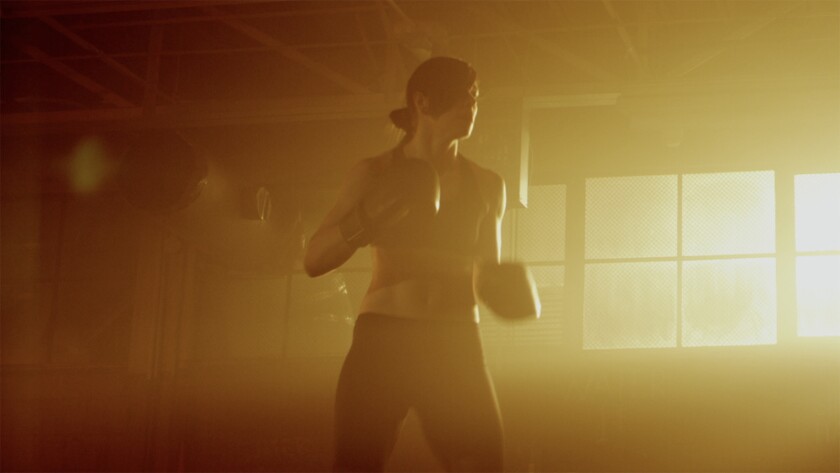 With the growing popularity of women's mixed martial arts fighting (as well as professional wrestling), there are a lot of films and series seeking to capitalize on a trend. Some might be great, and some, such as Brian Skiba's "Chokehold," are cheap exploitation, rendered with all the style and grace of a '90s made-for-cable B-movie.
This revenge flick stars Canadian MMA star Melissa Croden as Zoey, aka "Golden Dragon," a fighter who abandons her plans for a big title match in Vegas in order to avenge the murder of her father, Javier (Casper van Dien), at the hands of the Russian mob (something about money). While Natalia (Ilona McCrea) and her underlings twirl their metaphorical mustaches and laugh in the worst Russian accents committed to the screen, Zoey works her way up through the illegal underground "street" fighting scene. Inexplicably, most of her fights take place in thumping nightclubs or on-stage at metal shows. Zoey's signature finishing move? She breaks the arm of every competitor. Very cool.
"Chokehold" provides a poorly written and terribly acted framework as a thin context for the action. It moves as quickly as possible from fight to fight, with sparse dialogue in between. The real meat of the film is in these brutal matches, where the soundtrack is an assault and the beats are punctuated with the crunching of compound fractures. Yet, in the end, this noisy, amateurish mess turns out to be an advertisement for meditation. Who would have thought?
—Katie Walsh
'Chokehold'
Not rated
Running time: 1 hour, 38 minutes
Playing: Starts Friday, Aryha Fine Arts, Beverly Hills
-------------
'Darkness Visible'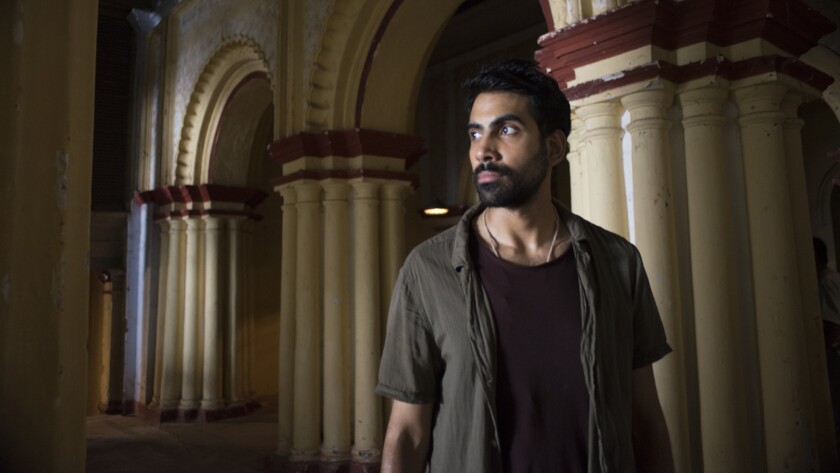 In this supernatural horror film, London-based artist Ronnie (Jaz Deol) is surprised to hear his mother has returned to Kolkata, India, and even more shocked to learn she's been in an accident. When he travels to visit her in the hospital, he finds himself in the midst of a series of ritual murders where he is now a prime suspect.
"Darkness Visible" is disjointed and drags out for far too long, but it features some effectively creepy visuals. Setting an English-language horror movie within India and its traditions feels new, with Ronnie's unfamiliarity with the region and culture contributing to a palpable unease. Unfortunately, there's also a disdain for the same that might make audiences cringe more than gasp.
—Kimber Myers
'Darkness Visible'
In English and Hindi with English subtitles
Rated: R, for violence, bloody images, some sexuality/nudity and language
Running time: 1 hour, 47 minutes
Playing: AMC Citywalk Stadium 19, Universal City; also on VOD
-------------
See the most-read stories in Entertainment this hour »
---
The complete guide to home viewing
Get Screen Gab for weekly recommendations, analysis, interviews and irreverent discussion of the TV and streaming movies everyone's talking about.
You may occasionally receive promotional content from the Los Angeles Times.