Review: Anthony Bourdain looks at culinary sustainability in documentary 'Wasted! The Story of Food Waste'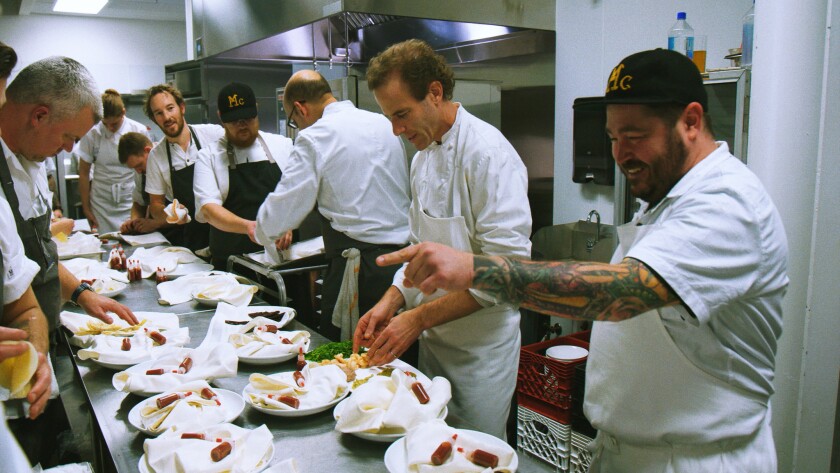 Taking a lively approach to an increasingly serious 21st century issue, the skillfully assembled documentary "Wasted! The Story of Food Waste" proves as eye-opening as it is mouth-watering.
Although host-narrator Anthony Bourdain glibly professes his initial reluctance to take part in the proactive project because, "I don't even know that we deserve to live," the culinary superstar proceeds to introduce a number of fellow chef advocates devoted to addressing the 90% of food waste that ends up in landfill.
They include the genial Dan Barber, who is finding ways to better utilize the entire landscape of a farm, incorporating tasty cauliflower leaves and immature vegetables on menus rather than tossing them in dumpsters.
Meanwhile, Tristram Stuart, a global authority on food waste, brews Toast Pale Ale from neglected end crusts of sandwich bread, while chef-restaurateur Mario Batali discovers succulent "trash" fish that deserve a place at the table alongside the ubiquitous salmon/shrimp/cod/tuna.
Fully realizing that a spoonful of sugar helps the medicine go down, filmmakers Anna Chai and Nari Kye season their thoroughly enlightening eco-primer with a generous sprinkling of levity provided by colorful graphics and the acerbic Bourdain, who really lets loose in the end-credits outtakes.
With Oscar the Grouch's "I Love Trash" providing the perfect end note, "Wasted!" will likely have you cracking open that crisper drawer with a newfound sense of obligation.
-------------
'Wasted! The Story of Food Waste'
Not rated
Running time: 1 hour, 25 minutes
Playing: Laemmle Monica Film Center, Santa Monica
---
Inside the business of entertainment
The Wide Shot brings you news, analysis and insights on everything from streaming wars to production — and what it all means for the future.
You may occasionally receive promotional content from the Los Angeles Times.