Why 'Captain Underpants' author Dav Pilkey played hard to get with Hollywood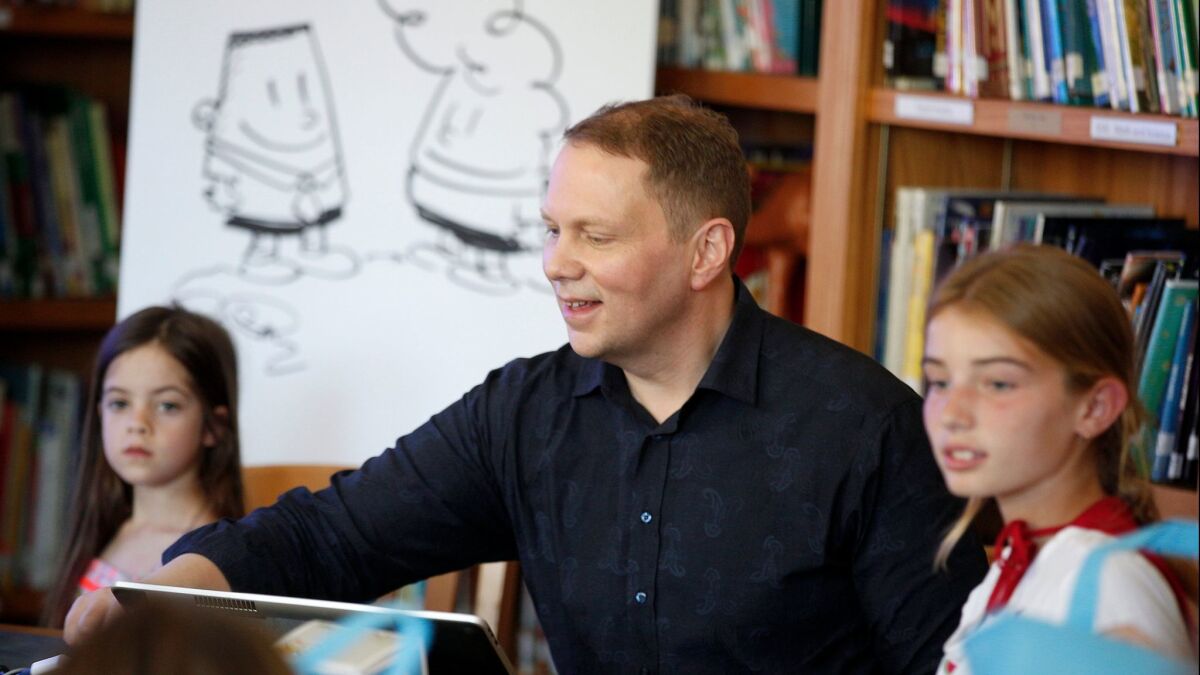 When Dav Pilkey meets his fans, he's never quite sure what to expect. For the author and illustrator of the bestselling "Captain Underpants" books — a series that has been delighting kids and occasionally horrifying their parents for 20 years — every public appearance involves a bit of a roll of the dice.
"Kids are so honest," Pilkey says in the library of Los Angeles' Overland Avenue Elementary School after one such meet-and-greet with a group of fourth- and fifth-graders. "I was at a kindergarten recently and I drew a big picture of Captain Underpants on the chalkboard. One of the kids raised her hand and said, 'Is that you?' " He laughed. "That keeps me humble."
Captain Underpants, for the uninitiated, is a pudgy, bald superhero in a red cape and tighty-whities who — with a cheerful cry of "tra la laaa!" — does battle with villains with names like Dr. Diaper, Wedgie Woman and Sir Stinks-a-Lot. To be more precise, he's the do-gooder alter ego of a cranky, tyrannical principal named Mr. Krupp who is brought to life when Krupp is hypnotized by a mischievous fourth-graders George Beard and Harold Hutchins.
Across 12 books and several spinoffs, Captain Underpants has valiantly defended "truth, justice and all that is pre-shrunk and cottony" in epic tales featuring talking toilets, zombie nerds and evil aliens — all of them rendered with a simple, kid-friendly drawing style and generous helpings of words like "barf," "butt" and "pee-pee" for those (of whatever age) who have a taste for that kind of thing.
If any of that sounds confusing, you can ask any 9-year-old to explain it. Or buy a ticket to "Captain Underpants: The First Epic Movie," which opens this weekend.
The DreamWorks Animation film brings Pilkey's unique blend of free-wheeling adventure, silly puns and unapologetic bathroom humor to the big screen for the first time, as George (voiced by Kevin Hart), Harold (Thomas Middleditch) and their underwear-clad creation (Ed Helms) take on the dastardly Professor Poopypants (Nick Kroll), who is out to rid the world of laughter.
I had these characters and this story line that I loved, and I really wanted to make sure that I told all the stories that I wanted to tell before I let it go.
— Dav Pilkey
Hollywood has been courting the 51-year-old Pilkey ever since Captain Underpants made his smash literary debut in 1997. As the series continued, eventually going on to sell more than 70 million copies worldwide, that interest only intensified. A TV series, video games, animated and live-action movies — Pilkey was pitched every conceivable way to cash in on his creation.
But for years, he resisted.
"I had an agent who just basically said no to everything," he says. "I was so focused on the books. I had these characters and this story line that I loved, and I really wanted to make sure that I told all the stories that I wanted to tell before I let it go."
DreamWorks Animation pursued Pilkey with particular fervor. At one point, as part of the effort to woo him, the author was invited to the DreamWorks campus and found it filled with staffers nonchalantly wearing underwear outside their pants. ("They were completely straight-faced — it was so funny," Pilkey remembered.) Finally, in 2011, his resistance softened, and the animation studio acquired the feature film rights.
"These books are Dav's babies and it's very personal to him — he is George and Harold," says Mark Swift, who produced the "Captain Underpants" movie alongside Mireille Soria. "I think he needed them to go somewhere where they'd get the love that he's put into them and where he trusted the team."
In 2015, after initial director Rob Letterman left the project, David Soren stepped in to take the helm. Pilkey had been a fan of Soren's 2013's animated film "Turbo," the story of a garden snail who dreams of racing in the Indianapolis 500, and in an initial meeting the two bonded over shared creative loves.
"We connected a lot on some of our influences, like the Little Rascals and the Three Stooges and all the old Warner Bros. stuff from Chuck Jones and Tex Avery," Soren says. "Unlike most movies out there right now, 'Captain Underpants' really felt like it could be a cartoon, which was a fun place to start. So many animated features these days are getting more and more towards naturalism to the point where they could almost be live-action, so it was great to run away from that and go back to places that I grew up with."
Pilkey immediately placed his full confidence in Soren. "Once I met David, it was like a huge load fell off my back," he says. "I was like, 'I don't even have to think about this anymore. Just send me a couple of tickets to the premiere.' "
Translating "Captain Underpants" from the page to the screen wasn't as straightforward as it might seem, however. For one thing, there is the rampant potty humor, which may give kids endless fits of giggles but has often been met with eye rolls or worse from some parents and educators who regard the books as a kind of literary junk food. In recent years, the "Captain Underpants" series has topped the American Library Assn.'s list of the most challenged books multiple times — even beating out "Fifty Shades of Grey"— because of what some deem its offensive and inappropriate content.
For the team behind the "Captain Underpants" movie, striking a tone that captured the anarchic and irreverent spirit of the books without tipping over into gratuitous juvenile humor or excessive brattiness involved a tricky balancing act.
"There are things that read fine in the book that, when you put them on a big screen, we're walking a line," Soria says. "We embraced the potty humor because we think it's funny, but it was a process to make sure that whenever we went there, we went there for a reason. By really focusing on the friendship between George and Harold, that gave the movie heart."
In a way, the controversy over the books ended up being liberating for the film, says Soren. "Normally on an animated movie you're trying to appeal to every possible demographic, and often that results in your content being watered down a little bit," he says. "Obviously we hope we get as wide of an audience as possible. But it's likely that if people have issues with the books they may have issues with the movie too, and we didn't feel like we needed to waste a lot of time trying to rope them in. It allowed us to make the purest version of the movie."
Pilkey has come to terms with his books drawing fire from some disapproving adults. For the author, who first created Captain Underpants back in his own elementary-school days, when he was a disruptive kid with ADHD and a souped-up imagination, the books come from a place of creativity and joy, free of any kind of meanness or malice.
"I don't feel like the books have any questionable content — there's no sex or nudity or drugs or anything like that, and the violence is like something you'd see in a 'SpongeBob' episode," Pilkey says. "But no matter what you do, some people aren't going to like it and that's just the way it goes. I just decided, 'Yeah, you might have some people out there who don't like it but you've got 80 million people who do.' I'd rather focus on those."
Pilkey has never wavered in his dedication to his core fan base, which roughly runs from second to fifth grade, plus a core of original readers of the first Captain Underpants book who are now parents. Unlike some children's book authors, such as J.K. Rowling, he has never harbored any ambition to write for adults. His most recent creation, a spinoff of Captain Underpants called "Dog Man," centers on a crime-fighting hero with the head of a police dog and the body of a policeman.
"I have friends who write for older people and I've been to their signings and seen all these old people standing in line and I think, 'I like my audience better,' " Pilkey says. "It's fun having a kid come up and say, 'You're sweaty!' That's way more interesting than someone just kissing your butt all the time."
Heh-heh, he said "butt."
Twitter: @joshrottenberg
Get our L.A. Goes Out newsletter, with the week's best events, to help you explore and experience our city.
You may occasionally receive promotional content from the Los Angeles Times.