'Riverdale's' Charles Melton steps into the spotlight with 'The Sun Is Also a Star'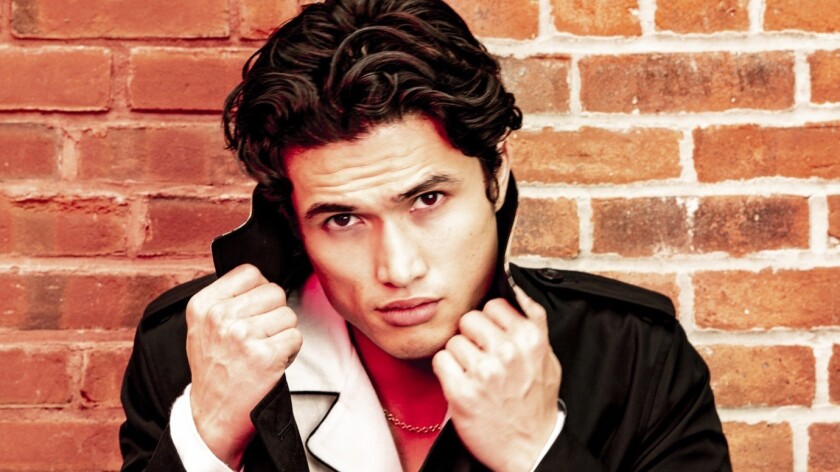 Five years ago, you could have hired Charles Melton to walk your dog. He was really good at it too — the top-rated employee on the Wag app, where he clocked strolls with over 300 canines in two months. Sometimes he'd get bit, but he always tried to leave a nice review about each dog anyway, seeking a coveted three-to-seven-dollar tip.
"I was walking Jim today, and Jim's great. He would have been my best friend if we went to college together," Melton said, recalling the kind of appraisal he'd leave for pet owners. "There's just one thing about Jim: He took a number two in front of the FedEx."
It was 2014, and Melton had just moved to Los Angeles. After years of working as a successful model in New York — booking gigs for Dolce & Gabbana, Kenneth Cole and MAC — he'd decided to leave it all behind and follow his real passion: acting. But it wasn't going well.
He'd landed a guest spot on "Glee," and a couple of episodes of "American Horror Story," but the money he'd saved from modeling was quickly running out. He was sharing a studio apartment with a dude he met on Craigslist. And when he wasn't walking Fido, he was delivering Chinese takeout from Chin Chin in Brentwood.
So he did what so many of us have done in our times of darkness: Look to Oprah Winfrey.
"Oprah said something about doing things with purpose — if you're going to do something, be the best at what you do," he said. "I couldn't just hate walking dogs. I had to love doing it, because in my mind, I was thinking, 'I'll walk dogs and work Chinese takeout for the rest of my life until the day I die so long as I get to do what I'm passionate about.' That's when I realized I was willing to do anything to be an actor."
And before long, with Winfrey as his guiding force, things turned around. In 2017, he landed his first major part — a recurring role on the popular CW series "Riverdale." Overnight, his social media following skyrocketed — he now has 5.6 million followers on Instagram — quite literally leading to his becoming a movie star.
Melton makes the jump to the big screen in "The Sun Is Also a Star," an adaptation of Nicola Yoon's bestselling young adult novel. The Warner Bros. film, which is now playing nationwide, follows two high school students whose paths cross one fateful day in New York City. Melton's character, Daniel, spots a beautiful stranger in Penn Station and runs after her, convinced she's his soulmate. But as it turns out, the pretty girl — Natasha, played by Yara Shahidi (of "black-ish" and the spinoff "Grown-ish") — only has hours left in the city because her family is on the eve of being deported to their native Jamaica.
When Yoon announced that her teenage romance story was being turned into a movie, she solicited her fans' suggestions on who should play Daniel, the son of Korean immigrants whose parents' only wish is for him to become an Ivy League-educated doctor. Within hours, Melton had been tagged for the role hundreds of times. Intrigued after learning of the groundswell, the actor went out that day and bought Yoon's book. By the time the screenplay was finished months later, he'd already voiced his interest to the filmmaking team and asked to put himself on tape for director Ry Russo-Young.
"Before we'd even met, I found an interview of him online saying that 'The Sun Is Also a Star' was his favorite book," the director said. "I think hunger says a lot. That's not to be undervalued, someone wanting to throw themselves into the part and be passionate — especially for this character."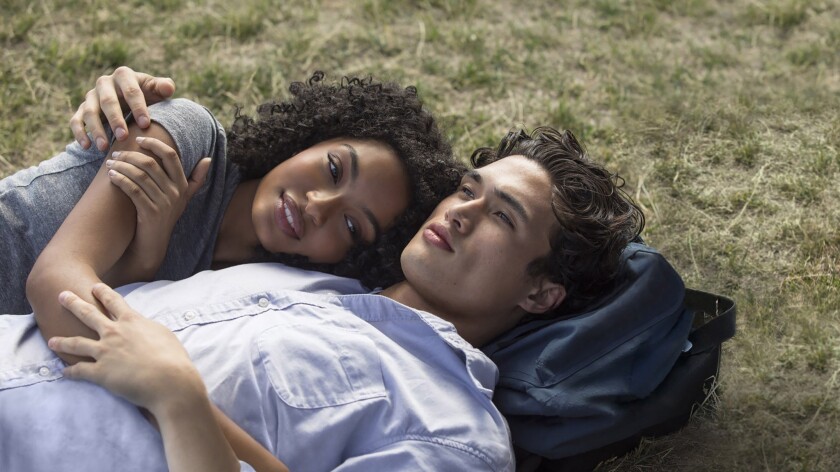 Melton, 28, is big on following his gut. In college at Kansas State University — where he was recruited to the football team, starting as a safety on special teams in his second year — he literally changed his entire career path because of an ad he heard on the radio. In his car on the way to practice one day, he got sucked in by one of those "Do you want to be a star?" talent pitches. He called the number and booked an audition for something called the Arts Showcase, eventually driving 45 minutes to a Marriott in Salina, Kan., to read copy for a Twizzlers commercial. He landed a callback, but there was a catch: He'd have to pay $3,000 to attend the showcase in Orlando, Fla.
"I thought, 'Wow, I made it. I made it,'" and then I saw in the fine print that it was $3,000," Melton said. "So I ended up crying to my parents to let me do this — literally crying, full, real-deal crying. My dad was like, 'How are you going to pay us back?' And my mom convinced him."
Growing up, Melton was a military brat, traveling the world because of his father's Army career in infantry and aviation. He was born in Alaska, spent five years in Korea, four years in Germany, a couple in Texas and then finished out high school in Kansas. One of the few constants in his life, he said, was going to the movies. Every Sunday after church, his dad would take him to the theater to see a film. One day, in the third grade, after seeing "The Matrix," he turned to his father and said, "Dad, I want to be in the movies."
"I remember my dad saying, 'Charles, if you keep it up with taekwondo and everything, you can be the next Jet Li, Bruce Lee, or Jackie Chan,'" Melton said. "That was cool to me at the time, but now, looking back, I realize that was his only reference to seeing someone of Asian descent in film."
Melton's father was from Oklahoma, and has always described himself as "all-American, trailer-trash white," according to his son. He met Melton's mother while he was stationed in South Korea. They eventually married and after criss-crossing the globe settled in the U.S. But the time Melton spent as a kid living on a military base in his mother's native country was formative, he said.
That became my idea of America: An all-encompassing melting pot of cultures. A country founded on immigrants and people from all walks of life.
Charles Melton on a lesson her learned in kindergarten in Korea
His kindergarten teacher asked everyone to bring their favorite candy bar to class. He brought a Baby Ruth, he said. The teacher collected the treats and he watched as she put them all into a pot and melted them together.
"She was like, 'This is America,'" he remembered. "And so that became my idea of America: an all-encompassing melting pot of cultures. A country founded on immigrants and people from all walks of life."
Melton was sitting in a conference room at Warner Bros. last month signing a stack of posters in advance of the release of "The Sun Is Also a Star." He arrived wearing pink-tinted sunglasses and a fanny pack snapped around his shoulder.A publicity assistant peeked her head in the door, bearing
bottles of a spinach-colored concoction. "Do you like 'Fifty Shades of Green?'" Melton joked. "I got you one just in case."
"So anyway, I convince my parents to give me the $3,000," he said, returning to his audition story. "I show up and do a cold read, a monologue, a mock TV commercial, a runway walk. It was like a pageant show, and then you'd open an envelope at the end and see how many callbacks you got from casting directors and agents."
He got 23 callbacks, and won some trophies too — "top actor, top model, whatever" — which he still keeps. He didn't get an agent out of it, but the encouragement was enough to inspire him to quit football, pack up his Ford Focus with 60 cans of tuna and chicken noodle soup ("because it's protein, it's healthy, and it doesn't go bad") and move to L.A.
But his biggest struggle wouldn't be sharing a "'Zoolander' apartment" with other aspiring models and actors. In 2018, just as his career was taking off on "Riverdale," some online sleuths dug up some of his old tweets he'd written when he was around 20. And they were bad. "Fat chicks need to understand that wearing yoga pants is a privilege, not a right," read one of the numerous fat-shaming messages. He immediately issued a public apology, but it was a bad look — and something he still struggles to address.
"Yeah, that was a — I wish I could take it back," he said, his face filling with sadness. "The things that I said that were dug up, there's no excuse for it. I still wish — I know this is something that I'm going to be — I'll apologize every day for the rest of my life to anybody that I ever offended or anything. I wish I could take it back."
The issue is particularly sensitive, one might imagine, because Melton's girlfriend — fellow "Riverdale" star Camila Mendes — has admitted to long struggling with eating disorders like bulimia. Melton said one of the most difficult moments during the ordeal was when a stranger found his sister's Instagram account and left comments about her brother's remarks on her page.
"They were like, 'Your brother's disgusting. He's a fat-shamer and you're fat. How does it feel to have a fat-shamer as a brother and you're fat?'" he said, growing angry. "That ... pissed me off. But that's a different story."
Melton has since become much more conscious of what he posts online, and says he feels the pressure of serving as a role model for young Asian Americans who are seeing someone like them in a film for the first time.
"It's good to see Henry Golding doing what he's doing, it's good to see Jackie Chan doing what he's doing. And John Cho and Steven Yeun," Melton said, citing other Asian actors.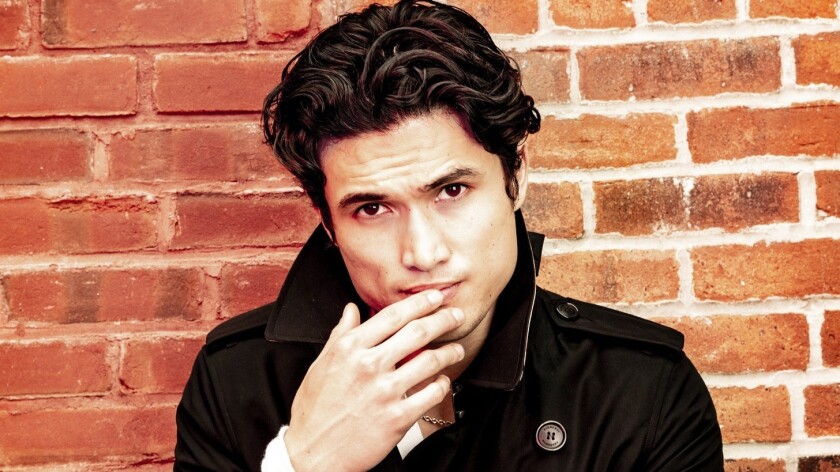 Shahidi, his costar in the film, said she and Melton often discussed "the grander implications" of "The Sun Is Also a Star," and what it means that two young people of color are starring in a studio romance.
"To be in a movie dealing with romance, the implication is that you are deserved of love," the actress said. "We both share gratitude for the time this movie is coming out, being in space in which we have a 'Crazy Rich Asians' and a 'Black Panther' and a 'Beale Street' and 'Us.'"
Because of those trips to the cinema with his dad as a kid, Melton said he's long hoped to be in this position.
"It was never like, 'Oh, there needs to be more Asian people on screen.' It was more like, 'I can be the first one,'" he said. "I loved Ryan Reynolds or Ryan Gosling or Tom Hardy, and I thought, 'Oh, I can do that.'"
His phone began to ring and he paused, checking it quickly. It was his father, so he asked if it was OK to answer it briefly and put the call on speakerphone.
"Hey, Dad, I'm doing an interview with the Los Angeles Times, so I can't really talk right now," Melton said.
His father apologized, but not before sharing his pride over his son's career.
"I feel great about it. He's always been a romantic," Melton's father said. "A real lover and a dreamer."
REVIEW: 'The Sun Is Also A Star' believes that love is the answer »
Yara Shahidi and Charles Melton star in "The Sun Is Also A Star."
Follow me on Twitter @AmyKinLA
---
Inside the business of entertainment
The Wide Shot brings you news, analysis and insights on everything from streaming wars to production — and what it all means for the future.
You may occasionally receive promotional content from the Los Angeles Times.