In "Long Shot," Charlize Theron plays U.S. Secretary of State Charlotte Field as she launches a presidential campaign and unexpectedly falls for her speechwriter, an idealistic journalist named Fred Flarsky played by Seth Rogen. Times critic Justin Chang called the film, directed by Jonathan Levine, "the most likable Hollywood romantic comedy I've seen in ages and, not coincidentally, the most ambitious."
Many reviews have noted Theron's deft comic presence — Time's Stephanie Zacharek called the actress "an elegant goofball" — but she also comes across as a very compelling, competent and credible political persona. Which may have some viewers exiting the theater buzzing not only with that fizzy feeling only a rom-com can provide, but another thought as well.
Charlize 2020.
In a recent interview in Beverly Hills alongside Rogen, Theron shut down any such talk with a quick "No." (And yes, fine, Theron was born in South Africa and according to the Constitution cannot be president. But still.)
"I always say I look at my kids and I say, 'Find something that you love to do.' And I don't think I would love politics. I know that," Theron continued. "That's not my passion. I care about that stuff. I care about it deeply. I want to be aware of it.
"I was raised in South Africa during apartheid. It's impossible for me to not be politically aware. I was just raised that way," she said. "But there's no passion for me with any of that stuff. I look at Dwayne 'The Rock' Johnson, and I think he actually has a real passion for it. You should ask him that question."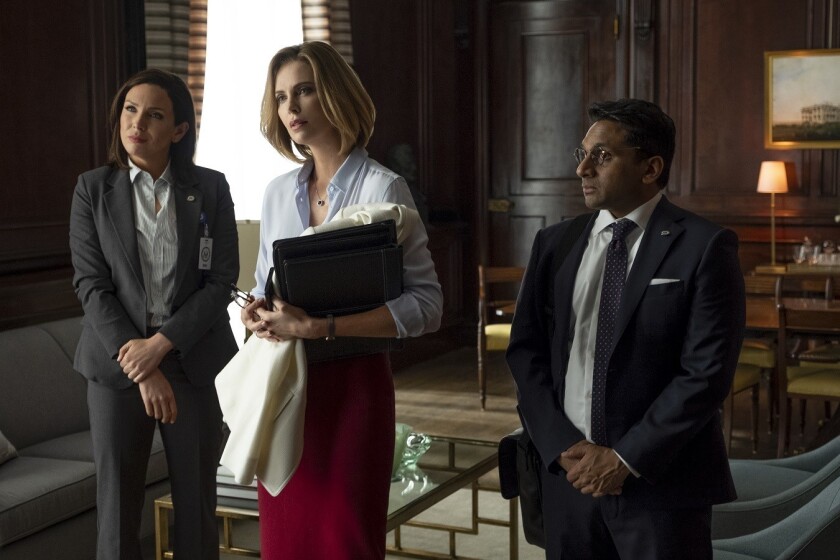 Showing a politician's instinct for diplomacy, when a question arose about a "Long Shot" joke that uses Jennifer Aniston's movie career as the punchline, Theron politely excused herself to go to the bathroom — for essentially the exact amount of time it took Rogen to address the topic.
"It was just a joke," said Rogen. "I assume Fred would feel that way. I don't. Especially at that point of the movie, I don't think we are suggesting Fred is someone with incredibly valid opinions or ideals in a lot of ways. So that was just a joke that we thought was funny, and people seemed to laugh at.
"I think I just said it," said Rogen. "I think it was just something that came out."
Theron has become known for the tremendous physical transformations she often goes through for roles, from her Oscar-winning performance in "Monster" to "Mad Max: Fury Road" and the recent "Tully." So playing a glamorous, confident international diplomat in "Long Shot" may seem easy by comparison, but she still approached the part with serious intent.
"I did not shave my head. I did not lose an arm. I did not get fat," said Theron. "Listen, I don't want my work to become that kind of trivialized. Like, 'Every time she's in a movie she's doing something crazy.'
"All of that stuff is always motivated by truth. It's the only way I know how to work," she said. "For me the most important thing was that you believed it. I really had to wrap my head around owning a space where I walk out onto a stage and I could look like a presidential hopeful. That was challenging. I think it was more of a mental thing versus a physical thing. I just wanted people to believe that moment, that those were real stakes."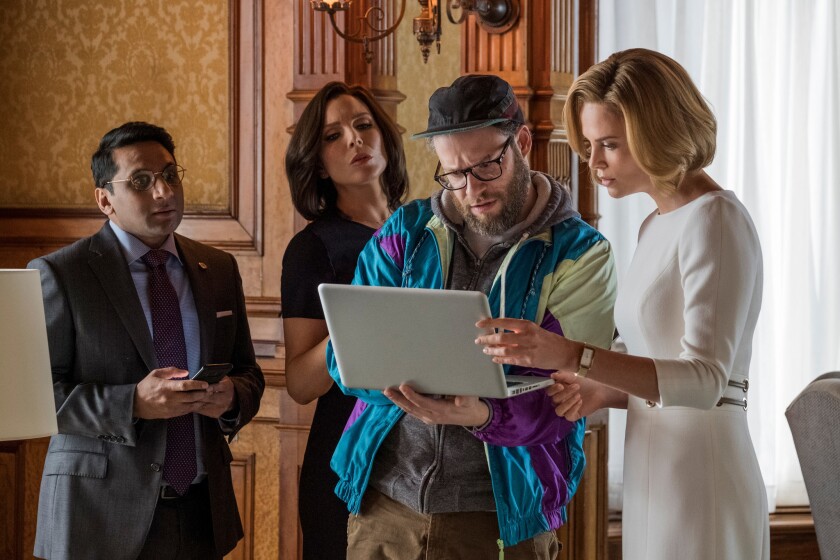 Which is not to say she didn't relish the opportunity to partake in broad comedy, such as an old-fashioned spit take.
"It makes you brave. It makes you do things outside of your comfort zone," she said of the strong sense of trust and collaboration on set. "People help you get to a place where you can't go yourself. And that's where greatness lives. Not that I'm saying I'm great.
"I don't want to … let them down. I'm going to bring my A-game," she said. "[Director] Jon[athan Levine] said, 'Why don't you do a spit take?' So I was like, 'I will do a spit take! I will spit take the ... out of this spit take!' "
Later in the year Theron will have another political-themed movie: a still untitled project about Roger Ailes and Fox News, directed by Jay Roach, in which she plays newscaster Megyn Kelly and is also a co-producer. Alex Metcalf, showrunner of Showtime's upcoming limited series "The Loudest Voice," also about Roger Ailes and Fox News, recently trash talked the Roach project in an interview.
"There's movie trash talking going on?" interjected Rogen. "That's a thing that's happening? That's psychotic."
"I think what I will say is that they have not seen our movie and we haven't seen theirs," said Theron. "To assume that they're the only people who can do research I think would be unfair, which is I felt the assumption that was made. We used a lot of the same sources so that would be very inaccurate…. I don't want to get into a back and forth. So we're keeping our heads down and we're making a great … movie and I get the feeling they might be scared of that."
"Movie beef is weird," Rogen added. "Did 'Deep Impact' and 'Armageddon' beef leading up to release? They're both classics."
"And this is not the first time," added Theron. "I was like, 'Wow, they're spending so much time talking about us.' It's kind of flattering."
SIGN UP for the free Indie Focus movies newsletter »
Follow on Twitter: @IndieFocus
---