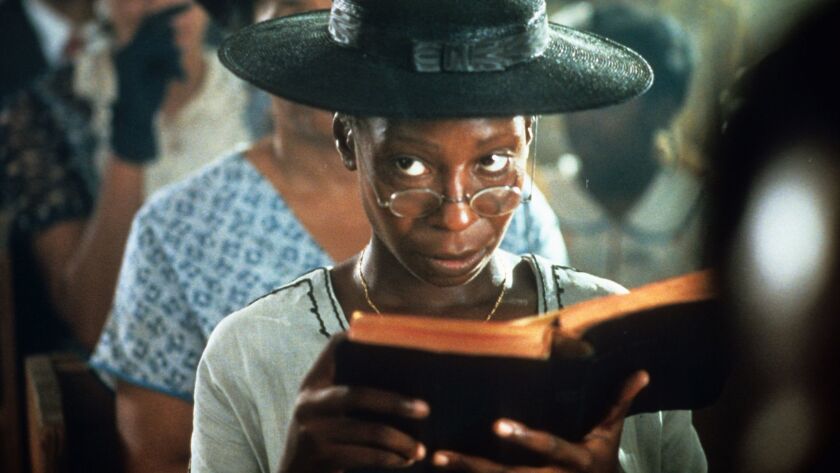 If you're going to call someone out, it helps to do a little homework. Actress-director Elizabeth Banks was reminded of this after commenting on Steven Spielberg's record when it comes to directing films with female leads.
Accepting the Women in Film Crystal Award for excellence in film Wednesday at the Beverly Hilton Hotel, the "Power Rangers" actress singled out Spielberg in her remarks lamenting the state of Hollywood movies that focus on telling women's stories.
"I went to 'Indiana Jones' and 'Jaws' and every movie Steven Spielberg ever made, and by the way, he's never made a movie with a female lead," Banks said. "Sorry, Steven. I don't mean to call [you] out, but it's true."
While Banks' criticism was not quite off base, it also was not quite accurate.
According to the Wrap, an audience member countered Banks' claim by naming Spielberg's "The Color Purple," but the actress moved on in her speech. In Deadline's recap of the events, Banks responded to the interjection to get clarification on whether Spielberg directed "The Color Purple" before moving on, when someone in the audience replied that he hadn't.
Except Spielberg did direct "The Color Purple."
As expected, Twitter was unforgiving that Banks did not remember that Spielberg had directed the 1985 movie that marked the film debut of both Whoopi Goldberg and Oprah Winfrey. Those who tried to defend Banks proceeded to make things worst by claiming that "The Color Purple" was a flop.
Here is a quick rundown the the facts about "The Color Purple" and Spielberg's record with female-lead films.
What is 'The Color Purple'?
The movie is based on Alice Walker's Pulitzer Prize-winning novel, which tells the story of Celie and her life as a black woman in the rural South, struggling with issues including racism, misogyny, poverty and domestic violence. Celie's relationships with other women help her endure her loss and oppression. In addition to Goldberg and Winfrey, the cast included Danny Glover, Margaret Avery, Adolph Caesar and Akosua Busia. Spielberg also was a producer on the picture.
Was the movie a flop?
No. "The Color Purple" grossed $94 million at the domestic box office during its initial run, making it the fourth highest-grossing film in 1985 (after "Back to the Future," "Rambo: First Blood Part II" and "Rocky IV").
The film has grossed $98 million in its lifetime.
How was it received?
It opened to generally positive reviews. Charles Champlin, The Times' arts editor in 1985, noted that "those who had not read the novel have been unrestrained in their enthusiasm for the film; those who read and loved the book have found the film's changes in tone and substance not to their liking."
The Times' original review wasn't completely impressed with Spielberg as director, but it did praise the movie's cast.
"Whatever the faults of Spielberg's artistic choices … he has collected an almost-perfect cast, and what they have done under his direction is undeniable," it reads.
But there were plenty of critics who loved it. The Chicago Sun-Times' Roger Ebert called "The Color Purple" "the year's best film," while the Chicago Tribune's Gene Siskel ranked the "triumphantly emotional and brave adaptation" as one of Spielberg's best works.
So 'Purple' won lots of awards?
Not exactly. "The Color Purple" was nominated for 11 Academy Awards — including best picture, and acting nominations for Goldberg, Winfrey and Avery — but came away with nothing. Spielberg wasn't even in the running for the directing Oscar.
However, he did win the prize for outstanding directorial achievement in motion pictures from the Directors Guild of America, making him the first director to win that award who had not been nominated for an Oscar. Goldberg won the Golden Globe for lead actress in a drama.
So is Spielberg is off the hook?
Not completely. Obviously, it cannot be said that Spielberg has never made a movie with a female lead.
In addition to "The Color Purple," Spielberg directed 1974's "The Sugarland Express," starring Goldie Hawn. And while 2016's "The BFG" might be considered more a vehicle for star Mark Rylance, the film also starred Ruby Barnhill. He's also featured a handful of memorable female characters in his pictures, including Dr. Ellie Sattler in "Jurassic Park" and Marion Ravenwood in "Raiders of the Lost Ark."
But that's a fairly slim list considering Spielberg has directed 30 features in a film career spanning more than 40 years.
What about Banks?
Banks, for her part, has since acknowledged her mistake and apologized.
"It was not my intention to dismiss the import of the iconic 'The Color Purple,'" she said on Twitter. "Those who have the privilege and honor of directing and producing films should be held to account for our mistakes, whether it's about diversity or inaccurate statements."
Please consider subscribing today to support stories like this one. Already a subscriber? Your support makes our work possible. Thank you. Get full access to our signature journalism for just 99 cents for the first four weeks.
Twitter: @tracycbrown
ALSO
Oprah Winfrey was 'terrified' making 'The Color Purple' and has 'never stopped being intimidated'
The Internet thinks Beyoncé had her babies, and here's why
Samantha Bee's mission has not changed because of the Trump administration
Here's how major Hollywood studios stack up on LGBTQ representation
---