'Crazy Rich Asians': Awkwafina on the power of representation and the female comedian who inspired her
After spicing up "Ocean's 8" this summer, 2018 breakout Awkwafina (a.k.a. Nora Lum) is back on-screen as Rachel Chu's scene-stealing fashionista college pal, Peik Lin, in "Crazy Rich Asians."
Born in New York City to a South Korean mother and a Chinese dad, the musician-actress was raised in Queens by a grandmother who nurtured her creativity. But it wasn't until her rap career went viral that Lum felt she could ditch the 9 to 5 and forge her path to Hollywood.
In recent years, she's appeared in the studio comedy "Neighbors 2: Sorority Rising," the Netflix indie "Dude" and on Hulu's "Future Man." She released her EP "In Fina We Trust" this summer, appears on the "Crazy Rich Asians" soundtrack and has her own Comedy Central series in development.
Yet like many Asian Americans, she grew up not seeing women who looked like her in entertainment — with a rare exception: Comedian Margaret Cho, whom she vividly remembers catching on television.
In your own words: What's your Hollywood story?
I am from Queens, New York. I was born to a South Korean mother and a Chinese Dad. My mom passed away when I was four and I was raised by my insane grandmother [who] completely nurtured and really supported my spunkiness and what I felt at the time was weirdness.
I went to LaGuardia High School — I got in for playing the trumpet, and I auditioned with "I Want To Hold Your Hand" — and LaGuardia was a celebration of weird. It was a celebration of what I then realized was just an interest in being extremely creative and aggressively myself... and after that, I started producing beats.
I went to state school at SUNY Albany, and I studied journalism and women's studies, and it was around then that I wrote a song called "My Vag." Maybe four or five years went by, and I was convinced to do a video for it because I never expected anyone to hear it.
I was working at a Japanese restaurant, and I worked at a shady Chinese real estate company... I worked at the vegan bodega. Slowly, the video started gaining more views and people were saying, "Your video's at two thousand views — you're having the best year of your life." And I was like, "Oh my god, you're right." The video went viral and then that led to everything else.
I want to bring back that old Hollywood charm.
— "Crazy Rich Asians" star Henry Golding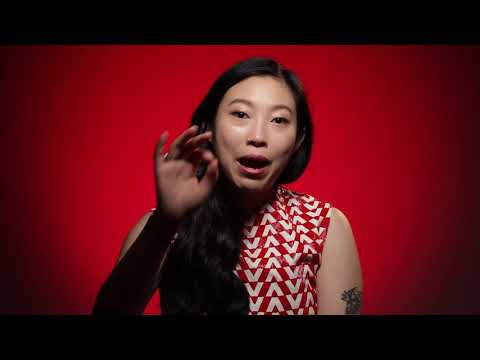 Why Awkwafina cried watching "Crazy Rich Asians" and what the film means to her.
"Crazy Rich Asians" is the first movie of its kind in 25 years. What does it mean to you to be part of this moment?
At one point, Jon Chu showed me the dailies and I cried, and I couldn't tell if it was coming from like an actress standpoint or an Asian American — someone who's lived in this country with so little representation.
People leave the screenings, and their eyes are swollen from crying and they're laughing, and it's just an emotional experience. And I realize that that is the power, the privilege of having representation in a country where you grew up, that you love so much.
I think, in the best way, I'm spoiled because I am an Asian American actress in 2018, and the movies I've done have been extremely well portrayed. They don't fill in those stereotypes that I grew up hating and resenting. So I feel lucky in that way, and I never really forget what it meant and what it means for Asian American actors as well.
When you were young, did you see yourself reflected onscreen?
When I was young, I watched this movie called "Air Bud." It's basically about this dog who can play a really mean game of basketball. I remember thinking, "Whoa, it would be so cool to be that kid" — but then I remember thinking in my mind, that would literally be impossible because then we'd have to recast my parents and Air Bud will probably be a Pekingese or a Shih Tzu. He wouldn't even be a golden retriever.
It was that wall that made anything creative that I ever did or sought out to do just kind of a pipe dream.
Did you find role models who showed you what was possible?
When I was about seven or eight years old, I saw Margaret Cho on Comedy Central. She was the first Asian American woman that I ever saw [in that way]; she was funny without the influence of being Asian at all.
She was just funny. On TV… I didn't see an Asian American woman with a perfect command of English being so unabashedly herself, being unashamed. It was so inspiring to me. I remember thinking not, "Oh, she did it — I can do it," but "Oh, it can be done."
It was an extraordinary moment for me. If it wasn't for the moment of seeing Margaret Cho on Comedy Central, I probably would not be where I am today.
FULL COVERAGE: Why the historic Hollywood rom-com 'Crazy Rich Asians' matters »
Get the Indie Focus newsletter, Mark Olsen's weekly guide to the world of cinema.
You may occasionally receive promotional content from the Los Angeles Times.