'Crazy Rich Asians': Aussie Chris Pang's unlikely journey to one of the most buzzed-about films of 2018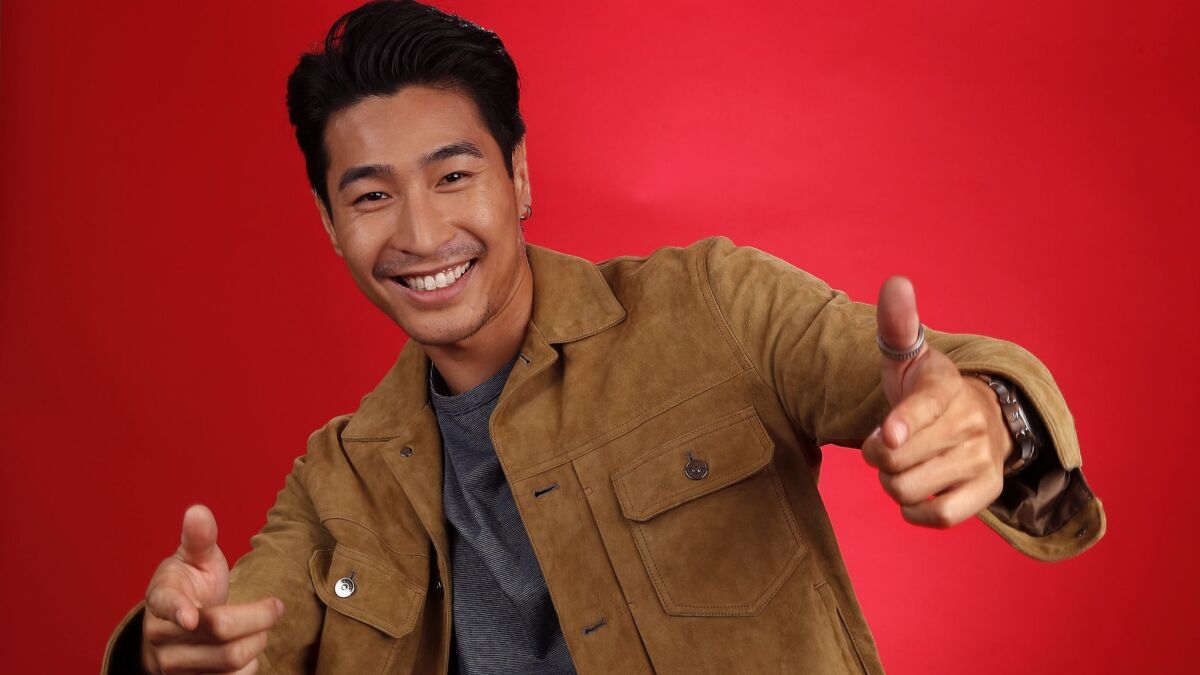 Born to Australian-raised parents of Chinese and Taiwanese descent, Chris Pang grew up in Melbourne and trained in martial arts but never saw a clear path into an acting career until he stumbled into a casting agency and booked his first jobs. Even after starring in the dystopian 2010 Australian hit "Tomorrow, When the War Began," he found the industry lacking in roles for diverse performers and subsequently moved to Los Angeles.
Pang landed roles in Lionsgate's "I, Frankenstein" and the Netflix film "Crouching Tiger, Hidden Dragon: Sword of Destiny" and series "Marco Polo." In "Crazy Rich Asians" he plays leading man Nick Young's easygoing best friend, whose upcoming nuptials to Araminta Lee is the event wedding of the century to the island's jet-set. Pang affirms the value of seeing oneself reflected on screen on such a significant scale — and hopes that audiences won't have to wait another 25 years for the next opportunity.
In your own words: What's your Hollywood story?
Hometown: Melbourne. I'm Australian, if you can't tell from the accent. I just always loved the idea of acting, [but] as a kid I didn't really know that that was a proper career. It wasn't a realistic career path, I guess, until I found myself selling phones to businesses.
I was the annoying guy with the little bag that walks in and is like, "I was just wondering if the business owner is in right now? I want to talk to you about your telephone bills." It's the guy that you immediately kick out of your office. I was that guy, but I walked into a casting studio and I was genuinely interested in what they do so I was talking to them. They were like, "Can you do a Chinese accent?"
If you watch "New Police Story 4," I'm one of the English-speaking voices on it, and that was the first thing that I ever did.
Australian actor Chris Pang talks about how he went from selling phones to 'Crazy Rich Asians.'
It is quite damaging to one's sense of self to not be validated, to not see your own image represented.
— Chris Pang, "Crazy Rich Asians"
When you were young, did you see yourself reflected on screen?
Growing up as an Asian in Australia I've had similar stories to Asian Americans, and generally all over the world — any Asian growing up outside of their own culture, outside of Asia, would have a similar experience growing up. I didn't see myself and my image in media and in films and on billboards and all that. I'd walk around and as a kid I always felt left out in that sense, you know?
It is quite damaging to one's sense of self to not be validated, to not see your own image represented. It was a big thing and I always wanted to change that if I could. So being an actor and putting myself on screen is part of that … I feel the responsibility to be a part of the conversation.
"Crazy Rich Asians" is the first movie of its kind in 25 years. What does it mean to you to be part of this moment?
I feel like we all had an idea of what it could be in our head … I didn't really know how much people would love it until more recently when people started watching the film.
I felt the pressure right from the beginning because when I realized that there hasn't been a film with this much representation that's going to receive this much international attention ... "Joy Luck Club" was 25 years ago — just as an exercise I went to look up articles and media surrounding the release of that film. There was a lot of talk about diversity, there was a lot of talk about representation and inclusion, and it was all great talk — but then it kind of died out.
We haven't had a film like that for 25 years, and this is the first one since then to come out of a major Hollywood studio that's a modern-day representation of Asians. That said to me [that] it was happening at the time, we had those conversations, but the landscape didn't change that much, you know?
Hopefully this time it's a different story. We've come full circle now and we've got the opportunity to do it again. But I really feel like people are responding to this film. We've created something special, it's a lot of fun, and I can't wait for people to see it.
FULL COVERAGE: Why the historic Hollywood rom-com 'Crazy Rich Asians' matters »
---
Get the Indie Focus newsletter, Mark Olsen's weekly guide to the world of cinema.
You may occasionally receive promotional content from the Los Angeles Times.