'Crazy Rich Asians': Henry Golding on his serendipitous debut and desire 'to be a colorblind leading man'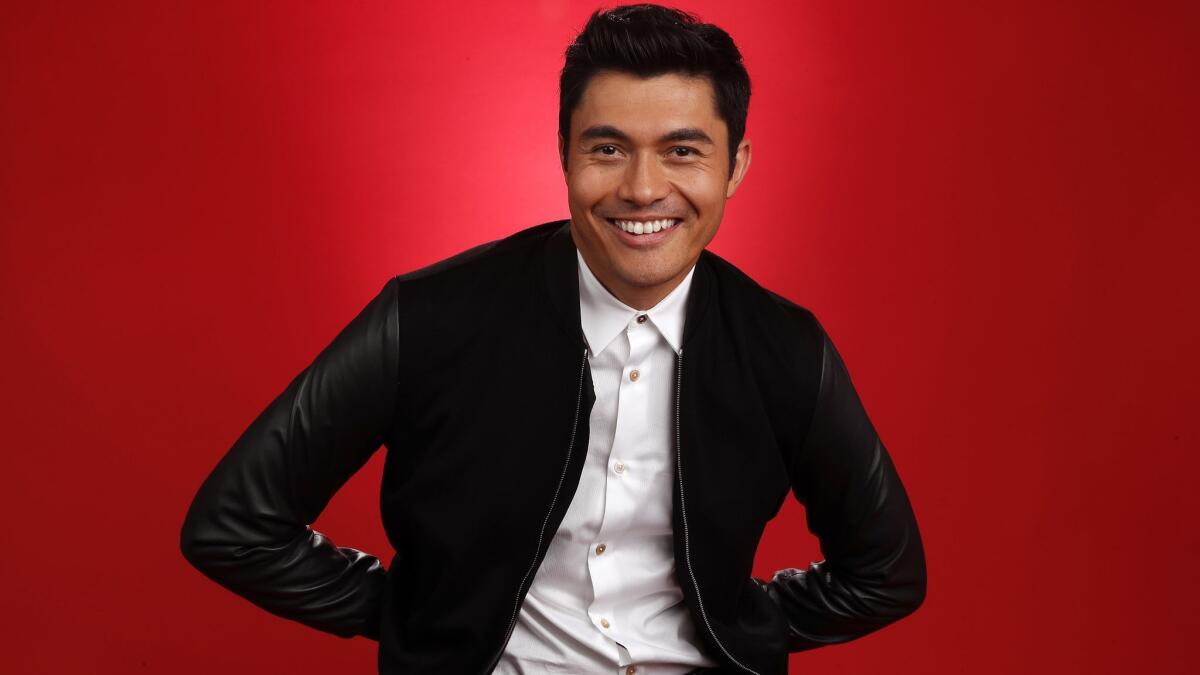 Henry Golding was working as a globe-trotting travel show presenter in Asia when the international search for the right actor to play "Crazy Rich Asians" lead Nick Young, Rachel Chu's [Constance Wu] longtime boyfriend and Singapore's most eligible bachelor, led director Jon M. Chu to him. He'd just gotten married and was honeymoon-bound when he got called back halfway across the world to land the coveted, career-transforming role.
"Crazy Rich Asians" marks his acting debut.
The star-in-the-making, who hails from the Malaysian state of Sarawak and was raised in England, has since filmed two roles in upcoming films: "A Simple Favor" opposite Blake Lively and Anna Kendrick for director Paul Feig, and the drama "Monsoon," from Sundance and BAFTA nominee Hong Khaou ("Lilting").
He hopes this is just the start of a long run of — colorblind — leading-man roles.
In your own words: What's your Hollywood story?
My father is British. [My mother] is from a tribe called the Iban, an indigenous tribe based in Sarawak, the Malaysian state. I grew up on the east coast of Malaysia near Terengganu, I switched over to the U.K. when I was about 9 or 10 years old and [spent] most of my young teens in the U.K. I was a hairstylist in London up until the age of 21, working in Sloane Square.
I had this bright idea of wanting to become a presenter, so I moved back to Malaysia and Singapore to be a travel host, worked for the BBC and Discovery Channel — and then Jon Chu found me for this amazing project. He convinced me that I should be an actor, and that I should throw caution to the wind and audition for him, which I did. Now I'm here. Three movies down, more to come, and I'm happy. I found my new passion.
Hosting television is one craft, but acting is a whole other animal. Was that something you'd always wanted to do?
Movies were the one thing that I loved my entire life. So I always knew that I wanted to get into acting — I just didn't know when. Being able to work on a film like "Crazy Rich Asians" as your first role is phenomenal. Having the opportunity to work with people like Jon Chu, Paul Feig and Hong Khaou, my next director, really is magic. Hopefully I continue that.
I want to bring back that old Hollywood charm.
— "Crazy Rich Asians" star Henry Golding
How crazy was the auditioning process you went through to land this role?
"Crazy Rich Asians" was my first audition, and it was insane. I threw some tapes off to Jon [Chu] and he warned me that we might fly over to L.A. to do a chemistry read with Constance. I had this 32-hour journey — I had 17 hours to do what I had to do in L.A. and impress who I needed to impress — and then 32 hours back to Singapore.
Then a couple of days later I'm in South Africa on my honeymoon, Jon pulls me from my honeymoon four days in and says, "This is the last hoop. I promise you it's going to be worth it. Can you make it back out?" My wife was understanding enough. She understood the importance of this and let me go — and three or four weeks later we found out I was going to be playing Nick Young.
When you were young, did you see yourself reflected onscreen?
Growing up in Malaysia, there wasn't really a problem with representation. We saw faces like ours on screen because Malaysia, Thailand, Singapore, China and Hong Kong all have their own film markets. It was only until I went back to the U.K. when I realized, "Where did all these faces go?" Hollywood had a history of whitewashing and not representing, and so it was never a goal to be an Asian leading man — but when the call came I stepped up to the plate and it was all or nothing. I want to continue that and hopefully be a colorblind leading man.
"Crazy Rich Asians" is the first movie of its kind in 25 years. What does it mean to you to be a part of this moment?
The pressure was definitely there. This was the coveted role for generations of Asian actors. I mean, it was literally something that came around once in a blue moon.
This is the first [Hollywood studio] movie in 25 years telling a contemporary Asian story, and it being normalized — we live out all of these crazy stories in terms of love and adventure, why can't it come from an Asian perspective? I hope "Crazy Rich Asians" really cracks a door in the industry in which studios go, "Oh, we've had this treasure trove of amazing things and amazing stories to tell; now is the right time."
You have to stand on the shoulders of giants and people like John Cho, Daniel Dae Kim, Will Yun Lee, Sandra Oh for instance ... all these amazing Asian actors have led to this moment. We build upon those shoulders and hopefully we will get to a stage where it's normalized — where it's not an Asian movie, it's just a fantastic movie.
What are your hopes for your future in acting?
I want to bring back that old Hollywood charm. I want to be a leading man who is suave and sophisticated. I want to bring a little bit of intelligence back into leading men — the days of Gregory Peck, the days of Cary Grant, Paul Newman. That's who I hope to emulate, but become the first Henry Golding.
FULL COVERAGE: Why the historic Hollywood rom-com 'Crazy Rich Asians' matters »
Get our L.A. Goes Out newsletter, with the week's best events, to help you explore and experience our city.
You may occasionally receive promotional content from the Los Angeles Times.