Review: Amandla Stenberg leads the charge in the been-there, done-that dystopia of 'The Darkest Minds'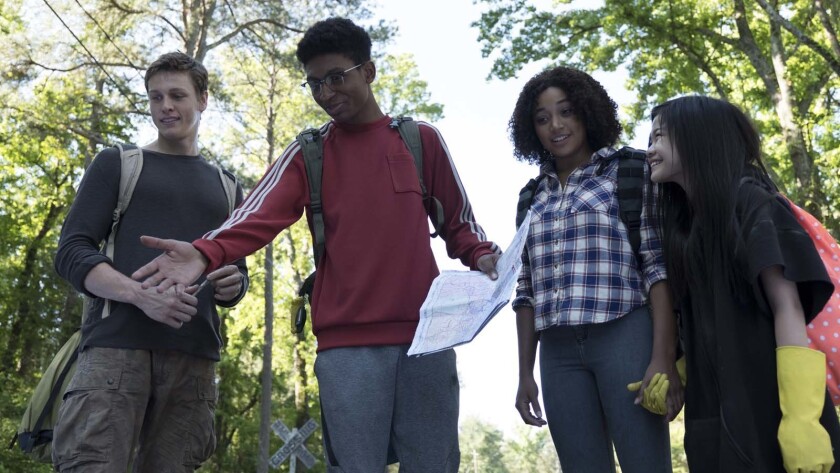 You've seen this future before.
"The Darkest Minds" is the latest YA dystopian book series to get the Hollywood treatment, and it's reached the point where there's barely any effort to hide or tweak the commonalities: teens led by a charismatic unsung hero, superpowers, holding facilities, hunts, rebellions, and be-yourself messaging.
The genre, as adapted for multiplexes, isn't the juggernaut it was when "The Hunger Games" blazed at the box office. Then again, as movies, they've primarily been content to seem like expensive TV rather than richly conceived, emotionally resonant sci-fi epics.
Adapted by Chad Hodge from Alexandra Bracken's successful novels, and with a trilogy in mind, director Jennifer Yuh Nelson (the second and third "Kung Fu Panda" movies) aims for brisk and lively over anything too dark and foreboding. Something not too hard, not too soft, cushioned with montages, romance, and chummy laughter but suitably fierce when lives and suspended disbelief are on the line. The result is something akin to a smooth car ride to an expected destination, which might seem at odds when trying to convey a world in which 98% of children have died, and the other 2% are either imprisoned or relentlessly pursued.
In the movie's corner is a sympathetic, at-times magnetic lead in Amandla Stenberg (Rue from "The Hunger Games") as Ruby, who in an extended opening voice-over narrates the cascading awfulness: classmates suddenly convulsing then dying, part of a pandemic targeting children; the strenuous efforts at finding a cure, led by hopeful words from a president (Bradley Whitford) with an afflicted son; then the fear that eventually spurs the government to put the surviving kids, who boast strange powers, into hellish camps. It was grade-school Ruby's own parents, we learn, who called the authorities on her.
As a 16-year-old, Ruby may be a prisoner but she's still hiding. At the camps, enforced color-labeling — Bracken's blunt metaphor for systematic racial segregation — separates youngsters into a spectrum from green (supersmart and safe) through gold (can manipulate electricity, so mildly scary) to lastly, red (murderously dangerous, so kill them first). Though Ruby lives as a green, secretly she's a marked-for-elimination orange. Her gift allows her to see the pasts of those she touches, but also make them do anything she wants. One of Stenberg's own readily noticeable gifts is conveying how terrified Ruby is of her own abilities.
What kicks off the action is Ruby getting smuggled out of her camp by a compassionate doctor (Mandy Moore). But she winds up joining a ragtag group of superpowered kids — telekinetic hunk and eventual romantic interest Liam (Harris Dickinson), brainy geek Chubs (Skylan Brooks), and electric "gold" girl Zu (Miya Cech) — whose goal is to find an underground community of youth like them led by a mysterious figure called the Slip Kid. They just have to avoid the many bounty hunters out there, one of whom is played by intimidating "Game of Thrones" star Gwendoline Christie.
The surprises that aren't surprises and clichéd confrontations zip right along under Nelson's direction, but as a live-action debut after her successful "Panda" stewardship, "Darkest Minds" feels like a checklist of perils to shake and points to make, rather than an evocative, threatening yet recognizable world ready to reveal deeper, expansive installments.
In other words, Ruby's issues — self-doubt, abandonment, and unexplored strength — deserve a better, less cookie-cut scaffolding on which to watch her become (the filmmakers hope) the new Katniss. There will likely be those young moviegoers who take Ruby's situation to heart, whether seeing parallels in a girl of color's exploration of identity, or simply the universal desire of every teenager to break free and fight authority. But for those already jaded by the onslaught of YA fantasy universes, "The Darkest Minds" is on the forgettably "safe" end of the genre's coded spectrum.
-------------
'The Darkest Minds'
Rated: PG-13, for violence including disturbing images, and thematic elements
Running time: 1 hour, 43 minutes
Playing: In general release
See the most-read stories in Entertainment this hour »
---
Inside the business of entertainment
The Wide Shot brings you news, analysis and insights on everything from streaming wars to production — and what it all means for the future.
You may occasionally receive promotional content from the Los Angeles Times.