'A Brilliant Young Mind' among crop of feature films adapted from a documentary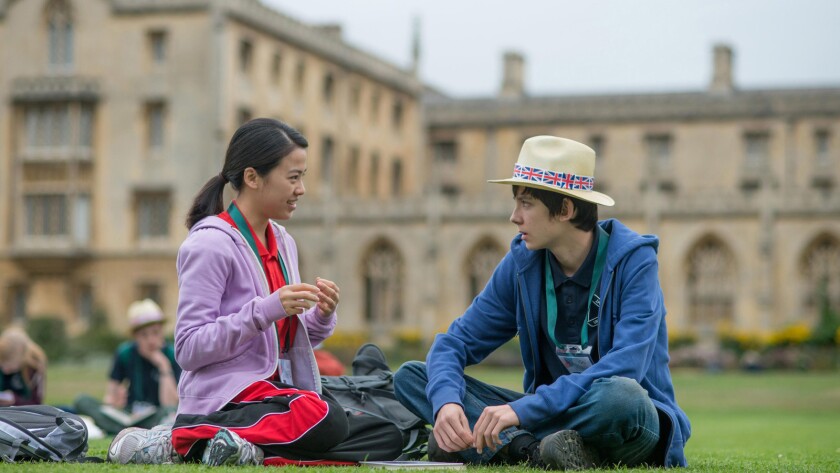 Hollywood isn't just producing adaptations of comic books, bestselling novels and stories ripped from today's headlines — it's mining the rich world of documentaries.
Among the narrative features adapted from documentaries are "A Brilliant Young Mind," which opened Friday and is based on "Beautiful Young Minds"; " Freeheld," which opens Oct. 2 and is based on the Oscar-winning short doc of the same name; "The Walk," set for release Oct. 9, from the Oscar-winning "Man on Wire"; and "Our Brand Is Crisis," scheduled for Oct. 30, from the documentary of the same name.
So why has the documentary genre captured the attention of Hollywood?
"Documentaries have moved from that kind of cultural margins to something that is much more mainstream," said Simon Kilmurry, executive director of the International Documentary Assn.
SIGN UP for the free Indie Focus movies newsletter >>
He also believes the genre is "no longer just a pedagogical form. That was kind of a cliche for a long time. Documentaries are entertainment too. These are great characters with conflict, with all the elements that you think of as being in any other kind of storytelling. The fact that it's real life makes it even more compelling."
Cynthia Wade, who directed "Freeheld," the 2007 Oscar-winning short documentary about a veteran New Jersey policewoman dying of cancer who fights to leave her partner her pension benefits, believes social media are also key.
"We are controlling so much of what we see and how we see what we post," said Wade. "It is all based on real content. There is a really exciting and tremendous shift going toward real stories that resonate, and in some cases more socially conscious than in the past. I think 'Freeheld' is part of that trend."
In the case of the British drama "A Brilliant Young Mind," which stars Asa Butterfield as a teenage math genius diagnosed on the autism spectrum competing in the International Math Olympiad, director Morgan Matthews adapted his own award-winning 2007 documentary "Beautiful Young Minds."
"It wasn't because the film did well that inspired me to adapt it into fiction," said Matthews. "It was mostly the fact that I experienced such wonderful characters who were on a natural journey. The fact that they were such interesting and complex characters unlike any other young people I met for me, I just felt they were great foundations [for a feature] here."
Because Matthews had never made a narrative, having the documentary to show producers was far easier than pitching the story from scratch. "I think if I was going in pitching without having had that experience or anything to show, it would be quite different and I don't think nearly as possible," he said.
Having made the documentary also boosted his confidence.
"A big part of making feature films is that you have to answer a lot of questions from every single head of departments," said Matthews. "I always felt I was able to answer those questions and for the actors to tell them who they were. I came to it with a confidence and understanding of the world."
Matthews opted to fictionalize his documentary using it more as an inspiration for the narrative. "I never really saw a great deal of purpose in simply remaking the documentary as it was," he noted. "It just didn't feel like that was an exciting thing to do. The purpose and the point of going into drama is that you can be creative with those stories."
Still, he said, there are a numbers of characters in that movie who are recognizable from the documentary. "We also had discussions [with the real people] that this character is based on you. It's inspired by you, but it's not you. I can understand that it is quite difficult to understand."
In fact, Daniel Lightwing, the inspiration for Butterfield's Nathan, thinks of himself as that character.
Lightwing, who had script approval, "was involved during the process, so he has a very strong connection to Nathan," said Matthews.
"He's cried quite a lot while watching the film — in a good way," Matthews noted. "During different screenings, he ultimately was able to stand up in front of an audience with me and answer questions at a couple of screenings. He could never do that before."
Twitter: @mymackie
---
Inside the business of entertainment
The Wide Shot brings you news, analysis and insights on everything from streaming wars to production — and what it all means for the future.
You may occasionally receive promotional content from the Los Angeles Times.