Women in Hollywood gala becomes a forum for stars to reflect on their own stories of sexual abuse and harassment
On a night that was supposed to be a celebration of empowerment, Elle magazine's Women in Hollywood gala turned into an evening of shared stories about sexual assault and harassment.
At the star-studded event Monday at the Four Seasons Hotel in Beverly Hills, actresses such as Jennifer Lawrence, Reese Witherspoon, Lake Bell, Tavi Gevinson and Bellamy Young were upfront about their personal experiences in wake of the Harvey Weinstein scandal.
"I think every woman in here has experienced some version of sexual harassment or assault or rape," Bell told The Times on the red carpet. As the night progressed, she was proved right.
"I've experienced really inappropriate things on commercial sets," Gevinson told The Times. "And what was more shocking than what happened was the number of people around who were just kind of designated to be the handler to a grown man who acts like a baby. But hopefully, this makes other people feel like they can't stand by on a set anymore when it happens."
"The one glorious thing about this moment is that conversations are being had," said Young. "There has to be a tipping point. You can't put the jinn back in the bottle. All of us have either kept quiet out of fear or shame or complicity, but now we can't."
The intimate gala was in honor of the eight cover stars of Elle's November issue: Lawrence, Cicely Tyson, Tessa Thompson, Margot Robbie, Riley Keough, Kathleen Kennedy, Jessica Chastain and Laura Dern.
The magazine's newly minted editor-in-chief, Nina Garcia, kicked off the evening with a speech that, like many more to follow, was somber in tone. (And hers was the rare instance where Weinstein was mentioned by name.)
"Ten days ago, a female investigative reporter at the New York Times brought to the fore revelations about someone that I and many of us in this room have worked with and thought we knew: Mr. Harvey Weinstein," said Garcia. "And although some of us were shocked, while others were unaware, all of us are complicit, as it was clear that he had too much power and that he liked to exert it."
Comedian Joel McHale hosted the event, stating right away that he wouldn't be making any Weinstein jokes.
"I tell jokes for a living, but I am not going to dignify or normalize any of this behavior through a joke," McHale said.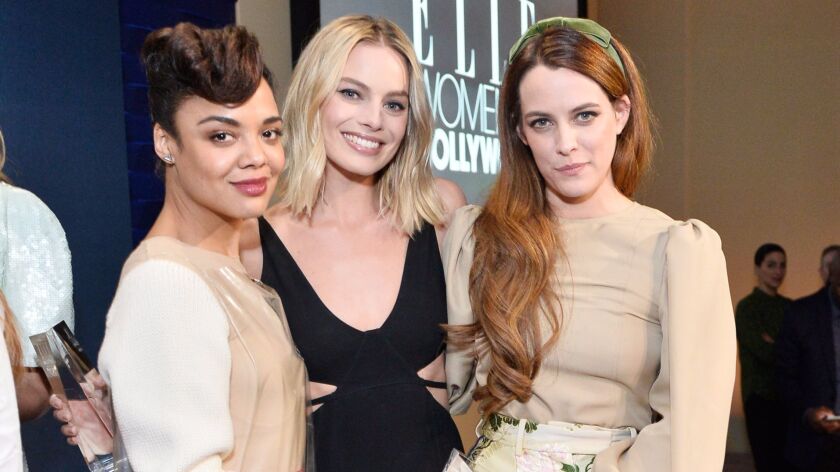 Onstage, presenters and honorees alike shared their own experiences.
In her speech introducing Lawrence, screen veteran (and mother of honoree Dern) Diane Ladd spoke of being assaulted by the late Harry Cohn, then-president of Columbia Pictures, who had invited her to have a drink poolside before proceeding to grope her inner thigh. She was 17 at the time.
"I picked up his hand and I threw it aside," Ladd recalled. "And he laughed, got up to walk away and said, 'Kid, you'll never be a star like that.' So I went on to New York, and I have fought most of my life to make this industry better for the next generation."
"It's so fundamental to the female experience to be mistreated and feel ashamed of it. Or worse, to be made to feel ashamed," Lawrence said in her speech. She then proceeded to share her own disturbing history with assault and body shaming.
"When I was much younger and starting out, I was told by the producers of a film to lose 15 pounds in two weeks," she said. "During this time, a female producer had me do a nude lineup with about five women who were much, much thinner than me.
"We all stood side by side with only paste-ons covering our privates. After that degrading and humiliating lineup, the female producer told me I should use the naked photos of myself as inspiration for my diet."
Shonda Rhimes, the only presenter to receive a standing ovation, spoke on behalf of Tyson, who told a story about selling plastic bags on the streets of New York as a kid when she was accosted by a much older man.
"That was my first encounter or introduction to what I later came to know as sexual molestation," Tyson said to a rapt audience, several members of which were in tears. "It never left me. And so I know what it is, what it was and what it will be if we don't stop it. And we can."
Witherspoon, who presented the award to her "Big Little Lies" co-star Dern, spoke vaguely about a director who assaulted her when she was 16 and "made me feel that silence was a condition of my employment." Dern spoke at length about female empowerment but did not directly mention Weinstein.
Chastain, introduced by director and screenwriter Aaron Sorkin, mentioned a time that she was spanked by a producer as she walked past him in the hallway. Kristen Stewart introduced her friend Keough, beginning her speech by awkwardly fumbling through an impromptu, expletive-laden rant about Weinstein read off her phone. Keough also had a story to share about being on the receiving end of sexual harassment.
"I've had men joke about sexual favors I can exchange for jobs, and I'm used to men commenting on my appearance rather than my performance," Keough said. "And all these things, which I generally laugh off as silly or write off, but they're not silly, and it's up to us as women in our industry to change this conditioning by bringing awareness to these instances."
Robbie, introduced by her "Suicide Squad" costar Jay Hernandez, modeled her remarks after the essay read at the end of John Hughes' "The Breakfast Club," and spoke about inequality and the reality of being a woman in Hollywood.
Producer and Lucasfilm President Kathleen Kennedy, introduced by Annette Bening, spent the majority of her seven-minute address beseeching the film industry to convene a commission "charged with the task of developing new industry-wide protections against sexual harassment and abuse."
"A demand is growing for action to prevent further civil and human rights abuses in the future," Kennedy said. "Increased awareness of the belittlement, objectification and predation long endured by women who work in film will certainly be one result of the exposure of what Harvey Weinstein did and was permitted to do.
"Predators must come to feel that they can't count on power or wealth or fame to shield them from the consequences of their actions."
Director Ava DuVernay presented the award to Thompson, using her speech to remind the audience of the two-fold perils faced by the women of color who are often left out of mainstream conversations and face both sexism and racism.
"We don't have time to work on these -isms one by one," DuVernay said, repeating the phrase for emphasis. "Triggered by trauma and outrage, we should be outraged by all of it, all of the time. Until we are all safe, no one is safe."
Thompson echoed the same sentiments in her speech, calling for a "wider, intersectional, more inclusive lens."
"I think maybe it's time to look again at the way that power is distributed in this industry, because I think the guy in the hotel suite in the bathrobe is merely emblematic, and Hollywood is a microcosm," she said. "Within it, I think we see, yes, that systemic sexism reigns supreme, and I think we also see that systemic racism and discrimination exist, and that's also our country."
follow me on twitter @sonaiyak
---
From the Emmys to the Oscars.
Get our revamped Envelope newsletter, sent twice a week, for exclusive awards season coverage, behind-the-scenes insights and columnist Glenn Whipp's commentary.
You may occasionally receive promotional content from the Los Angeles Times.