For Beck Weathers, 'Everest' 'takes me apart,' but a sense of humor keeps him together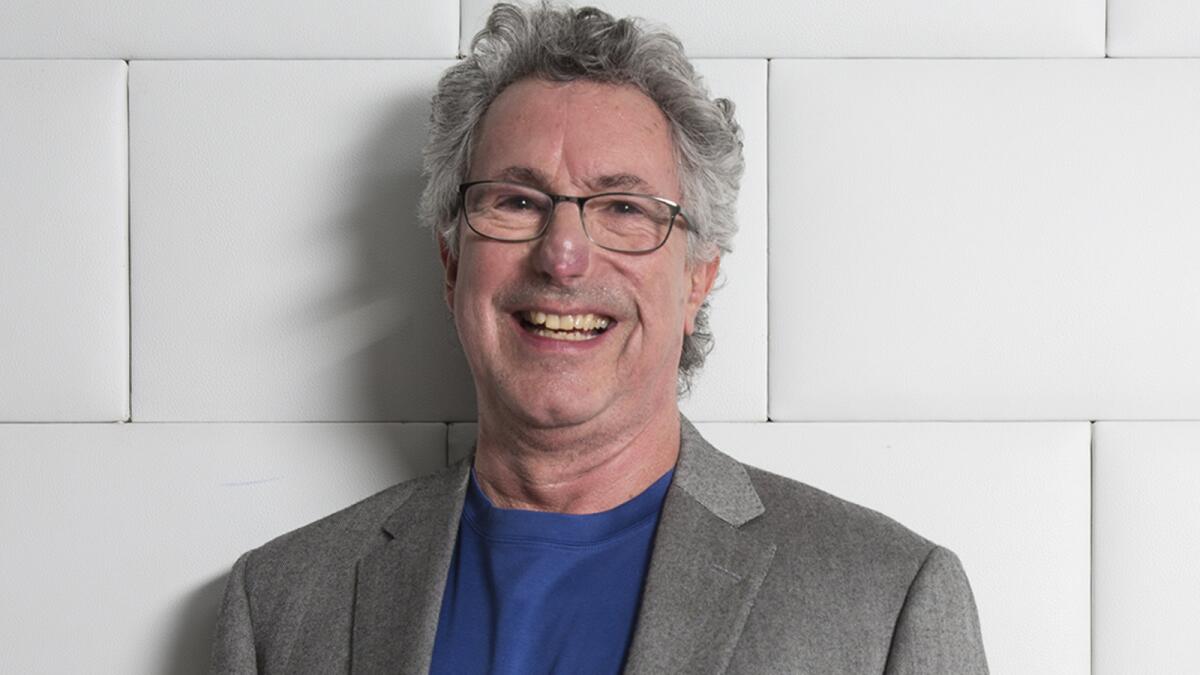 Nearly 20 years later, Beck Weathers speaks of May 10, 1996, as "the day that I died."
About 6 that evening, Weathers, a hard-charging 49-year-old Texas pathologist and experienced mountain climber, became stranded in a blizzard on Mt. Everest at 26,000 feet. Nearly blinded from the effects of the altitude, his supplemental oxygen depleted, Weathers entered a hypothermic coma and was deemed by fellow climbers to have no chance of surviving.
SIGN UP for the free Indie Focus movies newsletter >>
The storm would ultimately claim the lives of eight people. Back home in Dallas, Weathers' wife, Peach, and their teenage son and daughter received the call that he was among the dead.
Yet Weathers did not die. After lying unconscious for 15 hours in brutal conditions, he somehow woke up and staggered down to camp, suffering from severe hypothermia and frostbite that would lead to the loss of his nose and hands.
Now Weathers' improbable tale is one of the central threads of the new film "Everest," opening Friday. Portrayed by Josh Brolin with cocky bluster and Texas bravado, Weathers at first seems an unlikely hero, but, over the course of the film, his facade falls away and he becomes humanized by the tragedy.
Weathers, now 68, is not a particularly spiritual man, so he doesn't explain his "resurrection" in terms of miracles or destiny. "My guess is the sun warmed me up just enough that it triggered consciousness." Or maybe, he suggests, there was another, even more mundane explanation. "That was going to be the day of my daughter's first date," he says dryly. "The things some fathers will do to keep their daughter from going out with some grubby-mitted boy."
Clearly Weathers has held on to his sense of humor. Still, even after two decades and numerous recountings of those tragic events in documentaries and books such as Jon Krakauer's "Into Thin Air" and Weathers' "Left for Dead," for him and the others who survived, watching "Everest" is difficult.
"I've seen it three times, and each time it basically runs me over," Weathers says. "Emotionally it takes me apart."
It took Weathers many months and nearly a dozen operations to physically recuperate from his experience on Everest. His right arm was amputated below the elbow, and his left hand was surgically reshaped into the rough shape of a mitten. His nose was reconstructed with skin and cartilage from other parts of his head and neck and, for months, grew on his forehead until doctors could safely attach it to the middle of his face.
Recovering psychologically took even longer. "For a while you put the emotional healing aside because the physical demands have to be dealt with," said Peach Weathers, who is played in "Everest" by Robin Wright. "Finally times get quiet and they're not quite as hard, and you can sort of mull over things."
Over time, it got easier for Weathers to talk about Everest, and, after returning to practice medicine, he eventually began a second career as an inspirational public speaker. "I've always been a storyteller. Peach says I could talk the ears off a rubber rabbit. But I didn't really have a story. And then I did."
From the start, Weathers had gravitated toward climbing in an attempt to try to free himself from a depression that had settled on him in college. Though his growing obsession with mountaineering put a strain on his marriage, by physically pushing him to the limit, he found he could keep the black cloud temporarily at bay. Everest represented the biggest challenge he could imagine, a way to escape his encroaching sense of mortality and to be what he envisioned to be his best self.
"I think Beck was trying to prove himself to himself," Peach says. "He was really hard on himself. I don't know where that comes from or why he picked that way to fix it. I guess it's just something that you come with."
NEWSLETTER: Get the day's top headlines >>
When Weathers learned that a big-budget Hollywood take on the 1996 Everest disaster was in the works, he was wary, and not only because it would dredge up painful memories. "I'd never seen a Hollywood movie about climbing that I thought was worth a hoot," he says. "It always looked to me like a bunch of actors on a ski slope screaming at each other."
Over a three-hour meeting in a hotel in Los Angeles before shooting started, Brolin worked to get below the surface of the story Weathers had told so many times, but it took the help of several rounds of Jack Daniels and Coke. "That always seems to tear away a few onion layers," the actor says.
For Brolin, one of the most telling moments came toward the end of the night. The actor asked Weathers if he ever climbed anymore. Weathers said no, he'd given it up years ago.
"I go, 'So what are you doing?'" Brolin recalls. "I'm thinking, 'Is it library time? Are you writing mountaineering poetry?' And Beck says, 'I'm flying planes.' It's like, Of course you are! For some people, that's just where life is more comfortable, man."
(For the record, Weathers says he gave up flying earlier this year "at Peach's seriously strong encouragement.")
While Weathers has nothing but praise for "Everest" as a film, he isn't entirely comfortable with the version of him that's depicted on screen, which plays up his hubris and arrogance.
"Especially in the first part of the film, my character is a bit of a jerk," Weathers says. "I know it would be almost impossible for a Hollywood screenwriter faced with a conservative Texan to not engage in a little bit of enjoyment in creating that character. But if I start off as a bit of a jerk, I just have remember that I'm devilishly handsome and I'm married to Robin Wright, so I can stand a little bit of criticism."
For her part, Peach Weathers believes the film gets her husband circa 1996 essentially right. 'I'm not calling him a jerk — well, maybe I am," she says. "But I think it was a pretty accurate portrayal of his mind-set. And maybe that was a mind-set that was absolutely necessary for him to get to Everest and certainly to survive."
Weathers still dreams about Everest sometimes. But they're not nightmares, like you might expect. They're pleasant dreams of the time before the storm, not death-haunted ones of darkness and pain and fear.
"I never dream about Everest in a bad way," he says matter-of-factly. "I loved being there."
"If I knew exactly what was going to happen — every bit of the struggle and heartbreak — I would do it again in a heartbeat. I gave up a couple of parts. But what I got back was my marriage, my relationship with my kids and a forced reevaluation of how I wanted to live the rest of my life. I got so much more out of it than I gave up."
Twitter: @joshrottenberg
ALSO:
'Jeopardy' contestant loses game but wins Internet
Tension crackles across the many borders of 'Sicario'
Matt Damon isn't racist, the system is; 'Project Greenlight' proves it
Get the Indie Focus newsletter, Mark Olsen's weekly guide to the world of cinema.
You may occasionally receive promotional content from the Los Angeles Times.