Film Critic
In "Extremely Wicked, Shockingly Evil and Vile," an exasperatingly oblique account of the life and crimes of Ted Bundy, the actual crimes remain almost entirely off-screen. The ostensible protagonist is Elizabeth Kloepfer (Lily Collins), who was Bundy's girlfriend before and during his notorious 1970s killing spree, and whose slow-dawning realization of his true nature — the title provides a clue — is meant to provide the story's dramatic fulcrum.
When did Liz begin to suspect? More pertinently, the movie wants you to ask, would you have guessed the truth if you were in her unfortunate shoes?
Rare is the viewer, of course, who could sit through this movie in blissful ignorance of who Bundy was and what he did. (Shortly before his execution in 1989, he confessed to having killed 30 women over several years; the actual number is thought to be closer to 100.) The director, Joe Berlinger, and the screenwriter, Michael Werwie, attempt something both structurally ambitious and self-defeatingly coy: Without letting you forget who their subject is, they do what they can to lull you into a state of temporary ignorance, to turn a known criminal record into a hypothetical proposition.
Alternate explanations are propounded, including the possibility of an elaborate police frame-up. The ghastly particulars of the killings, some of which were accompanied by rapes (before or after death), are described but nearly all left off-screen. Bundy, whose good looks and enormous charisma were his most consistently deployed weapons, is cannily played by Zac Efron, a versatile actor who has always benefited from the audience's willingness to underestimate him. His usual charm offensive takes on a sly double edge here; you can just about make out a chilling blankness behind that easy-on-the-eyes smile.
That smile seduces Liz almost immediately after she meets Ted in a Seattle bar in 1969, then brings her home to where her 2-year-old daughter, Molly, is sleeping. You feel a brief, sickening spasm of suspense that the movie shamelessly milks again the next morning, when Liz awakens and sees that Molly's crib is empty, only to find the child seated happily in her high chair while Ted cooks them all breakfast. My, what a sharp knife he's got, but also, what an impossible dreamboat he is, as he makes clear to Liz just how much he loves her and wants to be with her.
His declarations of love continue even after the action skips ahead six years to 1975, when Ted, now a law student in Utah, gets pulled over for a moving violation in his soon-to-be-infamous Volkswagen Beetle. Before long detectives and prosecutors are tying him to the slayings and disappearances of women in multiple states, including Utah, Colorado and Florida.
As he languishes in courtrooms and prison cells, he calls Liz incessantly and assures her both of his innocence and his inevitable exoneration. Liz, for her part, spends the next several years veering from shock to disillusionment, with heavy doses of drink, depression and misplaced guilt.
Ted's phone calls take on the quality of ritual torture, leaving little doubt that, in a very real sense, his girlfriend is one of his victims too. Collins is an effortlessly sympathetic presence, but the relentless cutaways to Liz lost in a fog of misery are moving without being especially revealing. They also obscure crucial elements of Kloepfer's story, including one startling detail the movie springs as a rug-pulling twist. A picture as genuinely invested in her psychological state as this one purports to be would have revealed it at the outset.
"Extremely Wicked, Shockingly Evil and Vile" is a rare but not unprecedented foray into dramatization for Berlinger, whose groundbreaking true-crime documentaries, including "Brother's Keeper" and the "Paradise Lost" trilogy, have often examined the slippery nature of the truth. His nonfiction work often has the compulsively watchable pull of a fictional Hollywood narrative, and it's no surprise to see his natural skill at pacing, framing and scene construction here.
But if the idea was to tell the story from Liz's perspective, the movie botches that perspective badly: Abandoning any sense of narrative rigor, it can't keep hunky, charming Ted from becoming the protagonist of his own hideous story.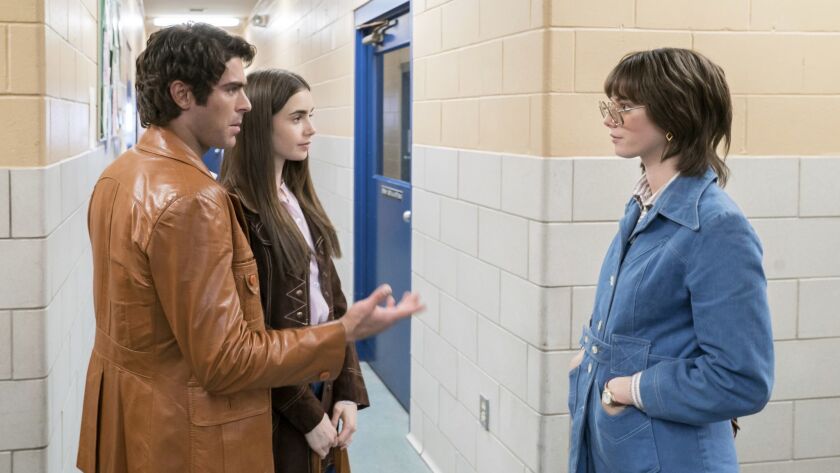 Nor can it resist dramatizing some of that story's juicier particulars, including Ted's two daring escapes from prison and his ongoing relationship with Carole Ann Boone (Kaya Scodelario), who maintains an obsessive belief in his innocence. His ability to inspire this kind of collective delusion, mainly among young women who couldn't believe him capable of such crimes, is magnified a hundredfold at his nationally televised 1979 trial for the murders of two Florida college students. The resulting media circus becomes the story's extended climax, presided over by an amusingly hammy John Malkovich but dominated by Ted's courtroom stunts and scene-stealing bow ties.
The killings themselves, meanwhile, recede into the background. There is something scrupulous, I suppose, about the decision to withhold the images of graphic carnage that earlier Bundy biopics have freely indulged, though it's unclear exactly what this movie gains from such an approach. At its worst, it flaunts its restraint as evidence of its virtue. It's as if Berlinger were trying to make his version of David Fincher's "Zodiac," a masterpiece of narrative reconstruction that refused to turn murder into cheap thrills or to feed the bloodlust that has turned serial killers into a particularly ghoulish national obsession.
That's a nice aspiration, but there is really no mistaking "Extremely Wicked, Shockingly Evil and Vile" for anything other than the well-made, high-minded exploitation movie it is. It's now available for streaming on Netflix alongside Berlinger's other Bundy project, "Conversations With a Killer: The Ted Bundy Tapes," a four-part documentary series that tries to find a different way into the terrifying void of its subject's mind. The director's fascination with a monster is plain to see, even if this particular dramatization makes it awfully hard to share.
Director Joe Berlinger and stars Zac Efron and Lily Collins talk about Ted Bundy and the effect of portraying his life in "Extremely Wicked, Shockingly Evil and Vile," at the L.A. Times Studio at Chase Sapphire on Main.
------------
'Extremely Wicked, Shockingly Evil and Vile'
Rated: R, for disturbing/violent content, some sexuality, nudity and language
Running time: 1 hour, 50 minutes
Playing: Vintage Los Feliz Theatre, Los Angeles; streaming on Netflix
justin.chang@latimes.com | Twitter: @JustinCChang
---