Claire Foy, Christian Bale and nine more stars undergoing movie makeovers this awards season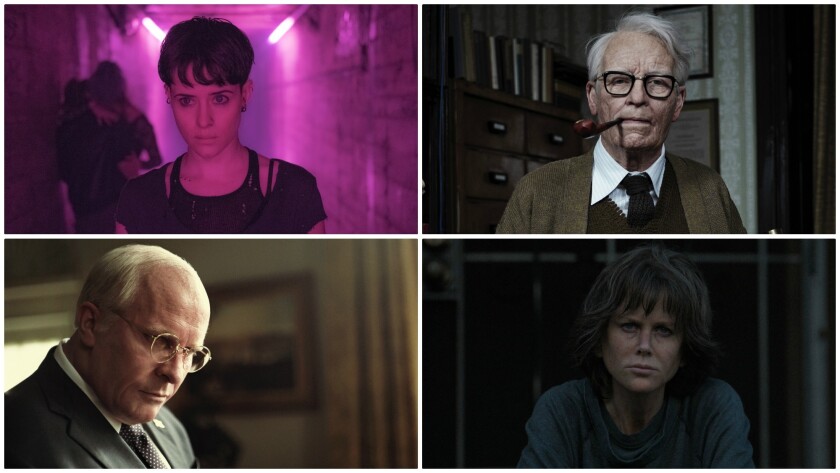 Do wigs, prosthetics and weight fluctuations pay off at the Oscars? Hollywood stars frequently put themselves through extreme physical transformations to garner the attention of motion picture academy voters. The gamble can pay off in awards season gold, in the case of such recent Oscar-winning turns as Charlize Theron in 2003's "Monster," Christian Bale in 2010's "The Fighter" and Gary Oldman as Winston Churchill in last year's "Darkest Hour."
This season, a slew of actors are following suit, with Claire Foy shedding her prim and proper "Crown" persona for the punky aesthetics of "The Girl in the Spider's Web" and Bale adding on quite a few pounds to play Vice President Dick Cheney in "Vice." Here's a closer look at these two and nine additional actors sporting major makeovers this holiday season.
Claire Foy, "The Girl in the Spider's Web"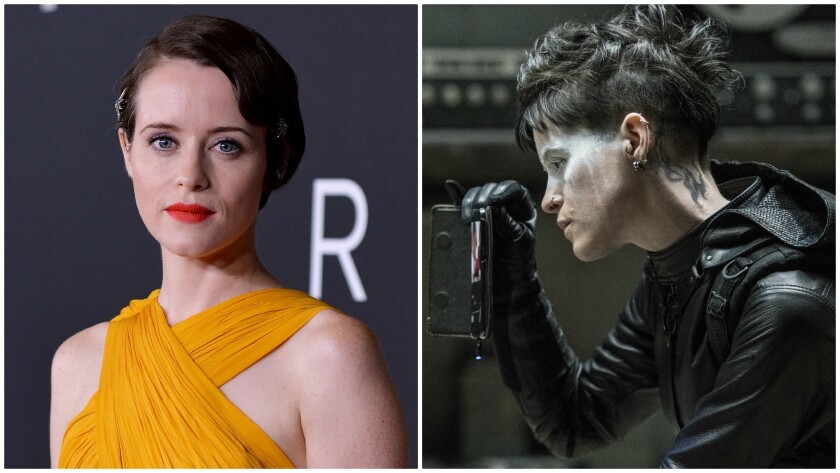 Character name: Lisbeth Salander
Release date: Nov. 9
Moviegoers can't be blamed if they have a hard time recognizing Foy as the hacker-turned-avenger Lisbeth Salander. Just weeks after the British actress appeared with frumpy short hair and a Southern U.S. accent for "First Man," she's now buffed up, donned intense makeup and added a Swedish lilt for "Girl." The film is part follow-up, part reboot to David Fincher's 2011 "The Girl With the Dragon Tattoo," which featured Rooney Mara in the title role and earned her an Oscar nomination.
READ MORE: 'The Girl in the Spider's Web' reboots Lisbeth Salander, but don't label it a #MeToo thriller »
Margot Robbie, "Mary Queen of Scots"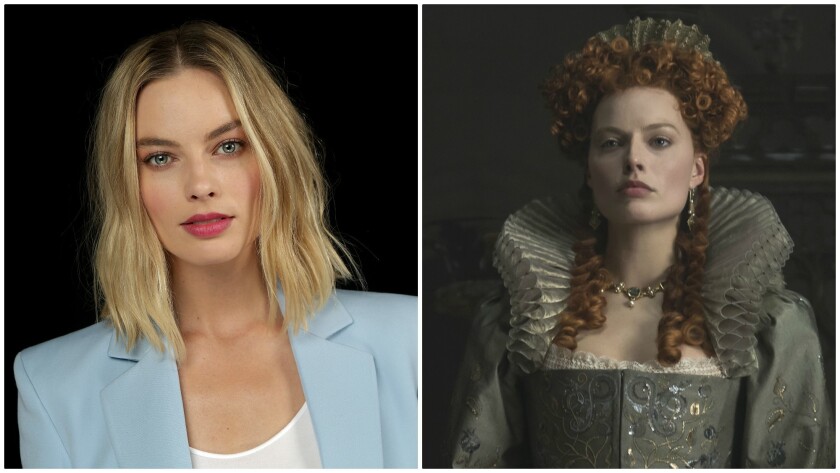 Character name: Queen Elizabeth
Release date: Dec. 7
After undergoing some de-glamming to play fallen Olympic figure skater Tonya Harding in last year's "I, Tonya" (and earning an Oscar nomination in the process), the Australian beauty does an about-face in "Mary," donning elaborate gowns, priceless jewels, chalk-white makeup and a series of garish red wigs in her royal face-off against Saoirse Ronan's titular usurper.
Christian Bale, "Vice"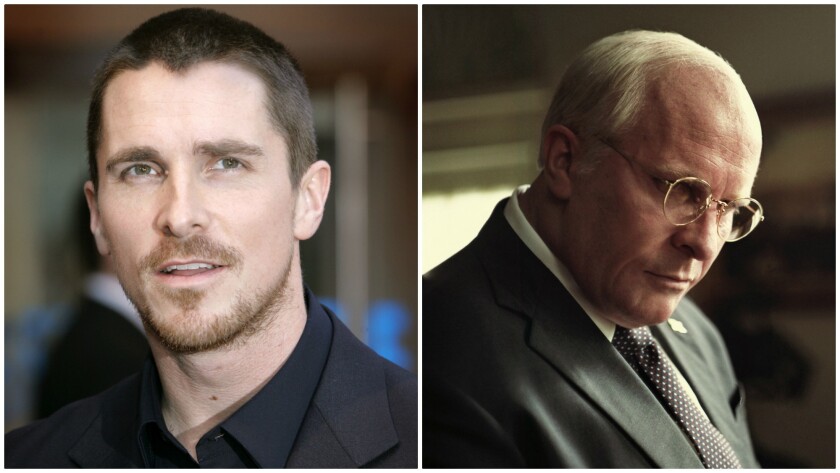 Character name: Richard "Dick" Cheney
Release date: Dec. 25
With films like 2004's "The Machinist" and 2010's "The Fighter" under his extremely tight belt, Bale has never been afraid of extreme weight loss for a role. For Adam McKay's "Vice," the Oscar winner went the other direction, packing on dozens of pounds and shaving part of his head to play Cheney. For the sake of comparison, when Oliver Stone cast the same role in his 2008 Bush biopic "W.," he turned to the more age (and weight?) appropriate Richard Dreyfuss. Stone's original pick to play W? Christian Bale.
Steve Carell, "Vice"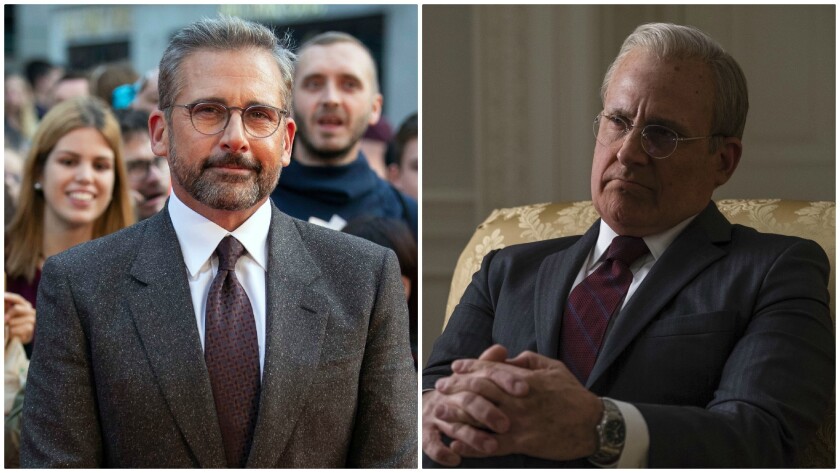 Character name: Donald Rumsfeld
Release date: Dec. 25
Carell, Bale's costar in "Vice," turns himself into former Secretary of Defense Donald Rumsfeld with the help of, yup, a few extra pounds as well as (seemingly) some hair dye. The erstwhile "Office" star previously gained weight and took on a prosthetic nose in 2014's "Foxcatcher," which earned him his first Oscar nomination.
Rami Malek, "Bohemian Rhapsody"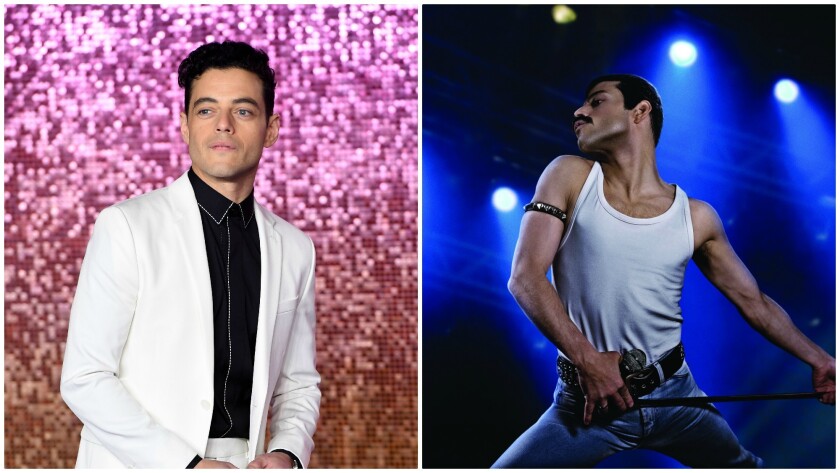 Character: Freddie Mercury
Release date: Nov. 2
The "Mr. Robot" star already bears a physical similarity to late Queen frontman Freddie Mercury, but with the right clothes and that famous 'stache, casual viewers may be hard-pressed to tell the difference in the upcoming biopic.
Tilda Swinton, "Suspiria"
Character name: Dr. Jozef Klemperer
Release date: Oct. 26 (limited); Nov. 2 (wide)
Is there anyone in Hollywood who enjoys playing with their on-screen appearance and identity more than Tilda Swinton? Whether speaking exclusively in Italian in 2009's "I Am Love," sporting a bad wig and even worse teeth in 2013's "Snowpiercer" or stirring up a whitewashing controversy in 2016's "Doctor Strange," Swinton has gone to extremes to lose herself in her work before.
READ MORE: 'Suspiria' director Luca Guadagnino on horror in the time of Trump »
The Scottish Oscar-winner has gone even further with her dual role in "Suspiria." The trailer prominently features Swinton in the role of ballet instructor Madame Blanc, but astute viewers will also recognize her as the elderly male psychotherapist Dr. Jozef Klemperer. Swinton is credited under the pen name Lutz Ebersdorf, and the filmmakers initially maintained that Ebersdorf was a real-life psychoanalyst making his film debut, even going so far as creating a since-deleted IMDB page for him.
Johnny Depp, "Fantastic Beasts: The Crimes of Grindelwald"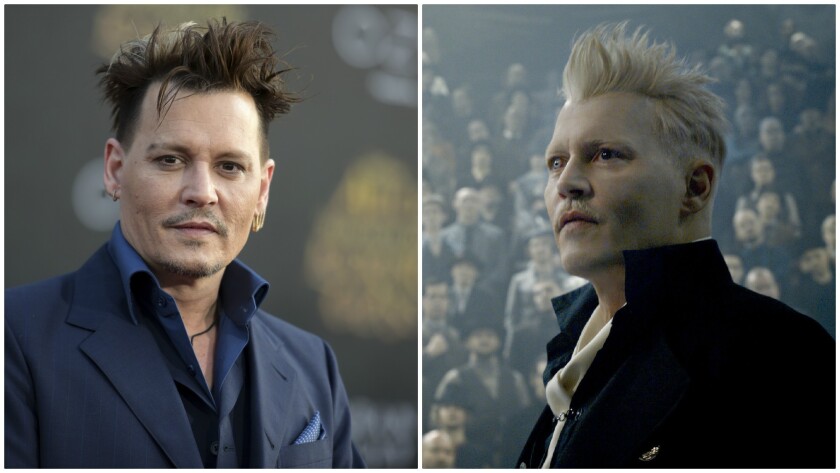 Character name: Gellert Grindelwald
Release date: Nov. 16
Depp has long been famous for exchanging his movie star looks for a succession of hats, wigs, makeup, facial hair of all types, accents, speech impediments, outlandish jewelry and other accoutrements. This time, he sports spiked bleached blond hair and eyes of two different colors, giving him a ghostly appearance. As part of an increasingly popular trend, Depp also came dressed in character to July's Comic-Con.
Natalie Portman, "Vox Lux"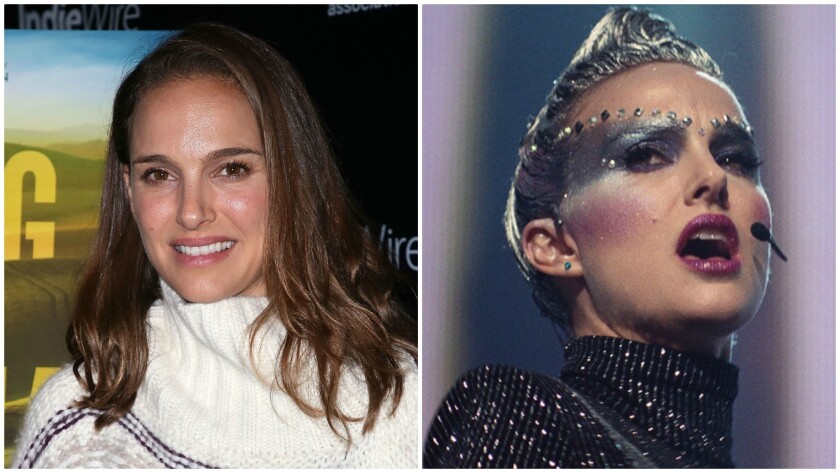 Character name: Celeste
Release date: Dec. 7
Portman won the lead actress Oscar after losing 20 pounds for the infamously intense "Black Swan" shoot. She returns as a fading pop star hoping for a comeback, her glittery fashions and bedazzled makeup covering up a crumbling personal life.
Willem Dafoe, "At Eternity's Gate"
Character name: Vincent van Gogh
Release date: Nov. 16
He's played everyone from Jesus Christ to the Green Goblin, along with countless villains and creeps of all sorts. Now, Dafoe takes on the demanding role of the ultimate tortured artist, complete with the infamous severed ear. The veteran actor will also do battle as the villain in the undersea superhero yarn "Aquaman," and he will also lend his voice as the narrator of "Vox Lux."
Nicole Kidman, "Destroyer"
Character name: Det. Erin Bell
Release date: Dec. 25
Kidman is hardly recognizable as an undercover detective haunted by her past in the gritty "Destroyer." The last time Kidman went through such a severe make-under was in 2002, when she played Virginia Woolf, complete with oversize schnoz, winning a lead actress Oscar for her efforts.
Benedict Cumberbatch, "The Grinch"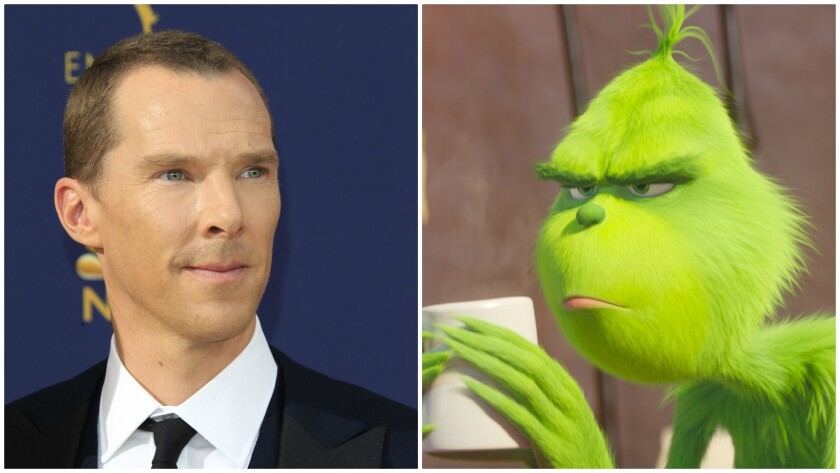 Character name: The Grinch
Release date: Nov. 9
With his almost elfin good looks, Karloff-ian timbre and penchant for self-effacing humor, Benedict Cumberbatch seems the perfect fit to play Dr. Seuss' endlessly captivating Grinch in the upcoming family film. Some CGI required.
Los Angeles Times film critics Kenneth Turan and Justin Chang chat about the holiday movies they're looking forward to seeing this busy holiday season.
---
Inside the business of entertainment
The Wide Shot brings you news, analysis and insights on everything from streaming wars to production — and what it all means for the future.
You may occasionally receive promotional content from the Los Angeles Times.