'The Girl in the Spider's Web' reboots Lisbeth Salander with Claire Foy, but don't label it a #MeToo thriller
Reporting from Berlin —
It may seem strange for Sony to release "The Girl In the Spider's Web," an adaptation of the fourth novel in Stieg Larsson's Millennium series due out Nov. 9, without ever unveiling movies based on the second or third books. But after David Fincher's "The Girl With the Dragon Tattoo" emerged in 2011, starring Rooney Mara in an Oscar-nominated performance as hacker Lisbeth Salander and Daniel Craig as journalist Mikael Blomkvist, the studio found it a challenge to re-align everyone for a sequel despite several years of effort.
"We just could never pull all the pieces together," says producer Elizabeth Cantillon, sitting in her office on the set of "The Girl in the Spider's Web" in Berlin this past May. "Then the years passed and a fourth book was written, and it seemed like the right inflection point for us to write a brand new script and see if we could put it back together with them or someone else."
FULL COVERAGE: 2018 Holiday movie preview »
She confirms, "It is a reboot. It's part of the continuum."
Sony tapped director Fede Alvarez, best known for helming the horror sleeper hit "Don't Breathe" for the studio in 2016. He re-imagined the existing script, based largely on the fourth novel, which was written by David Lagercrantz, who took over the series after Larsson's death in 2004, but also pulling in aspects of the two books that were never adapted by Hollywood: "The Girl Who Played With Fire" and "The Girl Who Kicked the Hornets' Nest."
Alvarez wasn't overly concerned with the past incarnations of Lisbeth, who has also been portrayed by Noomi Rapace in three Swedish adaptations of the novels.
"It's one of those things where you saw them and you know what it is and you read the books, and then you make your own version of it," Alvarez says of the previous films, speaking after a day of shooting on a Berlin soundstage. "Everybody has a different image of who Lisbeth Salander is, so you have to make your own version of it."
To do so, Alvarez brought in Claire Foy, although initially, the Emmy-winning star of Netflix's British royalty saga "The Crown" felt she was an unlikely choice to take on Lisbeth.
"I was really reluctant in the beginning," Foy admits between takes on set. "I got sent the script and I was a bit like, 'Oh, God, this is asking for trouble.' [But] it was Fede that sold it to me, to be honest, because he never said, 'I want you to take on this iconic character.' It was more, 'Just do the thing.'"
"Not [just] anybody can play Lisbeth Salander," Alvarez adds. "Despite everything she's doing for you not to like her, you need to love her. Claire has something where when you see her you feel interested in what's going on in her head. Without saying much and without doing much, in a lot of moments, she expresses so much."
Without saying much and without doing much, in a lot of moments, she expresses so much.
"The Girl in the Spider's Web" director Fede Alvarez on star Claire Foy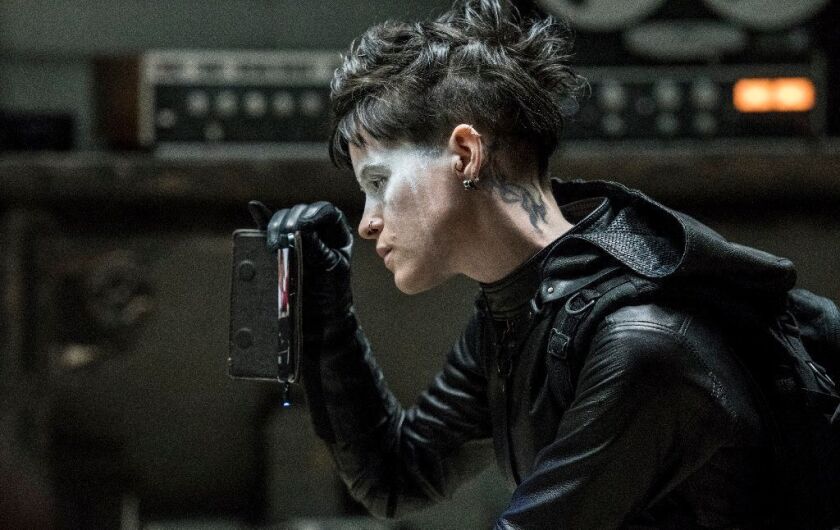 Who's that? Margot Robbie and Christian Bale alter their appearances for fall movies. Will the Academy take notice? »
In the books, as well as in the past films, Lisbeth is depicted as a punk rock anti-heroine, her hair shaved and her body covered in tattoos and piercings. It was important for both Alvarez and Foy, who immersed herself in the novels as preparation, that this characterization not be so focused on her appearance.
"Claire and I were going for the bare minimum that checks the boxes for Lisbeth's look," Alvarez notes. "We didn't want to make it all about a radical look like you've never seen before or a crazy haircut. When movies become about that, there's nothing else, or it will overshadow some other aspect of the story."
Foy was also very determined to ensure that the film didn't sexualize Lisbeth unnecessarily. "There were various scenes in it where Lisbeth's in the shower or the bath or undressed, but those have to be right for the character," she says. "It couldn't be just because it makes a sexier shot or it looks better on camera. I made sure to have [the filmmaker] question his choices, which is my responsibility, because he's not a woman."
Unlike the past films, "Spider's Web" is wholly about Lisbeth and told through her eyes. The story takes on her childhood trauma, bringing back demons from her past as she seeks to uncover a plot involving a group of cyber criminals. Blomkvist, now played by Sverrir Gudnason, is back, but he's secondary to the plot.
"The Girl in the Spider's Web" is ultimately about a woman who uses her intelligence and skills to avenge fellow women who have been mistreated. But, Foy cautions, the fictional Lisbeth is not intended as a representation of or reaction to the #MeToo era.
I don't want to use a really powerful and strong movement for women around the world to talk about a movie that I'm in.
Claire Foy
"I don't want to use a really powerful and strong movement for women around the world to talk about a movie that I'm in," the actress says. "There can be a conversation where both things can coexist and inform one another without having to label something in that way.
"The purpose of the movie being made is that Lisbeth is an incredibly interesting, compelling and thought-provoking character, and we need those in film across all genders, races and backgrounds. I think the #MeToo movement is so incredibly important, and it deserves to stand on its own."
"The character was created many years ago, but hopefully, she does now resonate even more," Alvarez adds. "A female character that takes no ... from anybody and says, 'Enough!' is obviously always an important character, but is particularly relevant right now."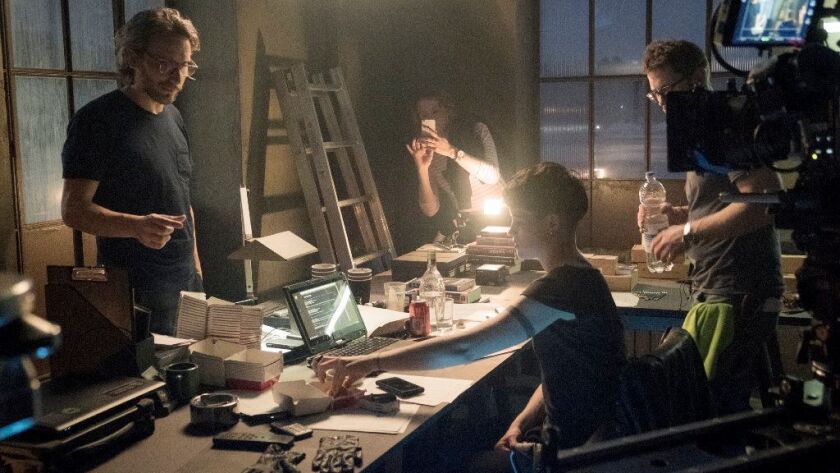 READ MORE: Virtually every film coming out this holiday season »
Given the past difficulties of continuing this franchise, it may come as a relief to fans (and producers) that both Foy and Alvarez are on board for Salander's return should "The Girl in the Spider's Web" find success at the box office.
"I never make a film thinking 'Oh, there's going to be another one,'" the director says. "I like stories that start and end with the film. That said, I'm sure if people show up, there will be more stories about this character. I think there should be — and hopefully, there will be. She's such a great character."
Foy adds, "She's endless. She's completely fascinating. There's so much I could explore with her."
Los Angeles Times film critics Kenneth Turan and Justin Chang chat about the holiday movies they're looking forward to seeing this busy holiday season.
---
Inside the business of entertainment
The Wide Shot brings you news, analysis and insights on everything from streaming wars to production — and what it all means for the future.
You may occasionally receive promotional content from the Los Angeles Times.