Frank talk from four female directors on quotas, likability and the gender budget gap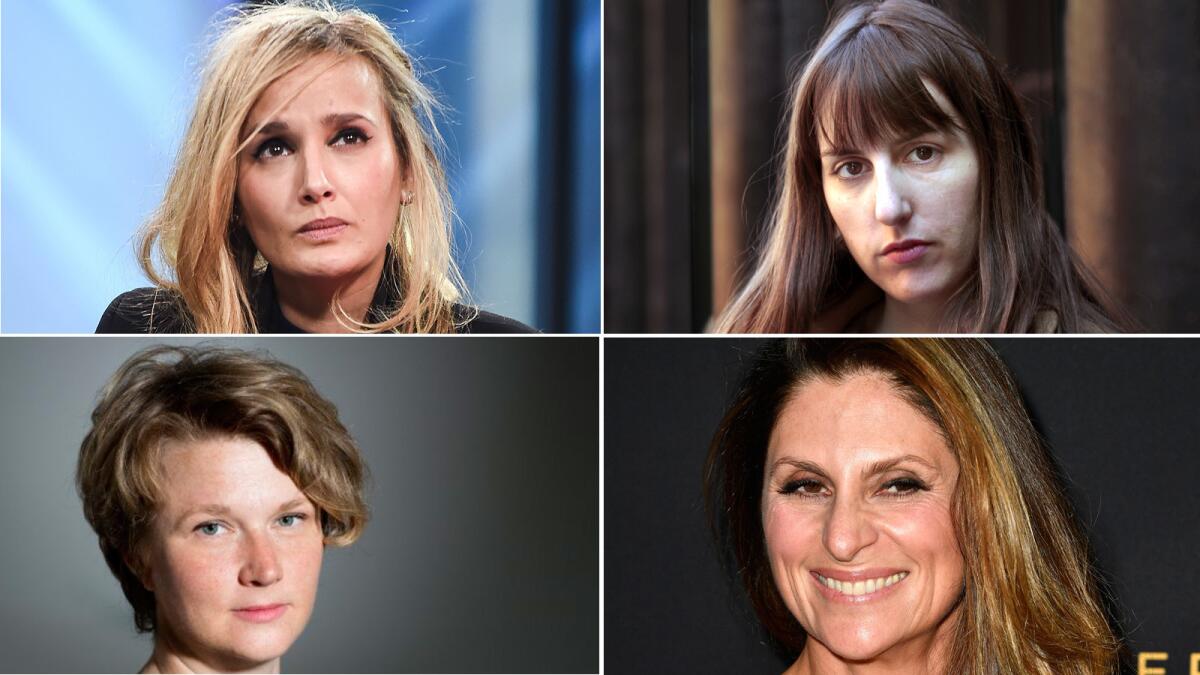 Most women directors don't like to talk about gender. They'd rather just get on with their work.
"I never think of myself as just being a female director," says France's Julia Ducournau, whose recent film "Raw" tells the story of a lifelong vegetarian who develops a taste for raw flesh after a hazing at her veterinary college. "I see myself as being a director and that's it. It just so happens that I'm a woman."
But sometimes, things happen that don't let them forget Hollywood's gender disparity.
For some, the reminder might come after they're mistaken for a production assistant for the umpteenth time. For others, it's during the meeting with the studio head who says he just doesn't think she's ready to make the "budget leap." But for Ry Russo-Young, it was while making small talk in a studio lobby that she first felt the whisper-soft tentacles of gender discrimination.
"I get there, and I'm talking to this person and he's a white guy with less experience than me," she recalls. "Quite a bit less. I've been in the industry for 13 years, he's been in it for five. And I find out he's meeting with the head of the company, the top person. Sounds like it's a meeting between just the two of them."
Russo-Young herself was there to meet with four of the female executives who answered to the company head.
"It's not that these women aren't powerful, but they couldn't do anything without that guy's say-so," she says. "So I still have to meet that guy. And if I had just sat down with that guy, it probably would have been a better use of my time and my likelihood of getting hired would've been higher because we'd had face time. But the guy gets an hourlong meeting with the top dog where they're bonding, and I never get that meeting. And I don't understand why not. Do I think if I was a white guy I would get that meeting? Absolutely."
Last month, more than 80 narrative and documentary films were released in the U.S. Of the 82 films reviewed by The Times in March, 11 were directed or co-directed by women. Seven were narrative films directed by women who received solo credit for their work. Russo-Young and Ducournau are two of four directors we talked with recently about their films and careers.
"The Zookeeper's Wife," by New Zealand native Niki Caro, is based on the true story of Antonina Zabinski, a woman who helped save hundreds of Jews by hiding them in her zoo during the German invasion of Poland. Starring Jessica Chastain as Antonina, the film operated on a $20-million budget. Caro is also slated to direct a live-action "Mulan" for Disney.
British director Hope Dickson Leach's "The Levelling" explores how a woman (played by Ellie Kendrick) reconnects with her father and hometown in the wake of tragedy. It operated on a budget of $1.2 million.
Russo-Young's "Before I Fall" is an adaptation of a young adult novel and stars Zoey Deutch as Sam, a teenager who is forced to relive her last day on Earth several times over the course of a week. The film, which was filmed in 24 days, operated on a $5-million budget.
Ducournau's 99-minute film "Raw" was made with a budget of $3.8 million.
All four talked of the importance of strong female protagonists and films that explore the female point of view.
What are some of the biggest challenges you face as a female director?
Niki Caro: I think the biggest challenge clearly is getting hired. I get the sense that it's still considered to be something of a risk to hire a woman. As a woman and a director, I find that completely absurd.
Ry Russo-Young: Getting hired is a challenge. I think as the budgets get bigger, it's more competitive and it's intense. There's a lot of factors that contribute to what makes someone hire who they hire, and there's a lot of subconscious bias.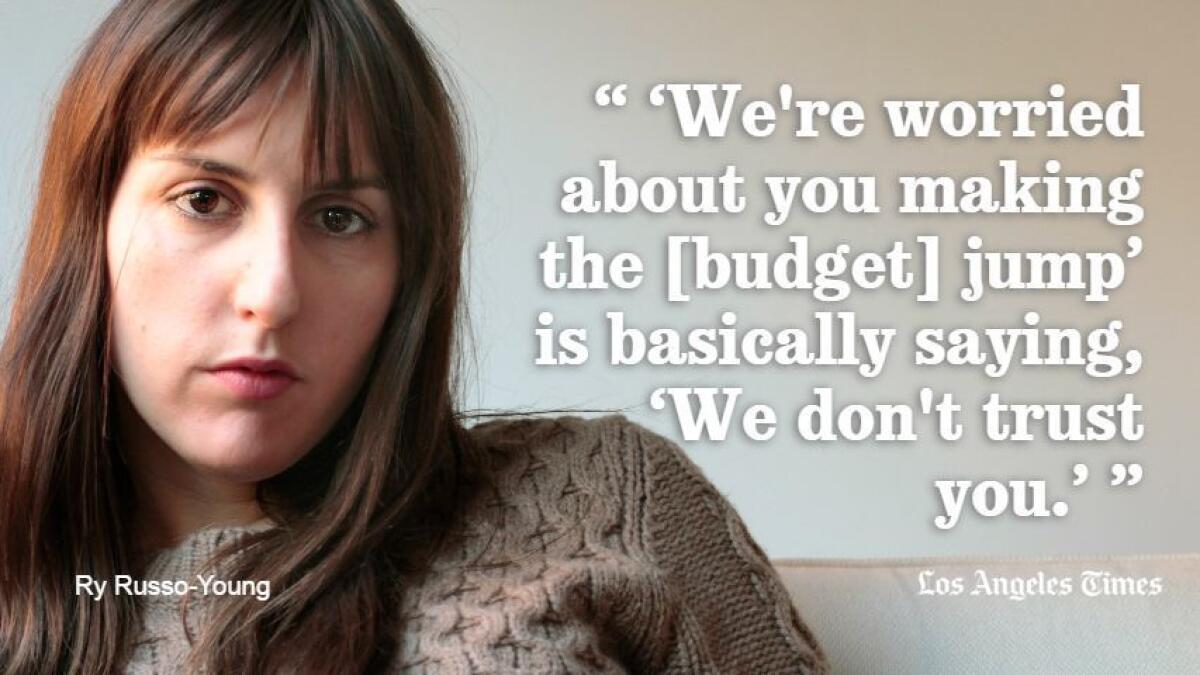 Hope Dickson Leach: People don't necessarily have the confidence in you that maybe they have with men. I think men get the benefit of the doubt. I think women have to be three times as good and 10 times as confident.
Julia Ducournau: When you get on set, most of the time the biggest part of your crew is going to be male. It definitely is a challenge to be taken seriously as a director as a woman. [But] it's not something that comes into [consideration] when I'm working. But of course, like every other realm of work in the whole world, discrimination against women is something that happens everywhere. It did not happen to me on this movie ["Raw"], fortunately. But it's true that as a woman you have to somehow come up as stronger.
What slights do you experience on set or while trying to get films green-lighted?
Dickson Leach: There are certainly questions about decision-making abilities. I think also because I'm a writer-director, one of the strongest things I come up against is the likability of the female characters that I write. To this day I still don't understand why that's such a big issue given that the question is never asked about male characters.
Caro: Directing was always something I felt I could do. I didn't feel that anyone was going to try to stop me from doing that. Because of course in New Zealand we have a female prime minister, I felt very secure and confident as a filmmaker and as a person in the world who happens to be female. So I don't tend to see everything as because I'm female. I just don't do that. Which is not to say that that isn't part of it.
Russo-Young: I've heard recently from people who are potentially hiring me that they're afraid of me being able to make the budget leap to a bigger budget. That's something you hear a lot of the time when you're talking about women. It's a very gendered comment because there are a thousand examples of men who make the budget leap from $1 million to $50 million and you just repeatedly never see women able to make those kinds of jumps. It all comes down to money. That budgetary jump is really a leap of faith. Like, "We believe in you, you made a great last movie, now we're going to give you the keys to the castle," or getting those franchises that are already established. So hearing "We're worried about you making the jump" is basically saying, "We don't trust you." And I think we saw this with the election, where women aren't seen as trustworthy as men. And that comes down to budgets and that comes down to these micro-aggressions.
What measures could be taken to make it easier for women to break into the industry?
Russo-Young: I don't believe that we should hire people who aren't up for the job, but the point is, we've been doing the opposite. We've been not hiring people who are right for the job.
She mentions the efforts of Ryan Murphy ("American Horror Story," "Feud") efforts with Half, a foundation started by his production company that aims to fill 50% of all director slots on his shows with women, people of color and members of the LGBT community.
I think that that was very effective. He basically enforced that people hire women and they went out and they made the effort and they found the women that were just as experienced and capable and did the job.
Now those women probably have more opportunities because someone that high profile helped them get hired. So I think it really does have to come from the people doing the hiring.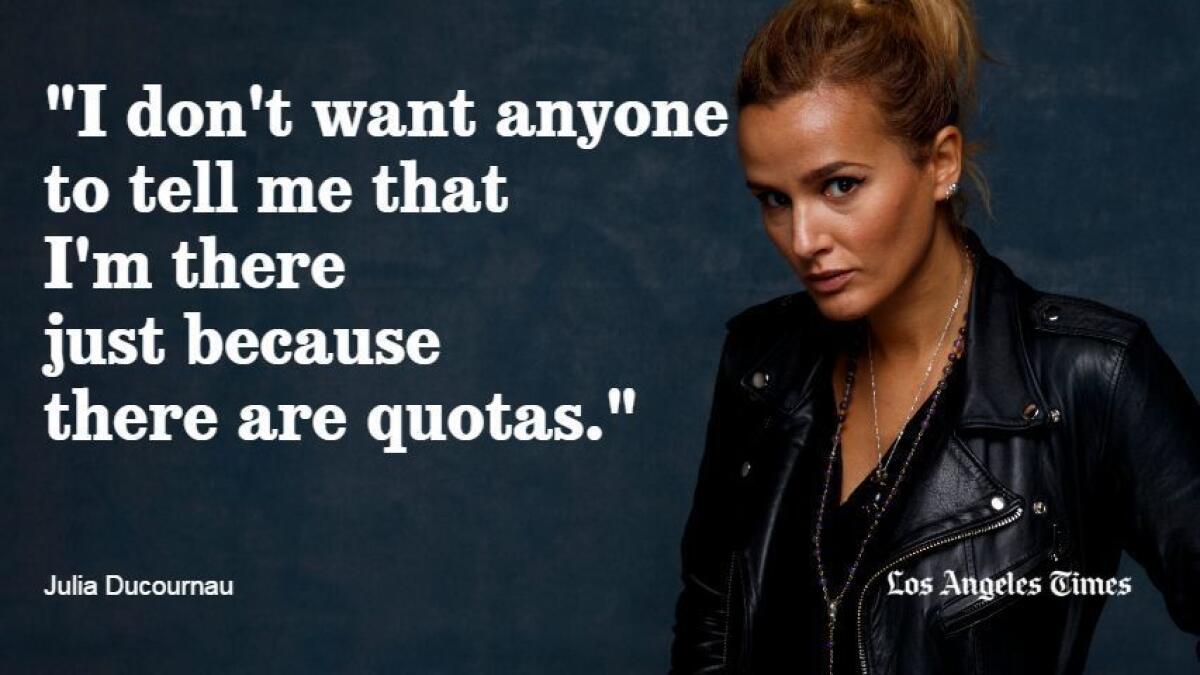 Dickson Leach: I do think quotas are useful and important. I think people should be fighting for gender equality and I think that will make a difference. And I think being proactive about that actually is one of the only things that can actually make a difference at this point.
She points out director Ava Duvernay's dedication to hiring only female directors for the first season of her OWN drama "Queen Sugar."
The numbers are bad for us in Hollywood. The numbers are bad for us in the industry. You get someone incredible like Ava Duvernay, who's taken the power that she's got and is actually living up to it and saying, "OK, I'm going to make a difference because I have the power now," and she's actually doing it. It's totally possible to do it. You just need the gatekeepers to open the doors.
Ducournau: I'm not sure about the idea of quotas. I don't want anyone to tell me that I'm there just because there are some quotas. I want to be making movies because people like what I do.
Caro: I think the most effective thing I can do is to make successful films to kick that door open so many, many female filmmakers can rush in through the open door. As a female director who is working, if I can make successful films that come in on time and on budget, then I hope that gives people more confidence that there's really nothing to be afraid of [in hiring a woman].
What is the significance, in your opinion, in a film directed from a female point of view?
Caro: It's a subtle point of difference in the storytelling. With this movie ["The Zookeeper's Wife"], particularly so. I felt like being a woman telling this story was quite appropriate. I think in terms of female protagonists, we're just starting out and exploring those things onscreen.
Dickson Leach: I think we all tell stories in different ways. I think our lived experiences are always going to contribute to the way that we tell stories and the priorities that we have in terms of what we put out.
Ducournau: I would never consider myself as a woman making movies. I just happen to make movies and I'm a woman. So for me, it's never in my mind like, "I'm going to direct my movie from a female point of view." I just make movies.
Russo-Young: To me, what's really important is the diversity of perspective. That's the most important thing. So it's actually not just about a female perspective, it's about a queer perspective, it's about a trans perspective. It's about a Mexican perspective, an Asian perspective. A heavy person, a mentally challenged person. It's just having more diversity of perspective because we're all so different from each other and we're all so different as people in the world. And everybody deserves to be seen.
As audience members, you crave to see yourself on screen because you need models of how to be in the world. We've seen a lot of depictions of a certain kind of person and we need to open up the floodgates and see more perspectives and different kinds of people on screen.
I think women have to be three times as good and 10 times as confident.
— Hope Dickson Leach
How much more progress do we need to make before we reach parity with men?
Caro: Statistically? We need to make 46% more progress. A really shameful statistic. It horrifies me.
Dickson Leach: From a numbers point of view, I think it's pretty shocking. We're still in the teens I think for most of the world. So there's a huge amount of progress that we need to make there. We're 50 percent of the population. There's no reason why we shouldn't be equal in any of the professions we choose to be. It's 2017. The more people you bring into the industry, the better it does. There's plenty of room for everybody.
Russo-Young: I think sometimes the numbers go up and then they go down again and it feels really disappointing and disheartening because it feels like one step forward, two steps back. But I am definitely encouraged by all the conversation. I think there's an awareness right now that there's a problem and that's the first step.
Caro: Obviously, the situation needs to improve. When it improves, we will only have better movies. We are right on the edge of something great which is to open up storytelling to the other half of humanity. And this isn't just female directors, it's the roles that we're offering audiences to consume.
Follow me on twitter @sonaiyak
ALSO
Review: Ry Russo-Young's 'Before I Fall' is a warm, empathetic mash-up of 'Groundhog Day' and 'Mean Girls'
Review: Niki Caro and Jessica Chastain create an emotionally satisfying 'Zookeeper's Wife'
Review: Delectable cannibal thriller 'Raw' fleshes out the mystery of female desire
Review: Ellie Kendrick is riveting in British farm drama 'The Levelling'
Niki Caro to helm live-action 'Mulan' movie
The force that is Zoey Deutch: Ambitious, curious and hater of the term 'it' girl
Get our L.A. Goes Out newsletter, with the week's best events, to help you explore and experience our city.
You may occasionally receive promotional content from the Los Angeles Times.