The academy revokes voting privileges of a 91-year-old screenwriter who just wants to know why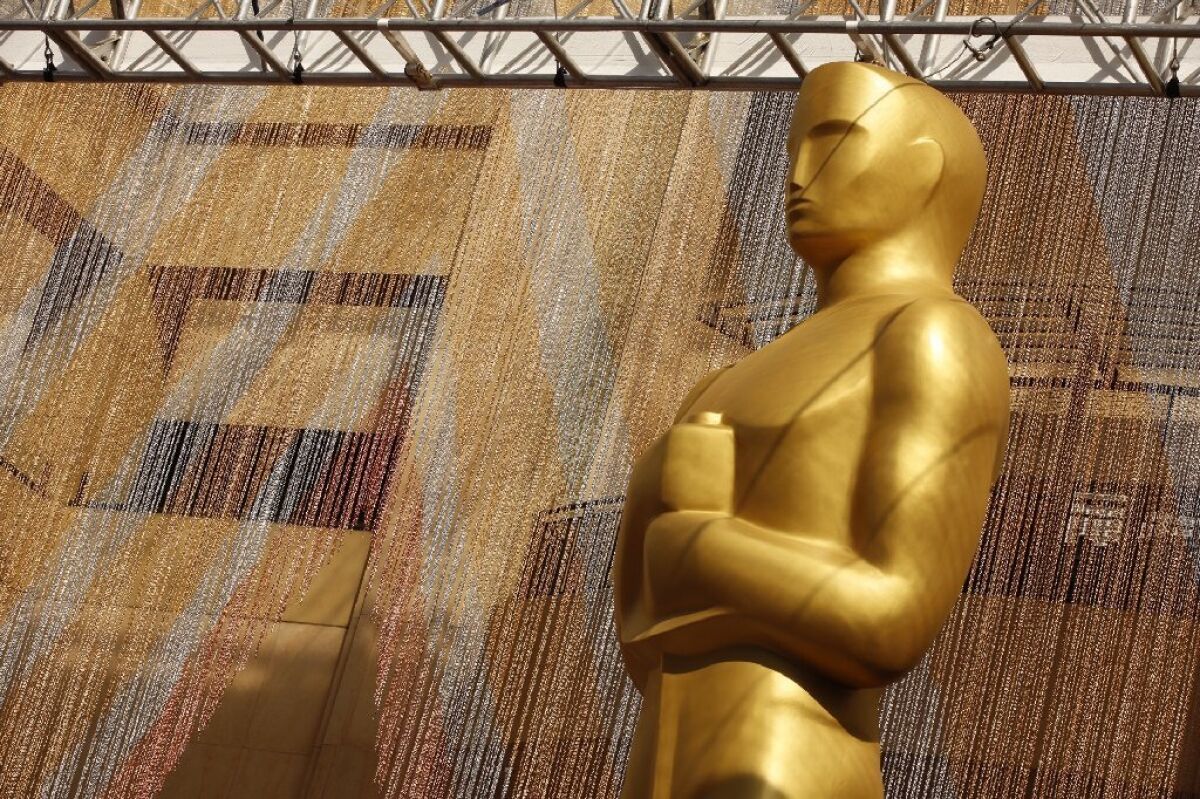 Robert Bassing, a 91-year-old screenwriter, opened the letter from the Academy of Motion Picture Arts and Sciences, his resentment building as he read the words in the opening paragraph.
"As of today, your Academy membership will be changed to emeritus (non-voting) status," read the letter dated Oct. 26 and signed by writers branch governors Billy Ray, Phil Robinson and Robin Swicord.

For the record:
6:30 p.m. Oct. 31, 2016
An earlier version of this article incorrectly gave Phil Robinson's last name as Robins.
Bassing, a member of the academy since 1958, knew this was a possibility. The writers branch had contacted him in July telling him that he "may qualify for emeritus status" and requesting further credits should he wish to keep his membership active.
Bassing replied, passing along the titles of screenplays he says he wrote in the 1960s and '70s for major studios and the likes of Clint Eastwood and Steve McQueen, works that were never produced. He shared a co-credit with his then-wife Eileen Banning on the 1958 drama "Home Before Dark," starring Jean Simmons. Most of his other produced credits came in television, though he did co-write the 1977 zombie movie "Evil Town," directed by Curtis Hanson under a pseudonym.
"They said those types of things that weren't made would be credited, and now they dismiss it," Bassing says. "It's very upsetting. It's a big injustice to older people in the academy."
Bassing was one of an estimated 60 to 70 academy members to have their status changed recently from active to emeritus, a modification that allows them to attend membership screenings but not vote for the Oscars. (An academy representative puts the transfer figure at "under 1%," stating that Bassing and the others went through a thorough review and appeal process before the final decisions were made.)
The membership changes were part of a sweeping reform announced in January aimed at diversifying the organization, then embattled in controversy over a second consecutive year in which all 20 acting nominations went to white actors.
At the moment, Bassing is the only one to come forward — and he says he has been asking around, trying to find others moved to emeritus. He knows two members who remained active on appeal. But he can't find anyone else who was bumped.
"I think the reason they don't come forward is that they feel kind of ashamed," Bassing says. "They don't want anyone to know."
In an April letter to members, the academy explained that "lifetime voting will be for 'lifers,'" citing a rule, passed in 1970, that voting status is primarily for members who "continue to be active in the field of motion pictures."
It's very upsetting. It's a big injustice to older people in the academy.
— Robert Bassing
Under the revised rules, new members are given an automatic 10-year term of voting privileges, which is extended a second decade if they have a credit in that first term. That process is repeated during potential second- and third-decade terms. Those active for all three decades receive lifetime voting rights.
Existing members had their memberships reviewed by branch committees to ensure that they had at least one screen credit for three decades, a requirement that could be met in as little as 21 years. Producers and writers — professions that often feature years of toil without a finished product — were told that their branches would make allowances for unproduced work. And anyone nominated for an Oscar received lifetime membership. Branch committees will continue this review process on a regular basis, which could result in a handful of members having their status changed each year.
The new guidelines were much more generous than the academy's 1970 culling under President Gregory Peck, when 335 members were moved to associate status. An additional 109 people were moved from craft branches to members at large, a designation that, at the time, allowed them to vote only for best picture.
Peck called the moves "a just determination concerning the voting privileges of members who have been professionally inactive in motion pictures for a number of years."
The definition of inactivity? For actors, at least, it was not working in the previous seven years. Thirty of the acting branch's 784 members lost their voting rights because of that distinction.
In its letter to members, the academy denied that the membership changes were ageist. Indeed, this year's class featured a number of older new invitees, including 91-year-old Mexican actor Ignacio Lopez Tarso, 85-year-old Mexican actress Silvia Pinal and 87-year-old actor James Hong. Acclaimed Iranian filmmaker Abbas Kiarostami was also invited but died at age 76 in July.
Contrary to an earlier report, Bassing says he never planned to sue the academy over the change to his membership status. He did express an interest in making some kind of protest if others come forward.
Mostly, Bassing says he just feels bad for other older members whose self-esteem is tied to attending the academy's weekend membership screenings and voting for the Oscars.
"I see these people every weekend at the academy, and I think this decision affects them deeply," Bassing says. "I just don't understand why they thought it was necessary."
Twitter: @glennwhipp
---
Get our L.A. Goes Out newsletter, with the week's best events, to help you explore and experience our city.
You may occasionally receive promotional content from the Los Angeles Times.