'Fishing Without Nets' takes an authentic look at Somali pirates' life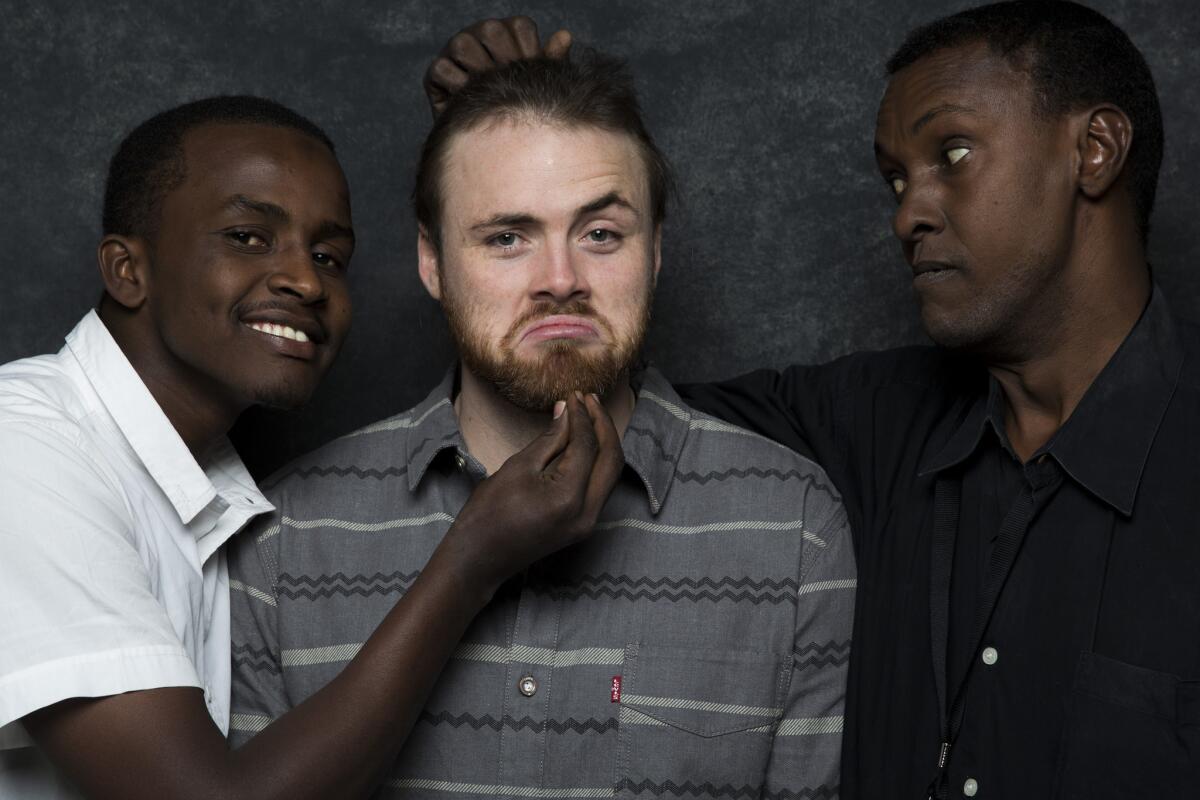 The pirates gather on a ragged beach and sail toward shipping lanes, scanning for freighters, the prey of their craft. Rifles drawn, scarves blowing, they troll East African waters, where the deeds of desperate men collide with the precarious rhythms of global finance. An oil tanker appears on the horizon; the hunt quickens.
"Fishing Without Nets," the first feature by director Cutter Hodierne, an American who once filmed rock stars, is an incisive tale of Somali villagers who have forsaken fishing nets for Kalashnikovs to hijack ships and kidnap crews for millions of dollars in ransom. Relying mostly on non-professional actors, including Somali refugees living in Kenya, the film offers the cultural authenticity and nuance that often elude Hollywood portrayals of pirates, jihadists, fanatics and other bad men confounding American foreign policy.
The $2-million-budget movie is not as bracing as Paul Greengrass' "Captain Phillips" (2013), which starred Tom Hanks and earned an Academy Award nomination for Somali-born actor Barkhad Abdi's portrayal of an overwhelmed pirate. Abdi's bandit, with his poverty and grandiose ambitions, was a well-drawn counterpoint to Hanks' composed captain. But "Fishing," which opens Friday, is a fuller immersion into the lives, pressures, anger and discontent of bandits who play chess with bottle caps, stew in corrugated tin huts and barter for white hostages much like black slaves were sold hundreds of years ago.
The film is reminiscent of "Horses of God," directed by Nabil Ayouch, which also used non-professional actors in a compelling story of youths who embrace radical Islam and plot a terrorist attack from the squalor of a Moroccan slum. "Fishing" and "Horses," released in the U.S. this year, reveal how desperation and detachment from an increasingly interconnected world can twist young men toward ideologies and crimes that shake financial markets and unnerve capitals from London to Mogadishu.
The pirates along the Somali coast are after riches; the North African jihadists seek a perverted brand of religious redemption. Both yearn for dignity, a voice against all that befalls their circumscribed lives. Depictions of such characters can easily be mythologized or stereotyped, especially by a public and a Congress that prefer one-dimensional villains. But Al Qaeda and its vicious offshoot, Islamic State, have revealed that the West's enemies are more complex.
The power of "Fishing," which won Hodierne a directing award this year at the Sundance Film Festival, is in the way it seeks to understand the men holding the guns in a war-ravaged land. Somali pirates, whose raids have decreased in recent years because of stepped up naval security, have attacked hundreds of vessels and cost the global economy tens of billions of dollars.
Hodierne's actors are lean and tough as jerky; they seem sprung from heat and coastal sands. They know boats, rifles and nets and glide on anger, betrayal and suspicion. One suspects that in real life they have never encountered publicists or swag bags.
"I was determined to tell the story through the eyes of the pirates, but I was a white guy living in Washington, D.C.," said Hodierne, who during his time in Kenya was robbed once at gunpoint and often swindled. "I definitely didn't go into it to make an 'issue' film. We wanted to explore the gray areas and to tell the human story to answer the question of how and why.... There's no way to get that sense of reality without using people [actors] who at some level are close to the story."
"Fishing" grew out of an award-winning short film that Hodierne, who was once "filmmaker on the road" for the band U2, made several years ago. He said the bravado of the pirates fascinated him. By the time the life of a jihadist or a pirate reaches the news, "you're only seeing the final frame of a guy's life," said Hodierne, 27, who spent the first three years of his childhood sailing the South Pacific with his parents. "But there's a whole bunch of pictures leading to that moment."
Variety praised the movie as a "very well-crafted, empathetic drama." The judges at Sundance called it "a beautiful, poetic film."
"Fishing" unfolds around Abdi (played by Abdikani Muktar), a fisherman whose dwindling catches in the overfished and polluted waters around the Horn of Africa can no longer feed his family. Smoldering garbage, crows, ash, sweat and dust mark his village, where he remembers his deceased father and listens to the call to prayer drifting from a mosque. Other young men chew khat, a narcotic plant that gives an amphetamine-like buzz, and wait for word of a tanker in the distance.
"After years of war and famine, people have fled," says Abdi, whose country for decades has been gripped by civil strife and Islamic militants. "But those who remain must find a way to survive." Abdi initially resists the lure of the pirates but finally succumbs, hiring a smuggler to take his wife and son to Yemen while he heads to the open water.
"A man is not a man unless he can feed his children," says Abdi. But his decision entangles him with ruthless and divided men. They clean battered guns and argue over the pecking order of hostages: One tells another not to worry about the blacks or the man who looks Filipino; only the white ones bring ransom. In a scene reminiscent of centuries ago when black slaves were inspected before they were sold, a Somali pirate feels the arms and shoulders and looks into the mouth of a Frenchman he has offered to buy.
Abdi faces moral questions and finds no safe place upon the water or on the land. He is a good man consumed by darker impulses and, in ways, becomes as much a hostage to the violence and delusional ambitions of his fellow pirates as the oil tanker's crew. The vessel is streaked with blood and broken promises and Abdi, much like his country, is left adrift amid larger currents.
The film's international dimensions and raw narrative intrigued Vice Media, known for swaggering documentaries like "The Cannibal Generals of Liberia." Eddy Moretti, Vice's chief creative officer, was an executive producer of "Fishing," and the film — the company's first feature — was edited at the firm's Brooklyn, N.Y., studios.
"Usually when someone [in Hollywood] says, 'I'm going to make a gritty film in a gritty land,' it never comes out gritty," said Moretti. "You get an American actor surrounded by hair and makeup people.... This film brings a bit of empathy that's not political. You enter the world of these characters."
Get our L.A. Goes Out newsletter, with the week's best events, to help you explore and experience our city.
You may occasionally receive promotional content from the Los Angeles Times.