At Toronto women's rally, Geena Davis advocates for on-screen gender parity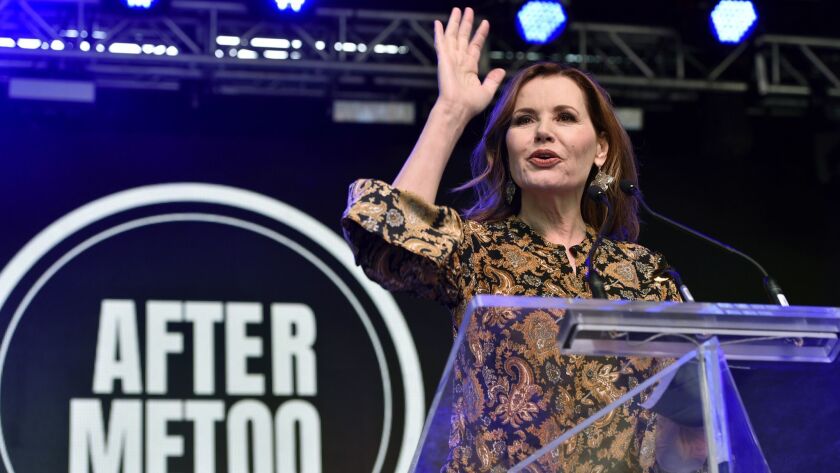 Reporting from Toronto —
Geena Davis got into the black SUV that was waiting for her, clutching a couple of folded pages of notes. She'd jotted down a few ideas for her speech in black cursive.
"I can talk and do this at the same time," she said, taking a pen out of her red Gucci bag to mark her pages with.
The actress, 62, was headed to the Share Her Journey rally here on Saturday morning, where hundreds had gathered to advocate for equality in the film industry. Davis was scheduled to speak first in a lineup that included director Amma Asante, actress Mia Kirshner and USC researcher Stacy L. Smith.
After the event, she planned to return to her hotel, change out of her paisley top and corduroys and get ready for the festival premiere of "This Changes Everything," a documentary she executive produced.
The film — which includes interviews with high-profile figures like Meryl Streep, Reese Witherspoon and Shonda Rhimes discussing Hollywood gender disparity — was not Davis' idea. It was the brainchild of Tom Donahue, the filmmaker behind 2012's "Casting By," which examined the role of casting directors in the business.
Geena Davis and director Tom Donahue discuss women in Hollywood and the documentary "This Changes Everything" at the LA Times studio at the 2018 Toronto International Film Festival.
Because of Davis' work through her Institute on Gender in Media, Donahue thought the actress would help propel the documentary to success. A data-driven enterprise, the institute researches on-screen gender representation using technology that identifies how much screen time men and women get in film and television.
Davis' interest in the subject began a dozen years ago, when she sat down with her 2-year-old daughter to watch a children's television program and noticed there were far more male characters than female ones.
"Why on earth are we doing this?" she recalled as the car headed toward the rally. "I completely thought that kids' entertainment would be harmless. But the worldview that we were showing little kids was that men and boys were far more important than women and girls.
"They don't take up half the space in the world and don't do anywhere near half of the interesting things," she added. "I thought, 'Wow, we are training kids to have unconscious gender bias from the beginning by showing this incredibly skewed world.'"
By that point in her career, she said, Davis was also well-acquainted with the "This changes everything" effect — the phenomenon wherein a movie supposedly for a niche audience turns out to have mainstream appeal and the media declare "This changes everything!"
That first happened after the success of "Thelma & Louise," starring Davis and Susan Sarandon, in 1991, when female-led buddy films were supposed to become the toast of the town.
"I was like, 'Hot dog! Wow, this is really exciting. This is gonna be so cool,'" she said. "So I'm waiting and nothing, nothing, nothing. And then 'League of [Their] Own,' similar reaction: 'We're gonna see so many female sports movies.' I'm like, 'Yeah! This is fabulous and I get to be part of it.'
She continued: "I realized: This is just a pattern. People want to say this is a watershed moment and it's not. 'Thelma & Louise' was over 25 years ago, and the needle has moved zero."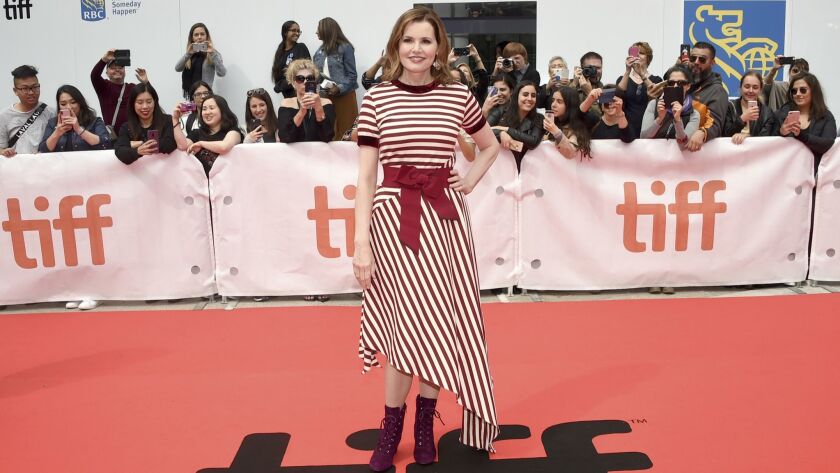 The car lurched to a stop at a security checkpoint and Davis rolled down her window.
"Should we move? Or can we wait here one second? We just want to finish chatting," she asked the guard, who gave the driver the OK to stay put.
"The latest one," she continued, returning to the "This changes everything!" effect, "is 'Crazy Rich Asians.' I was cracking up at the headlines about it. It was like, 'Now everything is completely, completely changed. It's all different from now on!'"
But she's hopeful that the post-#MeToo era will be different. The industry has reached a tipping point, Davis said, and she feels that "this is truly the start of something new," citing the Toronto festival's signing of a gender parity pledge earlier that morning.
"There are some tangible things that are happening now," she said. "For so long, we haven't been able to get any momentum going, and I think that's because Hollywood lived on the idea that men don't want to watch women, but women will watch anything.
"In fact, the opposite is true," she asserted. "We've found that for several years now that movies starring a female character make significantly more money at the box office."
It was almost 10 a.m. and Davis was scheduled to go on stage, so she gathered her notes and exited the car. Rally organizers escorted her to a miniature trailer, and she sat down in front of a vanity. She set her iPhone timer to five minutes and quietly began mouthing the words to her speech.
Behind the actress was a couch where Madeline Di Nonno, chief executive of Davis' institute, was sitting. She whispered quietly so as not to disturb her boss.
"She really does want to act — it's just that she lives her creed," Di Nonno explained, speaking to how Davis balances her activism and acting career. "She could be working all the time, but she's very particular because she's so sensitized to 'What are women in the audience going to think about my role?' Honestly, she's turned down a lot because of that. … I'm sure her agents aren't thrilled about it."
A woman with a headset entered the trailer and told Davis it was time to go on stage. She checked her lipstick and followed the handler. Many in the crowd, which was comprised of several hundred, were wearing pins that read "I Stand With Women in Film."
"I just noticed looking out at the crowd, it's about half men, which I think is fantastic," Davis said, taking to the podium. "Just fantastic. I really appreciate this."
She began talking about why on-screen representation was important to her, noting that she believes "if they see it, they can be it" — meaning if girls see archers in "Brave" or "The Hunger Games," they literally go out and buy a bow.
"My new motto is no more missed opportunities," she told the audience. "If you're involved in any way in any production of a movie or a TV show, you have a chance to change it and make it gender-balanced. Do a gender pass. Don't let it get cast or shot until somebody looks at it and you go through it and you say, 'Who here can become female? Who can become intersectional female characters?'
"No more missed opportunities."
Follow me on Twitter @AmyKinLA
---
Get the Indie Focus newsletter, Mark Olsen's weekly guide to the world of cinema.
You may occasionally receive promotional content from the Los Angeles Times.