Mystery thriller 'Gemini' explores different sides of Los Angeles and celebrity
A politely sleazy thriller, the new film "Gemini" is a gripping murder mystery that reveals new dimensions of Los Angeles on screen. Its examination of the world of celebrity and the contemporary slippage of identity is set against a vision of the city that is both glossy sleek and comfortably lived-in.
Written and directed by Aaron Katz, the film focuses on a young Hollywood assistant, Jill LeBeau (Lola Kirke), who cleans up the personal and professional messes of her celebrity boss, actress Heather Anderson (Zoë Kravitz). A dead body shot with Jill's gun leaves behind a lot of suspects from Heather's life, including a frustrated filmmaker (Nelson Franklin), a jilted boyfriend (Reeve Carney) and a secret girlfriend (Greta Lee). A low-key detective (John Cho) sifts through the messy possibilities.
With its unusual mix of genre plot propulsion and odd character moments, the film makes for an eccentric alchemy. Katz is an avowed devotee of watching movies on VHS as well as literary crime fiction by writers such as John Dickson Carr. As reference and inspiration, he mentions such thrillers as the San Francisco-set "Jade" and the Florida-set "Body Heat" alongside L.A.-set movies such as "Dead Again," "American Gigolo" and "Bad Influence."
"It feels like thrillers have this great capacity to express something about the city that they are taking place in," Katz said while recently tucked into a back booth at Tonga Hut, the North Hollywood tiki bar seen in the movie.
"Maybe in part because geography is really important in a thriller and the mechanics of how you get from here to there has an outsized importance in the plot," he added. "So I feel like you get to see a lot of the city and immerse the movie in the fabric of what it means to live in the city at a particular time."
Katz, 36, is originally from Portland, Ore., and after emerging with two well-received micro-budget features, 2006's "Dance Party USA" and 2007's "Quiet City," he first stepped into genre territory with the slacker detective sibling mystery "Cold Weather" in 2010. His next film, "Land Ho!" was a road comedy set in Iceland co-directed with Martha Stephens. After moving to Los Angeles in late 2012, he began working on the script that would become "Gemini" as a tribute to the city as he was exploring its lesser-seen corners.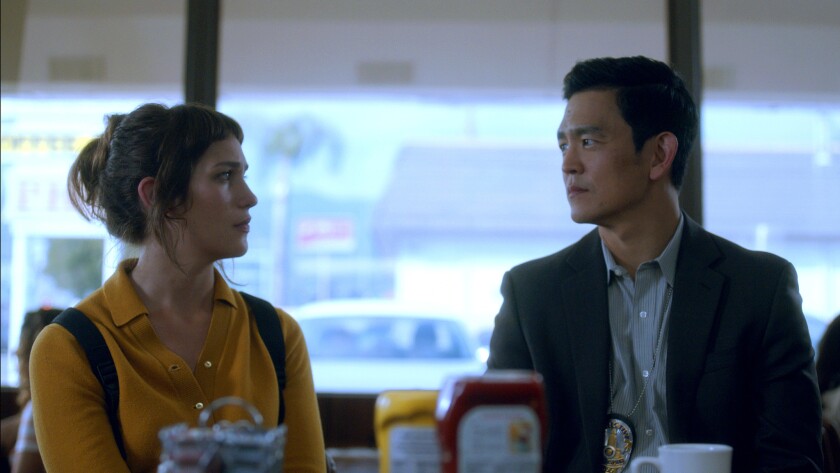 On the day after the film's recent L.A. premiere, Kirke and Cho met up at Frank's Coffee Shop in Burbank, a location where their characters have a pivotal conversation in the movie.
"When you come back to a location, I'm never quite sure what's us, what production put up, and what is the original restaurant," Cho said. Looking around the room, he added, "There's always less."
Both Kirke and Kravitz grew up with show business and the attention it can bring as part of their lives. (Kirke's father is Bad Company drummer Simon Kirke and her mother is designer Lorraine Kirke; Kravitz is the daughter of actress Lisa Bonet and musician Lenny Kravitz.) The exploration in "Gemini" of the unusual dynamic between a celebrity and an assistant — the blurred boundaries between the personal and the professional, on-duty and off-hours — was something they both instinctively understood.
"I think that's something the movie does really well in general, show you different sides of things you think you really know already," Kirke said. "It shows you a different side of celebrity and it shows you a different side of Los Angeles."
"There is such an intriguing balance of light and dark here, emotional light and dark," Kravitz said in a separate interview by telephone from Los Angeles. "And I think what Aaron did was kind of look at both sides of a lot of things, seeing the positive and the negative sides of all those things. It is a hard thing to capture but I think that's what this story is about, is looking at everything from both sides."
The production covered a lot of ground: from a parking lot off Western, an apartment building in Koreatown, an elaborately tiled house in Laurel Canyon, a glamorous retreat in Topanga Canyon, a house above the Chateau Marmont in West Hollywood and El Matador State Beach. Along with Tonga Hut and Frank's, restaurants and bars such as Yamashiro, Casa Bianca Pizza Pie and Star Karaoke are all featured prominently.
Katz's own house in Eagle Rock served as the house of a film director — that's his Spirit Award seen as set dressing in the background, as well as the computer on which he edited the movie — and his local coffee shop, Found Coffee, is in a scene as well.
The Tesla and Mercedes featured as celebrity cars cost well more than Katz's earliest movies. The small Nissan hatchback that Kirke's character drives in the film was a rental that Katz also used to get to and from the shoot, driving Kirke and cinematographer Andrew Reed along the way.
Though he had never met her, Katz wrote the part of Jill with Kirke in mind after seeing her in Noah Baumbach's "Mistress America." Once Kirke was signed on, she suggested Kravitz, a friend, for the role of Heather. (Katz had already met Kravitz for a project that never materialized.) From there, Katz rewrote the roles based on input from his actresses, collaborating on their characters and their world.
"There is something really particular about Aaron as far as filmmakers go, particularly male filmmakers, there is a complete lack of ego in the most incredible way," Kirke said. "He's so open to collaboration and open in general. And those were really refreshing qualities to see. I definitely think Aaron is an auteur, but none of that auteur ego lives within him."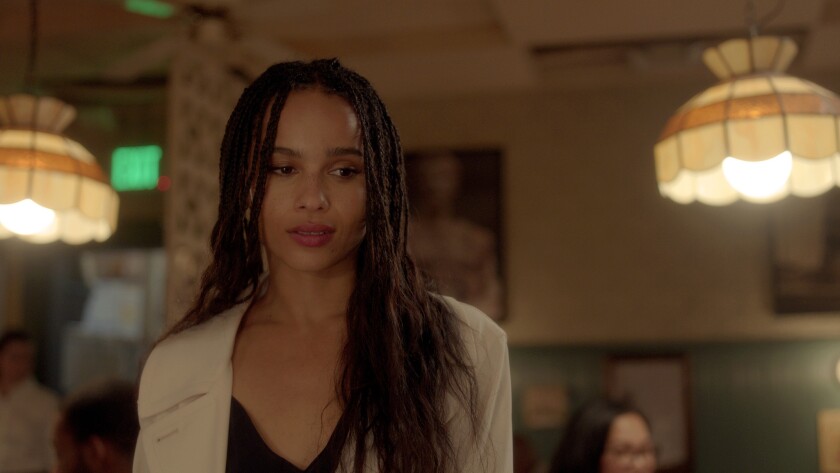 Katz acknowledged that Kirke and Kravitz already knew more than him about the world of fame and its orbit just from their own lives. So, he said, it made sense to ask them for input on anything from dealing with pushy paparazzi on the street to when and how to assert celebrity privilege to gain special treatment.
"I think fame is a very complicated thing," Kravitz said. "I like seeing a story that shows if you don't have your feet on the ground and you get swept up in it, you can find yourself in a very unstable place emotionally. Which is where we find Heather. And yet I think she is also very much addicted to being famous and having that kind of attention on her.
"And I relate to it in some ways," she added. "But I think fame is something whether you are famous or someone who kind of participates from afar and watches celebrities, I like the idea of looking at. It's a bizarre thing, it's not normal."
A murder mystery, a study of characters and celebrity and an essay on the city itself, "Gemini" captures the enigmatic nature of life in Los Angeles, from the fringes to the center of the action.
"L.A. is a mystery, there are so many things going on here," Cho said. "It's confusing and it isn't well planned, but it's wonderful and awful and it's filled with incredible successes and tragic failures and strange pockets of life. So enigmatic is right. Everything is slippery in this town."
SIGN UP for the free Indie Focus movies newsletter »
Twitter: @IndieFocus
---
Inside the business of entertainment
The Wide Shot brings you news, analysis and insights on everything from streaming wars to production — and what it all means for the future.
You may occasionally receive promotional content from the Los Angeles Times.