From the Archives: Why Gene Wilder gave Gilda Radner's name to Cedars-Sinai for its cancer research program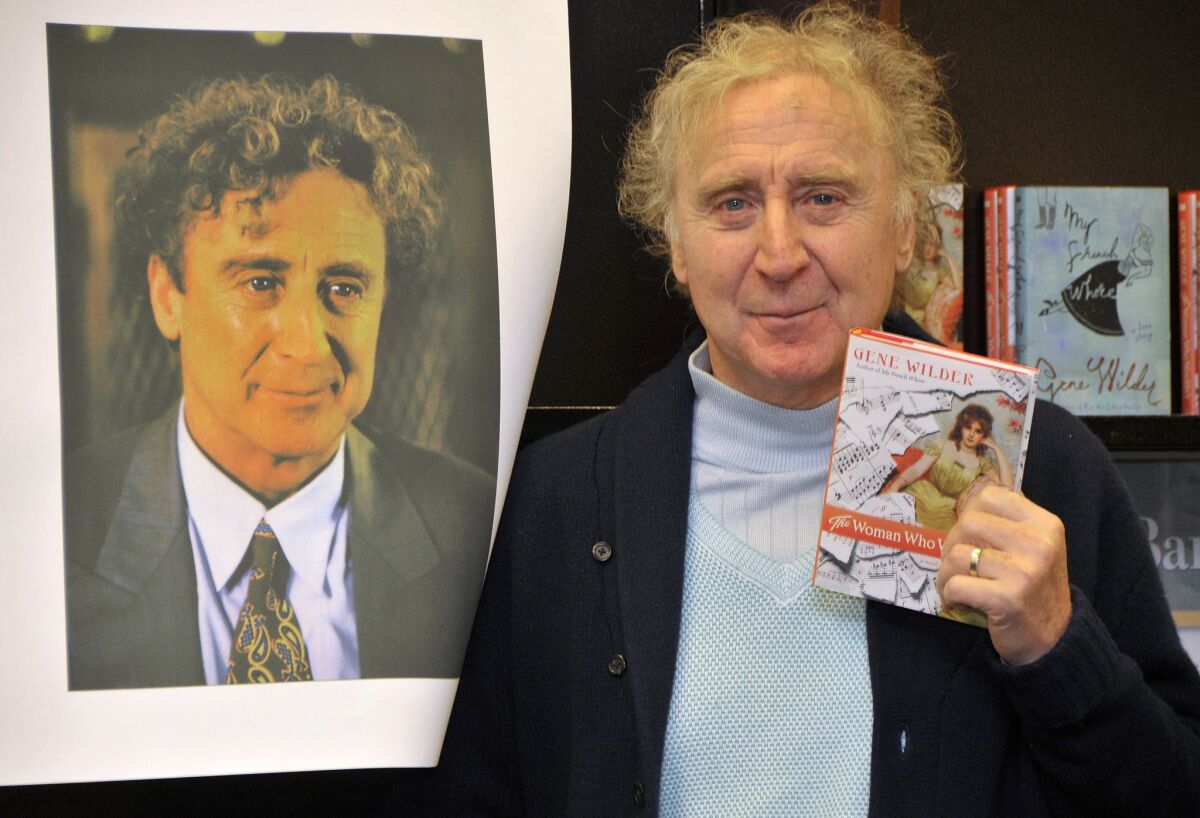 Actor Gene Wilder, known for his roles in films such as "Willy Wonka & the Chocolate Factory," "Young Frankenstein" and "Blazing Saddles," has died. In 1991, Wilder spoke to the Los Angeles Times about raising awareness for ovarian cancer detection and naming an ovarian cancer research center after his late wife Gilda Radner. This article was originally published on July 24, 1991.
It has been two years since actress Gilda Radner died from ovarian cancer and two years since her widower, actor Gene Wilder, took up the crusade of informing women about early detection and treatment of the disease.
He jokes about retiring from medicine now but seriously states that he's happy to have accomplished some major goals in educating the public and the medical profession.
Wilder says he wanted to create awareness about testing for CA 125, a substance in the blood that indicates ovarian cancer, and the risk factors for a person who has a family history of ovarian cancer.
"I thought if we can make a dent in those two things, then I'll be happy. I didn't know if it could be done, or how long it would take, but it has been done now . . . and I feel confident about that purpose being accomplished, and now I can go back to watercolor painting and maybe acting."
Gene Wilder died of complications from Alzheimer's disease Aug. 29, 2016, at his home in Stamford, Conn. He was 83. Take a look back at his legendary career in screen comedy.
(Evan Agostini / Getty Images)
The Brooks-Wilder hit machine continued with 1974's smash "Young Frankenstein." From left, Teri Garr, Gene Wilder, Marty Feldman and Mel Brooks, with Peter Boyle, prone, as Young Frankenstein.
(file photo / Los Angeles Times)
Wilder poses in France with his wife, comedian Gilda Radner, during the 10th American Film Festival of Deauville on Sept. 7, 1984. Radner died in 1989.
(Mychele Daniau / AFP/Getty Images)
Wilder released "Kiss Me Like A Stranger" in 2005. The memoir offered insights into Wilder's love life, his work with stars such as Richard Pryor and Woody Allen and his fight with cancer.
(MJ Kim / Getty Images)
Wilder received the Governor's Awards for Excellence in Culture and Tourism at the Legislative Office Building in Hartford, Conn., on April 9, 2008.
(Jessica Hill / Associated Press)
Wilder's most recent accomplishment was to give his late wife's name to a new ovarian cancer research program at Cedars-Sinai Medical Center.
He spoke about it Monday night at a premiere of his film, "Another You," which once again teams Wilder with Richard Pryor. The event at the Director's Guild was the first fund-raiser for the Gilda Radner Ovarian Cancer Detection Program at Cedars, a multidisciplinary program that will encompass detection, new methods of diagnosis and prevention of the disease. The premiere raised about $100,000.
See the most-read stories in Entertainment this hour »
Although Wilder said he had been approached by several hospitals and research centers, he felt most comfortable with the Cedars program.
"I'm not lending Gilda's name," he said, "because that means you've got to give it back. I'm giving the name. And I have to be very careful where I give her name, because otherwise it becomes like cheap money. I wanted it to be where it really counted."
Wilder also testified before a congressional subcommittee in May, recounting the tragedy of Radner's misdiagnoses, eventual discovery of her cancer, painful treatments and death. His goal--more federal money for research--was realized; $30 million was allocated.
"Saying I gladly took on this task is too nice," Wilder said. "I felt Gilda screaming and I didn't know what to do. And I was in the enviable position because of whatever celebrity I have, to use that--to be able to do a public service announcement or talk to People magazine, and I could talk about these things that were driving me crazy.
"I feel relieved now, and I sleep better at night. The old story that one person can really make a difference. . . . I was just lucky; I think I was one spoke in a wheel that started to turn at this time. Actually Gilda was the main horsepower behind the whole thing."
The timing of the creation of the center and its naming was fortuitous. Last fall Dr. Beth Karlan, a gynecologic oncologist, was putting together a proposal for an ovarian cancer research program. Through Wilder's friend Dr. Ed Feldman, a gastroenterologist at Cedars, the parties hooked up, and Wilder decided to give his support.
"I've been a researcher and clinician very much away from the public eye," said Karlan, director of the program, "and the greatest benefit I saw from Gilda's name was it will really reach out to many more women to increase their awareness to get them into the center. It will . . . answer their questions about early detection, improving survival rates and ultimately even prevention, which is our long-range goal."
At the reception before the screening, guests took advantage of the cool evening and mingled by buffet tables set up outdoors. In the crowd were Tri-Star Chairman Mike Medavoy, the film's director, Maurice Phillips, with Elizabeth Perkins (they're expecting their first child in late August), "Another You" executive producer Ted Zachary, co-star Vanessa Williams, Leonard Nimoy, Wilder's fiancee Karen Webb, event co-chairs Ellen Brooks and Wendy Platt and Platt's husband, Lawrence, chairman of obstetrics/gynecology at Cedars. Pryor, who underwent heart surgery in June, was unable to attend.
Said director Phillips of working with the Pryor-Wilder team: "That chemistry is something that's almost impossible to find. I tried to figure out what it was that makes these two people click. There's no formula for it; they just have this incredible chemistry that as soon as they get on the set together it just takes off. . . .
"If you put it in a nutshell, they trust each other implicitly. They take chances together, so if they're going to go out on a limb, they go out together, holding hands as it were. It makes for great comedy."
ALSO
Gene Wilder dies at 83; 'Willy Wonka' star and Mel Brooks collaborator
Gene Wilder on his first turn as a romantic lead in 'Funny About Love'
Gene Wilder discusses his acting successes and preference for writing
A charming, witty introduction to a 'Stranger' a la Gene Wilder
Get our L.A. Goes Out newsletter, with the week's best events, to help you explore and experience our city.
You may occasionally receive promotional content from the Los Angeles Times.