How misogyny impacted 'Ghostbusters' opening weekend and its future
On the sidewalk on Hollywood Boulevard as the smell of free Papa John's pizza wafted through the air and a giant, inflatable Stay Puft Marshmallow Man hovered nearby, 14-year-old Blake Rossen was ebullient Friday night.
"I feel like I just went back to my childhood," said Rossen as he left a showing of the newly rebooted "Ghostbusters" movie at the TCL Chinese Theater with his father, Steve, and sister, Stella, 8.
Bringing 14-year-olds — and 44-year-olds — back to their childhoods was a necessary task for Sony Pictures Entertainment this weekend as the Culver City studio relaunched its 1980s horror comedy franchise with a new, female-led cast.
The reboot directed by Paul Feig and starring Melissa McCarthy, Kristen Wiig, Leslie Jones and Kate McKinnon provoked an uproar online, where aggrieved male fans furiously panned the film on IMDB in advance of its opening, hissed at its trailer on YouTube (turning it into the most disliked trailer in YouTube's history) and strategized to stay home and play a "Ghostbusters" video game together in angry solidarity on Reddit. Their chief objection was that the busting of ghosts ought to be a strictly male pursuit. In one of several winks at the controversy in the film, McCarthy's character reads a line off an Internet comment board: "Ain't no bitches gonna hunt no ghosts."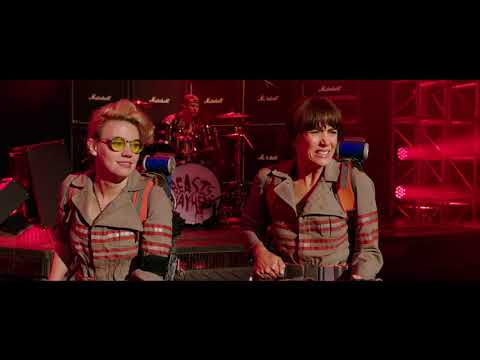 Watch the trailer for "Ghostbusters."
It's not clear the digital vitriol made a measurable impact on the box office, where "Ghostbusters" earned $46 million in its opening weekend, 46% of it from males. At the TCL Chinese on Friday night, at a screening the theater had promoted as a "Ladies' Night" event, where Feig would do a Q&A after the film ended, more than half of the audience were men. In a line of more 20 moviegoers waiting to ask Feig a question, there was only one woman. (Sample question from one adult male: "Why doesn't Slimer actually slime anyone?")
If "Ghostbusters" had carried the pricetag of a typical Feig/McCarthy comedy like "The Heat" (which cost $43 million) or "Spy" ($65 million), a $46-million opening would be more than enough to declare the reboot an unqualified hit. It's McCarthy's best opening weekend to date, and she is one of Hollywood's most bankable comedy stars right now, alongside Kevin Hart.
But with a $145-million, visual effects-laden production budget and a costly, summer tentpole marketing campaign, "Ghostbusters" is more like a pop-up fly hanging in the air. The movie's financial success depends on domestic audiences continuing to show up for the film week after week, as they typically have for Feig/McCarthy collaborations, and on international markets supplying a decent boost.
Abroad, "Ghostbusters" faces other challenges, including the likelihood that it will not get released in China, the second-largest box-office market in the world, because Chinese film officials don't think there's a sizable audience for it. Chinese censors also have a history of blocking the release of movies with ghost themes, as they did with "Pirates of the Caribbean: Dead Man's Chest."
Sony officials were emphasizing the wait-and-see approach when it comes to analyzing "Ghostbusters'" box-office performance.
"What you have to see is where does it end up," said Rory Bruer, president of worldwide distribution at Sony Pictures Entertainment. "There were definitely challenges in regards to the naysayers of it all, but we always knew we were bringing it."
With a Cinemascore of B+ from opening weekend audiences and a Rotten Tomatoes score of 76% from critics, "bringing it" might be overstating things a bit.
The tricky part of evaluating "Ghostbusters'" financial success has been the lack of useful comparisons for the film, a rare, special effects-driven comedy. A best-case scenario would be a fate like a franchise relauncher with a much darker tone, Chris Nolan's 2005 "Batman Begins," which opened in North America to $49 million against a $150-million production budget, ended up with a $374-million global box-office take and, perhaps most important, succeeded in reigniting enthusiasm for the DC Comics characters in subsequent films.
Sony clearly envisioned Feig's "Ghostbusters" as a franchise launcher — an end-credits scene sets up a sequel around Zuul, the ghost that possessed Sigourney Weaver's character in the 1984 film.
After months of fielding online hate, Feig addressed the opening weekend audience with a note of gratitude from the stage.
"Thank you for seeing beyond woman/man," Feig said. "These are four of the funniest human beings I know."
Asked about the prospect for a sequel, Feig demurred, quoting a line he attributed to McCarthy.
"When you're in the delivery room and the baby's about halfway out, and you're pushing as hard as you can, you don't go, 'I think I'm gonna have another baby,'" Feig said. "So we're gonna see how this one does, but it would be an honor to do it again."
Times staff writer Tre'vell Anderson contributed to this report.
ALSO
Leslie Jones says she's in 'personal hell' after barrage of racist, abusive tweets
Review: Nostalgia haunts the brilliant women who possess the new 'Ghostbusters'
Meet the little-known L.A. band you hear in 'Ghostbusters'
Get our L.A. Goes Out newsletter, with the week's best events, to help you explore and experience our city.
You may occasionally receive promotional content from the Los Angeles Times.