Danny Elfman on scoring 'The Girl on the Train': The darker it gets, the happier I get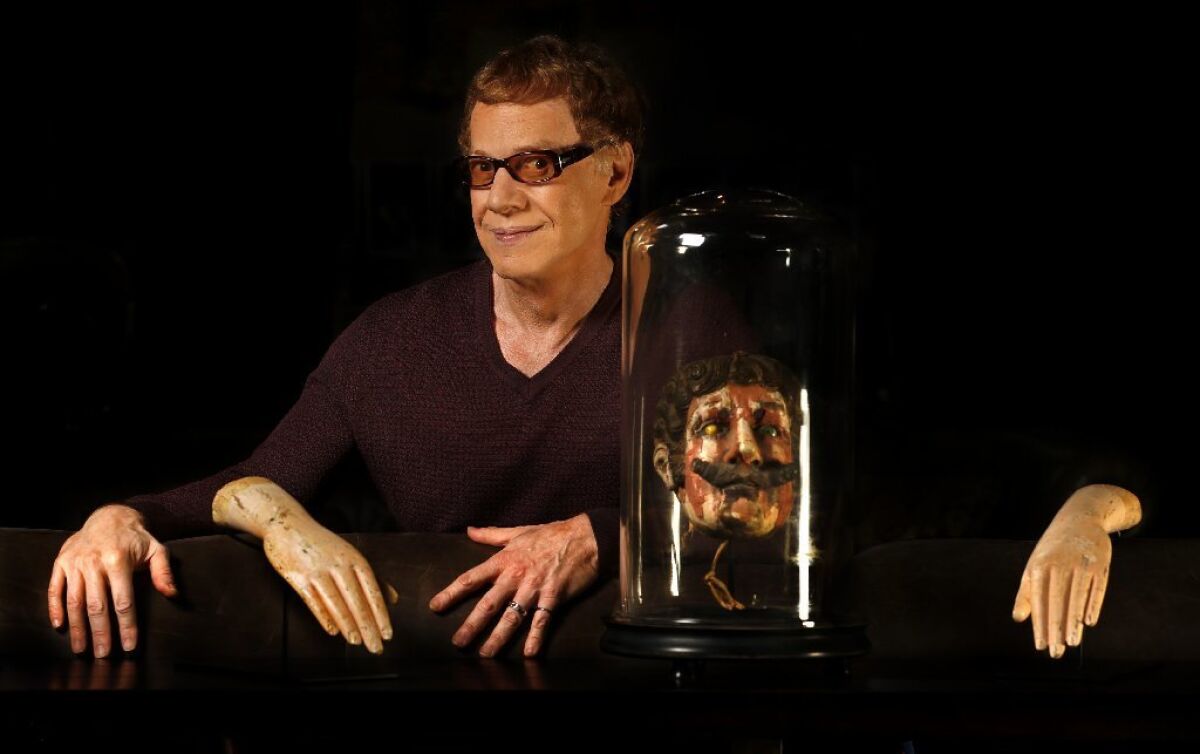 Depending on the day, Danny Elfman may sound more like Jack Skellington at the outset of Tim Burton's 1993 goth fantasia "The Nightmare Before Christmas," singing a weary lament. Or he might sound like Jack after his Christmas debacle — rejuvenated and happy.
"I'm the eternal pessimist," Elfman, 63, admitted by phone from his home in Santa Barbara. "But if you get down to my core, you'll find an optimist trying to break through an eternal pessimist. I always feel the doom and gloom is around the corner, but inside there's an optimist going, 'Not necessarily! It doesn't always go the way you call it!'"
Elfman's buoyant mood can be attributed to the rewarding experience he had scoring "The Girl on the Train," Tate Taylor's film adaptation of the popular novel by Paula Hawkins, which stars Emily Blunt and opens Friday.
"It's a thriller and dark, so of course that appeals to me," said Elfman. "But as much as that, it was meeting a director who I had a feeling would give me a long leash."
"The Girl on the Train" features Emily Blunt, Haley Bennett, Justin Theroux, Luke Evans and Allison Janney.
Elfman likes to present directors with three different approaches to a score, one being decidedly more unorthodox. "The pleasureful moments for me are when I play something which I think is more off-center," he said, "and the director's eyes light up and go, 'Yeah!' Then I go, 'All right — we're in business.'"
In this case, the angle was a bass-heavy, rhythmic motor using (among other things) de-tuned mandolins and screaming electric guitars. In some scenes, musical phrases are run in reverse for a disorienting effect. Most of the score was made with synthesizers and sampled instruments, and Elfman said he had fun taking a break from orchestras, spending half of his time programming sounds late at night.
"The middle of this movie gets very dark," he said, "and the darker it gets, the happier I get."
Not every film is a happy experience for Elfman, who began his metamorphosis from Oingo Boingo frontman to film composer with 1985's "Pee-wee's Big Adventure." A recent YouTube essay ("The Marvel Symphonic Universe"), in an attempt to explain the dearth of memorable melodies in Marvel films, relied on Elfman's 2012 comments from a filmed interview with the Hollywood Reporter.
Look, being a composer today, it's a tough job. ... We're the last cart on the train, so to speak.
— Danny Elfman
"Temp music is the bane of my existence," he said in the video, referring to the soundtrack of preexisting score cues that directors and editors use when cutting a film. Composers are frequently asked to imitate the temp track, the essay argued, thereby diluting the final score and curbing innovation. "I won't listen to it but once," he continued, "and if they're addicted to it, it's just going to make my job harder."
Elfman said he hadn't seen the YouTube video, but he took issue with its premise.
"I think that might be oversimplifying, because there have been temp tracks for 30 years and longer," he said. "The fact of the matter is, you can't preview a movie without a temp track."
On this day, at least, he sympathized with directors who, having spent months hearing certain cues in the editing room, get stuck on their interim soundtracks.
"Look, being a composer today, it's a tough job," he said. "You have to be able to really improvise and roll with things in a unique way. We're the last cart on the train, so to speak, and we have the sometimes unfortunate position of being there when the director is in their most volatile place, and perhaps their most insecure place."
Of course, Elfman's patience with the challenges of his profession swings back and forth. Every five years, he said with a laugh, he threatens to retire. Besides the bane of temp tracks, digital editing has accelerated the schedule for composers and the need for score changes (large and small) up to the very last minute. There's also the changing zeitgeist of taste, which has all but abandoned the kind of lush, melody-driven scores Elfman once wrote for films such as "Batman" and "Edward Scissorhands."
"Everything goes in cyclic periods, up and down, with trends in scoring," he mused. "Frequently I'm asked: 'Oh, my God, is this the death of film scoring?' But I've been hearing that steadily since 1985 when I started."
Hunger for Elfman's music and the chance to hear him perform it live have not diminished, however: He's reprising his role as Jack Skellington for three nights at the Hollywood Bowl. A screening of "The Nightmare Before Christmas" will be accompanied, as it was last year, with live orchestra and singers in the lead-up to Halloween. (Tickets to the Oct. 28 show are still available.) Elfman, who composed the film's songs and score in addition to providing Jack's musical voice, will be joined by original cast members Ken Page, Catherine O'Hara and Paul Reubens.
The event reflects the current stage in Elfman's career, which has him looking to the past as well as the future. It was born out of a touring retrospective concert of music he's written for regular collaborator Tim Burton, which is what coaxed Elfman back to the microphone after 18 years of not performing in public. He's also in the middle of writing a new violin concerto — joining his concert piece "Serenada Schizophrana" and the ballet "Rabbit & Rogue" — which will premiere next June in Prague.
"That stuff does keep me sane," he said. "I keep telling myself I'll do one concert work every year, because I do think it keeps me grounded in some way."
Selling out the Bowl and taking creative refuge in the concert hall, as well as having another satisfying scoring experience on the upcoming James Ponsoldt thriller "The Circle," has Elfman singing a happy tune.
"For the first time since I don't remember when," sings a revived Jack Skellington toward the end of "Nightmare," "I felt just like my old bony self again."
"Yeah," Elfman cautioned, "but you know, two days ago, who knows. Believe me, the two Jacks ... it's moment to moment."
---
Get our L.A. Goes Out newsletter, with the week's best events, to help you explore and experience our city.
You may occasionally receive promotional content from the Los Angeles Times.