Gotham Awards: Big night for 'Moonlight'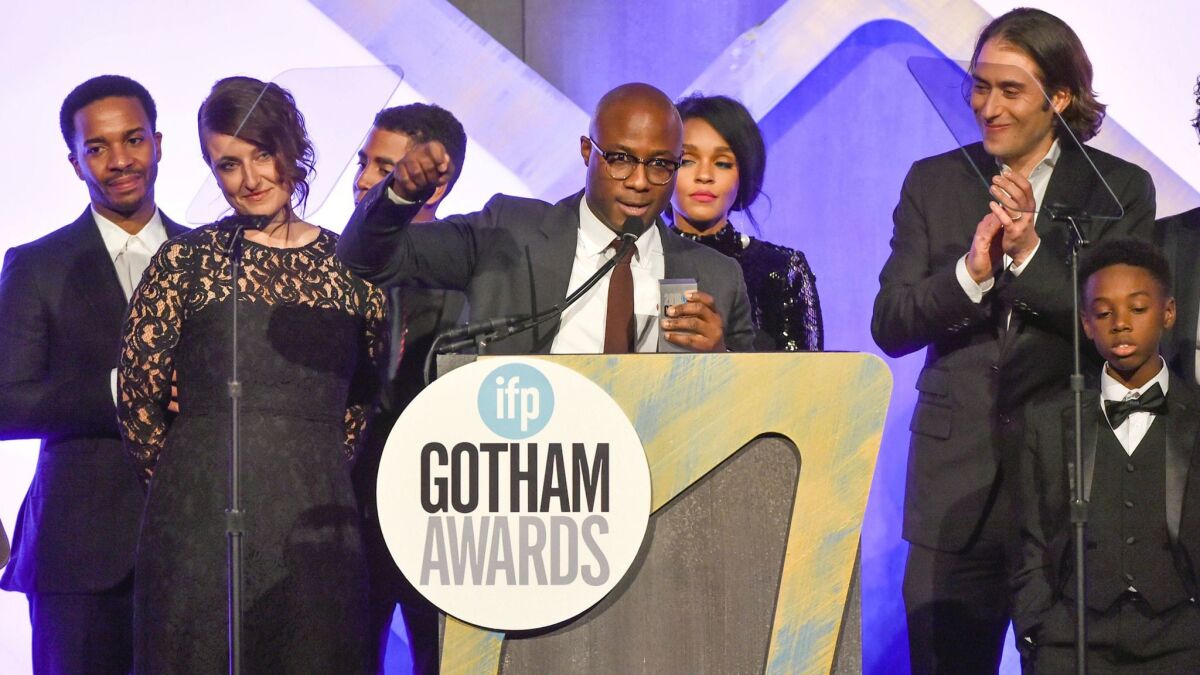 Reporting from NEW YORK —
As he frequently reminded the Gotham Awards room, Barry Jenkins took an eight-year hiatus before shooting his new movie "Moonlight."
He's making up for lost time.
The writer-director and his drama cleaned up at the indie film ceremony Monday night, winning the top prize of best feature as well as the audience and screenplay awards, along with a special jury ensemble honor.
"When you go eight years without making a [new] film," Jenkins said at one point, referencing his micro-budgeted prior film "Medicine for "Melancholy," "you assume no one is going to watch it."
The director and his cast came to the stage repeatedly throughout the night. By his last speech, Jenkins was running out of people to thank and turned his attention to his third grade teacher, and CAA.
The film even managed to work its way into unrelated moments. Cate Blanchett, presenting another award, interrupted herself during a different point. "Speaking of extraordinary, that 'Moonlight' is extraordinary," she said.
Benjamin Millepied, left, and Natalie Portman attend the 26th Gotham Independent Film Awards at Cipriani Wall Street in New York.
(Evan Agostini / Invision / Associated Press)
Amy Adams attends IFP's 26th Gotham Independent Film Awards.
(Matthew Eisman / Getty Images for IFP)
Krysten Ritter, Natalie Portman, left, and Greta Gerwig, Mike Colter at the Gotham Awards.
(Left and right - Jemal Countess/Getty Images | Center - Matthew Eisman/Getty Images)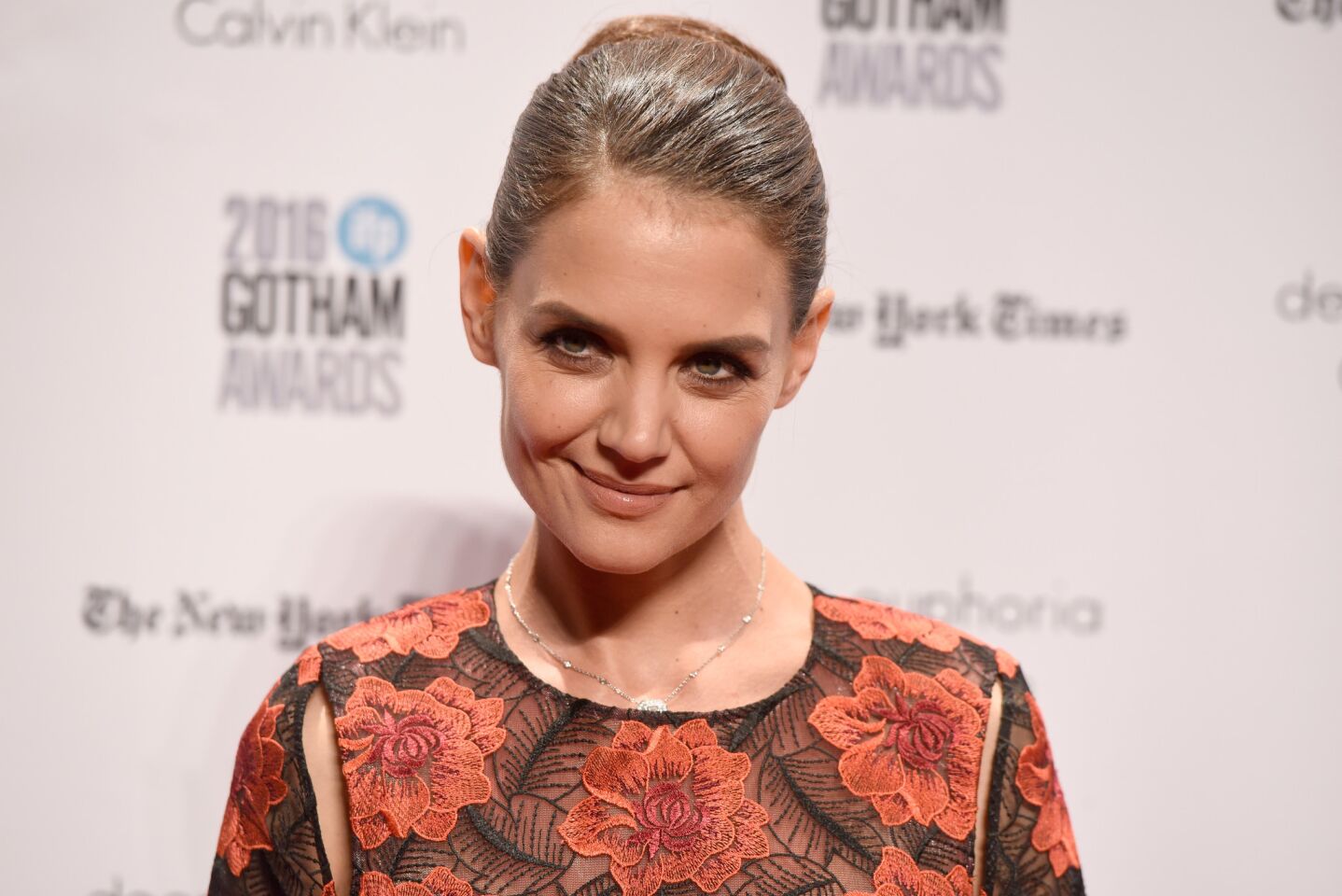 Katie Holmes
(Matthew Eisman / Getty Images for IFP)
Leslie Mann and Maude Apatow
(Jemal Countess / Getty Images )
Ben McKenzie, left, and Morena Baccarin
(Evan Agostini / Invision / Associated Press)
Margot Robbie
(Matthew Eisman / Getty Images for IFP)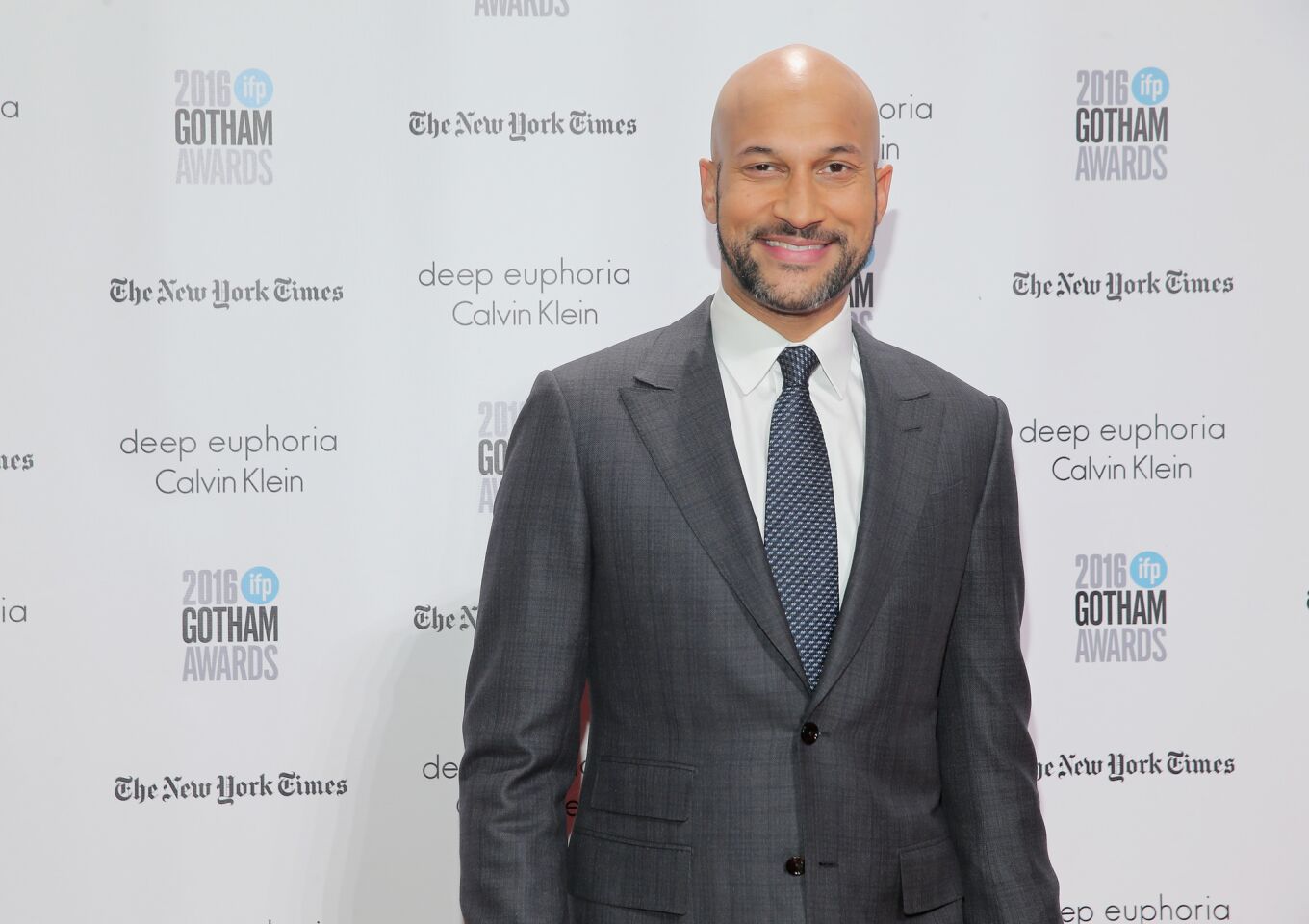 Keegan-Michael Key hosted the 2016 Gotham Awards in New York.
(Jemal Countess / Getty Images for IFP)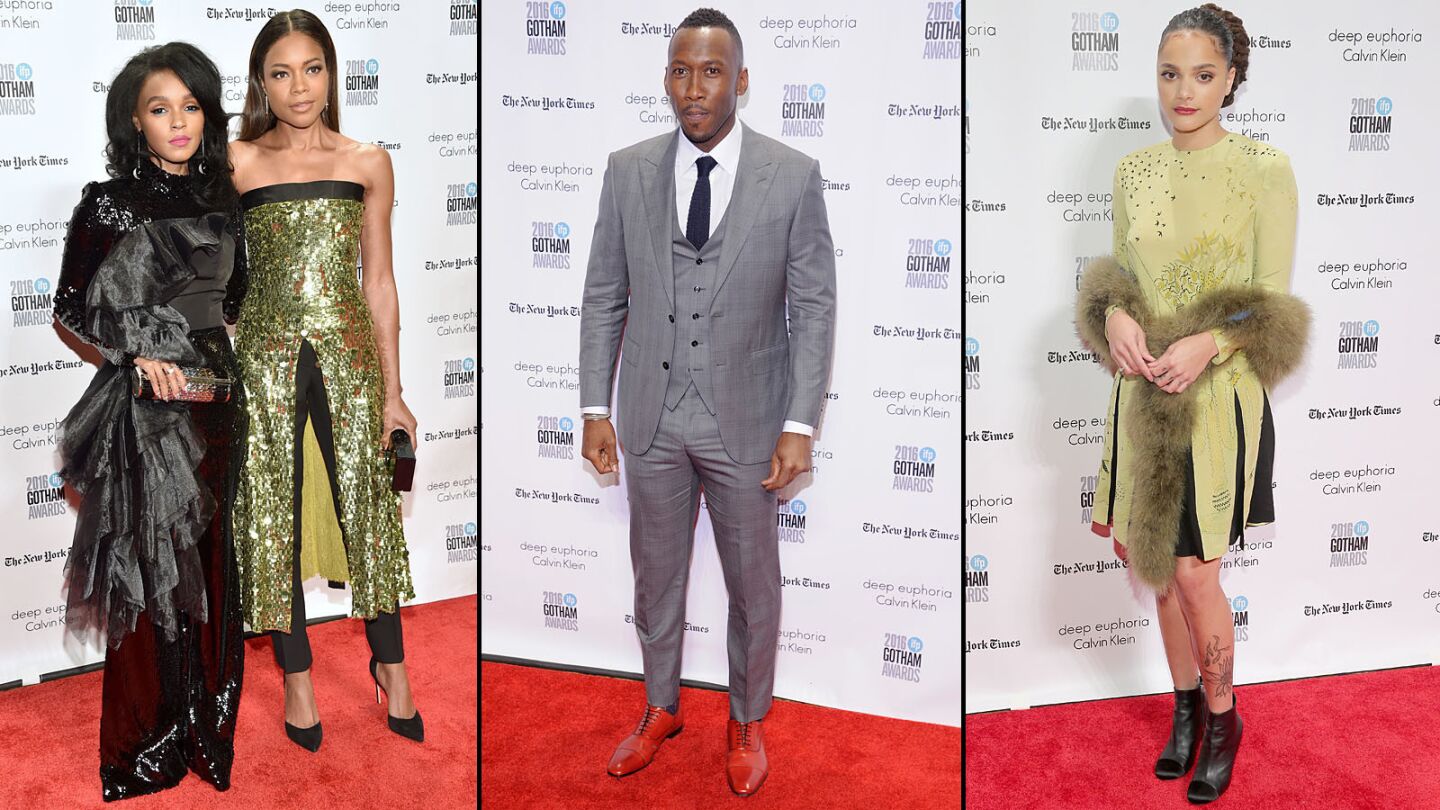 Janelle Monae, left, and Naomie Harris, Mahershala Ali, Sasha Lane
(Left - Evan Agostini/Invision/Associated Press | Center - Matthew Eisman/Getty Images | Right - Jemal Countess/Getty Images)
Susan Kelechi Watson
(Jemal Countess / Getty Images for IFP)
John Leguizamo
(Jemal Countess / Getty Images for IFP)
Neve Campbell
(Matthew Eisman / Getty Images for IFP)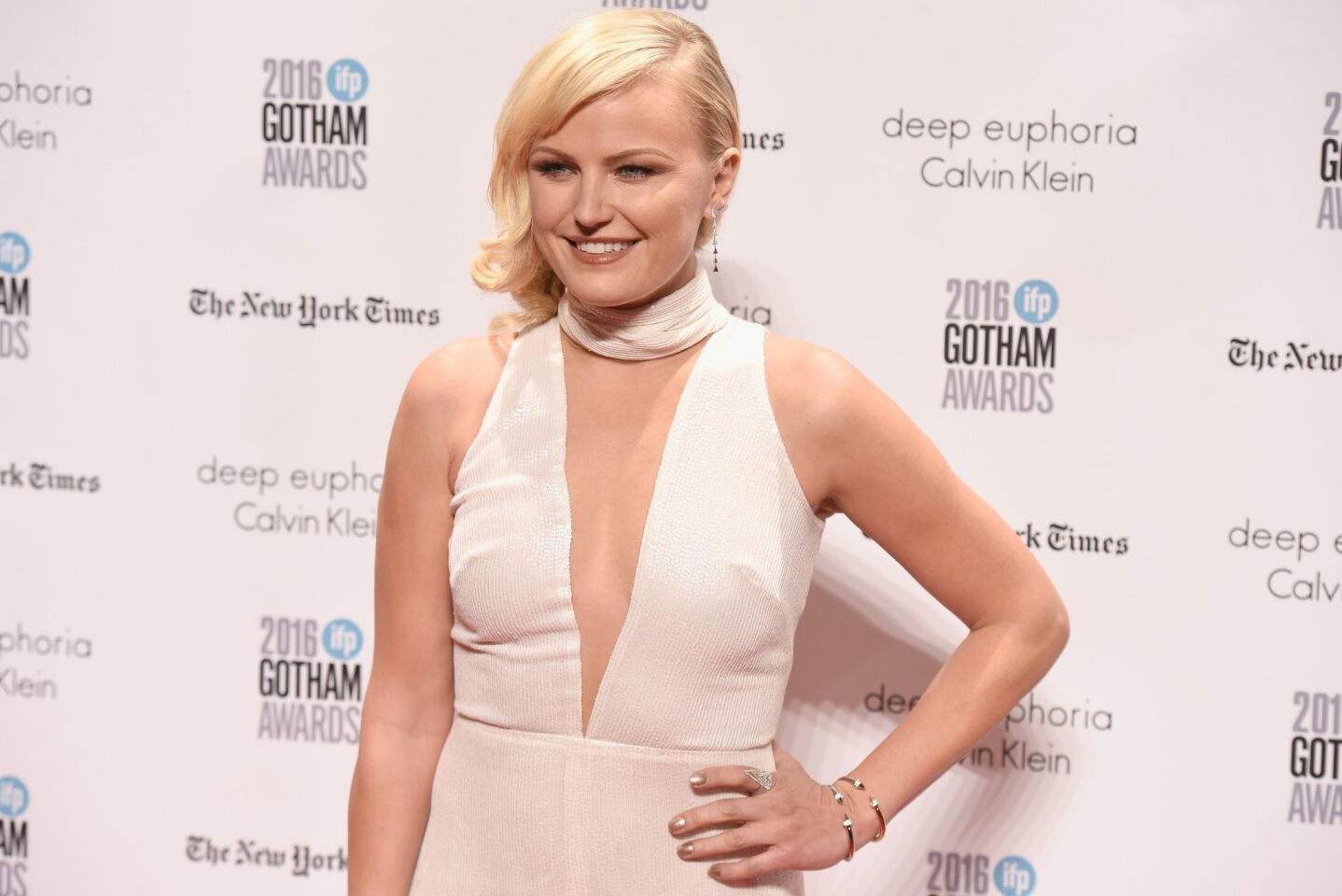 Malin Akerman
(Matthew Eisman / Getty Images for IFP)
Aziz Ansari
(Matthew Eisman / Getty Images for IFP)
The New York-based Gothams, a kind of East Coast version of the Spirit Awards, are regarded as one of the first of the award-season events that in the coming months will also include the BAFTAs, the Golden Globes and the Oscars. Though its small jury pools of stars and filmmakers do not encompass the diverse bodies of people that will vote for those prizes, the ceremony has proved prescient of late: the 2015 and 2014 best feature winners ("Spotlight" and "Birdman") each went on to win best picture at the Oscars. That should bode well for "Moonlight."
Based on a Tarell Alvin McCraney play, the film is a tri-partite coming-of-age story, spanning more than a decade, about a young gay black man in Miami.
The movie, funded and distributed by A24, stars Trevante Rhodes, André Holland, Janelle Monáe, Ashton Sanders, Jharrel Jerome, Naomie Harris and Mahershala Ali, all part of the cast that won the jury prize
Though it's early, the film seems to be following in the footsteps of "Boyhood" two years ago — an intimate movie about growing up, told across multiple time frames, that has captivated tastemakers and voters. After a successful late-summer festival run, "Moonlight" has also begun attracting commercial audiences, grossing nearing $10 million so far mainly on the strength of word of mouth. Cheers for the movie at the Gothams were noticeably louder than for any other film.
It also seems to be tapping into a political zeitgeist, or counter-zeitgeist. Accepting the feature prize, Jenkins said, "These are marginal people and marginal lives. It's [great] there's a platform to center these stories, because they're needed now more than ever."
Jenkins' comments were hardly the only ones with a political charge Monday.
Presenter Damian Lewis cracked an electoral-college joke. "The film that receives the most votes is the winner! What a brilliant idea!" he said of the audience prize.
And Nick Kroll noted that "Gentlemen, if you don't win, take solace in the fact that you didn't win because the Russians interfered in ways we don't understand." Host Keegan-Michael Key also quipped about all the events that he thought the country would be celebrating on this night but wasn't after the election ("celebrating diversity," "breaking a glass ceiling").
Diversity stories were, however, celebrated across the ballot; "O.J.: Made in America," Ezra Edelman's race-themed docuseries for ESPN, notched a win for best documentary.
For his part, Oliver Stone encouraged newer filmmakers to push back against government oversight.
"The mechanism is in place so when there is another attack, the next president will have the authority to close down the system," he said, citing Edward Snowden. "This is a major issue in our time. I hope you young people will not forget this in your work. Please address it.
Stone was one of several people to receive tributes; the group also included "Arrival" and "Nocturnal Animals" star Amy Adams ("If you're always trying to be normal you'll never know how amazing you can be"), "Born to be Blue" lead Ethan Hawke (after saying he's been declared washed up several times, "The only thing I know for certain is I will be washed up again very soon"), and the longtime producer Arnon Milchan, who was feted by Danny DeVito ("He loves movies and he is rich," DeVito said, after leading the room in a chant of Milchan's name).
Most surprising among the winners was "Elle" star Isabelle Huppert, who knocked off front-runners Natalie Portman ("Jackie") and Annette Bening ("20th Century Women") for best actress, though in a fiercely competitive year even Huppert's Oscar nomination in the category is not assured.
Huppert seemed truly shocked as she took the stage. "They all told me 'it's a very American award — and you're very French,'" she said.
In surprising news to the winner if not those in the audience, best actor went to Casey Affleck for his role as a tortured handyman in Kenneth Lonergan's New England-based drama "Manchester by the Sea."
"[Darn it], I wish I had something to say," Affleck hesitated. "This feels really good. I didn't think I cared that much."
Just as off the cuff, if more comedic, was Aziz Ansari. After accepting the "Made In NY Prize" for his city-based show "Master of None," the performer offered some improv about the modest size of the plaque, his penchant for swiping snacks from rival craft services' tables and the generally constructed nature of award shows.
"I was told a few months ago," he said as he came to the lectern to accept the honor. "But I tried to forget about it so I would be surprised."
See the most-read stories in Entertainment this hour »
On Twitter: @ZeitchikLAT
---
Get the Indie Focus newsletter, Mark Olsen's weekly guide to the world of cinema.
You may occasionally receive promotional content from the Los Angeles Times.