Everyone's a fan at the film academy's Governors Awards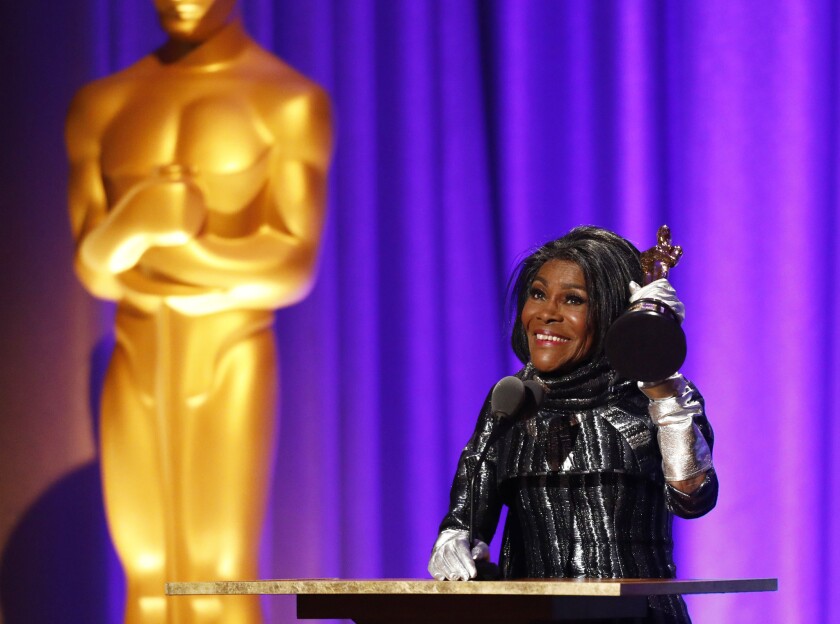 "Guuuucci!!!"
"Eighth Grade" star and newly minted Spirit Award lead actress nominee Elsie Fisher is used to being greeted with her signature catchphrase from the movie, though the call is usually coming from a middle-school girl and not an Oscar-winning director.
But Alfonso Cuarón had just seen "Eighth Grade" over the weekend, so when he saw the 15-year-old Fisher in the Ray Dolby Ballroom at the annual Governors Awards on Sunday night in Hollywood, he couldn't help himself.
"I love your movie so much," Cuarón enthused. Fisher smiled and politely thanked the filmmaker. Meanwhile, Bo Burnham, who directed Fisher in "Eighth Grade," looked like his head was about to explode. "That was beyond insane," he said later. "You cannot imagine just how surreal that was for me."
PHOTOS: Governors Awards 2018 | Red carpet »
Dreamlike encounters are part and parcel of the Governors Awards, an untelevised event that the Academy of Motion Picture Arts and Sciences established in 2009 as an evening to bestow its honorary Oscars. This year's recipients included actress Cicely Tyson, producers Kathleen Kennedy and Frank Marshall, composer Lalo Schifrin and publicist Marvin Levy.
The evening also functions as a significant stop for Oscar contenders, such as "Roma" writer-director Cuarón, trying to capture academy members' attention. Studios pay $60,000 for a table inside the Dolby, prime awards-season real estate, for a chance to plant the flag for their contenders.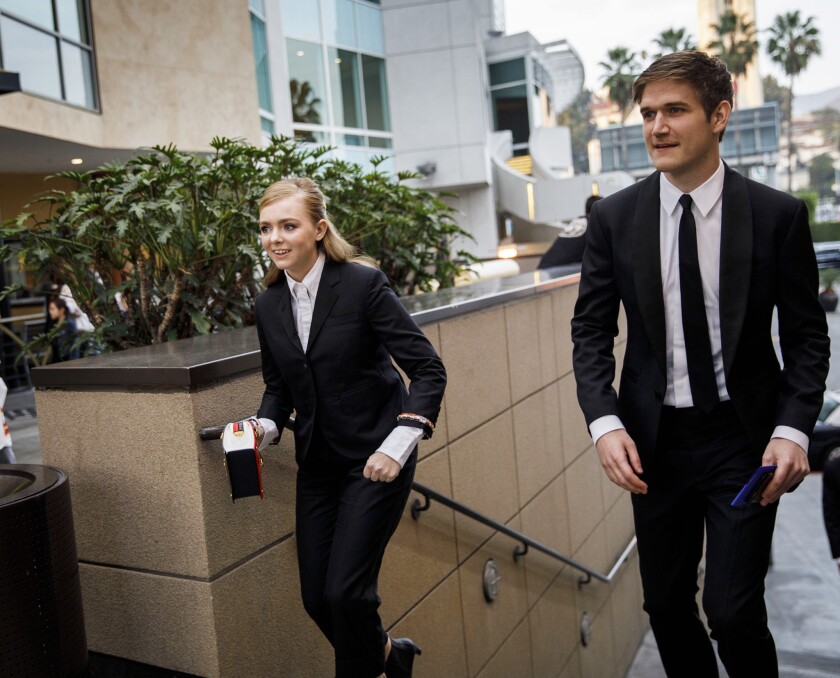 This year's event took on an even more surreal tone as many of the 750 people in attendance drove to the event from a blackened Malibu and other areas devastated by the Woolsey fire.
The academy curtailed red-carpet interviews, and its president, John Bailey, made mention of the California wildfires during his opening remarks, noting how the disaster had bonded many in the room together.
"A Star Is Born" cast members Lady Gaga and Sam Elliott, sitting at the Warner Bros. table, both had to evacuate their Malibu homes. And Fisher was forced to leave her Thousand Oaks home in the dead of night with her father and younger brother, just a day after the mass shooting at the city's Borderline Bar & Grill.
"We grabbed our pets, ran out to the car just as a lit ember landed in the driveway," said Fisher, who returned to Thousand Oaks three days later, her home spared.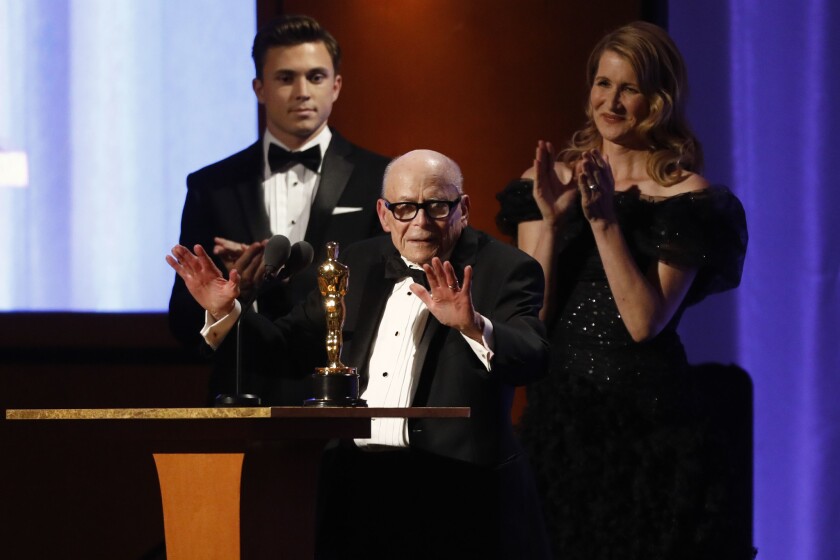 Given the gravity of recent circumstances, many attendees grabbed hold of the evening as a chance to celebrate cinema and have a little fun. When "If Beale Street Could Talk" leads Stephan James and KiKi Layne tried to take a selfie together, Tom Hanks photobombed them. At Tyson's table, Oprah Winfrey and Shonda Rhimes greeted Anita Hill, while pretty much everyone else in the ballroom queued up to pay their respects to the 93-year-old honoree.
When Tyson took the stage, following introductions from Tyler Perry, Quincy Jones and Ava DuVernay (again: Everyone wanted to pay tribute), she delivered the night's most emotional speech, noting that when Bailey called to tell her she would receive the honor, "I just went to water. I could not say a word. I call it Niagara Falls. All I did was cry and cry and cry."
Tyson, Oscar-nominated for her role in the 1972 drama "Sounder," thanked Winfrey and Whoopi Goldberg, before looking skyward and addressing her mother.
"Mom, I know you didn't want me to do this, but I did," she said, holding the Oscar aloft. "And here it is. For the longest time, I wanted to hear something positive from her. When I did '["The Autobiography of Miss] Jane Pittman' ... she said, 'I am so proud of you.' And I think if I had not heard those words from her, none of this would make a difference to me."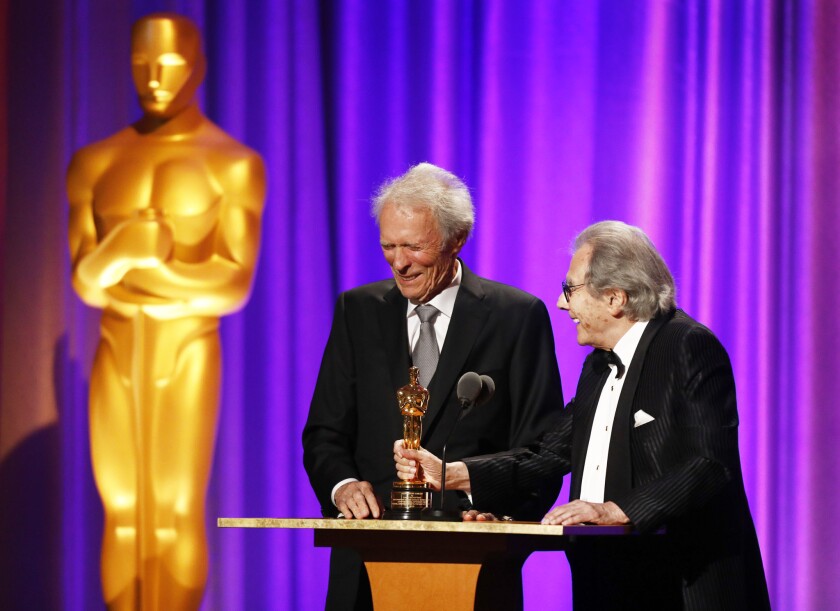 Tyson's moving speech stood in direct contrast to Clint Eastwood's comic introduction of Schifrin, who scored several of the screen icon's films, including four "Dirty Harry" movies. Eastwood, 88, brought the 86-year-old composer onstage, where they bantered — sometimes awkwardly, sometimes slyly — with Eastwood finally handing him the Oscar, telling him he could "put it on the front of your car, like a Pontiac."
"Well, it was really nice talking to you," Schifrin told Eastwood, making the effort to wrest the stage from his presenter and launch into his speech.
The evening's other honorees represented firsts for the academy. Producer Kennedy, receiving the Irving G. Thalberg Memorial Award along with her husband, Marshall, became the first woman to secure that honor.
"I'm not the first to deserve it, and I'm 100% sure I'm not the last," Kennedy said, accepting the honor from Steven Spielberg. Kennedy and Marshall co-founded Amblin Entertainment with the filmmaker, producing the "Indiana Jones" series as well as "The Color Purple" and countless other titles.
"We made movie after movie together," Spielberg said. "Until one day I walked into my office and saw them making out on my couch." (Kennedy and Marshall married in 1987.)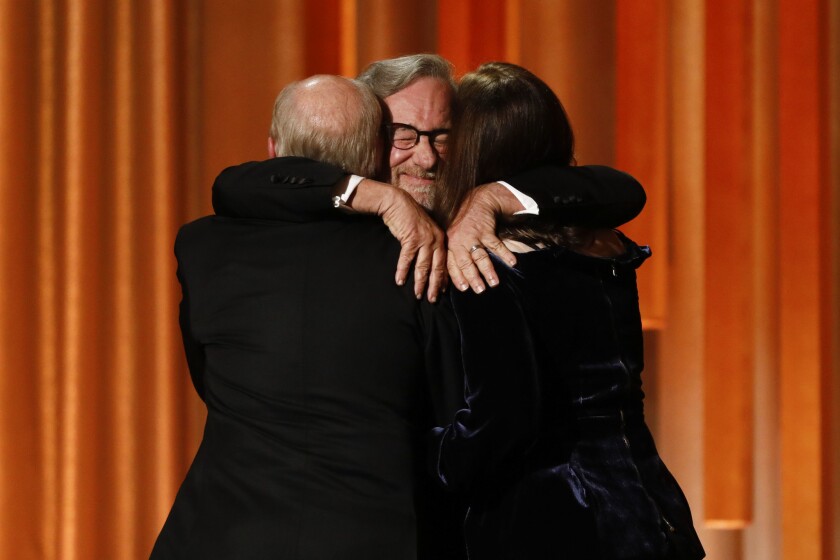 "I'm not sure I'm going to recover from that couch story," Kennedy said from the stage.
Levy became the first publicist to receive an Oscar. He too had a long partnership with Spielberg, dating back to "Close Encounters of the Third Kind."
Perhaps inspired by "Hamilton" creator Lin-Manuel Miranda's presence at the Disney table, Levy broke out a stanza of "The Room Where It Happens" during his speech.
Fisher was most definitely inspired by Miranda, saying that, out of everyone in that ballroom, he was the person she really wanted to meet. Shortly before the speeches, her wish came true. Miranda, like Cuarón, loved "Eighth Grade," and happily posed for several selfies until they achieved the perfect shot. He was also geeking out that she, like him, had been a guest on the comedy advice podcast "My Brother, My Brother and Me."
"Forget all the EGOTs who may be in this room," Miranda told Fisher. "There's, like, six people who have been guest experts on that show. That is the exclusive club."
For her part, Fisher was speechless. When Miranda's attention was diverted by "Black Panther" actor Michael B. Jordan, she edged away, saying: "That was better than I could have possibly imagined. But this whole year has been like that."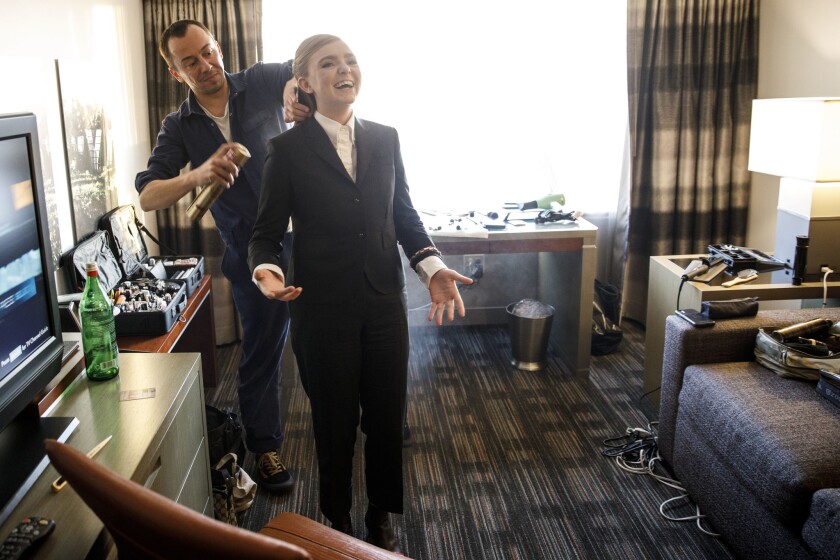 Twitter: @glennwhipp
---
Inside the business of entertainment
The Wide Shot brings you news, analysis and insights on everything from streaming wars to production — and what it all means for the future.
You may occasionally receive promotional content from the Los Angeles Times.