Harold and Lillian Michelson, a match made in Hollywood heaven
Retired film researcher Lillian Michelson talks about one of the most challenging projects she worked on.
When film researcher Lillian Michelson was at DreamWorks Animation, she'd bring her husband, famed storyboard artist and Oscar-nominated production designer Harold Michelson, to work with her.
"He had to retire because he had many things wrong with him," said Michelson. "I wouldn't leave him alone. All the artists found out who he was and they'd come in and talk with him about drawing. He was just beloved."
In fact, the couple were so beloved at the studio that the King and Queen in 2004's "Shrek 2" were named Harold and Lillian.
Their remarkable lives and careers are the subject of Daniel Raim's compelling new documentary, "Harold and Lillian: A Hollywood Love Story," which opens in Los Angeles on Friday.
The documentary features interviews with such filmmakers as Mel Brooks, Francis Ford Coppola and Danny DeVito (an executive producer of the documentary), as well as vintage interviews with Harold and Lillian, new interviews with her, Harold's artwork and storyboards and scenes from the films they worked on.
Raim first encountered Harold Michelson 20 years ago when he was a guest at production designer Robert Boyle's class at AFI. "He taught us storyboarding technique," recalled Raim. Michelson was also included in Raim's Oscar-nominated 2000 short on Boyle, "The Man on Lincoln's Nose" and his 2010 documentary "Something's Gonna Live."
"Lillian and Harold nurtured me and took me under their wing and showed me Hollywood is also filled with very loving people," said Raim.
Harold Michelson died a decade ago at the age of 87. Lillian Michelson, now 88, retired in 2010 and lives in a comfy room filled with photos, drawings and other mementos at the Motion Picture and Television Fund in Woodland Hills.
The diminutive Michelson may use a walker with wheels, but she's still a vital powerhouse. And on this recent warm afternoon, she and Raim discuss the documentary over lunch in a private area off the dining room.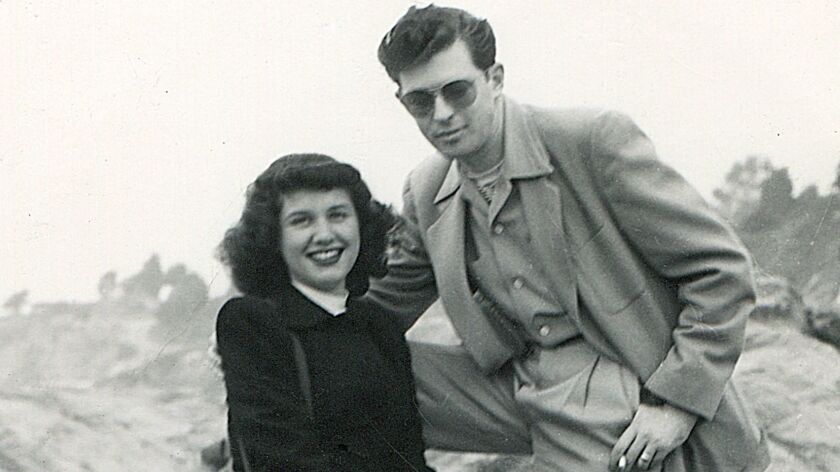 Lillian Michelson grew up in orphanages outside of Miami. Harold was her friend's brother who would joke around with her, but after he returned from World War II, he confessed he loved her. She accepted his invitation to come out with him to Los Angeles and the two married when she was 19 and he was 28.
She raised three sons in the 1950s; their eldest, Alan, was born autistic at a time when little was known about the disorder.
"We were very lucky with Alan," she said. "He's such a gentle soul. Never, never angry. He would sit and rock and have all the classic symptoms, but he had the soul of an angel." (Alan Michelson would go on to graduate from college and have a successful career as a computer programmer).
While she was raising the children, Harold Michelson was building a reputation for himself as a storyboard artist who had an uncanny ability to turn the written word into innovative shot designs such as Moses parting the Red Sea in Cecil B. DeMille's 1956 "The Ten Commandments" or Mrs. Robinson's raised leg in the foreground with Benjamin in the background in 1967's "The Graduate."
"Can I ask a question?," Raim asked Michelson. "How did Harold feel in 1967 when 'The Graduate' comes out and the poster uses his image?"
"He was so thrilled," said Michelson, smiling. "It was, like, huge. Just thrilled."
But he never really got credit for the work he did with his storyboards.
Harold and Lillian exclusive clip, "The Graduate."
"He was a naturally humble person, a modest person," noted Michelson. "He would never envision having his credits known. It just wasn't done in the Art Department. It was like a ceremony. When you finished your sketch you didn't hand it to the production designer or director. You handed it to the guy who managed the drafting room and he handed it to the production designer. It was that strict."
In fact, Michelson never met DeMille when he was working on "The Ten Commandments."
"There's an excerpt in the film where he said the only time he ever saw DeMille was outside the window of the Art Department walking with his entourage," Raim said, laughing. "It was a rabbi and a priest. They thought he [DeMille] was God. That's Harold's joke."
Along the way, Michelson also did storyboards for the likes of Alfred Hitchcock ("The Birds," "Marnie") before he turned to production design, earning Oscar nominations for 1979's "Star Trek: The Motion Picture" and 1983's "Terms of Endearment."
Lillian came into her own when she began working at the research library at Samuel Goldwyn studios in 1961, which had been run for nearly 30 years by Lelia Alexander. When Alexander retired in 1969, Lillian bought the library. The Lillian Michelson Research Library, which featured some 7,000 books and over a million clippings, first found a home at the American Film Institute and then in the early '80s at Francis Ford Coppola's Zoetrope Studio in Hollywood.
After Zoetrope closed, she and her library moved to Paramount and then to DreamWorks.
Classic Hollywood on Facebook »
Among the films she did research for over the decades are "The Birds," "Fiddler on the Roof," "Rosemary's Baby," "Chinatown, " the "Rocky" franchise and "1941," for which she received her first screen credit. She didn't just use her library to find information. When she was called to find out what type of undergarments Jewish women wore in Russia at the turn of the 20th century for "Fiddler on the Roof," she went down to the Fairfax district and talked to elderly Jewish women. One woman not only remembered what she wore, she went home and quickly created a pattern for the clothing.
Michelson did get in a bit over her head when she talked to some shady characters doing research for the Brian De Palma film "Scarface." One afternoon, federal drug agents dropped in. "They were busy looking for these guys. And they sat and had tea and coffee and cookies. I was sweating until they left. I was fond of [the gangsters]. A person makes a mistake and he's labeled and pushed down a path that he never dreams of. You don't start out being a criminal."
Other than 20th Century Fox, all the studio research libraries have closed, but George Lucas and Francis Ford Coppola "bought them and moved them up to Northern California," she noted.
Like her husband, Lillian Michelson is modest about her accomplishments.
"It was our job," she declares. "We never thought that we were accomplishing anything because it was always another little problem to be solved the next day. It's like washing dishes. As soon as you get finished, well, you have another little problem. You have to eat breakfast."
---
The complete guide to home viewing
Get Screen Gab for weekly recommendations, analysis, interviews and irreverent discussion of the TV and streaming movies everyone's talking about.
You may occasionally receive promotional content from the Los Angeles Times.