Harvey Weinstein expelled from motion picture academy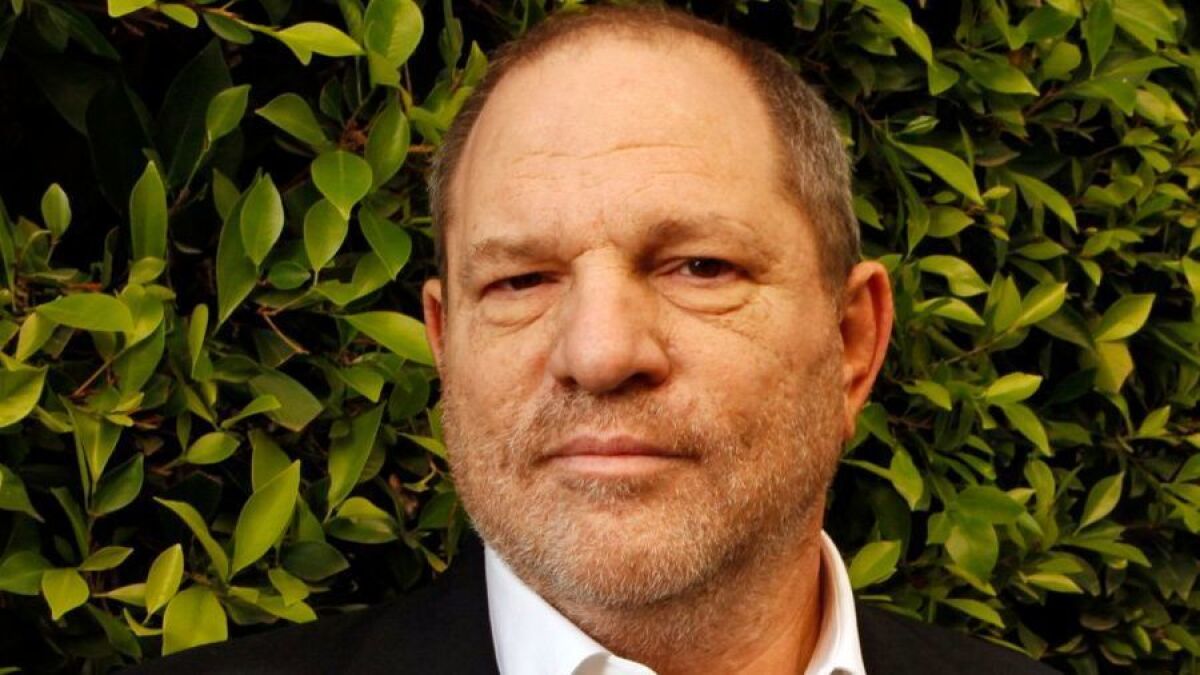 Embattled film mogul Harvey Weinstein — a once-dominant force in the Academy Awards who rewrote the rules of Oscar campaigning — has been expelled from the Academy of Motion Picture Arts and Sciences in response to mounting allegations of sexual harassment and assault against him.
The film academy's 54-member board of governors, which includes such industry luminaries as Steven Spielberg, Tom Hanks, Kathleen Kennedy and Whoopi Goldberg, voted in an emergency meeting on Saturday morning to remove Weinstein from the organization's ranks in an unprecedented public rebuke of a prominent industry figure. The move marked the latest blow in Weinstein's stunning downfall and, in symbolic terms, amounts to a virtual expulsion from Hollywood itself.
In removing Weinstein from the organization's ranks, the academy's board said in a statement, "We do so not simply to separate ourselves from someone who does not merit the respect of his colleagues but also to send a message that the era of willful ignorance and shameful complicity in sexually predatory behavior and workplace harassment in our industry is over. What's at issue here is a deeply troubling problem that has no place in our society. The Board continues to work to establish ethical standards of conduct that all Academy members will be expected to exemplify."
The board noted that its members had "voted well in excess of the required two-thirds majority" to immediately eject Weinstein.
A representative for Weinstein told The Times he would not be commenting on his expulsion.
Since reports of Weinstein's alleged misconduct toward dozens of women first surfaced in the New York Times on Oct. 5, the academy had been under increasing pressure to take action against him. A petition on Change.org demanding his ouster gathered more than 140,000 signatures from the general public. On Tuesday, the National Organization for Women joined the calls for Weinstein's removal, stating, "A sexual predator doesn't deserve the privilege of an academy membership — and all the opportunities to wield outsize power that come with it."
Twenty-one members of the film academy's board are women — as is its chief executive, Dawn Hudson — and in recent years the organization has taken steps to dramatically increase the number of women in its historically overwhelmingly male ranks.
In the past several days, a number of academy members expressed their feelings both privately and publicly that Weinstein had no place in the film industry's most prestigious organization. CBS Films President Terry Press, who regularly battled Weinstein on the awards trail during her tenure as a marketing executive at DreamWorks, vowed in a Facebook post to quit the academy if he was allowed to remain. "The idea that anyone would give him a second chance or entertain the notion that he can change is beyond absurd," wrote Press.
Even Weinstein's brother, Bob — with whom he ran Miramax Films and then Weinstein Co. — said in an interview published Saturday in the Hollywood Reporter that he felt the academy should expel him, adding that he planned to write a note to the group to that effect.
But within the academy some wrestled with the decision, fearing that it could set a precedent that would require the academy to police its members' behavior going forward. As many have pointed out in recent days, other Hollywood figures who have come under attack for their treatment of women and other behavior that could be seen as violating what the academy now calls "ethical standards of conduct" — including Bill Cosby, Roman Polanski and Mel Gibson — remain members of the academy in good standing.
The academy's bylaws give the board of governors free rein to expel members "for cause," but that power has very rarely been exercised. The last member to be banished from the group was actor Carmine Caridi, who was booted in 2004 for sharing promotional copies of films that were later pirated. Sources close to the academy say that other members had been more quietly suspended in years past for selling their tickets to the Oscars ceremony, but nothing ever rose to the level of attention surrounding Weinstein.
The academy's move follows the British Academy of Film and Television Arts' decision earlier this week to suspend Weinstein's membership. The Producers Guild of America is set to hold a meeting on Monday morning to decide whether to take similar action.
During his years at the helm of Miramax and Weinstein Co., Weinstein's films — including such hits as "Pulp Fiction," "The English Patient," "The Artist" and "The King's Speech" — racked up more than 300 Oscar nominations. He himself took home a best picture statuette in 1999 for producing "Shakespeare in Love." Weinstein's ability to mint awards nominations was so renowned that, in 2003, when he had a hand in four of the five best-picture nominees, The Times wrote that the ceremony should be renamed "the Harveys."
A 2015 analysis by the website Vocativ found that Weinstein was second only to Steven Spielberg in the number of times he had been thanked in Oscar acceptance speeches. (God ranked sixth.)
But beneath the surface, the brash, fiery-tempered outsider from Queens had long rankled many in the academy. His aggressive, spare-no-expense style of campaigning for his films sometimes stirred animosity and created a kind of arms race with other distributors, and he was accused on a number of occasions of starting whisper campaigns against rival films. ("What can I say?" Weinstein once said, professing his innocence. "When you're Billy the Kid and people around you die of natural causes, everyone thinks you shot them.")
Some in Hollywood had used the platform of the Oscars not to thank Weinstein, but to make sharp digs at him. In 2002, at the 74th Oscars, Nathan Lane, presenting the award for animated feature, quipped, "Gosh, up until now I thought 'Monsters, Inc.' was a documentary on the Weinsteins."
In 2013, host Seth MacFarlane, after announcing the nominees for supporting actress alongside actress Emma Stone, said, "Congratulations, you five ladies no longer have to pretend to be attracted to Harvey Weinstein."
In an interview with The Times on Saturday, actress Kate Winslet said she had deliberately avoided thanking Weinstein from the Oscars stage when she won the lead actress award for "The Reader" in 2009 due to his "disgraceful behavior" during the film's production.
"I remember being told, 'Make sure you thank Harvey if you win,'" Winslet said. "And I remember turning around and saying, 'No I won't. No I won't.' And it was nothing to do with not being grateful. If people aren't well-behaved, why would I thank him?"
Among the academy's board, several members have worked on Weinstein projects over the years, including Laura Dern, who starred in Miramax's "Citizen Ruth"; screenwriter Larry Karaszewski, who co-wrote and produced Weinstein Co.'s "Big Eyes"; and governor-at-large Reginald Hudlin, who produced Weinstein Co.'s "Django Unchained." Christina Kounelias, a governor for the academy's public relations branch, and David Linde, who serves on the executives branch, both worked at Miramax earlier in their careers.
Other academy members have worked on movies that have gone head to head against Weinstein's films at the Oscars, including Hanks and Spielberg, who respectively starred in and directed "Saving Private Ryan." That film was beaten out for the best picture prize in 1999 by "Shakespeare in Love" in what is still regarded as one of most bitterly fought contests in Oscars history.
Over the years, a few board members had aired less than warm feelings toward Weinstein, including producer and former studio executive Bill Mechanic. Speaking of Miramax's bullying tactics to author Peter Biskind in the 2004 book "Down and Dirty Pictures," Mechanic said, "Bad behavior doesn't get punished in this business, and theirs certainly doesn't. People just ignore it and say, 'They're good at what they do,' which they are."
Speaking of the Weinstein revelations this week on the talk show "The View," Goldberg made a plea for women to stop taking payouts in exchange for keeping silent about harassment. "We need to start talking to our sisters and say, 'You do not have to take this,'" Goldberg said. "'Your career does not rise and fall on this. Because if you take this, people are going to assume that you're OK with the behavior.'"
For his part, Hanks — who famously almost never has an ill word to say about anyone — told the New York Times this week, "I've never worked with Harvey. But, aah, it all just sort of fits, doesn't it? ... I'm not the first person to say Harvey's a bit of an ass."
Staff writer Glenn Whipp contributed to this report.
ALSO
Working for Harvey Weinstein was a coveted career steppingstone that came at a price
No one took Rose McGowan's claims seriously. Now everyone is listening
The fallout: How the Harvey Weinstein scandal exposed sexual harassment as Hollywood's dirty secret
---
UPDATES:
5:30 p.m.: This article was updated with details from a Weinstein representative and an interview with actress Kate Winslet.
This article was originally published at 1:15 p.m.
Get our L.A. Goes Out newsletter, with the week's best events, to help you explore and experience our city.
You may occasionally receive promotional content from the Los Angeles Times.