Review: 'Heal the Living' is a heartfelt, surprising story that resonates with life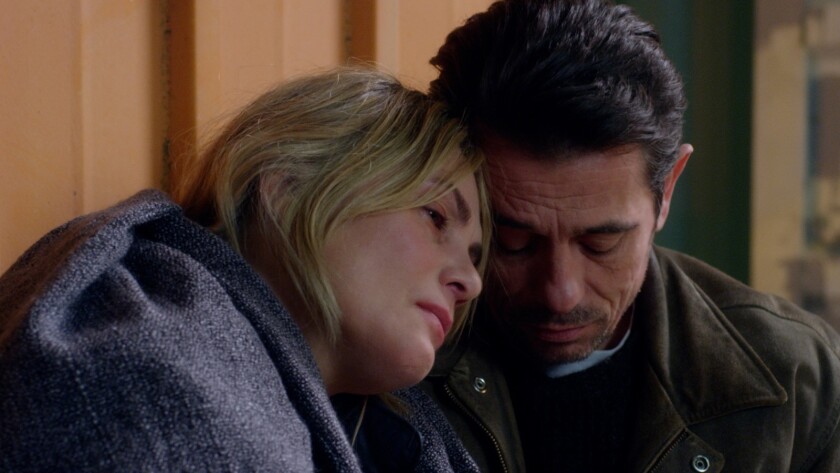 Film Critic
Unusual in its story, unexpected in its structure, made with an unerring instinct for emotional connection, "Heal the Living" wallops us without ever overplaying its hand.
Co-written and directed by France's Katell Quillevere, "Heal the Living" reveals a gift for joining skillful visual filmmaking with moving, affecting storytelling, all in the service of a story that unfolds in surprising ways.
"Heal the Living" is an ensemble film, despite having Tahar Rahim and Emmanuelle Seigner, two of France's top actors in key roles, as it follows not an individual but an actual human heart. Involved in this story, adapted by the director and Gilles Taurand from a successful novel, is the teenage boy the heart came from, the mature woman it might be going to, and the two teams of doctors trying to make that transition work.
Though there are some heartbreaking flashbacks, these people are introduced sequentially, as their time in the narrative arrives, which adds an energy to the proceedings. The one thing that unites the boy and the woman, the film's heartening through line, are those doctors, brought to vivid life not as saints but like everyone else in "Heal the Living," people striving to be at their best for the challenges life inevitably throws at them.
Seen first is 17-year-old Simon (Gabin Verdet), introduced in the port city of Le Havre taking a clandestine early morning departure from the room of his high school sweetheart Juliette (Galatea Bellugi). Devoted to cycling and in general yearning for activity, Simon is not so much a daredevil as an exulter in physicality, in the joy of being alive.
Meeting up with two friends, he hops into a van for a ride to some early morning surfing. Beautifully shot (as the whole film is) by Tom Harari, the surfing has the potential for danger inherent in the sport, but the problem for Simon comes not in the water but on the drive back.
Presented to us in a unusual visual way, Simon's accident puts him in a local hospital, unconscious with severe brain damage and no chance of recovery.
Enter now the hospital's staff, primarily senior surgeon Pierre (Boult Lanners), rumpled, all business yet caring, and, later, medical specialist Thomas, the physician who deals with potential organ donations, played with a convincing sensitivity by Rahim, who shot to French stardom with Jacques Audiard's very different "Un Prophete."
Added at this point are Simon's estranged and distraught parents, first his mother, Marianne (an impressive Seigner), and then father Vincent (French rapper Kool Shen), who holds himself responsible because he introduced his son to surfing.
Unwilling to believe that their son, hooked up to machines and looking still alive, is in fact brain dead, the parents are confronted by Pierre, who says simply, "it's the truth and you have to hear it." Unwilling to even consider organ donation at first, they go home to think about it, understanding that the clock is ticking on how long their son's body will remain viable for saving other lives.
Brought into the mix next is Claire (French Canadian actress Anne Dorval), a difficult Parisian whose weak heart is getting weaker. We meet the people important to her, including her two sons, a concert pianist (Alice Taglioni) she has been close to, and the medical team she will work with if the transplant is to happen.
Laying out "Heal the Living's" plot this way makes its filmmaking style feel more straight ahead than it is. In reality, Quillevere is guided by the logic of emotion as much as any narrative thread, giving this, her third feature, a remarkable sense of immediacy, always alive to the expressive potential of each scene.
The best illustration of this is the exquisitely crafted flashback scene of the moments when Simon and Juliette became a couple. It's appearance in the film feels random but it is not, it is perfectly placed to create maximum expressive resonance. Working like this is second nature to Quillevere, and it's why "Heal the Living" is such a success.
"Heal the Living"
Not rated.
Running time: 1 hour, 44 minutes
Playing: Laemmle's Monica, Santa Monica
See the most-read stories in Entertainment this hour »
---
From the Emmys to the Oscars.
Get our revamped Envelope newsletter, sent twice a week, for exclusive awards season coverage, behind-the-scenes insights and columnist Glenn Whipp's commentary.
You may occasionally receive promotional content from the Los Angeles Times.