Ike Barinholtz finds humor in a political dystopia with dark comedy 'The Oath'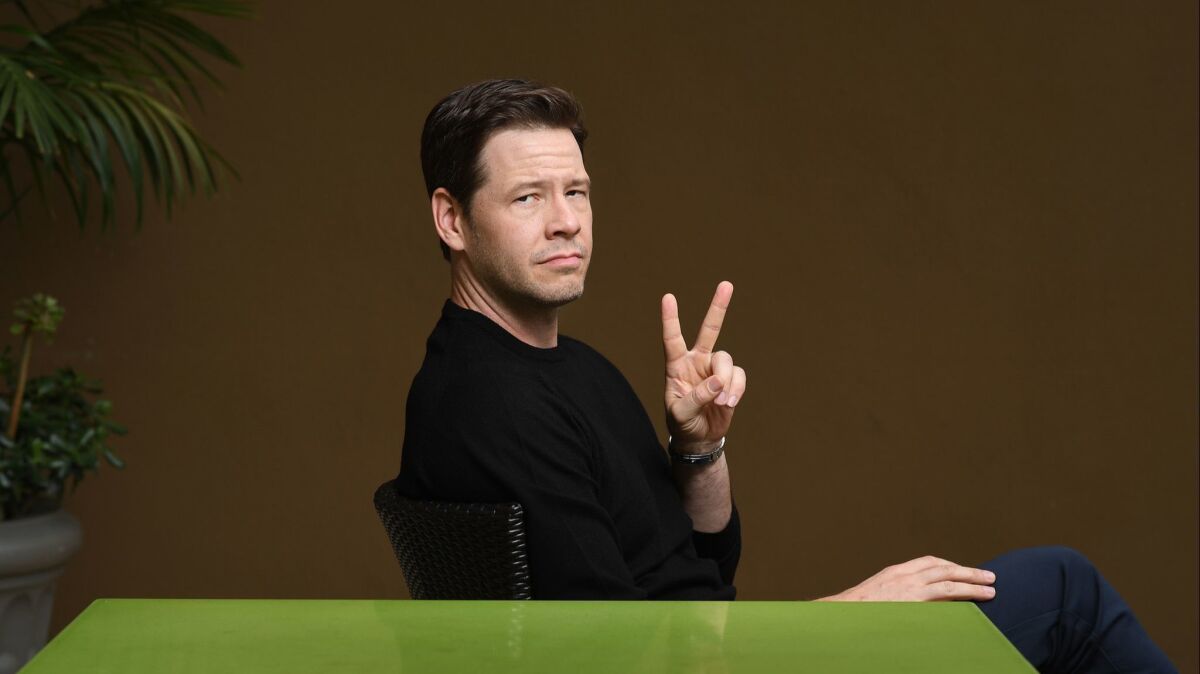 Ike Barinholtz's dark comedy "The Oath" centers around a fictional Patriot's Oath — an optional but highly incentivized pledge of loyalty American citizens are encouraged to sign to the president.
A loyalty oath to an American president? Sounds insane, right?
"Oh, let me check Twitter. Has it already happened since we sat down?" said Barinholtz, who wrote, produced, directed and starred in the film, over lunch at the Four Seasons.
In "The Oath," which opens in limited release Friday, Barinholtz stars as Chris, a proudly liberal, 24-hour-news junkie who obsesses over the looming deadline to sign the Patriot's Oath, which has been scheduled for Black Friday. Tensions rise over Thanksgiving dinner as Chris' more traditionally minded parents (Nora Dunn and Chris Ellis), conservative brother (Jon Barinholtz) and his brother's far-right-leaning girlfriend (Meredith Hagner) clash over differing ideologies.
"I know the movie is political in nature, but I don't think it's about politics," said Barinholtz. "I think it's about a family and how they deal with the current political climate."
He added: "I wanted everyone to be a blown-up version of themselves. It was important to me that we are not like, 'The conservatives are complete idiots and always wrong.' The movie takes a side. But I want to show all the sides and want to show the absurdity."
Though the conceit of the film centers more around a relatable family dynamic than any particularly partisan political outlook, Barinholtz says the story wouldn't exist without the current administration.
"I never really knew anything about Donald Trump; I just thought he was a nerdy guy we saw on TV," he said. "And then as he started becoming more and more of a political force, I started reading about him, and I learned about his obsession with loyalty."
The idea for the screenplay came about after an argument broke out at his own Thanksgiving celebration in 2016, just after Trump was elected.
"We do a big Thanksgiving at my house every year," he said. "It's my family's favorite holiday, we love it. But after dinner, we were all sitting around drinking booze and my mom and brother and I got into this argument.
"We were kind of blaming each other, and I just thought it was so crazy because we were all on the same side, more or less. The next morning, I woke up and was like, 'If this is happening in a relatively friendly house, then what's going on at other tables around the country?' "
After talking to friends and extended family members who'd had similar experiences, he realized how difficult it's become for relatives to peacefully discuss politics in the age of Trump.
"I knew that the holiday table was forever changed," he said. "So I knew that the arena of a Thanksgiving week with a politically charged climate would be funny. And I knew I wanted to add another layer to it."
That additional layer arrives during the second act of the film when two members of the Citizens Protection Unit (a mysterious division of Homeland Security) crash Thanksgiving dinner.
The CPU (until this point only glimpsed on TV and via headlines) had been responsible for secretly arresting and disappearing critics of the Patriot's Oath including outspoken celebrities such as (Barinholtz's friend and "Neighbors" co-star) Seth Rogen.
After two armed officials (played by John Cho and Billy Magnussen) arrive at Chris' front door, the film shifts from satirical comedy to high-stakes thriller.
"I knew that we could've made the movie exist solely within the family space," said Barinholtz. "[But] I thought the audience might get tired of that a little bit, and I knew I needed something bigger, something more nefarious."
In addition to films such as "Children of Men" and "The Road," in which the focus is on a small group of people grappling with dire circumstances, Barinholtz says he was heavily influenced by the tone of Jordan Peele's "Get Out."
"After I had written a draft, I went to the premiere of 'Get Out,' " said Barinholtz. "I got home at, like, 11 p.m., and I just said to my wife, 'I need to go to my computer.' I needed to unpack it and think about how Jordan did such a great job at taking racism and putting it into this amazing package."
It's no coincidence that QC Entertainment, the company behind "Get Out" and "BlacKkKlansman," is also a producer on "The Oath."
"We want to make films that you haven't seen before," said QC Entertainment head Sean McKittrick. "We prefer films that really engage the audience and challenges everybody. You can bury a message or a conversation starter in an entertaining film. And that's what 'Get Out' did, that's what 'BlacKkKlansman' did, that's what 'The Oath' is doing. These are the films that we really have a deep passion for."
"Get Out" auteur Peele, who has been friends with Barinholtz for decades since they starred together on "MADtv," was even shown an early cut of the film for which he offered a key note ("He's a really smart guy," Barinholtz said).
"'Get Out' really knocked me on my ass, man," said Barinholtz. "You've got to stay true to what interests you. Jordan's two favorite things are horror movies and awkward white people — and that's what he kept coming back to in that movie. Politics and the stress of being worried about a government that's in flux — that just felt very me."
For Barinholtz — who'd only directed one episode of the TV comedy series "The Mindy Project," on which he costarred, prior to "The Oath" — the challenges of writing, directing, starring in and producing a film were "myriad."
"For a movie like this in terms of size and scope and time we had to shoot, there was very little room for error," he said. "Literally from 6 a.m. until, like, 7 p.m. every day, I was never not walking or talking. I'm a relatively loquacious guy — I love the sound of my own voice — but...just the amount of moving and walking and talking really took me by surprise."
Beyond the multiple roles Barinholtz took on, "The Oath" also marks a change of pace for breakout comedy star Tiffany Haddish, who plays Chris' wife, Kai, the level-headed counterpart to Chris' neurotic obsessive.
Barinholtz first glimpsed Haddish in 2016's "Keanu," a vehicle for Peele and Keegan-Michael Key, and had an immediate, visceral reaction to the future star of "Girls Trip" and "Night School."
"I was just like, 'Oh my gosh, she's so real and tough and funny and beautiful,' " he said. "I remember thinking when I saw that movie, 'I would love to be married to her in that movie. I would love it.' "
He sent Haddish the script just as the surprise success of "Girls Trip" catapulted her to fame, "and she became 'ready,' to quote her," he said.
"When I read [the script], it made my heart sing," said Haddish. "It just filled my heart up. And I was like, 'Yeah, there are some teachable moments here. This is a good story full of heart, I really love it.' I'm not heavy into politics, but I liked where it was going with it."
"God bless her, man," said Barinholtz. "She was at the busiest time in her life where she was making the jump from famous to uber-famous. She would literally host 'SNL,' come back, shoot four days [for us]. It was just amazing.
"I always pride myself on being the most likable person on set," he continued. "[But] I'm like Donald Trump Jr. compared to her. People just love her. She is as advertised, and to watch her claim her throne, it is a true joy."
Besides making people laugh (which Barinholtz says is the most important thing), he says he hopes people who see "The Oath" are inspired to mend fractured relationships with family members and open the door for potential reconciliation.
"There will be a day when there is a president whose name is not Trump," he said. "Congresses come and go and political parties...America is bigger to that. To me, the hope is that we haven't thrown out the baby with the bathwater and just been like, 'I'm not going to talk to [people with different political opinions] ever again,' because then we really are in trouble.
"Despite my Twitter feed, I am optimistic about America," he added. "I hope that people think, 'That movie was funny. I should call my brother.' You know what I mean?"
follow me on twitter @sonaiyak
---
Get our L.A. Goes Out newsletter, with the week's best events, to help you explore and experience our city.
You may occasionally receive promotional content from the Los Angeles Times.