Tiffany Haddish times three in 'Night School,' 'The Oath' and 'Nobody's Fool'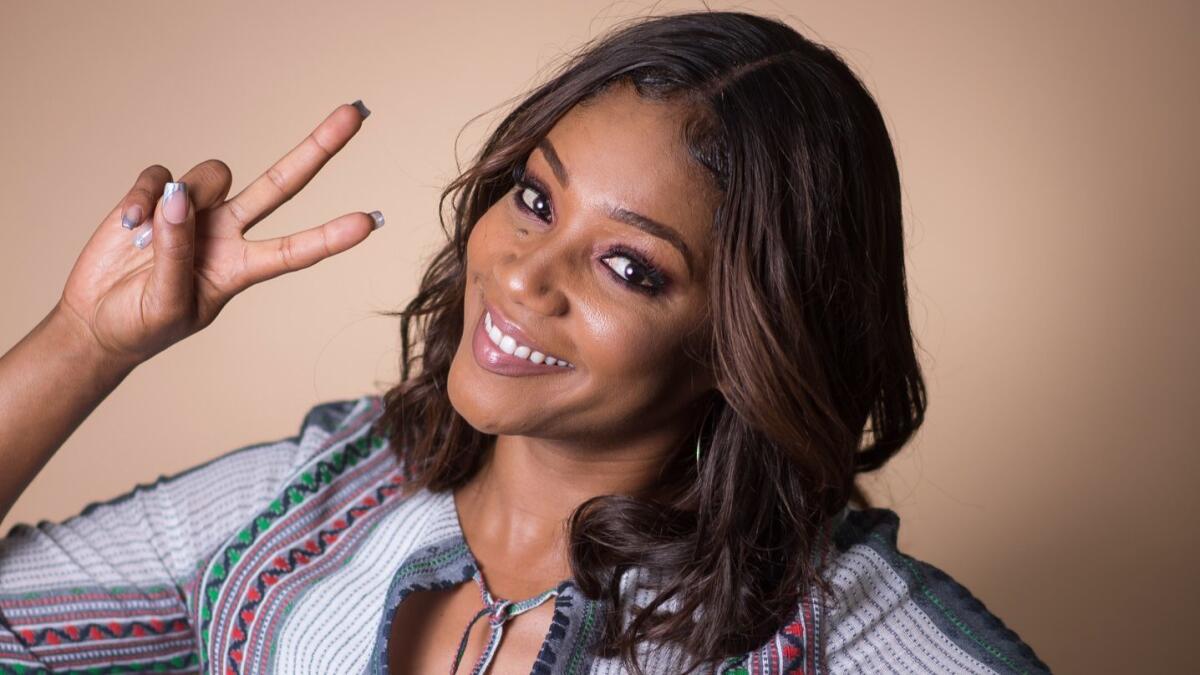 Tiffany Haddish is having a great year.
Following a star-making turn in last summer's surprise hit "Girls Trip," the 38-year-old actress released a New York Times bestselling book ("The Last Black Unicorn," published by Simon & Schuster), hosted the MTV Movie & TV Awards, became the first black female comic to host "Saturday Night Live," landed a lead role in the sitcom "The Last O.G." opposite Tracy Morgan, and debuted a Showtime comedy special, "Tiffany Haddish: She Ready! From the Hood to Hollywood."
The verified Groupon Super User also became the company's newest spokesperson thanks to an anecdote she shared on "Jimmy Kimmel Live!"
And the South Los Angeles native is showing no signs of letting up any time soon. This fall she'll return to movie theaters opposite comedy heavyweights like Kevin Hart and Whoopi Goldberg in three movies opening within three months: "Night School," "Nobody's Fool" and "The Oath."
"It feels good," she said by phone from the New York set of "The Last O.G." "It feels like I did exactly what I planned on doing."
As for what drew her to the three disparate roles (all of which were filmed after "Girls Trip" put her at the top of Hollywood's "next big thing" list), Haddish said that each one resonated with her soul.
"They made me feel something, either laugh out loud or had something I agree with politically," she said. " 'Night School' made me laugh out loud, like, four times when I read the script. 'The Oath' is talking about something that I believe is possible and that I feel like we need to pay more attention to as a nation and as a people.
"And then 'Nobody's Fool,' now that's just me being straight up silly. When I read that script I laughed probably about six, seven times out loud. And it was, like, 'Man, this is me and my cousins all over again.' I love it. It really reminds me of my family."
Below, Haddish breaks down each role, and her directors share why no one else could play these parts.
Night School
FULL COVERAGE: 2018 fall movie preview »
Release date: Sept. 28
Directed by: Malcolm D. Lee
About the role: Haddish plays Carrie, a nurturing but tough night school teacher who pushes her band of misfit adult students to earn their GEDs.
Sparring partner: Kevin Hart
Comedy style: "Family fun but very quick-witted," Haddish said.
Why she was right for the part: "The role of Carrie in 'Night School' was different than Dina in 'Girls Trip' because Tiffany has to deliver plot, drive scenes and at times be the straight one as opposed to landing the improvisational joke," said Lee, who also directed "Girls Trip." "However, because of Tiffany's fearlessness, sharp wit and ability to improvise against an established comedic genius like Kevin, I thought she could not only handle the role but elevate what was on the page in her evolution as an actor."
Haddish says: "When we did 'Girls Trip,' it was a lot of hours and a lot of takes. And when we did 'Night School,' the difference this time is that we had Kevin Hart and he's, like, 'All right! You've got 30 minutes! This is it!' [laughs] So it was kind of like working with two directors. Malcolm was, like, 'All right we're going to do this, we're going to do that' and then Kevin was, like, 'Hurry up! All right, let's do it!' Which was really fun and funny to watch them kind of battle each other."
The Oath
RELATED: Tiffany Haddish helps turn darkness into laughter at the Laugh Factory's Comedy Camp »
Release date: Oct. 12
Directed by: Ike Barinholtz in his directorial debut.
About the role: Haddish costars as Kai, a wife and mother who tries to keep the peace between her husband (played by Barinholtz) and in-laws after the government pressures citizens to swear an "optional" oath of loyalty to the president and causes deep divides among those with differing political views.
Her sparring partner: Barinholtz
Comedy style: "Political humor," Haddish said. "A little dry, but adventurous."
Why she was right for the part: "When I first saw Tiffany in 'Keanu,' I was taken with her authenticity and toughness," Barinholtz said. "She only knows what's real. She was the singular face in my head when I was writing the character of Kai in 'The Oath.' And, much to my dismay, she was the crew's favorite person on set."
Haddish says: "With 'The Oath,' I was working with my best friend Ike Barinholtz, who was also starring in it. So it was like he was giving me directions but also we were helping each other and supporting each other. It felt really good, like how when I take acting classes and I'd be, like, 'Hey, try this,' or 'You should try that.' It was really a great team effort, and it was a very positive and easy, fun set."
Nobody's Fool
RELATED: Virtually every film coming out this fall »
Release date: Nov. 2
Directed by: Tyler Perry
About the role: Haddish stars as Tanya, a wild child who looks to her straitlaced, by the books sister (played by Tika Sumpter) for help getting back on track.
Her sparring partner(s): Sumpter and Whoopi Goldberg
Comedy style: "That's just that hood classic comedy," Haddish said. "That 'Friday,' 'that's us right there' feel."
Why she was right for the part: "The role of Tanya was written for her," Perry said. "I wanted Tiffany to cut loose, I wanted her to have as much range and fun as she wanted to. I didn't want to put a chain or net around her talent. She's best left in her brilliantly raw, talented self. And, boy, did she deliver."
Haddish says: "Tyler is a comedian. He needs to be doing stand-up comedy; the man is hilarious. And it was fast; it was like doing improv games but we're not improv-ing because we had the script. It was just so much fun, like comedy sports. It was, like, 'How can I one-up myself? How can I one-up this situation?' Super fun. And fast."
follow me on Twitter @sonaiyak
Get the Indie Focus newsletter, Mark Olsen's weekly guide to the world of cinema.
You may occasionally receive promotional content from the Los Angeles Times.