Indie Focus: Holding together in 'Bad Times at the El Royale,' 'Beautiful Boy' and 'The Kindergarten Teacher'
Hello! I'm Mark Olsen. Welcome to another edition of your regular field guide to a world of Only Good Movies.
Among this week's new releases is "First Man," the follow-up to "La La Land" from filmmaker Damien Chazelle. The movie stars Ryan Gosling as Neil Armstrong, the first person to set foot on the moon. In his review for The Times, Justin Chang called it "a viscerally, sometimes maddeningly idiosyncratic piece of filmmaking … the movie has been shot and structured as a series of ruptures — physical and emotional, individual and collective — that eventually give birth to a rare, serene moment of triumph."
Amy Kaufman went to Florida to interview Gosling and Armstrong's two sons, Mark and Rick. As to whether he would have liked to have met Armstrong, who died in 2012 at age 82, Gosling was circumspect.
"He would have been helpful, I think," Gosling said. "But you know, in some ways, this is a really special way to get to know someone — through their children and their family and their friends. I feel as though I did get to meet him, in some way."
We'll have more screenings and events coming up soon. For information and updates, go to events.latimes.com.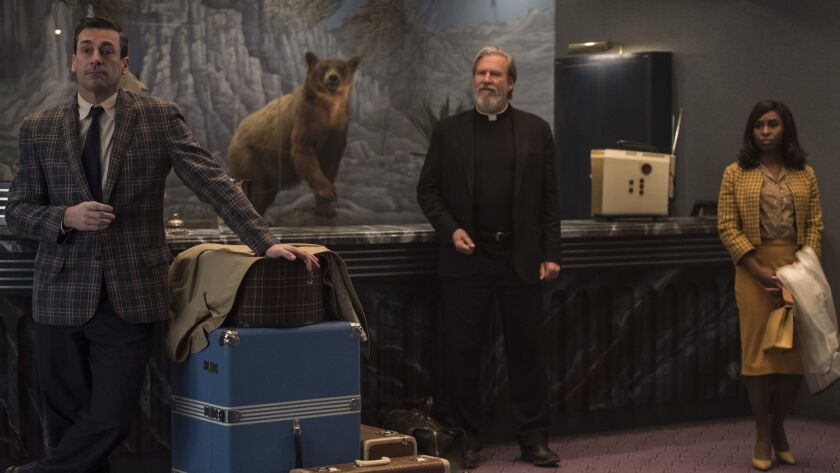 'Bad Times at the El Royale'
Somewhat difficult to summarize, on purpose, "Bad Times at the El Royale" is the latest project from writer and director Drew Goddard, who previously made "The Cabin in the Woods." Set in 1959 at a hotel along the California-Nevada border, the new film's idiosyncratic mystery-thriller story line features performances by Jon Hamm, Dakota Fanning, Cynthia Erivo, Chris Hemsworth and Jeff Bridges.
In his review for The Times, Justin Chang spotlighted Erivo from the ensemble, "whose performance here is revelatory in the most rewarding sense. Watch how carefully and patiently Goddard frames her face as she stares into a mirror, or breaks down crying and praying as a storm rages outside her window, and you'll feel something remarkable: a filmmaker falling in love with an actor, wholly and unreservedly, in a way that encourages the audience to follow suit."
Josh Rottenberg spoke to Goddard about the movie and how it fits into the shape of his career. "Here's the truth: Every movie I've done in my career could be viewed as something the industry doesn't want," Goddard said. "It all looks good in hindsight. But at the time, everyone said 'The Martian' would never work. Even 'Cloverfield' — 'Oh, you're going to do some weird "Blair Witch Project" take on Godzilla?' They all sound like bad ideas in one-sentence form."
At the New York Times, Manohla Dargis wrote: "Like many contemporary filmmakers who take on established cinematic forms, Goddard wants to play inside the frame and also to put his individuality on the picture. Optimistically set at the intersection of Agatha Christie and Quentin Tarantino, 'Bad Times' is a hard-boiled thriller with flashes of a horror but largely a statement of authorial intent."
At Vanity Fair, Richard Lawson had a different take, noting that, "I remain as curious as ever to see what Goddard does next. But this film, for all its canny presentation, is a mishmash of compelling narrative premises clumsily fused together. It manages to be both overwrought and under-developed, disappointing less for what it is than for what it could have been."
At Vox, Alissa Wilkinson noted: "Even when it stumbles, 'Bad Times at the El Royale' feels like a deeply weird and wondrous accomplishment, especially coming from a risk-averse major movie studio like 20th Century Fox. It taps into something that cinema and TV have been obsessed with for decades: how we can be saved, who saves us, and what we need saving from. And when it works, it's a good time indeed."
'Beautiful Boy'
Based on the memoirs of David and Nic Sheff, father and son, "Beautiful Boy" is a harrowing, empathetic look at addiction and its effect on a single family. In the film Steve Carell plays David, who feels increasingly helpless and lost in confronting the issues of the problems of his son, played by Timothée Chalamet. With a cast that also includes Maura Tierney and Amy Ryan, the movie is the English-language debut for Belgian filmmaker Felix Van Groeningen.
In his review for The Times, Kenneth Turan went all in, writing, "It was hinted at in 'Lady Bird' and other small roles and became more visible when 'Call Me By Your Name' made him the youngest actor nominated for a lead actor Oscar since 1939. Now 'Beautiful Boy' makes it official: Timothée Chalamet might be the male actor of his generation."
For the New York Times, A.O. Scott wrote "'Beautiful Boy' is not a bad movie. It was made with earnest care and honorable intentions, and concludes with a recitation of one of Charles Bukowski's best poems. But as much as it may want to illuminate the realities of addiction, it mystifies David and Nic's experiences, leaving too many questions — how and what as well as why — swirling in the air."
For Slate, Inkoo Kang wrote, "But 'Beautiful Boy' ultimately has little new to say about addiction, especially to those who already see it as a disease, rather than a personal failing. By the end, we feel as powerless to help as David, with the same sense that we've seen this movie before."
'The Kindergarten Teacher'
Based on the 2014 Israeli film of the same name, "The Kindergarten Teacher" is adapted and directed by Sara Colangelo. The story concerns a teacher, Lisa (Maggie Gyllenhaal), who has aspirations of being a poet. Except she has no aptitude for it and latches herself onto a young student (Parker Sevak) who seems to show natural promise, creating an increasingly unhealthy dynamic.
In his review for The Times, Justin Chang wrote, "What gives 'The Kindergarten Teacher' its peculiar force is how quickly it acknowledges the darker side of Lisa's nurturing impulse — and how successfully it ushers us into a strange complicity with her all the same." He added that Colangelo's direction "balances the story's myriad conflicting tensions with admirable lucidity. That's another way of saying that she keeps the camera steadily trained on Gyllenhaal, whose brilliantly discomfiting performance anchors every scene."
In her review for the New York Times, Jeanette Catsoulis added: "Gyllenhaal — who is never out of our sight — somehow makes us all her accomplices, imprisoning our sympathies even when Lisa's inappropriate behavior escalates to inexcusable…. Gyllenhaal forces us to search her face for clues to motives left purposely unarticulated. 'How far will she go?' we wonder, even as we fear that we already know the answer."
Back when the film premiered at Sundance earlier this year, Gyllenhaal and Colangelo sat along with co-stars Anna Baryshnikov and Ajay Naidu for a panel conversation at the L.A. Times studio. And Colangelo also participated in our recent roundtable of female filmmakers at Netflix.
Email me if you have questions, comments or suggestions, and follow me on Twitter @IndieFocus.
---
The complete guide to home viewing
Get Screen Gab for weekly recommendations, analysis, interviews and irreverent discussion of the TV and streaming movies everyone's talking about.
You may occasionally receive promotional content from the Los Angeles Times.