Hello! I'm Mark Olsen. Welcome to another edition of your regular field guide to a world of Only Good Movies.
The Cannes Film Festival starts next week and The Times will have Kenneth Turan, Justin Chang and Amy Kaufman all there to bring you everything that is happening. This promises to be quite a year, with new films by Quentin Tarantino, Jim Jarmusch, Pedro Almodóvar, Céline Sciamma, Terrence Malick, Bong Joon Ho, Jessica Hausner, Mati Diop, Arnaud Desplechin and Ira Sachs.
The prolific independent filmmaker Joe Swanberg has found a solid and steady creative outlet with the Netflix anthology series "Easy," handily adapting his style to the realities of the current streaming culture. The third and final season has just been released, with an impressive cast that includes Gugu Mbatha-Raw, Jake Johnson, Zazie Beetz, Marc Maron, Aya Cash, Melanie Lynskey, Kate Micucci, Elizabeth Reaser, Jane Adams, Kiersey Clemons, Michael Chernus and Dave Franco.
We are very excited about some of the screening and Q&A events that are coming together for the next few months. For info and updates, go to events.latimes.com.
'Charlie Says'
The new collaboration between director Mary Harron and screenwriter Guinevere Turner is "Charlie Says," the story of three young women attempting to break the psychological and emotional spell cast over them by Charles Manson once they are in prison for the still shocking Tate-LaBianca murders.
In her review for The Times, Katie Walsh called the film, "a chilling depiction of the psychopathic seduction and abuse that Charles Manson leveled against his 'family,' made up mostly of young, vulnerable women whom he sexually exploited and pressed into labor in service of his deranged demands… 'Charlie Says' is a fascinating and feminist exploration of Manson's first victims: the girls themselves."
For our podcast The Reel, I spoke to Walsh about the film and also interviewed Harron and Turner about their ongoing collaboration, which also includes "American Psycho" and "The Notorious Bettie Page." It was an empathetic, emotional conversation and the filmmakers both spoke candidly about their feelings regarding the possible parole for one of Manson's followers, Leslie Van Houten, now 69 years old and played in the film by Hannah Murray.
Turner also spoke to Susan King for The Times, talking about how her own upbringing as part of a commune, which she recently wrote about for The New Yorker. As Turner said, "The reason I really wanted to write this movie is because things can be so sensationalized or not gotten right, in terms of how things are great and then they go bad [in a commune] and how ideals turn didactic and then forceful and then pushing you more and more to the ridiculous until this idea of 'How did I get here?' ''
For the New York Times, Manohla Dargis called the film "powerful and deeply affecting." She also writes, "This then is about a struggle for freedom, a liberation of the mind and the spirit that is fought for in prison visits and through consciousness-raising and mind-expanding reading… As the three begin responding, they become recognizably human, at times uneasily likable, which only deepens the horror of their crimes. It is, the movie argues, easier to label someone a monster than to acknowledge that ordinary people can be monstrous."
Dargis concludes her review with a cheeky kicker that reads, "Manson was an aspiring musician and former convict; in this telling, he is also a two-bit lunatic con man, the kind who recurrently pops up in American history selling a dream that becomes a nightmare."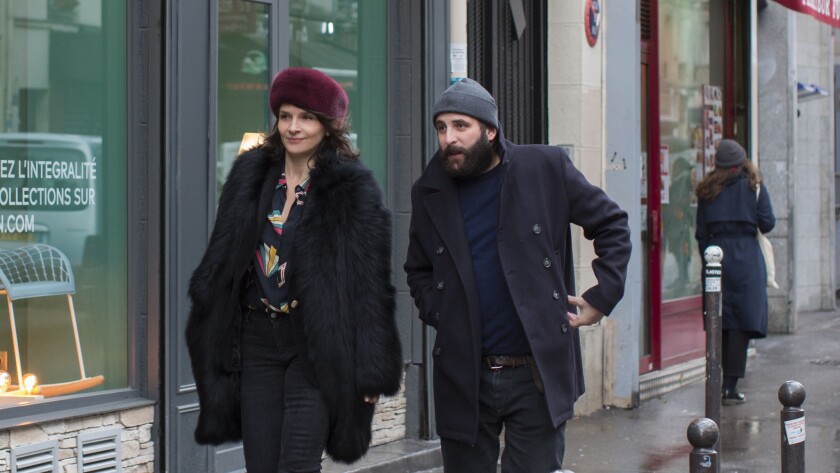 'Non-Fiction'
I think it has probably been said here before that Olivier Assayas is one of my personal favorite contemporary filmmakers. In no small part because film-to-film he remains so surprising, never making the same film twice. And that is certainly true of his latest, "Non-Fiction," which stars Juliette Binoche and Guillaume Canet in a movie that is by equal measure a sexy, fun romantic comedy and a thoughtful examination of the impact of technology on contemporary life.
In his review for The Times, Kenneth Turan called the film, "an enticing blend of the comic and the serious, a smart and sassy examination of the way we live now." He added, "What makes 'Non-Fiction' stand out is the adroit way it keeps everything in balance. The writing and the acting, the questions about contemporary society as well as personal relationships, they all exist in enviable harmony to create an incisive snapshot of the present moment."
I spoke to Assayas at the Toronto International Film Festival last year for an interview that will publish soon. As he said, "I think if I try to analyze it, what I wanted to do from the start was a movie about how the world is changing and how we adapt or not to the ways the world is changing and seen through the lens of the publishing world… Which gave, for me, an interesting twist on the notion of change. It involves the idea that some things also stayed the same, and it's kind of important to stick to what will stay the same as much as you embrace the future."
For the New York Times, A.O. Scott noted, "Either this is a comedy of adultery disguised as a meditation on the future of civilization, or the reverse. It's pretty good fun either way, though it's also very much a symptom of the condition it diagnoses, namely the profound complacency of the cultural elite (in France, but of course not only in France)."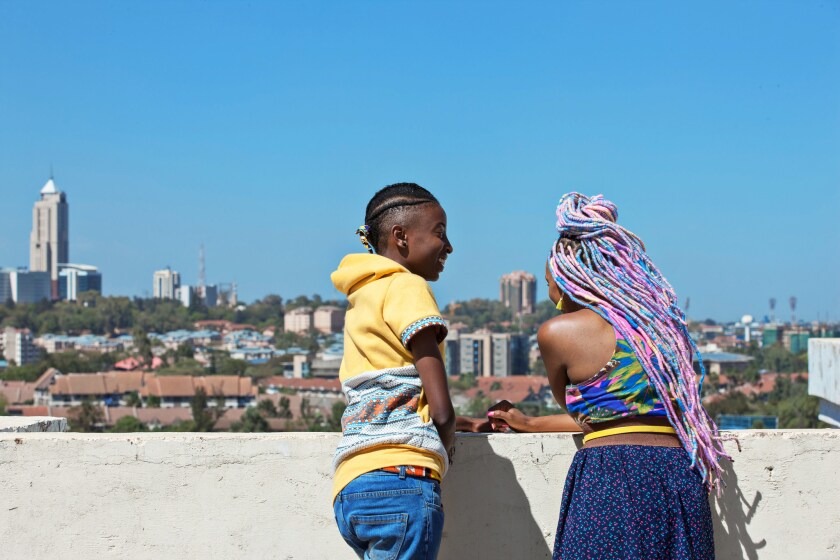 'Rafiki'
Directed by Wanuri Kahiu, "Rafiki" is a story of friendship and love between two young women and was the first film from Kenya to be screened at the Cannes Film Festival when it premiered there last year. The movie also gained notoriety for being banned in Kenya because of its LGBTQ-themed storyline, causing Kahiu to successfully sue to have it shown there.
In his review for The Times, Justin Chang wrote "Here in the U.S., the only ban it faces is the lack of awareness that greets almost every non-English-language release without a major star attached. Perhaps you think you've seen this particular movie before, possibly told with more dexterity and finesse. But to merely describe what happens in 'Rafiki' would be to overlook its transporting sense of place, its striking visual pleasures and its credible and moving performances."
Tre'vell Anderson wrote about the film last year when it screened at L.A.'s AFI Fest. Aside from talking about her successful campaign to get the film seen in Kenya, Kahiu spoke about the film's bright, upbeat aesthetic, when she said, "Afro Bubblegum is art and culture from Africa and people of color, and it just has hope and joy at the center of it. It's incredibly important to me to show images of hope and joy because, apart from what we're known to be in media and in films, which is people who are always struggling and seeking survival, I feel like we needed to show ourselves as people of joy and people in pursuit of happiness."
For the Washington Post, Ann Hornaday wrote "'Rafiki' presents a radiant, vivacious portrait of young love that owes as much to 'Romeo and Juliet' as 'Bend It Like Beckham' and 'Moonlight.' Although Kahiu is sharply critical of the hypocrisies of Kenyan culture, she is just as attuned to the sweetness of romance at its most instinctive, tender and fragile. For its formal simplicity and directness, 'Rafiki' is a small revelation, not least because it marks the breakthrough of a filmmaker of such exhilarating, cheerfully courageous vision."
Email me if you have questions, comments or suggestions, and follow me on Twitter: @IndieFocus.
---