Hello, I'm Mark Olsen. Welcome to another edition of your regular field guide to a world of Only Good Movies.
Last week, we mentioned the UCLA series "Recuerdos de un cine en español: Latin American Cinema in Los Angeles, 1930-1960," with screenings at both the Billy Wilder Theater and the Downtown Independent. Continuing through December, this series may have some of the rarest titles playing in the city.
The Academy of Motion Picture Arts and Sciences is also taking part in the multivenue Pacific Standard Time: LA/LA project. The Academy series includes "Y Tu Mama Tambien," "La Bamba," "Real Women Have Curves," "Kiss of the Spider Woman," "Pan's Labyrinth," "La Cienaga" and "Amores Perros."
Our screening of "The Florida Project" this past week, followed by a Q&A with actor Willem Dafoe, was a genuinely special evening, the kind we dream of bringing to our audience. (That means you.) We had an innovative new movie playing before it has opened commercially and an engaging conversation with an inspirational artist. As awards season moves ahead, we should have plenty more screenings coming up. Keep an eye on this space for updates on future events, or go to events.latimes.com.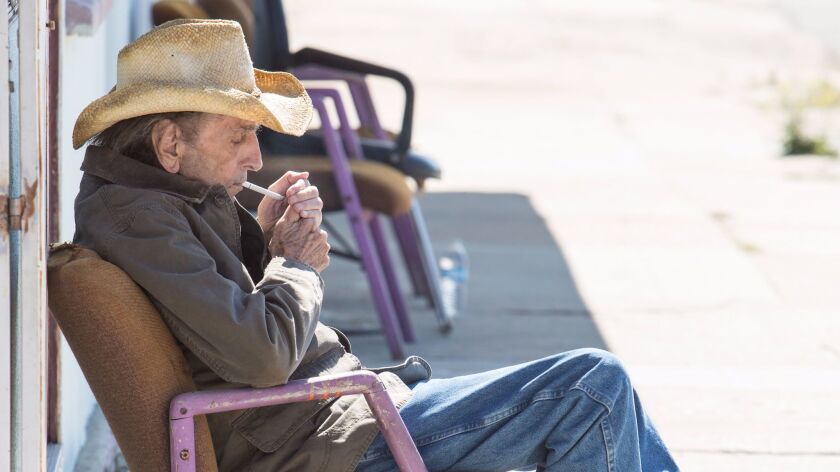 'Lucky'
When venerated actor Harry Dean Stanton died recently at the age of 91 it was still something of a shock. It seemed he would always be with us, and in a sense, he still is, as his final starring role in the film "Lucky" comes to theaters. The film is a deeply felt rumination on aging and death, made all the more poignant by Stanton's performance.
In his review of the film for The Times, Justin Chang called the movie "an insistently low-key and dryly funny valentine to Stanton's life and career." He added that "the movie nurtures a quiet sense of mystery, content in the knowledge that neither an upbeat mind-set nor a cruel, nihilistic one can really capture the full experience of life as it's lived."
I spoke to director John Carroll Lynch and screenwriters Logan Sparks and Drago Sumonja about the movie. But I also talked to Stanton's longtime collaborator David Lynch, who has a supporting role in "Lucky," as well as Dustin Hoffman.
"There's nobody like him," David Lynch said of Stanton. "I think about who could play the roles that Harry plays? And I never come up with anybody."
Or as John Carroll Lynch put it, "Why actors hold him in such high regard is because he can give you everything you need to know by being and not by doing. … But he can do it without you ever seeing any of the stitches, without you ever seeing any effort at all."
At RogerEbert.com, Matt Zoller Seitz singled out a moment set to Johnny Cash's rendition of "I See A Darkness," in which "the sandblasted terrain of Stanton's face in this scene constitutes a movie within a movie, a life revealed in contemplation. It's one of the most powerful things I've ever seen. I felt that way before Stanton left us. I feel it even more keenly now."
'Thirst Street'
In the latest film from prolific micro-budget filmmaker Nathan Silver, a young American flight attendant funnels her own sadness into a romantic obsession with a sleazy Parisian bartender. "Thirst Street" spotlights a powerfully unnerving lead performance by talented actress Lindsay Burdge and a rakish supporting turn by Damien Bonnard. The movie also features up-and-coming French actress Esther Garrel as well as a voice-over narration by Angelica Huston and evocative, expressionist visuals thanks to gifted cinematographer Sean Price Williams.
In his review for The Times, Robert Abele called the film "a psychodramatic peep show for the Polanski/Chabrol crowd," adding that " for a compact spin through well-trod fields of lustful, sad-mad blindness, 'Thirst Street' has its share of disreputably perverse pleasures."
At the New York Times, Teo Bugbee called the film "thematically shallow but stylistically rich. … For an audience with an eye for their own pleasure, 'Thirst Street' offers a parade of beautiful light, beautiful (women's) bodies, and beautiful surfaces — no need to worry about what's inside."
At Filmmaker magazine, Meredith Alloway spoke to Silver, who said, "I'm interested in why people put up with each other, why we deal with each other and why we love each other at the end. ... People need each other, but why?"
'Spettacolo'
As the follow-up to their film "Marwencol," documentary filmmakers Jeff Malmberg and Chris Shellen have gone from an intimate, deeply felt look at a single person to an emotional portrait of an entire town with "Spettacolo." Taking in an Italian village with a long history of putting on plays created by its residents, the film becomes a rumination on art, community and tradition.
In his review for The Times, Gary Goldstein said, "Theater lovers and Italophiles alike should savor the documentary 'Spettacolo,' an engaging and wistful look at the tiny Tuscan village of Monticchiello."
At the Village Voice, Bilge Ebiri asked, "Is there a sadness in this tradition ending? Or of any tradition ending? Maybe it's not the ritual that matters, but what it expresses: The need not just for a sense of community but for an involvement in a creative act, as a way to express something about the here and now."
At the New York Times, Manohla Dargis added, "That story can be so poignant and is so intelligently told that it feels wrong, almost insulting, to call 'Spettacolo' charming, even if the movie is often delightful. … Yet they remind you that people are not attractions and their homes are not museums, even if the global economy, its casual tourists and rich speculators are determined to prove otherwise."
Email me if you have questions, comments or suggestions, and follow me on Twitter @IndieFocus
---