Leonard Maltin remembers his friend character actor James Karen, who worked with everyone from Brando to Monroe
Jimmy Karen was my friend, a virtual member of my family, so it was difficult at times for me to separate him from a part he was playing. But he always delivered the goods, in roles large and small, dramatic or comedic. He was what people used to refer to as "a working actor" when there no shortage of work — on stage, in live and filmed television, and in movies.
Karen, who passed away Tuesday night at the age of 94, had matinee-idol looks but turned down a chance to work for MGM mogul Louis B. Mayer in order to stay true to his first love, the theater. He appeared in some 20 Broadway plays, but he was best known to New Yorkers and others in the Northeast as Mr. Pathmark, the TV spokesman for a large supermarket chain. He wore glasses and would have seemed professorial had he not also worn a friendly smile while selling chicken fryers or fresh produce in a never-ending series of commercials. For a freelance actor this was the jackpot, a gig that lasted 30 years and earned him a million airline miles.
Fortunately, West Coast casting directors had no knowledge of these regional ads, so when he and his devoted wife, Alba, decided to give Hollywood a try, doors were wide open. He had some movie and television experience back East, including a couple of soap operas and a low-budget oddity called "Hercules in New York" starring bodybuilder Arnold Schwarzenegger (billed as Arnold Strong) and character comedian Arnold Stang.
RELATED: James Karen, veteran Hollywood actor featured in 'Poltergeist' and 'China Syndrome,' dies at 94 »
When he settled in Hollywood, he appeared in scores of popular TV series — "The Waltons," "Starsky and Hutch," "The Streets of San Francisco," "Hawaii Five-0" — far too many to cite here. He was Jane Fonda's boss in "The China Syndrome," the Realtor who sold Craig T. Nelson his haunted house in "Poltergeist," a wealthy benefactor to a hungry Will Smith in "The Pursuit of Happyness."
He remained active into his 90s but reached a point when he would no longer go on auditions for TV shows. This was not snobbery but evidence of his work ethic. Being the trained professional that he was, he put time and effort into building a character and hated wasting the effort if it wasn't going to result in a job at the end of the day.
The last juicy role I remember seeing was in an episode of the CBS crime drama "Cold Case," in 2008, but he continued working — in student films as well as Hollywood fare.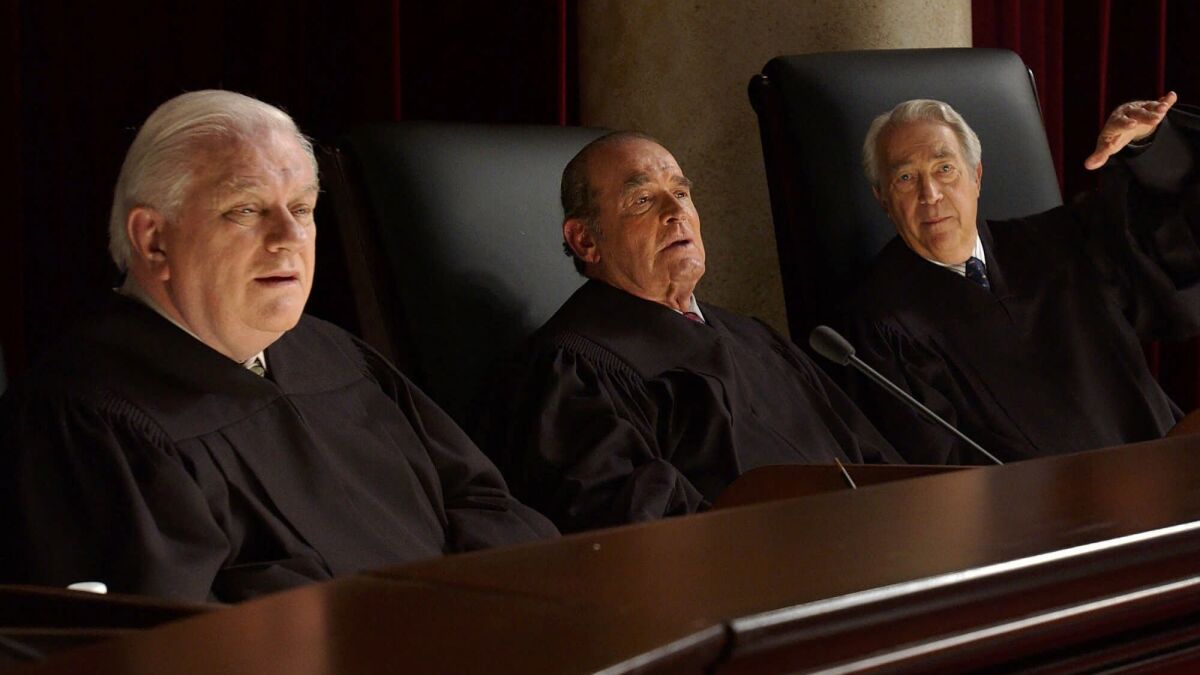 Jimmy had another lifelong avocation: collecting friends. He made new acquaintances with every film or TV show he did. Many of those people turned into lifelong pals who enjoyed his company as much as he enjoyed playing host with Alba in their Los Feliz apartment.
And the stories! It took little prompting to hear dishy details about his young friend Marlon Brando in the 1940s, attending an Actors Studio workshop with Marilyn Monroe in the 1950s, and best of all, touring the country in a summer-stock revival of Marc Connelly's play "Merton of the Movies" starring his hero, the great Buster Keaton.
He and his first wife, folk singer Susan Reed, appeared in one of Keaton's last projects, the existential Samuel Beckett short "Film." I visited that location in Lower Manhattan when I was 13, hoping to meet Keaton (which I did), unaware that elsewhere on the tiny set was a man who would later become a beloved friend to me, my wife, Alice, and our daughter Jessie.
I'm told he was quite a rascal in his day, although I have no details beyond the fairly innocent stories he shared with me. He took many a struggling young actor under his wing (including George Clooney), having pounded the pavement himself when he started out. That's one reason he and his wife were enthusiastic supporters of the Actors Fund, a faultless charitable organization.
Jimmy Karen was an actor's actor, and the best friend anyone could hope to have. I'm sure he's amusing his new friends and neighbors right now.
Get our L.A. Goes Out newsletter, with the week's best events, to help you explore and experience our city.
You may occasionally receive promotional content from the Los Angeles Times.