Jamie Bell and Peter Turner revive Hollywood's classic era for 'Film Stars Don't Die in Liverpool'
Peter Turner's twinkling eyes scan the weekday crowd at Nate'n Al delicatessen as he nestles into a corner booth with Jamie Bell, who plays him in the new drama "Film Stars Don't Die in Liverpool."
"Everybody comes here. All different kinds," says Turner, whose 1986 memoir chronicled his bittersweet love affair with Hollywood star Gloria Grahame, who died at 57 in 1981. "Last time I was here, Robert Wagner was sitting over there. You have people who are at the top of the tree and people who haven't made it. It's like Hollywood on a sandwich."
Turner was a young aspiring actor when he met Grahame, nearly three decades his senior, in a London boarding house. She was a Hollywood siren at the tail end of a career that began with films like "Blonde Fever" (1944) and "It's a Wonderful Life" (1946). She won an Academy Award for her turn in 1952's "The Bad and the Beautiful."
The two bonded over disco dancing and theater and became friends and then lovers. After a tough separation, Turner was home in Britain when he got a call. Gloria was sick and wanted to spend what would eventually be her final days with him.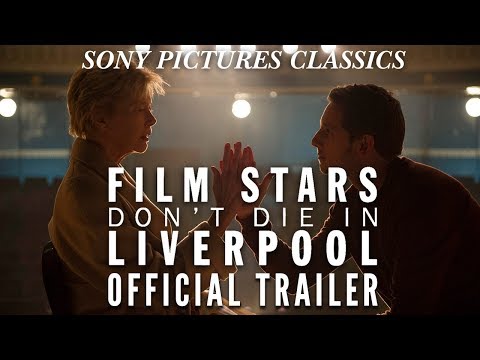 Their love story comes to life in "Film Stars" with sensitivity and crackling chemistry between Bell and Annette Bening, who plays the enigmatically charismatic Grahame, a onetime femme fatale still searching for happiness after a tumultuous Hollywood career, several failed marriages and an intensely private battle with cancer.
Awash with fond memories, Turner orders the house pastrami and tells the story of the special place Nate'n Al's holds in his history with Grahame.
"When I come back here to California, I always come and check it out again, because this was the very first place I came to with Gloria Grahame," says Turner, the torch bearer of her legacy, speaking her full name with love. "Once, Zsa Zsa [Gabor] was here. Jolie Gabor [Zsa Zsa and Eva's mother] tried to school Gloria in how to be a young film star, but it didn't happen, so Zsa Zsa was like the bane of her life. We went to the theater and it was the opening night of 'Evita' and we walked in and somebody said, 'Hello, Gloria.' We turned around and it was Zsa Zsa."
Born and raised in Liverpool, Turner still feels at home in California, where his relationship with Grahame turned into a shared life. "We used to live in the Pacific Palisades, so I love just driving down the coast — the sunset, the grunion running. We went to Magic Mountain with her kids. We'd just drive around in a little Honda car. Even the names of the stores used to excite me: Sears!"
He laughs, gazing around. "It has these memories, this vibe about it."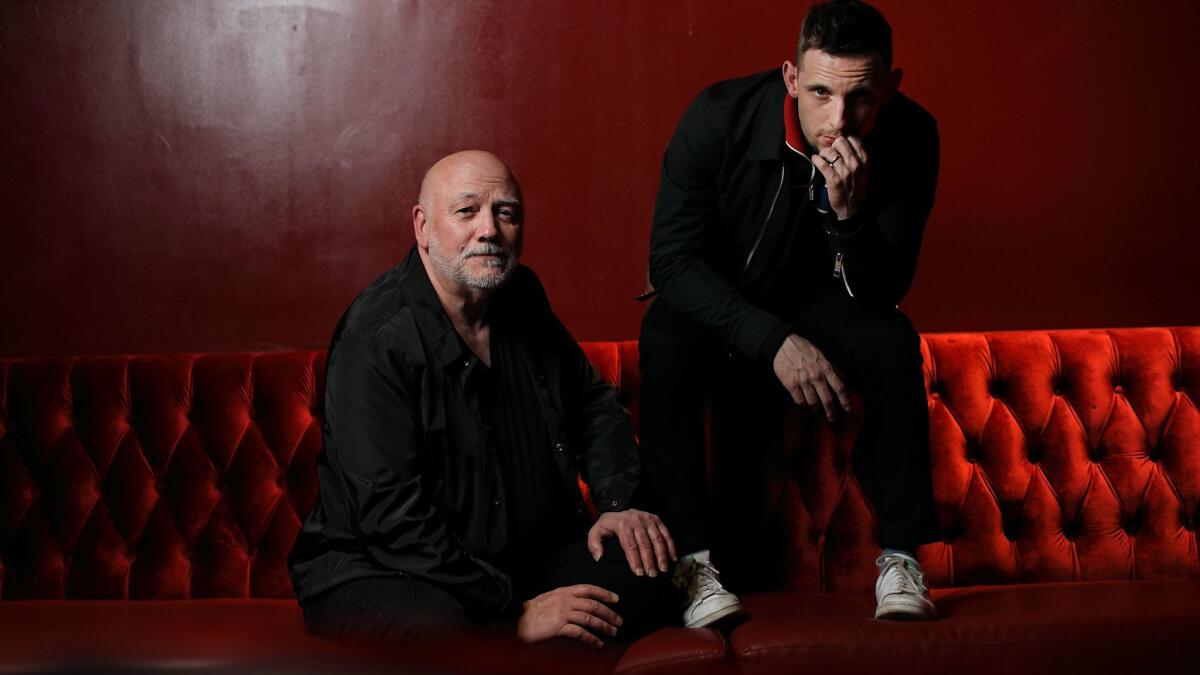 Bell, 31, shares an easy rapport with the man he plays on-screen, despite having minimal interaction with the real Turner before filming. Their friendship, though, deepened after making the movie.
"It's always quite surreal, sitting with Peter," Bell says. "I feel so aligned with him in so many ways."
The actor first met Turner at a birthday dinner for "Film Stars" producer Barbara Broccoli (best known for taking up the reins from her father, Albert "Cubby" Broccoli, on the James Bond films) before shooting began.
"Instantly, there was this ease," Bell says of Turner. "He puts people at ease immediately."
"I was nervous," Turner says. "I saw you come in through the door and thought, 'Should I go to say hello now or wait to be introduced?' But I felt immediately secure with Jamie. He's so perceptive and so knowing."
And what did he think of Bell's portrayal after filming was finished?
I think [Jamie Bell's] is an iconic performance on the level of when I saw Michael Caine in 'Alfie.'
— Peter Turner
"I think [Bell's] is an iconic performance on the level of when I saw Michael Caine in 'Alfie,'" Turner says. "Albert Finney in 'Saturday Night and Sunday Morning.' As an actor, what he can say without saying anything is brilliant. But on a deep, personal level, he's the best thing that's ever happened to me. I just love him hugely."
Turner pauses, smiling. "Are you going to cry?"
Bell grins. "He's my cheerleader."
The feeling is mutual for the "Billy Elliot" and "Adventures of Tintin" star, who praises Turner's story, adapted by screenwriter Matt Greenhalgh and directed by Paul McGuigan. In the film, we see Peter's emotional journey unfold in waves of memory and re-memory as he processes the past, present and future of his relationship with Grahame.
"It's beautiful. Love is a beautiful thing, but there's also an inevitability to it sometimes — that it has a life, and an end," Bell muses. "I have a really horrible time with goodbyes myself, and I love a love that isn't completed. I think all the greatest love stories are the ones where they don't end up together. There's an inevitability and a hopefulness as well, which is that that person has left you with something with which you'll live out your entire life. It's beautifully tragic."
Bell, a self-declared romantic ("I saw 'Titanic' eight times.") wasn't familiar with Grahame and her story before the script found its way to him. But speaking with Turner and with Broccoli, who knew the couple in real life, opened his understanding of their connection.
"She said they were incredibly ordinary," Bell says of Broccoli's assessment. "They were just two people who fit together."
Both men abound with admiration for Bening, whose layered take on the capricious Grahame brims with complexities seldom written into roles for women in Hollywood.
"Nobody wanted her to do an impersonation. What Annette wanted to do was to understand this woman who happened to be an actor, who happened to win an Academy Award and who happened to have had a turbulent life — and a misunderstood life," says Turner, who spoke with Bening in depth about Grahame. "She said to me, 'I might not be exactly the Gloria Grahame who you knew, but what I promise is you I will be the Gloria Grahame that I now know, through you.'"
One element of Grahame's life that history got wrong, Turner says, is how her time as an MGM and RKO contract star scarred her, made her image-conscious and spit her out; it's one explanation for why she kept her battle with cancer secret from even close friends and family.
"She was offered the role in 'Born Yesterday,' but Howard Hughes punished her and wouldn't let her play the role because she didn't want to spend private time with him," Turner says. "She was subject to that kind of abuse as well, being a woman in Hollywood at that time. But she didn't like to say too much, and she didn't give interviews. People got her wrong, but she didn't fight back. And she was also very stubborn.
"I think more than anything, this level of expectation that has been put on women to look a certain way: Don't age, ever, and don't get sick and lose all your hair because we won't give you a job. The result of all of that has been suffering in silence," Bell says.
The film's May-December romance has also brought scrutiny to the persistent, hypocritical way that Hollywood movies view and value older women.
"We've been asked a lot about why it's such a stigma for a woman of a certain age to be portrayed romantically with a much younger man, and for that relationship to be a loving one and a complex one, a physical one and a sexual one," Bell says. "Why does that make people feel uncomfortable? I think the answer is that women of a certain age have been written out of that narrative. You haven't seen it enough. We're used to seeing a fiftysomething actor hanging out with a 20-year-old actress and we don't question it. It's a male gaze issue. That's why we need more women running studios, more women writing stories, more women directing movies."
We're used to seeing a fiftysomething actor hanging out with a 20-year-old actress and we don't question it. It's a male gaze issue.
— Jamie Bell
The love scenes Bell and Bening share give "Film Stars" a rapturously sensual charge, but one of the most romantic scenes, in which Peter and a gravely ill Gloria recite a passage from "Romeo and Juliet," made Bell anxious — for a much different reason: "Whenever you're dealing with something that you know is there for dramatic purposes, for me, it's much more worrisome. Then [on top of that], having to do Shakespeare, which is something I've never done before."
Turner, who'd performed as Romeo onstage, turns to Bell. "You should do Shakespeare because your verse-speaking is just so wonderfully natural and easy. That's the key to speaking verse. Both of them were just so great in that scene. You should play Romeo."
Visiting the set during filming at Pinewood was in itself an emotional experience, not just for Turner.
"People were crying everywhere," Turner says. "I've never heard silence before the way I heard it when Annette and Jamie were working. I watched the crew and it was all about the magic before them. I was enthralled by the whole thing."
In fact, watching Bell work has reinvigorated his own desire to act again.
"It's beautifully told. It's beautifully crafted. It's beautifully measured. And," he says, "it's taught me to release something in me."
ALSO:
Why Annette Bening fans need to see 'Film Stars Don't Die in Liverpool,' the Gloria Grahame story
Annette Bening and Jamie Bell share a sweetly oddball love story in 'Film Stars Don't Die in Liverpool'
Classic Hollywood: Remembering Gloria Grahame before 'Film Stars Don't Die in Liverpool'
Get the Indie Focus newsletter, Mark Olsen's weekly guide to the world of cinema.
You may occasionally receive promotional content from the Los Angeles Times.