How Jason Mitchell went from unknown actor to Eazy-E in 'Straight Outta Compton'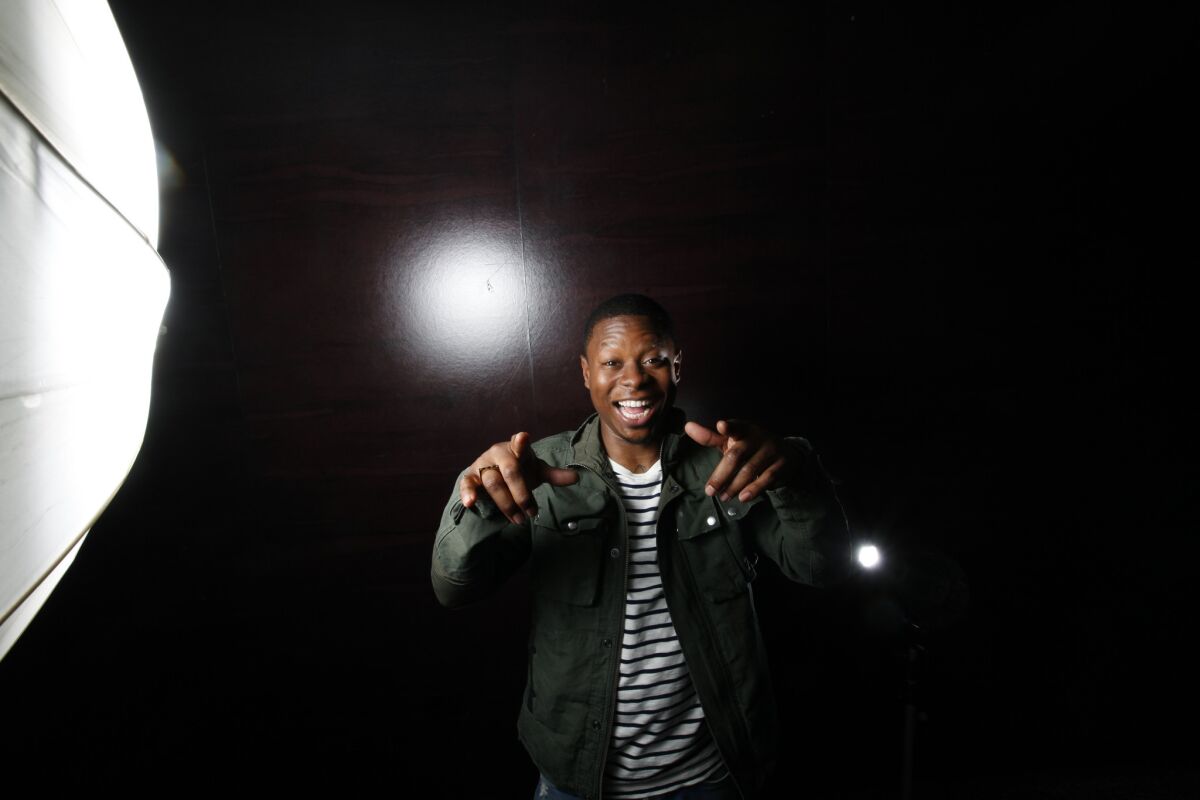 As audiences were leaving "Straight Outta Compton" on its $60.2-million opening weekend, many were asking about the unknown actor playing N.W.A member Eric "Eazy-E" Wright. In scene after scene, the rise, fall and eventual death of Eazy-E provides the film with an emotional core, as his street-hustler smarts and showman's acumen help guide the group to dazzling heights.
Though it's not the first film role for 28-year-old Jason Mitchell, it is by far his biggest. Raised in New Orleans, he started acting only some five years ago, but Mitchell notes with pride that his very first time on a film set, for the dramatic thriller "Texas Killing Fields," he had a speaking part.
"I figured it would have a different type of people than what I was used to," he says of his decision to turn to acting. "I just wanted to see if I could find my own therapy. I didn't think talking to somebody about my problems and me paying you for that is going to bring me any less stress. I just wanted to do something I felt was expressive."
SIGN UP for the free Indie Focus movies newsletter >>
Mitchell's mother had a career in the Army, and so the early part of his life was spent tagging along with her and his siblings as they moved about the globe. It was around middle school that the family settled in New Orleans, where his mother had been raised. Then, around the time he was graduating high school, Hurricane Katrina devastated the city.
"We lost everything pretty much," he says. "We had to start over."
For him that meant a series of jobs, including cook, electrician and oyster shucker. But also, "I used to hustle on the side. I was also in the drug scene," Mitchell says. "And I started seeing a lot of things happen, things that were too close to home, and I thought that's not really what I want for myself. My best friend was killed in 2007, and that's where I started thinking, 'I'm just going to find something different to do.' And it took me a little while, but then I found acting school."
All five members of N.W.A are cast with unknowns. (O'Shea Jackson Jr. is the son of N.W.A member Ice Cube but makes his acting debut in the film.) "Straight Outta Compton" director F. Gary Gray explained in a recent episode of the podcast "The Call-In," hosted by "Selma" director Ava DuVernay, about the thinking behind his decision to cast unknown actors in the film's key roles.
"I was very deliberate in my approach to casting the movie," Gray said. "It all but demanded that it had to be new faces. The N.W.A story is way too powerful to be distracted by some celebrity emulating or pretending to be another celebrity."
FULL COVERAGE: 'Straight Outta Compton' and N.W.A's legacy
From the moment he first learned of the role, Mitchell began preparing, immediately convinced of the potential scale of the role both for his career as an actor and for himself.
"It felt like I could really show all my creative guns," he said. "I have a huge character arc. I got to go from a drug dealer to an icon who gets to go to the White House to dying of AIDS. It's a huge, huge situation. Before I ever found out the magnitude, that it's a Universal project, and F. Gary Gray was involved, I didn't know all of those details, I just looked at Eazy-E and N.W.A as this could be potentially my ticket to change my life. And that was my fire."
When it came time to audition, Mitchell said he went all out for the role.
"I brought the rain," he says. "I cried hard in my first audition."
Mitchell was a fan of Eazy-E, N.W.A and Ice Cube before the project came about, though he admits he was first a fan of the group Bone Thugs-N-Harmony, who recorded on Eazy-E's Ruthless Records label. Mitchell is also similar in size to the 5-foot, 5-inch Eazy-E, not that it had ever come up before.
"I'd never had any Eazy-E comparisons before this," the actor says. "Now it's like, 'You're exactly like him.' Which is crazy, right?"
Despite their similarities, Mitchell had to put on weight, work on a South Los Angeles accent and learn to rap along with the rest of the actors playing N.W.A. He met with Eazy-E's daughter and son, as well as his widow, Tomica Woods-Wright, also an executive producer on the film.
The film is dedicated to Wright, and the film's final section is largely handed over to his declining health and death. Wright died in March 1995, only one month after being diagnosed with AIDS, and Mitchell's hospital room deathbed scenes are the most emotional scenes in the film.
Filming the scenes proved emotional for Mitchell too.
"It was very therapeutic," he says.
'Straight Outta Compton': Photos of N.W.A on film and in real life
"I would advise anybody who doesn't cry on the regular to get it out. It felt good. Afterward people were crying, the air was really thick that day. And I just remember having a huge smile on my face. Everybody asked, 'How can you be smiling?' And I just felt so relieved. It was a place where I wasn't even acting anymore. I just fell into it."
Mitchell has already shot roles in two other films, "Vincent-N-Roxxy" with Emile Hirsch and Zoe Kravitz, and "Keanu," the Peter Atencio-directed film with Keegan-Michael Key and Jordan Peele, and was feeling a career boost from "Compton" even before its big opening weekend.
He is also quick to acknowledge that his turn in "Straight Outta Compton" could still wind up the high point of his career and could also be a crucial part of cementing the memory and legacy of Eric "Eazy-E" Wright.
"I don't know how people feel when they read about Ponce de Leon or whatever person they read about in history," Mitchell says. "I do know that 100 years from now, I would like to be judged by this and would like people to remember me by this. I want to be one of those people written about in history, but to be written in history as a historian is totally different. That's the opportunity with this."
Then, bringing up his neighborhood in New Orleans, he adds, "Hollywood to historian from Hollygrove. Who would have ever thought?"
Follow me on Twitter at @IndieFocus and subscribe to my Indie Focus film newsletter
MORE:
Review: N.W.A film 'Straight Outta Compton' starts fast but runs out of gas
Why Dr. Dre's 'Compton' is not a post-Ferguson album, and how it asserts the dominance of L.A. hip-hop
Highlights of The Times' early coverage of N.W.A
'Straight Outta Compton' film about N.W.A echoes the past and present
N.W.A's MC Ren hates the official trailer for 'Straight Outta Compton'
Suge Knight's arrest foreshadowed in 'Straight Outta Compton' scene
---
Get the Indie Focus newsletter, Mark Olsen's weekly guide to the world of cinema.
You may occasionally receive promotional content from the Los Angeles Times.