Joe Biden calls for SXSW tech innovators to join 'the only bipartisan thing left in America'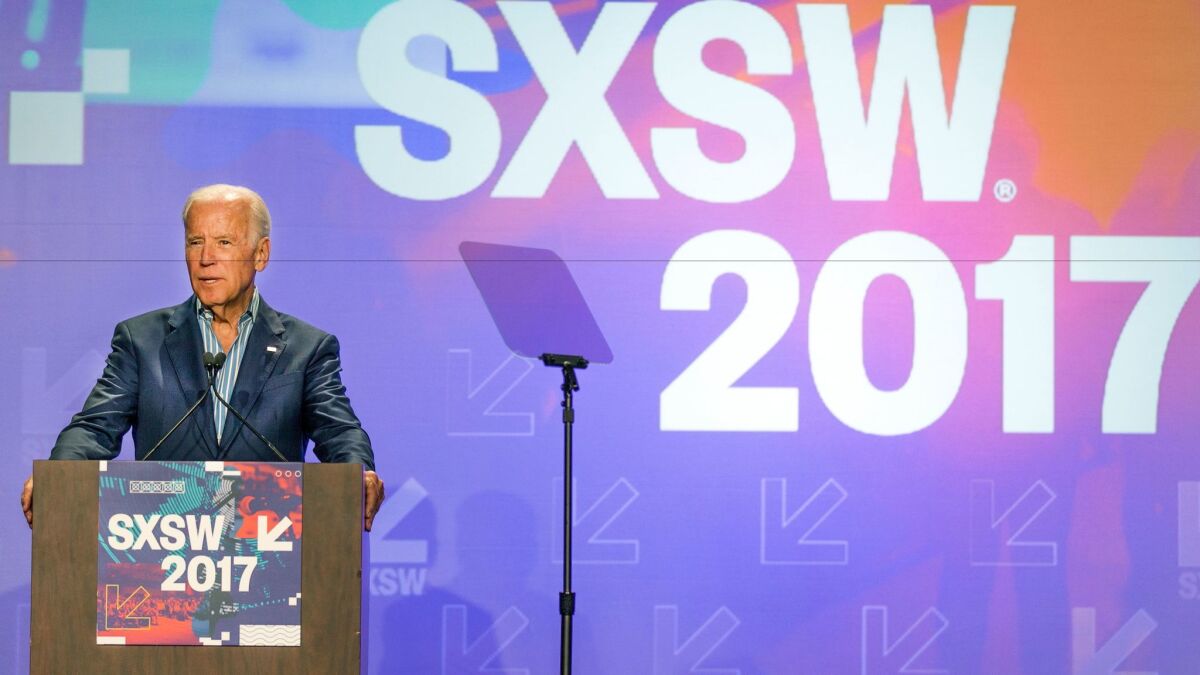 Reporting from Austin, Texas —
"You're the future," Joe Biden told a rapt audience Sunday afternoon at the South by Southwest Conference here, appealing to the brightest minds in tech and media to join him in his commitment to fighting cancer. "You could make a gigantic impact. We need your ingenuity. You could have a profound impact on cancer."
Introduced by his wife, Dr. Jill Biden, the former vice president was greeted by a standing ovation from a sold-out crowd of 1,300 inside the Austin Convention Center, where he made an appearance to discuss the "cancer moonshot" initiative.
Biden was a late addition to an uncharacteristically politically loaded SXSW speaker lineup. On Friday, New Jersey Sen. Cory Booker opened the conference — and took a few shots at President Trump — with a packed panel of his own. By early Sunday, Biden's event had become such a hot ticket that wristbands ran out immediately and a nearby theater had to be opened to accommodate the overflow.
Tan and relaxed, Biden dropped a staggering array of cancer research statistics, but he grew emotional when speaking about his son Beau, who died of brain cancer in 2015 at age 46.
FULL COVERAGE: South by Southwest Film Festival »
The Bidens are now continuing the work of the initiative with their nonprofit Biden Foundation "to spare other families what our family, and so many other families, have gone through," he said.
He told how he first came to spearhead the program after making an offhand comment to then-President Obama during a stroll through the Rose Garden. "I would have loved to have been the president who presides over the end of cancer as we know it," Biden told his then-boss.
Obama then handed Biden the reins to lead the program intended to accelerate cancer research in America.
Biden had come to SXSW to recruit talent. Addressing an audience that included techies and innovators, he pointed out how easily websites and apps had made it to buy movie tickets or cash checks at the swipe of a finger on a smartphone, then wondered why cancer patients like his son couldn't just as easily send test results from one hospital to another.
"Many of you are developing technologies and innovations for purposes large and small, fun and serious, entertaining and lifesaving, that have nothing to do with cancer — but you could make a gigantic impact," he said, his voice booming. "We need you to help us reach people who need to change their behavior and avoid cancer. You're doing it to help them figure out how to buy a product… We need to reach people."
He did talk a little politics, of course, chronicling the successful bipartisan campaign he led to secure $6.3 billion in funding for the 21st Century Cures Act, which includes funding for the cancer initiative.
"Guess what? The only bipartisan thing left in America is the fight against cancer," he said. "I assure you there's still a lot of really decent people left in the Congress in both parties."
Though private philanthropy is important to the funding of cancer research, "the bulk of the money — billions and billions — comes from taxpayers," he said. "Your government that many of you don't like is the vehicle through which this gets funded."
Biden couldn't resist taking a few shots at the current administration, calling out unnamed figures "in the new outfit" who deny that global warming is real. "It frustrates me," he said with a laugh.
But he declared that he would work with Trump's White House to continue seeking a cure.
"It is my hope that this new administration, once it gets organized… will be able to focus on and be as committed and enthusiastic as we were with the goal of ending cancer as we know it," Biden said. "I pledge before all of you and all the world that I will do everything in my power to work with the new administration."
He concluded by referencing John F. Kennedy's famous 1962 moon speech. "He talked about the effort to go to the moon as a commitment the American people had made and that they were quote, 'unwilling to postpone,' " said Biden. "I am unwilling to postpone for one day longer the things we can do now to extend people's lives — and so should you be."
---
Get the Indie Focus newsletter, Mark Olsen's weekly guide to the world of cinema.
You may occasionally receive promotional content from the Los Angeles Times.