With the gay conversion therapy drama 'Boy Erased,' Joel Edgerton hopes to stir hearts and change minds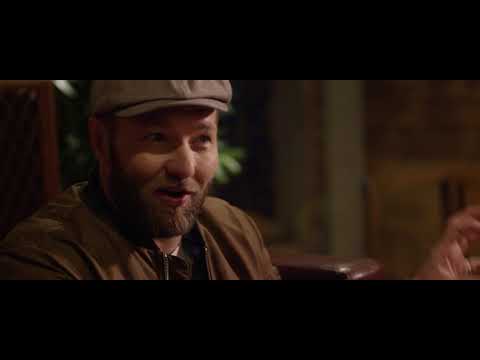 "Boy Erased" star, writer and director Joel Edgerton and author Garrard Conley talk about their film based on Conley's memoir about surviving a so-called gay conversion therapy camp.
Reporting from Telluride, Colo. —
After making a splash with his 2015 directorial debut, the dark, unnerving thriller "The Gift," Joel Edgerton got sent his fair share of suspense scripts. But true to his unpredictable form, the Australian actor turned filmmaker wanted to go in a completely different direction with his next project.
"A large part of what the film business is about is following in the footsteps of something that seems to work, but I've never had that attitude as an actor," Edgerton, 44, said earlier this month at the Telluride Film Festival, where his latest film, the gay conversion therapy drama "Boy Erased," made its world premiere. "For my next project after 'The Gift,' I wanted to put something positive and moving into the world."
Based on the memoir by Garrard Conley, "Boy Erased" stars Lucas Hedges stars as a young man who is pressured by his deeply religious Baptist parents (played by Russell Crowe and Nicole Kidman) into entering gay conversion therapy. Slated to hit theaters in the heart of awards season, on Nov. 2, the film has already earned kudos for its emotionally wrenching look at a family being pulled apart over conflicting beliefs and the strong central performances of Hedges, Kidman and Crowe.
On his final day at Telluride, Edgerton — who also co-stars in "Boy Erased" as the leader of the gay conversion program — spoke to The Times about what drew him to the film, pulling together his powerhouse cast and his hopes for inspiring change.
FULL COVERAGE: 2018 Toronto International Film Festival »
In the Q&A after last night's screening, you said you grew up with this constant fear of somehow losing your personal freedom. Is that how you connected with Garrard's story?
I initially went into reading Garrard's book for kind of salacious purposes. With this interest I have in things that scared me as a kid — prisons and the military and abduction and cults and all sorts of things — I get lured into stories about that. That Netflix documentary about the Bhagwan ["Wild Wild Country"], I couldn't watch that fast enough.
But coming out of the book, I was like, "Wow, this is actually about a family that's in a lot of pain, and it speaks to a lot of other families who have their own pain." Pass any street in Australia or America or anywhere and you don't know what's going on under that roof and how that family is beating each other up or combusting or loving or anything. I came out of the book going, "This is actually about love and the need for acceptance."
As you were writing the script, you spent a lot of time talking to Garrard and other survivors of gay conversion therapy. Did you also talk to people on the other side, who still believe in it or even practice it?
Garrard was obviously my main source of information, but I also had lunch with and an email exchange on and off with John Smid, who my character is based on. John ran [the gay conversion therapy program] Love in Action for 25 years. He had been an out gay man living in Omaha in his early 20s and had found Christianity and been told by a woman that God wouldn't love him. He was there at the inception [of gay conversion therapy] and he went back into the closet for 25 years.
He would love to go back and change things but he can't. His apologies are appreciated but not always accepted. He wrote a letter on Facebook declaring his apology and one response was just a list of kids who have committed suicide.
I had this mantra that the drama would not come from me demonizing anybody. As much as it might be easy to turn Love in Action into a barbed-wire facility of torture — and those do exist, by the way — it was actually quite corporate and inviting an environment. It seemed safe.
It all comes down to belief: If you believe that homosexuality is a choice and can therefore be "corrected," you're told that by church leaders you hold a lot of stock in and there's a place that professes to have an 84% success rate, then just maybe you go, "OK, this is a good solution." When I meditated on whether to really amplify the danger of Love in Action, it made me realize that I think it would be more terrifying to be administered therapy by someone who had true conviction and was telling you, "We're all in this together and it's going to be an amazing experience."
The insidious nature of passing on the wrong beliefs, the way that leads to such a damaged, confused sense of self and how it rips families apart and causes mental health issues, depression, suicide and attempted suicide — the danger that springs from just rhetoric, using the power of God as a tool, is really awful.
You've never worked with Nicole or Russell – and, surprisingly, they've never worked with each other. But did you all know each other already from the fact that you're all Australians working in Hollywood?
It's not wrong to think that we all have each other on speed dial. I'd met Russell a few times at events and things and I'd met Nicole on a couple of occasions and I'd nearly worked with both of them. But actually the person I knew the most was Lucas.
I'd been directed by his father [Peter Hedges] in [the 2012 dramedy] "The Odd Life of Timothy Green." Lucas was 12 at the time and he would come visit and play basketball with us. He'd just gotten his first acting job on "Moonrise Kingdom" and I wrote him a note congratulating him with a little P.S. saying, "By the way, you little upstart, don't grow up and start stealing my jobs."
With Nicole and Russell, I was actually concerned about the one-two punch of them because they were Australian and I was Australian and the story was very American. But when I met with Garrard, I asked him to send me some family photographs and when I saw his father, I was like, "Oh my God, it's Russell Crowe." And Garrard's mother is this translucent peroxide blond and I just pictured Nicole.
I felt strangely like some sort of acting cupid that I finally put those two people together. But given their friendship and history, it was like they were already married when they turned up on the set.
You've talked about how, with this movie, you don't want to just be preaching to the converted. In this polarized climate we're in, what is your hope for getting the film seen by people who might hold different beliefs about homosexuality?
There's purposefully a certain gentle patina to the movie that keeps us able, I think, to share it with Christian groups. This intention of not demonizing anybody extends to not demonizing Garrard's parents, allowing each individual's complex belief system to just be a human point of view that butts up against Garrard's life and his point of view. It's not us saying, "God's opinion is wrong." It's the interpretation of the Bible that leads to this whole fiasco.
Hopefully there's enough of a curiosity. I really hope that we can share the film with the non-converted and that the converted who do see it share it around enough that at least people who weren't aware of conversion therapy can get behind it. There is a big push by The Trevor Project, going state by state trying to dismantle conversion therapy, and they're having a certain amount of success. But transformation and social change is never that you go three steps forward and [then] you're never going to go backwards. It's constantly maintaining the border of progression.
I never considered myself a candidate to try to make something important or presume to be a political voice. But if we can do something, it would be amazing. And hopefully in five years' time or less, the movie will be like a museum piece.
It's only early September, but awards talk is already starting to swirl around. Is it hard to tune all that out?
It is, yeah. I used to get a little bit angry about people talking about this stuff before they'd even seen a trailer. I've had that experience before as an actor where people lean in and whisper to you, "This is your year, pal." And you start to buy a ticket to your own myth party and then you feel dirty at the end of the year.
I understand it all. But I kept saying, "Let's just make a movie that's as good as we can make it and put it out in the world, and if that happens, cool. But let's not start patting ourselves on the back just yet."
Twitter: @joshrottenberg
Get our L.A. Goes Out newsletter, with the week's best events, to help you explore and experience our city.
You may occasionally receive promotional content from the Los Angeles Times.