In Kaiju sequel 'Pacific Rim Uprising,' John Boyega goes from 'Star Wars' to producer-star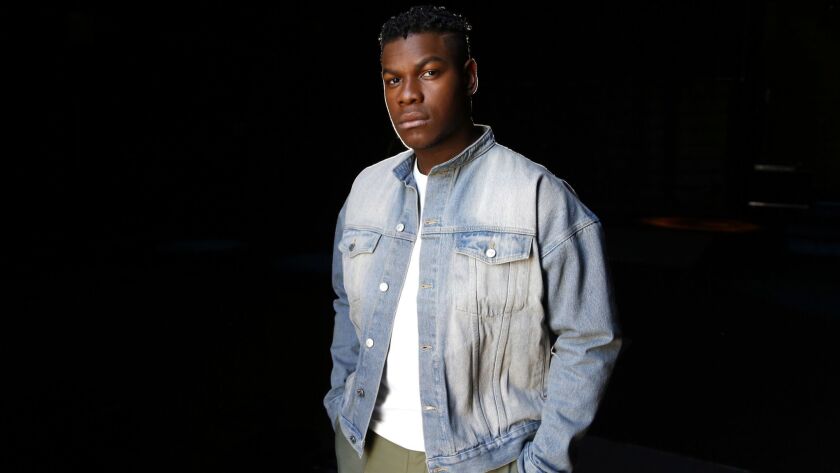 Not too long ago in a galaxy far, far away, John Boyega shot to stardom as a reformed Stormtrooper adventuring his way into the Resistance alongside Rey, Poe, Luke and Leia in 2015's "Star Wars: The Force Awakens."
This weekend the British actor, 26, became the face of his second blockbuster franchise in three years, leading a phalanx of young mech-suited warriors into the brave new space future as the star of the sci-fi sequel "Pacific Rim Uprising."
Boyega has spent an inordinate time in his relatively young career to date dealing with aliens — having first burst onto Hollywood's radar as the teen hero of U.K. filmmaker Joe Cornish's 2011 cult favorite "Attack the Block." In the new youth-leaning, robot-heavy "Pacific Rim" sequel, he's once again fighting off interstellar beings by uniting the disparate human characters around him on Earth.
"Since I was a kid I was into comic books and movies and TV shows that were about extraordinary situations," Boyega said during a quiet moment during his stateside "Pacific Rim 2" press tour, amid a flurry of photo shoots, interviews, appearances and hectic travel. "I guess I'm just now living out my dreams."
"Pacific Rim Uprising" takes place 10 years after the events of Guillermo del Toro's "Pacific Rim," the 2013 original that envisioned a future in which humans co-pilot giant mechanized robots to defend Earth from Gojira-esque space invaders.
John Boyega stars in the "Pacific Rim: Uprising" trailer.
In that metal-greased monster movie, co-written by Del Toro and Travis Beacham, stubborn heroes learned to sideline their own baggage and join forces — literally, through neural linking tech inside of enormous Jaeger suits — for the greater good.
Fan-favorite resistance heroes emerged with names like Stacker Pentecost (Idris Elba) and Mako Mori (Rinko Kikuchi). The box office receipts racked up to the tune of $411 million worldwide, with particularly strong overseas sales.
This time around Boyega stars as Jake Pentecost, Stacker's disillusioned son and the new character propelling the franchise forward. For the first time in his career he also pulls double duty as producer — a huge opportunity for any rising star, and one he jumped at.
"You're a part of the whole process," said Boyega, one of seven credited producers alongside Del Toro, Legendary's Mary Parent, Cale Boyter, Thomas Tull, Jon Jashni and his Upperroom Productions partner Femi Oguns. "When it comes to casting, when it comes to production meetings, you know what's happening."
He relished the challenge, but more indelibly, he said, "it's changed my perspective. It's changed the kind of work ethic I have. It's changed my view on filmmaking, on its process. It makes you a better person because you're dealing with people on a day-to-day basis … you're coming up against different obstacles. For me at this stage it's taught me, 'OK, cool — this is the beginning of a new pursuit.'"
Boyega already broke barriers in space as Finn, the Stormtrooper-turned-Resistance hero. The high-profile role blasted him to fame overnight, and his off-screen charisma propelled him even higher.
When online trolls erupted in racist chatter over his trailblazing black Stormtrooper, he cut through the nonsense with a defiant, confident charm, posting his response on Instagram to his considerable social media following: "Get used to it."
What his "Pacific Rim" roles behind and in front of the camera represent is a new sensibility in Hollywood — a progressivism "Uprising" writer-director Steven S. DeKnight says was baked into its DNA from the start.
"What I love about 'Pacific Rim,' and one of the things that really drew me to this project, was what Guillermo and Travis Beacham set up in the first movie," DeKnight explained via phone from New York, "which was the world coming together. It's inherent in its nature that you would have a multinational, multiethnic cast. To me that just reflects the real world, and it makes this world so much more interesting."
And so in "Uprising," with the initial Kaiju war a full decade in the canonical rearview mirror, Jake and Co. exist in a new normal. Jaegers and their pilots are no longer segregated by nationality but globally cross-pollinated, united as one worldwide fighting force.
Kikuchi's war heroine Mako Mori — one of the only holdovers from the first film — is now a decorated military leader in addition to being Jake's adoptive older sister, the central bond that tethers Boyega's character to the expanded world of "Pacific Rim."
"It felt like a natural progression. Everything in this movie was a progression of what Guillermo had done in the first film," said DeKnight, the "Spartacus" showrunner and television veteran now making his feature directing debut.
The early creative conversations between director and producer-star involved their respective Asian pop cultural influences: Boyega's love for anime ("The way that each fight matters — not just about the punches that are thrown, but how the story moves forward," he explained enthusiastically) and DeKnight's childhood obsession with the Japanese superhero-versus-monsters show "Ultraman," a spiritual inspiration for "Uprising."
It's tempting to ascribe a seriousness of intention to the choices Boyega makes as a newly minted global superstar; he was drawn to the "Pacific Rim" sequel, for example, partly because of its outreach to younger audiences.
One of the things I was attracted to was the message and the fact that it was about young people facing challenges bigger than themselves.
— John Boyega
"One of the things I was attracted to was the message and the fact that it was about young people facing challenges bigger than themselves. I found it quite motivational as well," said Boyega, who takes on a mentor role in the film to a scrappy teenage Jaeger pilot in training played by Cailee Spaeny.
"But," he added with a laugh, "I'm still a 26-year-old young man, and I think it's very important to realize that.
"Sometimes the wealth that a lot of young successful actors gain, the recognition, a lot of that can age you and make you feel as if you've got all the answers," he continued. "I'm not here to show the kids how to do it — I'm an example, like anyone else.
"And I think in the same way in my position I can be of influence, I think the most important influences are those that we surround ourselves with in our individual lives, our friends, our family, our acquaintances, our work colleagues. We all have the power to inspire," he paused. "And we all have the power to piss someone off."
Rian Johnson, who directed Boyega in the eighth "Star Wars" film, "The Last Jedi," admired his energy — and sees a bright future for him on both sides of the camera.
"It doesn't surprise me [that Boyega is producing]. He's young but he's a firebrand, ambitious, he's a movie star — not just in terms of current status but in terms of the charisma that he's got and how he carries the screen," said Johnson. "I think the sky's the limit for that guy."
Their creative conversations around Finn's journey revolved around strength: specifically, giving Finn new emotional terrain to explore after his morally uncertain introduction in "The Force Awakens."
"Taking a step back from having to be strong and in control was a learning curve for me," Boyega remembered. "It went opposite from my instincts — especially as a man. Growing up in 2018 you see a battle, you think a character's going to go through it. It's interesting and I think beneficial for the character to take a path which isn't necessarily always brave. He basically represented humanity for me in ['Episode 7']."
"But when we went onto ['The Last Jedi'] I was done with that!" he exclaimed. "I didn't want Finn to just be comic relief, running around not knowing what to do for the whole trilogy. I just wanted the character to have finally decided to do something for the betterment of others rather than just himself."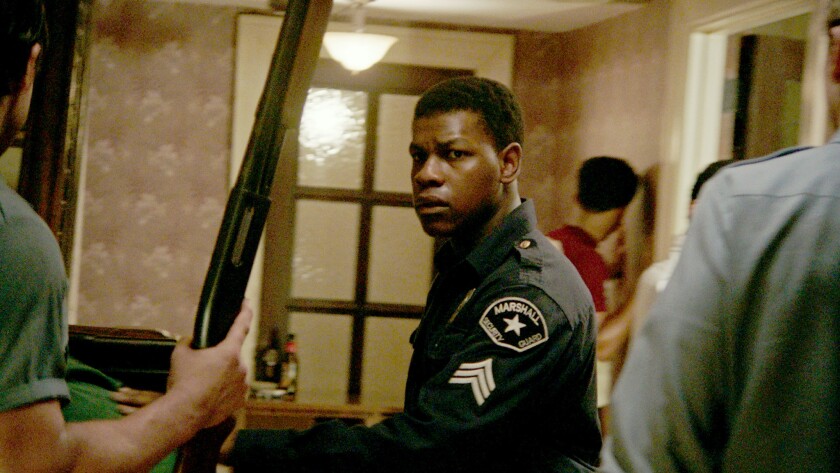 Boyega's last few years have been a marathon of activity. He went from filming "Star Wars: The Last Jedi" to the gripping period drama "Detroit" for director Kathryn Bigelow. Then came "Pacific Rim Uprising," a grueling international shoot over four-plus months, after which Boyega found time to act in a production of "Woyzeck" in London at the historic Old Vic Theatre.
Along the way he's come up in great company among fellow British stars like Daniel Kaluuya, Letitia Wright and Lupita Nyong'o, all of whom he cheered on when "Black Panther" opened to record-breaking, boundary-obliterating results.
"I was very, very proud," he said. "The same way I see them rooting for me, when they came to see 'Star Wars' — Chadwick was there, Lupita came down, Letitia came down, and they all showed their support. We all look out for each other. It's about unity, and it's an actual moment — to be a part of a group of people who are now pushing one spectrum of diversity, and also now inspiring other people to be passionate about it too."
"Star Wars" fame brought with it the power to take agency in his career, and telling diverse stories is one of the primary objectives of Boyega's production company. Capitalizing on his rising clout will in turn, he hopes, empower a wider spectrum of voices telling stories and being seen and heard in film.
"To start a movie from scratch is something that I've always wanted to be a part of and I realized — with the opportunity [after] 'Star Wars' — it would benefit me not only as an actor," he said, "but it would also benefit others in terms of the kind of diverse and interesting stories we're going to be able to locate and bring into the industry right now."
And recent conversations around inclusion riders, prompted by Frances McDormand's mention on the Academy Awards stage, have only added more tools to the arsenals of filmmakers trying to work toward inclusivity and diverse representation.
"It's a beautiful thing, because one thing I have noticed is these contracts that are drawn up in entertainment sometimes are founded on things that are quite invisible — things that don't even make sense," Boyega said. "I think it reminds people to stay aware when they're making creative choices, when it comes to casting, story and even hiring writers and the types of projects you want to go for."
"Having [inclusion riders] as a part of the system is a positive thing. Some people will probably take it the wrong way and be like, 'Well, if you're not white that means you can't get cast in movies now' — no, we all know white people will still be in films! That's not going to ever be a problem," he said with a laugh.
"It really is about finding a way to engage talent that otherwise wouldn't be engaged in your project," he said, "and to help influence our stories to reflect the world that we're in."
---
The complete guide to home viewing
Get Screen Gab for weekly recommendations, analysis, interviews and irreverent discussion of the TV and streaming movies everyone's talking about.
You may occasionally receive promotional content from the Los Angeles Times.