Justin Chon aims for cross-cultural understanding with 1992 L.A. riots drama 'Gook'
Justin Chon knows that the title of his new film, "Gook," doesn't roll off the tongue easily.
The word's loaded history as an ugly slur is painfully well known to Koreans, particularly those living in Los Angeles during the 1992 riots — people like his own parents, whose Paramount shoe store was hit by looters on the fourth day of the chaos.
But in "Gook," a character-driven drama set amid the violent aftermath of the Rodney King verdict, the "Twilight" actor turned director intends to not only reclaim the word, but redefine it.
Writer, director, star and executive producer Chon plays Eli, the Korean American shoe store owner at the center of "Gook" who finds the epithet scrawled across his car one morning. It's a symbol of the hatred targeted at the Asian immigrants who flocked to L.A. in the 1970s and '80s, opening businesses in predominantly African American and Latino communities.
But as he explains it to young Kamilla (newcomer Simone Baker) — the 10-year-old African American girl who finds solace and acceptance hanging around the shop with Eli and his brother Daniel, an aspiring R&B singer — the origin of "gook" comes from the Korean word for America: "miguk."
"In Korean," he tells her gently, "it just means 'country.'"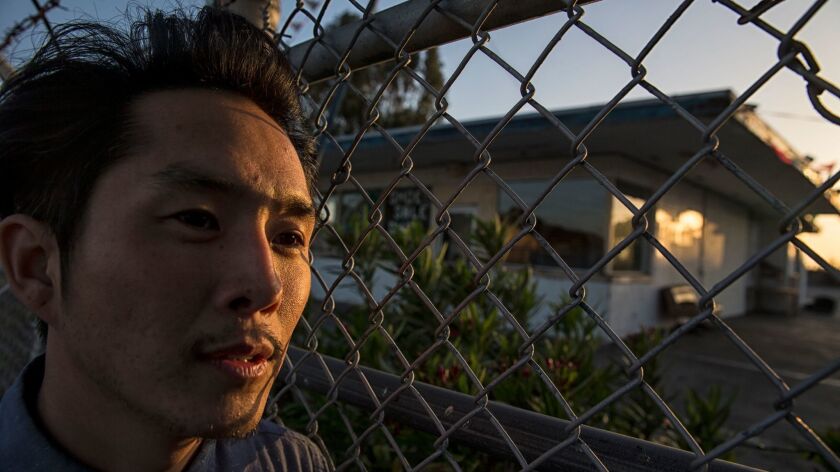 If you call somebody that, yeah, that's not cool. But the actual word is beautiful, you know?
— Justin Chon
"I wanted people to understand where that comes from," Chon, 36, told The Times on a sunny spring day in West L.A. "If you call somebody that, yeah, that's not cool. But the actual word is beautiful, you know?"
"Gook" is the rare film to feature a Korean American perspective on the race-fueled clashes between black, Asian, and Latino Angelenos that destroyed neighborhoods, claimed lives, and left the city burning in April 1992.
A few months earlier, "Gook" made its premiere in the Next section at the Sundance Film Festival. It went home with the coveted Audience Award, a huge coup for the sophomore director, and marked promising debuts for Chon's co-stars, including impressive young actress Baker and YouTube star David So, who makes his dramatic debut.
Sitting in a cafe in the midst of a successful subsequent festival run, with the specter of the riots looming on the eve of their 25th anniversary, Chon spoke of bittersweet memories of the unrest, and hope for a future that might learn from the past.
L.A. native Chon saw his acting career take off with a role in "Twilight," playing one of Kristen Stewart's non-bloodsucking classmates. Years later, after appearing in films such as "21 & Over" and "Seoul Searching" and making his directorial debut with the comedy "Man Up," his connection to the 1992 riots started calling to him.
A spate of Hollywood projects revolving around the L.A. riots had cropped up, and Chon even found himself auditioning for some of them. But none seemed to fully represent the Korean American perspective he knew intimately as a child watching news reports of Los Angeles in flames, knowing his own father was among the estimated 2,200 Korean small business owners caught in the destruction.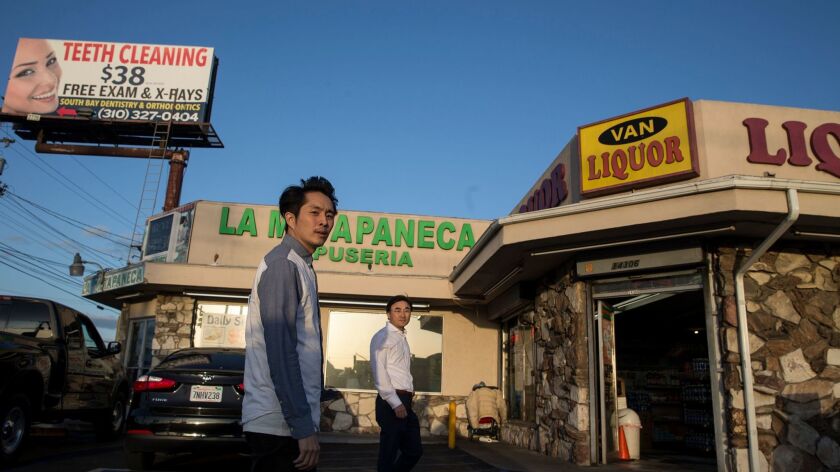 "I was home watching the news, knowing that my dad was there," he recalled. "I remember going to church that Sunday with my sister and they asked if anyone's family had been affected by the riots, and I remember being embarrassed — we didn't raise our hands because we didn't want the attention. We were kids."
"Gook," inspired and informed by that experience, is one of the most deeply personal American films of the year. Chon wrote the fictional tale in a flash, centering on the relationship between frustrated brothers Eli and Daniel and young Kamilla, whose friendship defies the racially-fueled animosities around them as the riots exacerbate already-tense relations in their community.
Chon cast himself as Eli, the elder brother trying to keep his late father's business afloat, and turned to comedian and singer So to play Daniel, whose dreams of pursuing a singing career land him at odds with his brother — and in the wrong ZIP Code once violence breaks out.
The filmmaker had long, careful conversations with Curtiss Cook Jr., who takes on the role of Kamilla's older brother Keith, to measure his character against stereotypes of angry young black men in his situation. "My thing was, I hope that it's justified," said Chon. "I tried to design the story so that he has the right to be angry."
In exploring the emotional and financial devastation wrought by the violent unrest years later, Chon was able to process the toll he couldn't grasp as a child. He cast his own father, who had a career as a child actor in South Korea before immigrating to the United States, in the complex role of Mr. Kim, a neighboring liquor store owner whose fraught history is revealed as the film unfolds.
So, who also served as co-producer on the film, lent his own life experience to the character. Born in South Korea, he grew up in Northern California the son of a beauty supply store owner, idolizing singers like K-Ci & JoJo, Usher, and Brian McKnight. Through Eli and Daniel, Chon and So open a window to an Asian American experience seldom seen in film or television, where Asian characters tend toward cliches or are relegated to the sidelines.
"Asian people were the dweebs, the geeks, the accountants, the nerds. But what the rest of the world saw [in movies] was not what I saw," So explained on a recent afternoon at his own Koreatown ice cream oasis Drips & Swirls, one of several business ventures the popular YouTuber owns. "I recognized the black community a lot because that was the neighborhood I was in, but I was also Korean American. So I didn't know where I belonged.
"There isn't a villain in this film," he continued. "There were just two communities that didn't get it. They were the same people. We wanted to do justice to everyone."
My hope is for a film like this to spark conversation.
— Justin Chon
Both brothers share tender scenes with the sensitive and inquisitive Kamilla, the real heart of "Gook," which Chon describes as both an Asian American and an African American film. He discovered Baker, who turned 11 during the no frills indie shoot, at the Fernando Pullum Arts Center after an exhaustive talent search, and credits her mother for helping the young actress work through the difficult emotional terrain of "Gook"s toughest scenes.
It's no accident, either, that Baker's character calls to mind Latasha Harlins, the 15-year-old African American girl killed by a Korean store owner in 1991, and whose death contributed to the pain and outrage that fueled the riots a year later. "['Gook'] is a metaphor for now," said Chon. "A lack of understanding and communication caused this tension and animosity. That was all simmering, it was just boiling."
The film's examination of race relations and black and white aesthetic have drawn comparisons to the early work of Spike Lee (films like "She's Gotta Have It" and "Do the Right Thing"). Chon shot on location in Gardena after finding the perfect standalone storefront to ground his story, shooting in black and white with cinematographer Ante Cheng, a graduate student at USC. But Chon places his cinematic influences beyond Lee, or the urban LA films of John Singleton and the Hughes brothers, which he also cites.
"A bigger influence was 'La Haine,'" he smiled, pointing to Mathieu Kassovitz's 1995 drama, set in Paris in the aftermath of rioting over racially fueled police violence. "But if [critics] say this is derivative of 'Do the Right Thing,' I can live with that."
"My hope is for a film like this to spark conversation," Chon said, acknowledging that "Gook" surfaces a lot of deep and painful wounds for members of disparate communities to unpack. "Let's talk about it. There are so many stories that still haven't come out. There are so many stories that should be told. This was my attempt."
---
Get the Indie Focus newsletter, Mark Olsen's weekly guide to the world of cinema.
You may occasionally receive promotional content from the Los Angeles Times.