From blockbusters to art-house muse, is Kristen Stewart the best actress of her generation?
Kristen Stewart settles into a chair and trains her piercing, kohl-rimmed eyes on you. "The best actress of her generation" — as Olivier Assayas declared after directing her to a Cesar Award for their film "Clouds of Sils Maria" — was until a few minutes ago pantless, but now wears slim jeans and a white T-shirt. A delicate padlock on a gold chain from a just-concluded photo shoot still dangles around her neck.
"She's the loneliest person I've ever played," Stewart says, diving into conversation about her new film, "Personal Shopper," and her character, Maureen, a haunted stylist to the stars who spends her days motoring from one Paris couture house to the next for her famous client while mourning the loss of her twin brother.
It's her second film with French auteur Assayas, and a mesmeric showcase for the "Twilight" star turned art house darling to whom stratospheric fame has lent an air of mystique, at once open and eternally unknowable.
Caught between two worlds, Stewart's character in the stylish, psychological thriller is a high-fashion buyer who spends her free time chasing her brother's ghost around Paris, desperate to know if there's more beyond.
She is unique! . . . She has this extraordinary combination of incredible control and simultaneous freedom.
— Director Olivier Assayas on Kristen Stewart
"There is this default reality that we all agree to live in with each other; she is not in it at all," Stewart says, brimming with overcaffeinated energy. "And trust me, she would love to wake up in the morning and get coffee and be normal. She just has this preoccupation with these larger questions that don't have answers, and it trips her out to a point where she can't function."
A few years ago, Stewart admits, those kinds of paralyzing existential conundrums used to keep her up at night.
"I've had tastes of that kind of debilitating question spiral where you go, 'I can't know for certain whether or not we're alone. I can't know what's going to happen to me when I die. I can't know what's going to happen tomorrow,' " she says. "But you never, ever will. I've had bouts of anxiety where I'm like, 'Oh my God, how can we not know this and still carry on?'"
At 26, Stewart lives in a strange, rarefied reality. She's starred in more than 35 films, headlined the $3.3 billion grossing "Twilight" franchise, topped Forbes' list of Hollywood's highest-earning actresses and found herself in the paparazzi sights of more than her share of fame-fueled controversies by early adulthood.
I could have said 'queer.' It would have been, maybe, more applicable.
— Kristen Stewart on her "SNL" coming out
If anyone has earned the right to protect themselves from eyes that would pry into her private life, and perhaps even her soul, it's Stewart.
"I'm constantly skirting people," she says, mimicking the head down, eyes averted posture she learned to adopt years ago, when fame showed up on her doorstep overnight. "I'm really good at avoiding people's gaze, walking through any public space. I can literally sense when there's an energy to be avoided."
Still, even in Los Angeles she'll occasionally find a new spot where no one cares that she's, well, Kristen Stewart.
"You walk into a place and go, 'Wow, this is nice, no one's going to … with me here — maybe I'll even talk to somebody I don't know!'" she says, laughing. "You feel it immediately. People don't suck everywhere."
On-screen and off Stewart has cultivated a defiantly iconoclastic confidence, as if released from the self-imposed anxiety of having to constantly protect herself. In interviews, that translates into the sense that she's always somehow speaking her unfiltered mind. In movies, it imparts the feeling that every performance is a window into the persona of Kristen Stewart.
Actress Kristen Stewart arrives at the premiere of the film "Personal Shopper" at the Carondelet House on March 7, 2017, in Los Angeles.
(Frazer Harrison / Getty Images)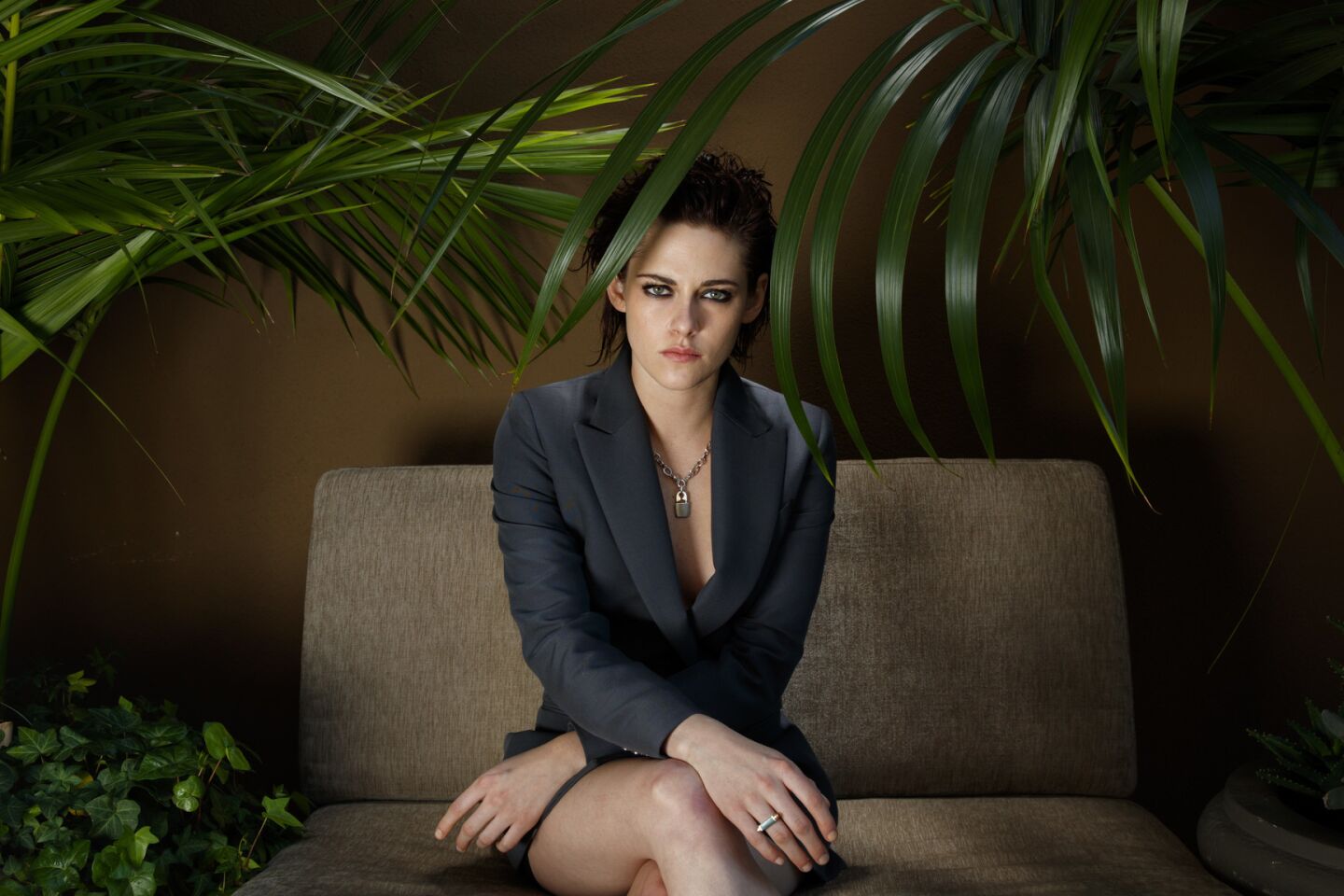 Kristen Stewart during promotion of her newest film, "Personal Shopper," at the Four Seasons Hotel in Los Angeles.
(Jay L. Clendenin / Los Angeles Times)
Director Kristen Stewart from the film, "Come Swim," photographed in the L.A. Times photo studio, during the Sundance Film Festival in Park City, Utah, Jan. 20, 2017.
(Jay L. Clendenin / Los Angeles Times)
Ask any pre-teen girl and they'll tell you Kristen Stewart has it made -- she clinched the coveted role of Bella in the blockbuster "Twilight" franchise, after all. But long before she was cast in the vampire romance, Hollywood had already taken note. From her breakthrough role opposite Jodie Foster in "Panic Room" to her nuanced performance in Sean Penn's "Into the Wild," we look back at Stewart's standout roles.
(Carolyn Cole / Los Angeles Times)
Kristen Stewart was voted
the least sexy Hollywood actress
in a poll of British men in February 2013. The poll conducted on behalf of U.K. gadget website MenKind (presumably to lure folks into its selection of Tetris Mood Lights, Zombie Gnomes and Star Wars Jedi Dressing Gowns, items likely to land on a woman's least-sexy list).
(Jay L. Clendenin / Los Angeles Times)
All those Chanel fashion shows she attended must have paid off. In December 2013, Kristen Stewart was named the new face of the iconic French fashion house's Métiers d'Art Paris-Dallas collection campaign, shot by designer and creative director Karl Lagerfeld. The country-western-themed campaign is set for release in May 2014.
(Cooper Neill / Getty Images for Chanel)
"Rather than trying to show someone something, accidentally revealing something is so much more interesting," she explains. "I always want to set myself up, to put myself within parameters so I can just completely lose it, so it's always me. I can't bring anything other than myself."
Assayas, who debuted both of his films with Stewart in competition at the Cannes Film Festival, found her to be a fascinating presence ever since her "Twilight" days. He was inspired to write the character of Maureen, the emotionally isolated heroine of "Personal Shopper," specifically for Stewart after watching her lose herself during the filming of "Clouds of Sils Maria," in which she plays the assistant to Juliette Binoche's mercurial actress character.
"She is unique!" Assayas raves in French-accented English, calling from his home in Paris a few days before Tuesday's Los Angeles premiere of "Personal Shopper" — where Stewart made headlines simply by debuting a newly shorn, platinum blond shaved head.
"I'd seen her in many films, but I always had the instinct that she could go much further," he adds. "I tried to give her the message that it was OK to run, to be herself, to follow her instincts. She has this extraordinary combination of incredible control and simultaneous freedom. I have a hard time thinking of another actress who has a similar combination, and who knows that well how to use it."
Assayas even extols Stewart's thumb acting in one particularly tense "Personal Shopper" sequence in which Maureen receives a mysterious text message and is lured into a dangerous cat and mouse game with its unknown sender.
"Even the stuff that she does when she's typing — she's acting," says Assayas, who filmed Stewart's texting replies in close-up, a tete-a-tete with a ghost in the machine.
Stewart, he says, "is creating the film with me. She's inventing the mood of the film, she's inventing the pace of the film — I'm helping her fine-tune it but she follows me, and I follow her."
It's no coincidence that as Stewart has come into her power as a critically acclaimed indie star, she's also turned to directing, reaching inward for artistic inspiration. Her first short film, a 17-minute meditation on love and loneliness, was inspired by the poetry she'd been writing for years, processing past experiences and lost loves.
"I started reading everything that I had written over the past four or five years. I realized," she says, "I had written the same poem over and over again — I was just trying to say the same thing in different iterations."
"Come Swim" premiered in January at the Sundance Film Festival, where Stewart was amused by the journalists who attempted to sleuth out which of her famous exes the film was about.
"I've had like three or four really public relationships," she says, laughing. "It's all of them! I am only a sum of my experiences, so obviously I have something to do with those things."
The debut of her short film was overshadowed two weeks later when Stewart delivered her opening monologue as guest host of "Saturday Night Live." Roasting President Trump's Twitter obsession over her relationship with Robert Pattinson years ago, Stewart made a surprise declaration to Trump and the world: "I'm, like, so gay, dude."
Stewart laughs, appreciative of the positive reception her "SNL" "coming out" received despite the fact that she's made no secret of her relationships with women over the years.
She pauses, searching for the words to convey the one lingering regret over that "SNL" line heard 'round the blogosphere.
I've had tastes of that kind of debilitating question spiral where you go, 'I can't know for certain whether or not we're alone.'
— Kristen Stewart, star of "Personal Shopper"
"I don't like blanket terms," she says. "It's too simplified. It would have been less effective to go up there and be like, 'Because I'm really fluid…' — you know what I mean? I could have said 'queer.' It would have been, maybe, more applicable. That word is for everything that's not completely heterosexual."
Perhaps we're on the verge of a politically unbridled new phase for Stewart, who stays current on Trump's America via CNN alerts on her phone, and at Sundance joined the Women's March protesting in solidarity down Main Street. She's already directed her next project, a musically oriented piece with the band Chvrches for Planned Parenthood.
"I had been asking them to let me do something for them for a while," she says excitedly of the Scottish synth pop trio. "They're so good. I ended up with a pretty simple but definitive narrative arc that highlights the cause in a sweet but quiet and confronting way."
Next for Stewart is a Lizzie Borden biopic she shot opposite Chloe Sevigny as the infamous hatchet woman, and a JT Leroy film in which she'll play Savannah Knoop, the woman who posed publicly as the literary sensation later revealed to be a hoax.
"I hope that goes soon," says Stewart. "It's just such a crazy thing that happened to this girl who does something just to be involved and to have placement in the world, who loses herself completely and is the subject of mass criticism…"
First, she's off to New Orleans to film the Fox action picture "Underwater," in which she'll play the leader of a crew trapped beneath the ocean.
"It's pretty epic, if we do it right. It's about a crew of people who find themselves in an imploded oil rig base they can't get out of," she says, "but it's a big movie that also functions like a stage play, which makes it more interesting."
And maybe down the line, another reunion with Assayas?
"Even after doing 'Personal Shopper' I have the sense that there's more to her," he says. "I'm not sure where the limits are. I think there are none."
Stewart's also game for a third collaboration. She does, after all, sport a permanent memento of their work together in the form of the tattoo she dreamed up for her "Clouds of Sils Maria" character, which she had etched onto her own forearm before "Personal Shopper."
"I thought if you put indicators of a personal life on her, you'd be like, 'Who are you?' But when I went home and it wasn't there anymore I was like, 'That's mine. I want that,'" she explains of the piece, a partial replica of Picasso's "Guernica," the first piece of art that took her breath away in person.
"It's the top of the painting — a sun — but nothing about the painting is illuminated," she explains, glancing down at the ink. "The center of the sun sort of functions as a pupil, but the light's not on. Just open your eyes."
"It's always going to be dark," Stewart adds, "if your eyes are closed."
ALSO
The opera about Walt Disney, and how Long Beach landed the U.S. premiere of 'The Perfect American'
Two decades after his death, Notorious B.I.G. remembered as a storyteller, a dreamer and a son of Brooklyn
Brie Larson's subdued reaction to Casey Affleck's Oscar win was intentional
South by Southwest Film Festival brings together a heady blend of action, comedy and discovery
Get our L.A. Goes Out newsletter, with the week's best events, to help you explore and experience our city.
You may occasionally receive promotional content from the Los Angeles Times.