South by Southwest Film Festival: a heady blend of action, comedy and discovery
Austin, Texas, is in for a lot of cinematic action this weekend not just from the wave of film fanatics in town for this year's South by Southwest Film Festival, which opens Friday, but also from many of the movies they will see.
Over the years, SXSW has become known for edgy comedies; "Bridesmaids," "21 Jump Street" and "Sausage Party" all debuted in Austin. But this year's lineup includes a medley of marquee action movies. Edgar Wright's cars-and-crime picture, "Baby Driver," starring Jamie Foxx and Jon Hamm; David Leitch's hit man graphic novel adaptation "Atomic Blonde," starring Charlize Theron; and Daniel Espinosa's sci-fi thriller "Life," starring Ryan Reynolds and Jake Gyllenhaal, will all have their world premieres, and Ben Wheatley's intense shoot-out movie "Free Fire," starring Brie Larson and Armie Hammer, has its U.S premiere.
Comedy is present, to be sure — James Franco's "The Disaster Artist," a look at the making of the modern cult movie "The Room," will be shown as a work in progress — but it's definitely a shift, a nod to the universal conundrum film festivals face: How to create a consistent identity while also trying to keep things fresh.
"We don't set out with an agenda, we just respond to things," said Janet Pierson, head of South by Southwest Film. "We specifically try to stay away from stuff that's too broad. We're looking for a filmmaker point of view, and we're just looking for stuff that seems to fit in right with our audience."
One film should certainly play well to the SXSW audience, in large part because of its inclusion. Terrence Malick's atmospheric "Song to Song," which opens the festival with its world premiere on Friday night, was shot amid Austin's music festivals over a number of years. Starring Rooney Mara, Ryan Gosling, Michael Fassbender and Natalie Portman in overlapping romances, it includes scenes that take place on the side of stages amid crowds of thousands while the film's characters interact with musicians such as Patti Smith, Iggy Pop and Lykke Li.
"Austin in 'Song To Song' is a very real place," said producer Sarah Green, who has worked steadily with Malick on his recent projects. "And it has a particular energy in terms of the music that's always flowing, the people that come through, the young people that come there to figure out if they can be in the music business."
"Song to Song" stars Ryan Gosling, Natalie Portman, Michael Fassbender, Rooney Mara and Cate Blanchett.
The SXSW festival has also long been an incubator for new talent. Oscar-winning "Moonlight" filmmaker Barry Jenkins premiered his first feature, "Medicine for Melancholy," in 2008 and his "Moonlight" producer Adele Romanski has premiered numerous projects at SXSW over the years. Brie Larson caught the critical eye in 2013's "Short Term 12," launching the career surge that propelled her to an Oscar-winning performance in "Room."
"For me that is what it's all about, anybody you think is interesting and talented you want wonderful things to happen for them," said Pierson. "And the most fun part of our job is we get to act on our enthusiasm, we get to pursue that and cultivate that."
As part of a larger event that also includes a music festival and interactive conference, the film festival was also among the earliest to spotlight television; this year will feature premieres of Justin Simien's adaptation of his own "Dear White People," the comedy-world-set "I'm Dying Up Here" and Neil Gaiman's much-anticipated "American Gods."
Documentary filmmakers Jeff Malmberg and Chris Shellen, who won the SXSW jury prize in 2010 with their film "Marwencol" (the same year Lena Dunham's "Tiny Furniture" won the narrative prize), are back with their first new feature doc since, a look at changing life in an Italian village titled "Spettacolo."
"That's the thing I like about [SXSW] the best," said Malmberg. "That there's just as much place for a film like this as there is for an issue film as there is for a music doc as there is for a personal film."
Other notable documentaries include Erin Lee Carr's "Mommy Dead and Dearest," Mike Ott's "California Dreams," Karam Gill's "G-Funk," Theo Anthony's "Rat Film," Judd Apatow's "May It Last: A Portrait of the Avett Brothers" and Frank Oz's "Muppet Guys Talking — Secrets Behind the Show the Whole World Watched."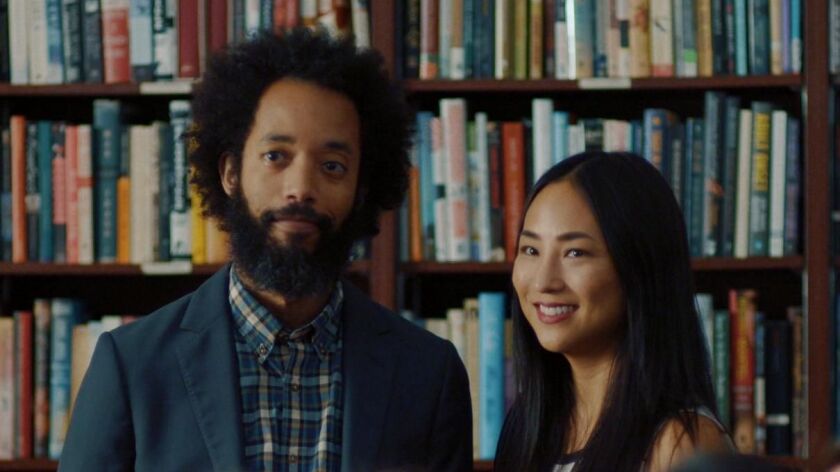 Malmberg and Shellen are far from the only returning filmmakers. Laura Terruso, who wrote "Hello, My Name Is Doris," which was part of the 2015 festival, will make her debut as writer-director with the charming literary comedy "Fits and Starts," starring Wyatt Cenac and Greta Lee. ("Doris" director Michael Showalter is also back with "The Big Sick.")
Two years ago, Terruso was in the line to pick up her festival badge when she first met Neda Armian, who would go on to produce "Fits and Starts."
"It's an unheard of story," said Terruso. "But that's the kind of stuff that happens at South by Southwest, and it happens really organically.
"The first time I went to South by Southwest," she added, "it felt like a place where you could actually meet and form relationships with other artists who you might end up collaborating with down the line. "
Among other movies made by festival alumni are Aaron Katz's "Gemini," Joe Swanberg's "Win It All," Mark Webber's "Flesh and Blood," Bob Byington's "Infinity Baby," Evan Katz's "Small Crimes" and Jared Moshé's "The Ballad of Lefty Brown."
The festival's closing-night selection on March 18 is "Life," which follows a group of astronauts as they cope with a dangerous new life form in space. It's the first of Swedish-born director Daniel Espinosa's films to get a festival premiere and he appreciates the chance to put a mainstream piece of genre filmmaking in front of audiences at a place like SXSW.
"It feels nice, it feels like coming home," Espinosa said. "Even though it's a genre, they can appreciate that deeper work you've been doing on the picture. … It's nice to show the movie for people who love movies."
SIGN UP for the free Indie Focus movies newsletter »
Follow on Twitter: @IndieFocus
ALSO
South by Southwest Film Fest to world premiere 'Baby Driver' with Jamie Foxx and Jon Hamm
James Mangold transforms the end of Wolverine into a new beginning with 'Logan'
---
From the Emmys to the Oscars.
Get our revamped Envelope newsletter, sent twice a week, for exclusive awards season coverage, behind-the-scenes insights and columnist Glenn Whipp's commentary.
You may occasionally receive promotional content from the Los Angeles Times.