With a new fall berth, the L.A. Film Festival looks to evolve and engage, fostering movie culture and conversation in L.A.'s backyard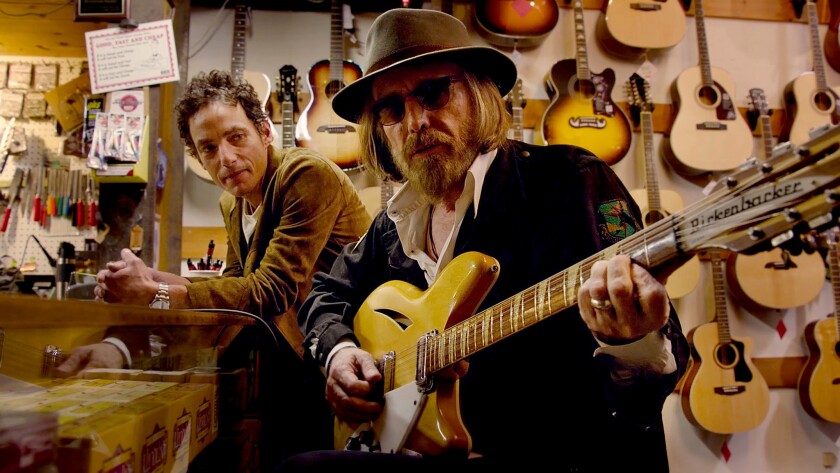 Will Los Angeles show up for a film festival in September?
That's the million-dollar question facing organizers of the Los Angeles Film Festival, which this week moves out of the summer frame for the first time in decades, after spending the last few years recalibrating what such an event centered in the heart of Hollywood should be.
This year's eclectic fest runs from Sept. 20 to Sept. 28, kicking off with a night of music under the stars and the world premiere of the totally L.A.documentary "Echo in the Canyon," chronicling the historical impact of the Laurel Canyon rock scene. The doc, which features such musicians as Tom Petty and Jakob Dylan, will be capped with a post-screening live performance at the Ford Theatres.
A 40-film competition lineup is scheduled alongside award-winning festival faves, global features and docs, a virtual-reality showcase, a first-of-its-kind podcast sidebar, short films and web series, and a two-day inclusion seminar. The ambitious program aims to bring Angelenos into the conversation around film and emerging voices in storytelling, in their own backyard.
And the festival, which has been run by the nonprofit Film Independent since 2001, hopes to accomplish all this without directly competing with the recently concluded Toronto International Film Festival, November's glitzy AFI Fest or the various fall prestige confabs about to pack the calendar.
I am trying to create a film festival that's accessible for Los Angeles.
Jennifer Cochis
"I am trying to create a film festival that's accessible for Los Angeles," said Jennifer Cochis, who returns for her second year at the helm of LAFF.
She admits that the move to September from June is a gamble, but says the goal is to achieve higher engagement levels with a film-interested audience that lives and works locally.
Cochis, a former festival programmer and producer, would love to see future generations of filmmakers, movie lovers, critics and industry pros attend LAFF and spark their own love for storytelling and the community that exists in the City of Angels.
"For the first time ever, we have a student ticket bundle, student passes, student ticket prices, and we're engaging actively with schools to be like, 'Come on out,'" she said. "I really do believe that for the bulk of [younger attendees], it will be the first engagement they've had with a film festival."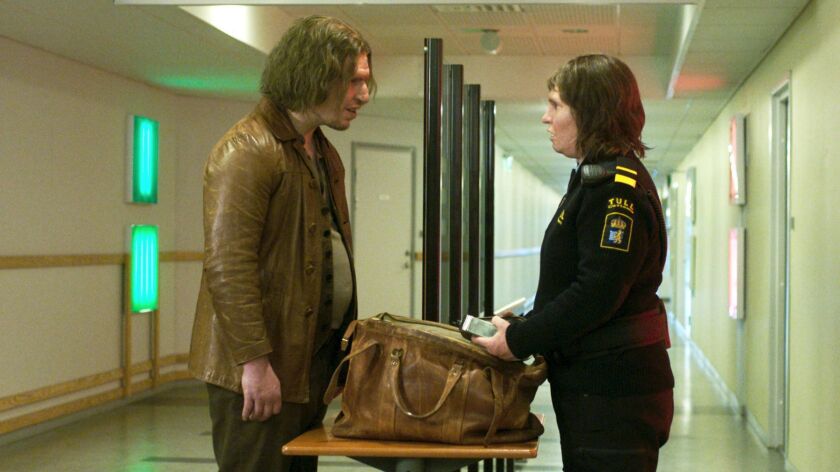 Bringing in acclaimed titles like the Swedish-Danish fantasy "Border," which won this year's Un Certain Regard competition at the Cannes Film Festival and is now Sweden's foreign language Oscar submission, and the Berlin Film Festival's Silver Bear winner "Museo," a true-crime heist pic from Mexico starring Gael García Bernal, means that local cineastes inclined toward world cinema don't have to travel far to see some of the year's best international titles.
The festival will take place at venues across the area, centered on the ArcLight Cinemas in Hollywood, Culver City and Santa Monica; the Wallis Annenberg Center for the Performing Arts; the Writers Guild Theater; and the new Loyola Marymount University Playa Vista campus.
"We're playing 'Border' for the first time in L.A., one of my favorite films of the year," said Cochis. "I don't care who played it [first]. I want people to be able to drive from their job or their home and be like, 'I can participate without having to figure out how to take the family vacation to a film festival.' I'm making this for Los Angeles."
The festival will also host the L.A. premiere of "Free Solo," which chronicles free climber Alex Honnold as he prepares to scale Yosemite's El Capitan without a rope, directly from its Telluride world premiere and audience award win at TIFF.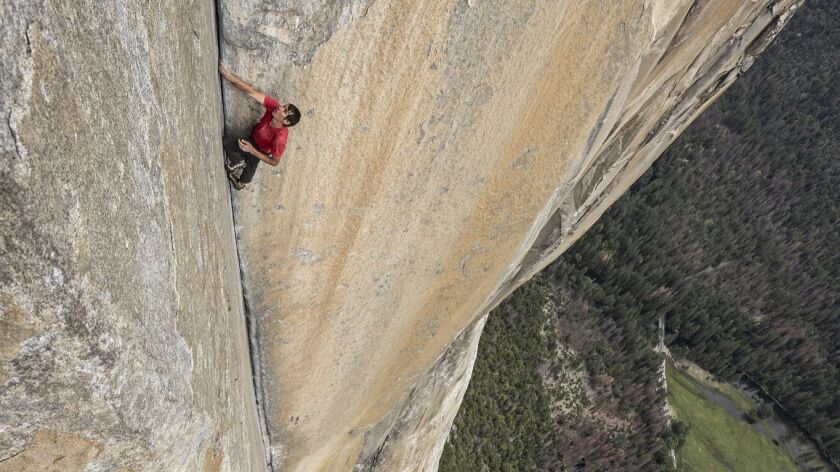 Also screening are docs about South Central's African American cowboys ("Fire on the Hill"), Hollywood's unsung stunt professionals ("Stuntman," executive produced by Dwayne Johnson), a female musician's frustration with the industry ("Kate Nash: Underestimate the Girl," starring the L.A.-based British musician and "GLOW" star), and the city's homeless crisis ("The Advocates").
Titles run the gamut, but one theme moviegoers might notice is a streak of political anxiety that runs across films and sections. "What I see in terms of storytellers holding the psyche of all of us within what they're expressing is a lot of anxiety, post-election," said Cochis.
She points to "The Oath," the world premiere comedy from director-star Ike Barinholtz ("Neighbors," "The Mindy Project"), in which a controversial White House policy turns one family's Thanksgiving feast upside down. Tiffany Haddish and John Cho also star.
Similar sentiments might be found in "Tenacious D's Post-Apocalypto," a six-part animated series hand-drawn by Jack Black "completely in response to the political climate that we're in," Cochis said.
In line with the core mission of Film Independent, diversity and inclusion initiatives will see an even bigger presence this year with the "We the People" summit at the WGA Theater on Sept. 22-23. Cochis describes the program as "the heart and soul of what we're trying to do." (Among this year's festival movies, 42% are directed by women and 39% are directed by filmmakers of color.)
Spearheaded by Film Independent's Hasan Foster, the summit has also partnered with Rock the Vote to register people to vote in advance of the upcoming midterm election. Foster said the section has been deliberately rebranded "to talk about representation and inclusion in entertainment, focusing on the 'we.'"
"Everybody needs to be represented, and everybody needs visibility — not just in front of the camera but behind the camera as well," Foster added.
Among the topics at the summit are inclusion in writers rooms, disability representation and visibility, the relationship between art and politics, below-the-line representation for women and people of color, the business of diverse blockbusters like "Black Panther," the realities of diversity programs in practice and issues around diversity in film and television criticism.
Panelists include Times journalist Tre'vell Anderson, Teresa Huang ("SEAL Team"), Our Lady J ("Pose"), LaToya Morgan ("Into the Badlands"), Franklin Leonard (The Black List), Natasha Rothwell ("Insecure"), Rafael Casal ("Blindspotting"), Emily V. Gordon ("The Big Sick"), Kumail Nanjiani ("The Big Sick"), President Gil Robertson of the African American Film Critics Assn. and talent agent Gail Williamson.
All panels are free and open to the public. They've also been designed to challenge attendees and industry pros with baked-in participatory calls to action that organizers hope can galvanize the L.A. film community.
"Because the people that are coming out are people who work within the walls of places that have the ability to make it different," said Cochis. "What would it look like if this started to turn the wheel, a little bit? We just want to turn the wheel."
The notion of diversity also extends to emerging forms of storytelling getting groundbreaking platforms at LAFF. An inaugural VR program curated by guest director Jacqueline Lyanga, who departed the AFI Fest after last season, will bring experimental forms of virtual reality and immersive storytelling to LAFF's LMU Playa Vista campus.
I didn't want there to be any barrier of entry to anybody. I think that a lot of programming at film fests should be free and open to the public.
Jennifer Cochis
That section will also be free.
"I didn't want there to be any barrier of entry to anybody," Cochis said of the hard-to-resist price point. "I think that a lot of programming at film fests should be free and open to the public, because, again, I'm thinking of my younger self — when the difference of $10 mattered."
Crossing another new frontier, the festival will host a program of podcasts whose topics intersect and overlap with film, including tapings of the female-focused "Welcome to the Clambake," the locally focused "Welcome to L.A.," the scandal-obsessed "Hollywood and Crime" and the blistering "Don't @ Me" podcast hosted by filmmakers Justin Simien and Lena Waithe.
And in the end, the festival will bring it all back to its indie roots with the closing night world premiere of crime pic "Nomis," starring Henry Cavill, Ben Kingsley, Nathan Fillion, Minka Kelly, Alexandra Daddario and Stanley Tucci from first-time feature director David Raymond.
"Opening night is a world premiere by a first-time filmmaker; closing night is also a world premiere by a first-time writer-director," Cochis said. For a festival re-planting its flag in a city built on more than just blockbuster razzle dazzle, it's a refreshing reminder of what could help set the L.A. Film Fest apart in 2018: a renewed focus on independent stories, frank discourse and true cinematic discovery.
#########
Los Angeles Film Festival
Where: ArcLight Cinemas Culver City, Hollywood and Santa Monica, with additional events at the Ford Theatre, Loyola Marymount University (Playa Vista), the Wallis Annenberg Center for the Performing Arts, the Writers Guild Theater
When: Sept. 20-28
Info: 1-866-FILM-FEST, www.filmindependent.org/la-film-festival/
---
Get the Indie Focus newsletter, Mark Olsen's weekly guide to the world of cinema.
You may occasionally receive promotional content from the Los Angeles Times.